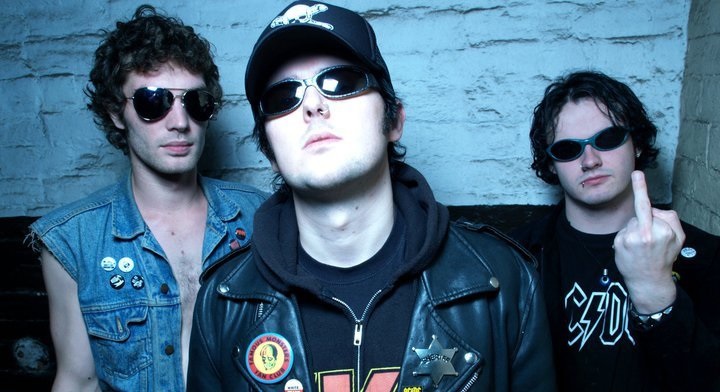 Having disbanded back in 2010 after a decade and innumerable (and unforgettable) performances, Belfast punk rock/heavy metal heroes Dangerfields are returning to the stage for "one night only" at Belfast's Warzone on Friday, February 21. Touching on the whys, whos and whats of their highly-anticipated comeback, we talk to the band's drummer/vocalist Andrew Griswold.
Hi Andrew You're set for a "one night only" return at the Warzone on Friday night. I suppose the logical first question is… why now?
Basically because Christopher Owens kept pestering me. I really didn't want to get the band back together, even for one night, but he asked me at a vulnerable moment and I said yes. And before I had time to wise up, he'd booked the venue and designed the poster. So, there was no backing out.
What's the line-up for the band and how did you find practicing, re-learning the songs and getting a set together?
It's myself on drums and vocals, Dan Bastard, from No Matter, on guitar and Adam 'The Beast' Sims, also from No Matter, on bass. They were both in the band loads of times over the years, though in typical Dangerfields style, any time this particular line-up played together, it was Dan on bass and Simsie on guitar. So, technically, it is a new line-up. But it's been surprisingly easy getting the set together. They both know the stuff inside out, so it was just like riding a bike – albeit a nasty, old, rusty bike with no saddle or brakes.
Over the course of countless shows and various line-up changes, what do you think were the stand-out, defining moments of the Dangerfields?
I guess a lot of people will remember us for the off-stage antics – the stolen yachts, the van crash, getting mugged by hookers, sleeping rough in the Outer Hebrides, etc. But for me, the best thing was just getting to travel around, playing music I liked and seeing a bit of the world, even if it was usually just shit back rooms of pubs and various dickheads' floors.
Quite a bit has changed in Northern Irish music in the relatively short time you've been away. Do you think it would have been easier or more difficult getting things together if the band started in 2014?
I wouldn't like to be starting a band in 2014, but that's because I'm 40 and couldn't be arsed. I don't think as much has changed as people say. Despite the 'digital revolution', it still seems to be the case that you need to have old farts with berets and man bags on your side, pulling strings and scratching backs. The thing I'm most proud of about the Dangerfields is probably that we did it all ourselves with no help from funding bodies or Gary fucking Lightbody.
With the luxury of hindsight at hand, what do you think set the Dangerfields apart from various different acts of your ilk, from Ireland or otherwise?
Almost everything, really. For a start, the music we played was completely different to every other band in Ireland and also the UK, which actually backfired a bit, because it made it hard to find bands to play with. It's easier to be safe and unoriginal – people know what to do with you. I also think what set us apart was the fact that we would play literally anywhere. Some of the so-called towns we played weren't even on the map – places like Newton-le-Willows, Saxmundham or Ballymahon. And we kept going back, tour after tour. Either we were incredibly loyal or just really fucking stupid. And nobody behaved like us off-stage. We did what we wanted with no consideration for the consequences, on no budget. We were like a Lidl own-brand Mötley Crüe.
You disbanded what feels like a lifetime ago, back in 2010. Looking back, do you think calling it a day was the right choice?
At my age, 2010 doesn't feel like that long ago, but then I hear about these 16- or 17-year-olds who are excited about finally getting to see us play, because they were 12 or 13 when we split up, and seven or eight when the band was at its height. So, that's quite nice, knowing that some people actually want to see us now. We definitely outstayed our welcome first time around. Splitting up was absolutely the right choice – I was in my mid thirties, and it was just getting a bit creepy competing with teenagers for bookings. Rock 'n' roll is a young man's game, unless you've already 'made it' and you don't need to beg for gigs or do medical research to pay for recording. I loved every minute of playing in the Dangerfields, but we got out at the right time. There's more to life than music, anyway.
You played the guts of a 1000 shows from 2000-2010. Do any shows or performances linger particularly fond in the memory?
We played quite a few big gigs, like supporting Stiff Little Fingers around the UK and appearing with Bruce Dickinson at the Mandela Hall, but the ones that linger most fondly in the memory tend to be the small, intense ones in weird shitholes in the middle of nowhere. We played some kid's garage in Elgin in northern Scotland, which was amazing. All his mates piled in and everyone was stage-diving off his dad's toolboxes and whatnot.
We also had some great gigs on the second Euro tour, in 2004, with Dan and Simsie in the line-up. We played a load of packed-out squats, and the feeling was just right in the band. I also liked our second UK tour with the Dwarves, in 2010, because it was the last really good line-up we had – Jake McCullough on guitar and Munky on bass. If that line-up hadn't fallen apart, the band might have kept going for another few years.
Without giving too much away, what can we expect set-wise on your return on Friday night?
It's 33 songs in 55 minutes, plus a load of wisecracks and shit-talking. It'll be fast and loud and obnoxious. If you liked the Dangerfields before, you'll love it. If you didn't, it isn't going to change your mind.
Judging by the excitement leading up to this show your local, core fanbase remain as loyal as ever. Can you sum up your faithful gig-going and record-buying contingent in a sentence?
The Dangerfields always seemed to appeal to scumbags, assholes and drunks, and hopefully that'll still be the case on Friday.
Finally, "one night only" are often recurrent affairs for much-loved and missed bands. Is it really your final ever outing?
Of course not.
Go here for the Facebook event page for the Dangerfields' comeback show. Doors are at 9pm, admission is £10, it's BYOB and support comes from The Steady Decline, No Matter and Acid Age.