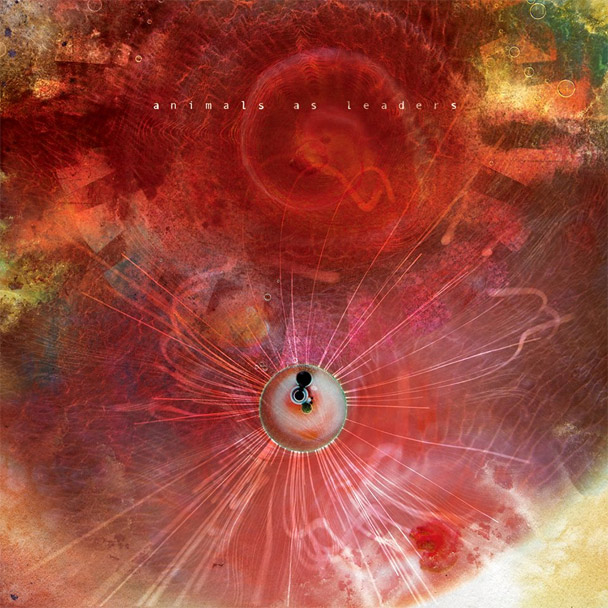 As of 2014, Tosin Abasi is a name that has been ringing in the ears of both musicians and listeners within the metal scene for nearly five years. In that time, the 8-string guitar virtuoso and his band Animals as Leaders have attained an almost universal acclaim from critics, who often cite the consummate guitar skills and complex structures in which they write and perform. Having said that, both of their previous albums have been sullied with a lack of consistency – for all the moments of excellence that they have, their past full-lengths could be described as unreliable and disjointed. Album number three, The Joy of Motion, rebuffs past complaints and proves their most progressive release yet.
The album's title expresses two of its strongest features. The first and most immediately noticeable is the joyful nature of the record – metal doesn't often associate with positive moods and tones, and perhaps to non-fans it wont seem so blatant, but anyone who listened to the band's previous album Weightless will find it staggering. On that album the band took a very clinical approach that was reflected in everything from the electronics to the artwork; The Joy of Motion couldn't be further removed from it. The guitars are much more expressive, electronics are still present but have been cut down significantly, and atmospheric filler sections are few.
What we are given instead is urgency and verve – the second note contained within the album's title. Motion is an ever-present theme; each track is packed with ideas, the band racing through each with fervour, and while the group have never taken to long song structures like most of their contemporaries, only the opening track exceeds five minutes. It's also the band's most melodic album by far – on 'Another Year', for example, the barely-veiled jazz sensibilities are more likely to leave listeners foot-tapping than head banging. 'The Future That Awaited Me' takes a more melancholy angle, its lead guitar line becoming one of the most memorable on the record. Simple and catchy without forgoing musicality and layering – it's both a highlight and an embodiment of what the rest of the album represents.


The group has made a distinct and purposeful move away from the tropes of the djent and progressive movements that have dominated modern metal over the past few years. The album cleverly begins and ends in familiar territory, but the belly of it shows them pushing out of these boundaries, and the further they push, the more they impress. Jazz and funk are explored extensively, with results equal parts surprising and rousing; 'Physical Education''s enormous slap-bass stomp is a rhythmic funk tour de force, and 'Air Chrysalis' features the most sickly-sweet guitar pangs on the album, leading directly into a luscious exploration of musical intervals, again showing the band's ability to pack in as many elements as possible into their works. 'Para Mexer' is the most startling curveball of all – ever heard a crossover of metal and flamenco before?
Despite the eclectic range of genres, the album gives in and delivers mammoth walls of sound when it needs to as well. 'Lippincott' goes from strength to strength in that regard, from its upbeat introduction into its sinister, synth-backed middle section and the behemoth guitar lines within it. One of the most immediately enjoyable tracks here is 'The Woven Web' – the backbone of the song is one of the most memorable guitar lines the band has ever written. The track also features the same multi-finger slapping technique used in older tracks such as 'An Infinite Regression' – one of Weightless' stronger moments – and it does so to breathtaking effect.
One thing that becomes clear early on is that the band are keen to get through their many varied ideas as quickly and smoothly as possible – it's rare that one theme or motif is explored for more than a few measures at a time, and on some of the more experimental tracks particularly, some repetition and mood-setting may have helped listeners settle into the grooves and melodies. It's also worth noting that on occasion, the sheer number of ideas within each track leads to some jarring moments where conflicting riffs and sounds are melded together.
It's a minor issue, though. With Misha Mansoor and Nolly Getgood (both of Periphery fame) producing and mixing respectively, the album sounds gorgeous through speakers as well as headphones, and the same meticulous attention to detail is evident as on their own records.
It goes without saying that an album of this breed is going to be demanding, and the listener's fullest attention is required to really absorb its most intricate moments. It's hard to make sense of how The Joy of Motion remains so coherent throughout considering the sounds explored are so diverse, but then a lot of what is being heard is hard to comprehend.
It's a metal album that isn't only packed with great songs, but one that will last, and deserves the same admiration as the more prominent albums that, in part, gave way to it. The already leading Animals As Leaders have proven their dominance with real gusto. Aaron Hamilton