Articles
Published on March 29th, 2014 | by Mike McGrath-Bryan
0
The Complete Guide to Therapy?: Part 5
PREVIOUSLY: After getting it all out of their systems with Suicide Pact-You First, the band pack up and head to Seattle for two months, and hit the studio with Jack Endino. The result is the oft-derided Shameless, which, in retrospect, is the sound of the band cutting loose and having fun after a long uncertain spell. The promise and hope that emerge after the sessions, however, are tested by record label faux-pas and difficult touring. By the end of 2001, drummer Graham Hopkins quits, and early 2002 sees them without a label again. Moving quickly, the band contacts Keith Baxter of 3 Colours Red to help demo new material (the fruits of which are on the Gemil Box) and finish live obligations. By summer 2002, Neil Cooper is confirmed for new drummer, and a deal with Spitfire Records, an imprint of catalogue/DVD specialists Eagle Rock, brings them worldwide distribution. High Anxiety releases the following year, a big rock record crammed with pop nuggets and a new lease on life. Slick without being overly polished, the album's success sees their highest sales since leaving A&M, and the release of a companion DVD, Scopophobia, filmed at the launch of AU Magazine in Belfast's Mandela Hall. The harmony is fleeting, and the decision is made for Cairns, McKeegan and Cooper to continue as a three-piece following the departure of Martin McCarrick. The result is the pissed-off, raw and feral Never Apologise, Never Explain, a reaction to life as a new trio and a stark contrast to the previous year's album, backed by touring with The Wildhearts. Fans take to the album the way they did early releases or Suicide Pact-You First, and with that success under their belt, and any teething problems with the new line-up fixed, the band prepare for the next chapter…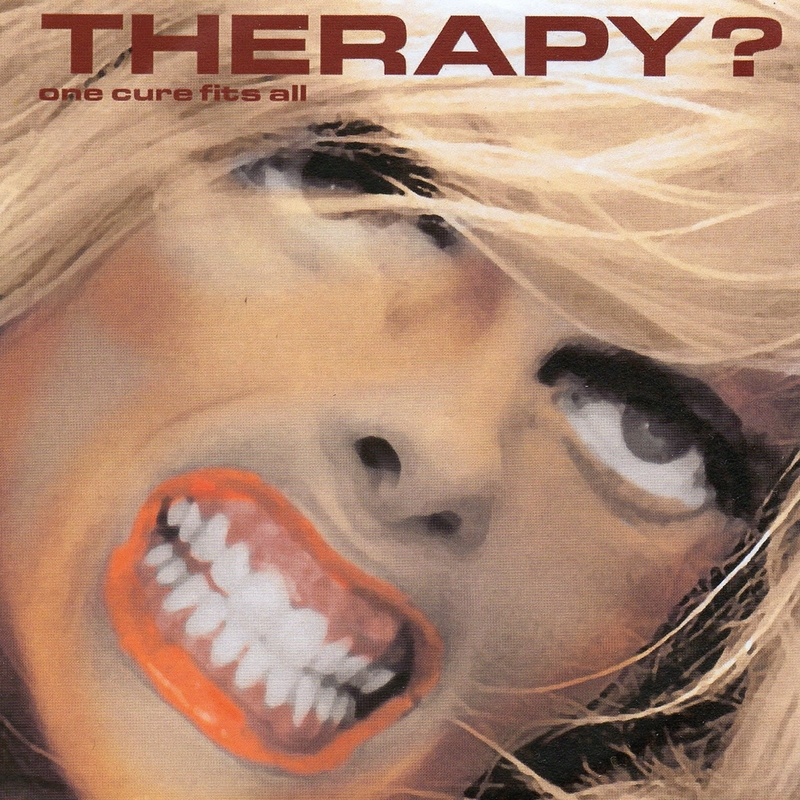 ONE CURE FITS ALL (2006, Spitfire)
2005 saw the band tour heavily for the first half, including UK festivals, and tours of France and Turkey. Later in the year, however saw old-school T? work ethic take hold, as the band went between gigs, writing, demoing and rehearsing in preparation for the next album. With the anger that predated NANE out of the way, the band's emphasis on groove came more to the fore, complemented by a more mature melodic direction, with a thematic emphasis on philosophy, psychology and human nature. Tentatively titled We Have Terrible Nightmares With Each Other In Them, the album's eventual title came from one of its songs, 'Dopamine, Serotonin, Adrenaline', in its turn inspired by studies into chemicals in the brain and their control over disparate ranges of emotions. Taking to Jacobs Farm in Surrey in January of 2006, with producer Pedro Ferreira fresh off his successes with The Darkness, the band put down a record that, while perhaps not their most energetic, set the foundations for what they'd do next…
'Sprung' kicks the album off, a thrilling, unrelenting ride on a chasing riff, almost hip-hop-esque percussion and a sideways look at motivation & inspiration ("a fearless, reckless life/can have consequences/still I'd rather feel something/I'd rather take my chances"). 'Deluded Son', all wailing harmonics and squalling bass, was described in pre-release blogs as sounding like a cross between 'Teethgrinder' and Metallica's 'Enter Sandman', and the comparison is perfect, a metallic examination of schizophrenia and distrust. 'Into the Light' is a more conventional slice of rock, casting its eye on religion and existence ("eternal life?/no thanks/I've been here once/can't face it twice"), while 'Lose it All' is a sludgy, skipping-snare affair focusing on personal turmoil, examining demons and hangups in almost uncomfortable detail. 'Dopamine, Serotonin, Adrenaline' is a lost Therapy? classic, and in a just world, would be helping the band fill stadiums with its odd dichotomy of a massive structure and all-encompassing subject matter, a hint at the soul-searching that would inspire their next record. Cairns appeals to the universe in an almost prayerful fashion for some sort of balance in a world going mad, while the song peaks with the call-and-response-ready lyrical masterstroke of "so scared of dying/I've forgotten how to live", a damnation of the comfort zone and a statement of intent.
'Unconsoled' is a mournful, post-punk reflection on suburban life and the question of "what next?", underpinned by and revolving around one of McKeegan's strongest basslines. 'Our White Noise' is a smart, concise groover that bears the weight of grief: inspired by a suicide behind a venue Therapy? played on tour the year previous, it asks questions, touching on mortality, youth, time, and most harrowingly, bystander syndrome. Riff-heavy, misanthropic 'Private Nobody' revisits the familiar themes of teenage alienation and isolation, albeit lot more subdued, focusing on a whip-crack groove and a stand-out percussive performance. "Sing about what you know/so here we go/this town, this country/this place/a crying shame/a fucking disgrace" pretty much sums up the concentrated and focused disregard of 'Rain Hits Concrete'. A punishing, bruising, howling broadside against redundancy, machismo, and military, 'Fear of God' pummels its way before dissipating into the neon-lights, big-city groove of 'Heart Beat Hits'. It's ironic, though, that on a groove-heavy album with a lot of progressive elements, that the standout track would be one of the band's finest pop moments. 'Walk Through Darkness' comes at the end of a relatively bleak record like the light at the end of the tunnel, a warm, direct blast of pop to take the edge off things, made even better for its devious lyrical immediacy and contentedness, alluding to Yeats' 'An Irish Airman Foresees His Death' with a smile in the breath as "you came along/at the right time/now your anchor holds me in this life". A titanic salvo of pop riffing ties the whole thing together, in the manner you imagine stadium crowds rising to their feet for.
B-SIDES AND SINGLES: One, the digital-only Rain Hits Concrete E.P. Four tracks: the A-side, George Best tribute 'Play On', throwaway 'Crazy Cocaine Eyes' and the very likeable 'Hard Work & Hope'. Currently commercially unavailable.
Right off the bat, your writer will posit that while the slick production and middly tones across the board were well-intentioned, they tend to dampen the songs a little, drum sounds in particular, and as a result, the whole thing is somewhat sapped of energy. There are parts of the album, no doubt down to the quick-and-dirty songwriting process behind Therapy?'s tunes, that do also fail to keep the energy up. That being said, a certain balance was still being achieved, and if anything, the album has that 'difficult second record' vibe around it, as the new line-up, having gotten over adverse circumstances, began to experiment. Some of it pays off big, like 'Sprung' and 'Walk Through Darkness', some of it doesn't. No-one can deny, though, that it set the agenda for the more rhythmic and introspective direction Therapy? would take, leading to a tremendous creative resurgence.
One lesson the band took out of One Cure Fits All was the importance of taking a breath: three albums in three years bore all the hallmarks of Therapy?'s trademark work ethic and love for their craft, but ran the risk of burnout. Nevertheless, the record was well-received, and the more polished sound did reap rewards in terms of press and media profile, even hitting the UK album charts. At the end of their deal with Spitfire, and less pissed off label-wise than just desirous of moving on, the band met and signed with Newcastle-based Demolition Records, deciding not to rush their next album and first for the new label, finishing their 2007 with a performance in Toronto, Canada for NXNE festival…
CROOKED TIMBER (2009, DR2/Global Music)
"A quiet few years" were in fact anything but for Therapy?. While the race to finish One Cure Fits All waged on, fans voted on the band's official website for the ultimate fan setlist. The resulting set would be recorded live at Therapy?'s Derby rehearsal space, and early 2007 saw Webgig release as an audio/video download (more on that next time). Meanwhile, the digital release of a compilation of BBC sessions, Music Through a Cheap Transistor, proved popular enough to prompt a physical reissue the following year, and Universal would complement this interest with the release of budget DVD Gold, the latest in an ongoing series of promo-video compilations, which includes the 'Turn', 'Church of Noise' and 'Opal Mantra' promos omitted from Scopophobia, with anecdotes and factoids in the subtitle channel. Live, meanwhile, bar some German dates super-subbing for Biffy Clyro, 2008 was all about writing and recording, and by the end of January, enough new material had been collated to justify approaching Gang of Four man Andy Gill to produce. Taking a liking, Gill agreed to produce upon coming free of other obligations in June of that year, giving the band the extra time they needed to fine-tune everything. The patience paid off, and July and August were spent in Newcastle and London tracking and overdubbing under Gill's watchful eye. Video surfaced early on the band's YouTube, of rehearsals of 'Clowns Galore' and 'Bad Excuse for Daylight', showcasing a spiky, rhythmic, jazzy new take on the band's sound. Though Gill would depart before the album's completion, the rest of the sessions would be finished by the band and engineer Adam Sinclair, and March of 2009, taking its title from a quote by philosopher Immanuel Kant, Crooked Timber surfaced…
Note: Once again, rather than go over old territory, your writer would like to paraphrase an earlier review, this time from drop-d.ie, shortly before the record's release. Please bear in mind that this one doesn't go in album running order, and the content has been edited for tone and hyperbole…
The tunes are the band's strongest in years. By concentrating on rhythm over melody, a new, monstrous layer of thundering bass and the welcome return of old-school Therapy? clatterslap drumming create a hodge-podge of the familiar and the exciting, while the songwriting was clearly a labour of love, ranging from Cairns indulging his love for a filthily hooky punk tune, such as 'Enjoy the Struggle' or 'Blacken the Page', to vast jams like the ten-minute 'Magic Mountain'. The Therapy? of old makes its presence felt, with album opener 'The Head That Tried To Strangle Itself' being their most aggressive opening gambit since 'Knives', and could have sat easily in any of the band's early masterworks, a treatise on the mind that creeps under your skin: "Am I more/Than a noise/Just a noise/Just the noise the brain makes?". Not content with resting on their laurels, though, the band questions themselves and society on 'Clowns Galore', a tight, abrasive track that showcases just how confident Therapy? still are, still wanting to move forward while simultaneously kicking people's heads in: "What do we do/Now that we're happy?"
The introspection of title track 'Crooked Timber' displays another side of the band, as propulsive rhythm drives tender harmonics and even a hint of vulnerability in Cairns' voice. 'Bad Excuse For Daylight' chugs forebodingly, deviating into free jazz-inflected discord, while standout track 'Exiles' shuffles its way into your mind with a haunting, downbeat hook. 'Magic Mountain', as mentioned earlier, is nothing short of complete departure, a ten-minute tour de force going from utterly menacing to utterly serene at the drop of a hat, alternating between the two fluidly. 'Somnambulist' is a straight-ahead rocker with a dark twist in the Therapy? mould, while the black humour that permeated their work so well resurfaces in 'I Told You I Was Ill', Cairns playing the rascal examining his past with disarming sincerity.
The album is an insight into the minds and hearts of a band that has presented us so many faces over the years, a band still passionate enough to innovate and bedevil perceptions after all these years.
B-SIDES & SINGLES: A digital release for 'Exiles' (radio edit, "sample version", and a pair of dubstep remixes) and the 'Crooked Timber' tour single. Miraculously, a retail CD in jewel case exists, and was sold through the band's website as an exclusive. Alongside a radio edit of the album version, Cairns' own mix of the track, the 'Breathless FX' mix is present in full, as well as two new slabs of music: 'Don't Try', with guitar-play curiously reminiscent of screeching kestrels in places, and lyrics derived entirely from the last words of prominent personalities, sees the band in darkly playful mood, while 'Low Winter Sun' is another of those well-hidden pop bijoux, this time a rumination on middle age and mortality with a bittersweet taste.
The wait was justified: Crooked Timber was, and is, a triumph. The band's exploratory new direction was at once profound and endless fun to listen to, and though the small-town psychosis and paranoia that had long been a theme of the band's work had lifted, a universal relatability remained and made the record what it was: a prescient study of human nature, mortality, loss, and psychology. Humanity in the face of endless homogeneity.
Without label obstacles, interpersonal issues and any other sort of funny business, the band was able to hunker down and make the kind of record they'd been hinting at for years, at once a celebration of everything that made the band great, and the next step on their journey. Critical acclaim was instant, and May of 2009 saw full-album sets go down a treat live, before the band hit Oxegen and Sonisphere for two triumphal sets. Six weeks after release, the album went silver in Europe, and the cinematic video for the title track garnered the band's most TV time in years. Touring Europe for two months in the autumn capped off a year to remember and a "reversal of fortunes" for the band. They had plenty to be proud of. An attempt at recording a live album for the band's twentieth anniversary the following year was made while on this last stretch of touring, though none of it was considered suitable. In all of the panic, a three-day fest was arranged for March of 2010, for the purpose of recording said live album, which was attended by band devotees flying in from around the world. To cap off all the fun, the twentieth anniversary of the band was marked by a run of touring reprising Troublegum, including another Sonisphere set (filmed but unreleased) and a jaunt around Europe. Not ones to rest on their laurels, though, the band were already considering the next step, and 2010 ended with Cooper revisiting studio in Newcastle to put down drum tracks. Onwards and upwards…
A BRIEF CRACK OF LIGHT (2012, BLAST/Global Music)
"The cradle rocks above an abyss, and common sense tells us that our existence is but a brief crack of light between two eternities of darkness." So said Vladimir Nabokov. Having explored life and death in detail in 'Crooked Timber', it seems to stand to reason that its follow-up would cover what happens inbetween. Though a less profound record in terms of theme, 'A Brief Crack of Light' follows up swiftly on questions of satisfaction, emptiness, and the meaning of life, while also casting a cocked eye on the human fascination with history and institution. 2011 was spent finishing up touring commitments, including support for The Prodigy on a German tour, a UK tour with Skindred and a co-headliner in the Ulster Hall with The Answer. Though their Newcastle recording HQ had been affected by bad weather, the band made the best of their time, writing more new material and keeping productive, before finally getting in and finishing up for summer's end. Scheduling a 2012 release to avoid a glut of winter releases, a video was made for leadoff single 'Living in the Shadow of The Terrible Thing', released in time for the album's February launch…
Menacing without baring any teeth, 'Living in the Shadow of the Terrible Thing' goes all Fugazi on Flann O'Brien-inspired paranoia, representative of the band's forward-thinking ("if you take away the future then the present collapses!"). Slint meets Black Flag on 'Plague Bell', a full-pelt alt-rocker that hits hard and leaves a mark, smiling all the way as it finishes on a waltz. 'Marlow' is a nice, mathy, glassy-eyed instrumental diversion, the perfect antithesis to 'Magic Mountain"s density. 'Before You, With You, After You' is a slinking, shifting beast that stands as one of the band's most potent statements on existence and humanity yet, a mid-paced groover betraying an inherent panic: "I can't stop it/I can't keep still/I can't end/what I didn't begin". A whacko punk wrecking ball, 'The Buzzing' is a chainsaw taken to the modern attention span, twisting through a raw broadside of post-hardcore assault, a lulling singalong (expounded on in Cairns' solo work) before briefly, albeit hilariously, veering into comedy dubstep.
A sobering contrast is dubby album standout 'Get Your Dead Hand Off My Shoulder', a building, swelling beast that examines the human tie to history and dependence on myth and inheritance. It's a weighty proposition, to be sure, pinned down by chunky, foreboding guitar and chiming leads.  A droning, Eastern rhythm forms the fulcrum around which 'Ghost Trio', a reflection on the Arab Spring and its consequences, revolves, intensifying as it goes, burrowing. 'Why Turbulence?' is a jolly, jazzy look at mortality inspired by the singular question scientists would ask a deity if they could. It's an apt title, the song bumping and rolling along seemingly on its own. 'Stark Raving Sane' pokes fun at the perception of artists as 'entertainers' (pffft), while a crunching, grinding head-wrecker of a groove goes on. 'Ecclesiastes' settles the album gently, a look at love and devotion that wouldn't be far out of place on 'Infernal Love', yet seems far more contented, a vocoder-laced paean to the people who matter, while shrugging the shoulders and accepting how absurd life is as long as we have our anchors…
B-SIDES & SINGLES: None. All of the extra session material was kept for 2013's The Gemil Box. 'Living in the Shadow of the Terrible Thing' got a digital single release in Europe, and was given away free in America through Rolling Stone magazine as a download from their website.
Having made their statement with 'Crooked Timber', and not wanting to go to the well one too many times, 'ABCOL' is a tad more concise and compact. The groove and rhythm that shone on the previous record is in full play here, and feels almost playful this time around, keeping the whole affair buoyant and in line with a different, more raw feel, again asking questions and prodding at the human condition. Not so bleak, not so inwardly-focused, 'ABCOL' is a love-letter to pragmatism, a cold look at the world, and another stop to sit and watch the horsemen pass by.
'A Brief Crack of Light' saw the band get picked up in North America again, as well as another loop of the UK and Europe, accompanying Skindred in the UK, before hitting up the summer festivals, including a rapturously-received appearance as headliners at Glasgowbury to close off a hectic year. 2013 began slowly, but not without Andy going on his first acoustic solo tour, accompanied by a live studio album, including Therapy? faves. This tour would go on to include the debuts of early versions of songs on the next Therapy? album, making its way out at some stage later this year.
December saw the release of the long-awaited Gemil Box, a deluxe-edition treasure trove of material from the archives, including Harvey Birrell remasters of the A&M albums, two discs of unreleased tunes, a disc of recent reworks and album demos, a DVD of gigs from 1992, 1994 and 2010, a 12″ of "official" demos (one side being the demo tapes, the other side being the between-label showcases from 1998 and 2002), and finally a cassette of the fabled White Horse Dublin gig from 1990, as well as a book of old photographs, images and notes. In keeping with airings for archive material, last Friday of course saw the reissues of Troublegum and Infernal Love, with all B-sides and promo material from their respective album cycles included on bonus discs. The Troublegum anniversary tour scheduled for next month will take them up to festival season, before the return to studio and the next foot forward for the boys in black/Northern noiseniks/(insert other cheesy cliche).
The legacy which Therapy? have left so far is one of vital importance to the story of Irish rock in many, many ways. That much is true. But we'll save the extended plaudits and smoke-blowing 'til it's all said and done, because, as stated in the beginning of this series, they're far from finished. As long they're able to, they'll be playing and being musically difficult to predict, following their muses, keeping reviewers scrabbling, live audiences in bits and their dedicated (rabid?) core fan base as enthralled as ever. In other words, what they set out to do from the beginning.
Fan-fuckin'-tastic. 😀
NEXT: With the official discography for now covered, we'll take a quick rifle through the wilderness of bonus tracks, bootlegs, box sets, DVDs, comps, splits and other Therapy? ephemera.