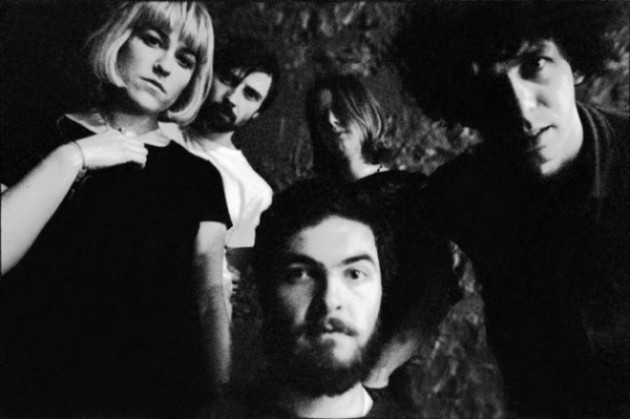 Ahead of their highly-anticipated return to Belfast on Friday night (May 2, the Menagerie), Brian Coney talks to Cathal Mac Gabhann, frontman of Cork psych-rock trailblazers The Altered Hours about momentum, new material and pushing the boundaries of their sound.
Photo by Izabela Szczutkowska.
Hi Cathal. It's been a great twelve months or so for you guys. You're busier than you've ever been and a lot of new fans are getting behind you. How's it been getting your music out to new ears?
Hi Brian. I enjoy making and releasing music and doing shows. I like the whole process so it's been fine.
You recently set off with Myles Manley and Patterns for 'the Certain Three' tour. How did it go down? Any stand-out shows?
That was great, and interesting to tour with bands we don't know very well prior to the trip. The Roisin Dubh in Galway stands out for me, the crowd had a great energy. The Pavilion in Cork is always a good place to play too.


You unveiled the video to your new 7″, 'Dig Early', earlier this month. How indicative in sound is the single to what you're currently writing and intending to record?
We don't write anything with the intention of one particular sound so it's hard to tell what will come next. Every new idea feeds the next one, it's a constant expansion and development between projects.
Speaking of which, you've recently recorded in Berlin. What was that for and how did it go?
We were there to record an album. It was tracked in the Funkhaus with Fabien Leseure. I enjoyed working with Fabien on our new songs and we pushed it out everyday to achieve what we wanted. It's a crazy process and I like it.
Generally speaking, what can we expect from new material and how do you think your sound has developed over the last six months?
We are going to finish the album over the next few months with mixing etc. but we are playing a lot of the new tracks in our live set already. I tend to treat each song as a completely individual world so our sound is beginning to vary more and harder to pin down. Our sound is changing and evolving all the time and I hope to push that as far and wide as I can take it.
What influences (musical or otherwise) and streams of inspiration have made their way into your sound?
I listen to all sorts of things, right now Im listening to Alice Coltrane. The whole discography that Dirty Beaches has up online is incredible – very inspiring. I like reading poetry too and I feel this plays a big part in my songwriting and ideas. I'm a big fan of Dylan Thomas at the moment. Any book with Don Juan in it seems to have an effect on me too…
The recording coincided with a handful of European dates. How did you find the reaction in the likes of Paris compared to say Dublin or Cork?
Paris was a great show, the people were welcoming and the venue was full of energy. I'd never been to Paris before so it was great to see the city briefly too. Every gig is different every night so it's hard to gauge an accurate comparison. Each city has it's own atmosphere and there's pros and cons wherever you go.
Have you percived any shifts or changes in Cork music since say, the release of Sweet Jelly Roll? Are things moving forward or do you feel any sense of stagnation there?
Not really. There is a sense of movement in Cork city. I don't really hear music as 'Cork music' or 'Manchester music' or whatever it is. Wherever you go, you'll find creativity and stagnation.
You're set to play Belfast again on Friday, May 2. What can we expect from the show in terms? Many new songs on the go since you last played here?
Yea I'm really looking forward to it! We are playing new songs with some old ones at the moment. The Documenta crew are doing a DJ set which is great, we get on really well with them since we played together last year.
Finally, what's the plans for the band over the Summer in terms of festivals and other appearances?
We are playing some festivals in Ireland – Indiependence, Vantastival and a few others. On July 9 we have the honour of supporting the Brian Jonestown Massacre in Dublin. We'll be making some more trips abroad within the next year too which is all currently being planned! Mixing our album too. All sorts of stuff!
The Altered Hours play Belfast's Menagerie on Friday, May 2. Go here for the show's Facebook event page.
Check out our Introducing piece with The Altered Hours from May, 2013 here.