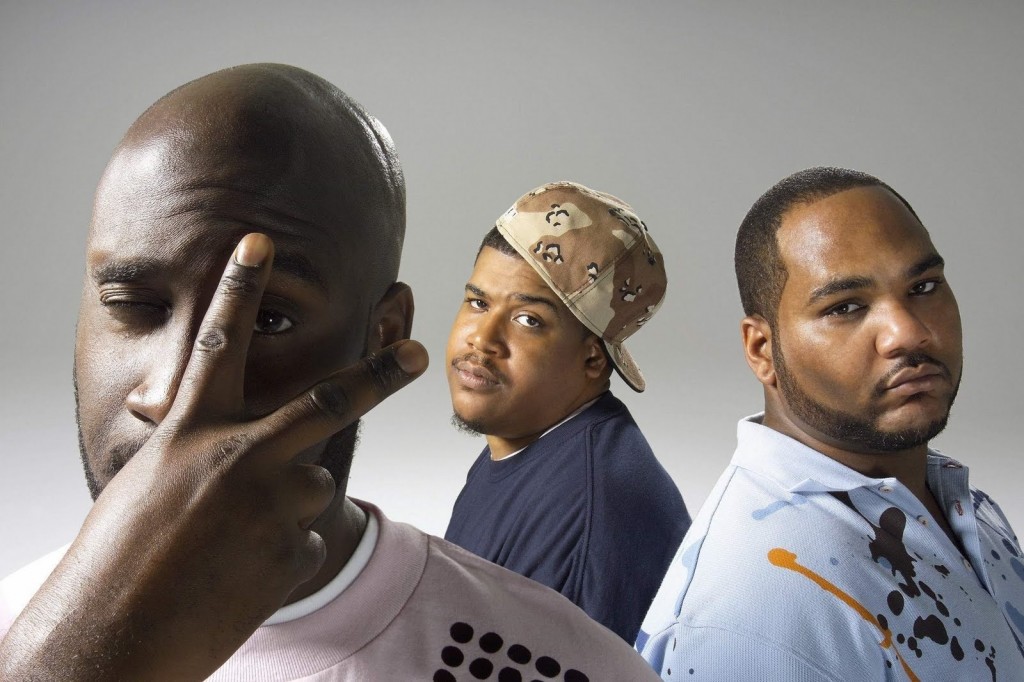 Tonight, as the Cathedral Quarter Arts Festival sadly draws to its inevitable close, Belfast is fortunate enough to have hip hop royalty De La Soul performing at Custom House Square, ensuring that the festival should go out with a bang. An oldskool hip hop sort of bang, rather.
Upon arriving at tonight' s venue, mingling throngs of hip hop fans old and young line up in eager anticipation of what's starting to look like a belter of an evening. Through the entrance to the square, there are a few of the usual vendors selling their cold, delicious, life giving, good-time-having beery wares – supply and demand, basically. And demand there most certainly was, so, armed with our supply of the good stuff, the crowd that has been growing rapidly makes their way into the marquee to watch local legend DJ Joe Lindsay from 8pm. In supporting an act as prolific as De La Soul, Lindsay does well in providing a selection of the finest grooves and mash-ups this side of … anywhere, really. The masses respond with excitement as Lindsay enthusiastically cuts and mixes some classic hip hop anthems, ensuring movement in even the most stoic of spectators. An hour of solid good vibes seems to have done the trick, as a few hundred heads transforms into a sea of fine folk and 9pm rolls around, the giddiness in the air is thick and juicy, if such a thing is possible, which it is – I saw it.
As De La Soul take to the stage, a cacophony of raucous hollers and whoops ripples through the crowd and the tidal movement of everybody inside the marquee intensifies appropriately. The atmosphere at this stage is one of pure exhilaration and as those opening beats thunder from the sound system, the general consensus seems to be "YYYEEAHHHH!" It's notable, too, how energetic and sprightly Posdnuos and Jolicoeur are considering their decades of performing. They certainly still have it, and, along with DJ Maseo, the trio have a formidable stage presence. This is further emphasised by the way they cross their flows, reiterating each others rhymes with the kind of skill that is earned by years of practice. As Maseo cuts and crossfades through some of the finest, funk-tinged hip hop, our MC's do well in making the crowd feel welcome and vice versa.
There is participation aplenty as the trio belt out a few classic anthems like 'Me, Myself and I' and 'Ring, Ring, Ring.' Aside from these nods to the now distant past, there isn't much else in the way of classic De La Soul, but the energy is hard and heavy and more than makes up for any want for a history lesson. The crowd is consistent in their support and when the trio command us to "put your motherfucking hands in the air!" we, of course, do what we're told. As the show draws to its conclusion though, we are treated to a moment of conduction from the outfit, who direct the crowd in a good, ol' fashioned sing-along. Say what you want about the generally divisive hip hop genre, but it's groups like De La Soul who bring people together to have a good time and enjoy the nuances of a style of music that isn't without its controversies.
And, that's what De La Soul have done this evening. They've have left us sweaty, satisfied and in good form. As we start to make our way out of the marquee, the conversation is aptly emblematic of how "cracking" the show was and what a way to finish the festival. Congratualtions CQAF and De La Soul for providing what has possibly been the best show that Belfast has seen this year. Kudos all round. Aaron Drain