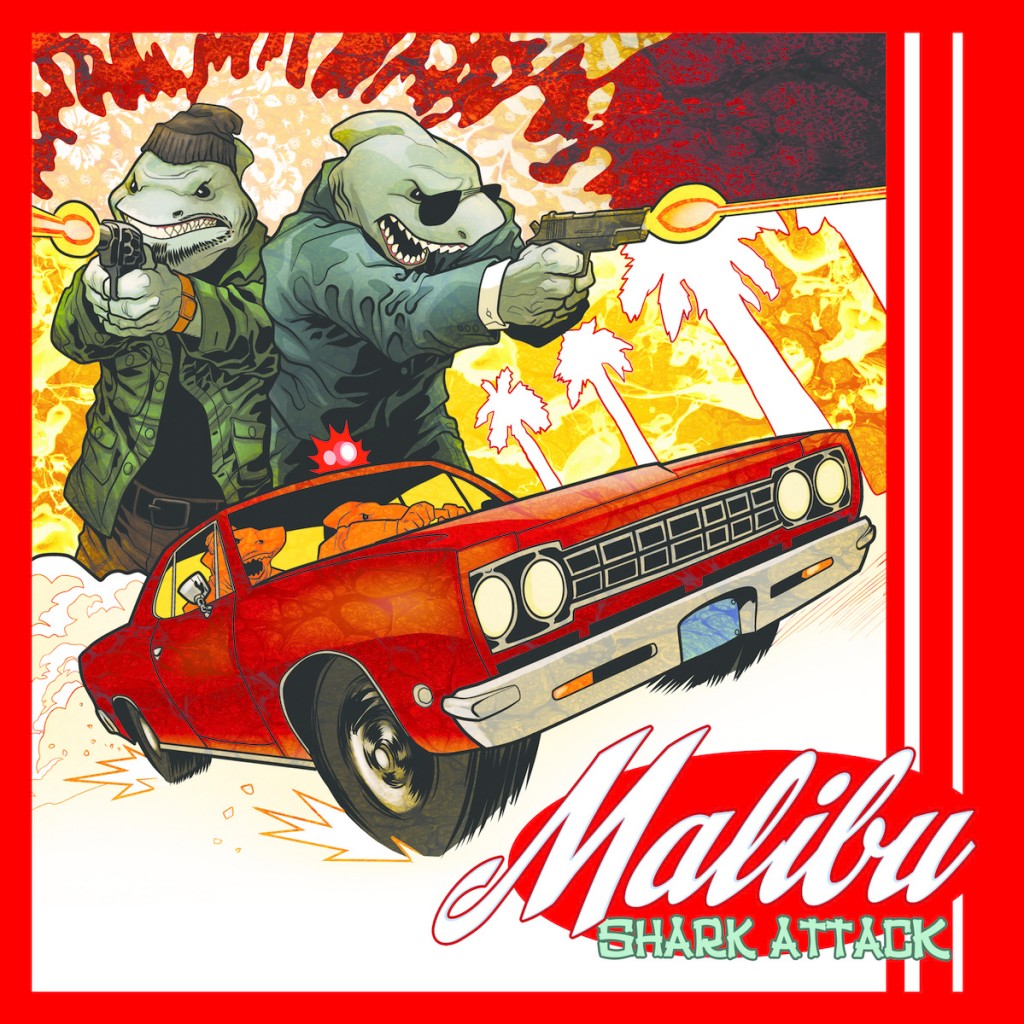 Almost a year to the month since our introductory piece with the duo, transatlantic indie-rap band Malibu Shark Attack! are set to release their self-titled debut album tomorrow, Friday, May 23. Comprised of Belfast musician/producer Rocky O'Reilly and American rapper Tribe One, the pair have delivered a fun, imaginative and consistently impressive thirteen-track album kickstarted with their debut split single 'Monsters Under Your Bed'/'Internal Organs'.
Ahead of the official launch of the album at McHughs, Belfast, tomorrow night, we talk to Rocky about songwriting via the internet, touring the album live and what the future holds in store for one of music's more interesting musical pairings.
Hey Rocky. You're currently on tour in England. How's things been going?
We have been amazed by the gigs so far. MC Lars has a wonderful crowd and they are so open, interactive and fun. We feel very lucky that in a full tour, we only played one quiet show! Easily my favourite UK tour ever.
Opportuntites for Malibu Shark Attack! to play live are obviously pretty rare. How've you found performing live, performing tracks you've created via the internet?

It's actually been quite good, I hope! We met at Leicester train station last thursday at 4pm, soundchecked at 5pm and played at 8pm. So far its all been fun. We had to figure a few little blips, and its certainly taken a few days to settle in and lose the nerves. Looking forward to adapting things further and playing a lot more!
You're set to release your debut album on Friday. It's an exceptionally produced release, with an extremely inimitable sound. How does it feel finally get the album out there? 

So good! Some of these ideas have been around a while. I feel like I've been telling people about it forever. Now it's out there and its spreading all over the place! It's exciting to see people from Ayr to Australia getting something positive from the songs. It's been my pet project – no expectations attached – just an experiment into music that I really love making and trying out crazy ideas. Now it's a new thing, it's amazing to be in a band with Tribe One. He's incredible!
For those who aren't familiar, could you tell us about the songwriting and recording process?

The songs have come together in a few ways, but mostly starting with sketches of ideas, sent to Tribe One via email. Then he would record vocals, I would work on it some more, we would record more and sometimes add guests. Sometimes I'd write a chorus and he'd write around that, and sometimes he'd flip it completely and then we would write new lyrics for the original parts. 

As for the recording, I think we had seventeen people total on the album, and I was only in the room with six of them. I went to NYC to record guitars and synths with Tim Wheeler, and with Northern Irish acts like Bee Mick See, Wonder Villains, Tied To Machines and Linley Hamilton, we recorded in my studio. Other guests like MC Lars, Adam Warrock, Dizzy Dustin, Jesse Dangerously and Math The Band recorded their parts and mailed them across.  Then I just mixed and arranged until I loved them!
The lead song on the album, 'Better Off As Friends', references your previous band, Oppenheimer, in a clever and funny way. How do you think your own songwriting has progressed or changed since the days of writing material with Shaun?

I learned so much about being in a band with Oppenheimer and about songwriting with Shaun. After that ended, I quickly realised to stay happy and excited, I needed to make music. I was getting back into rap music, having been immersed in indie pop for years, and the rap felt new and exciting again. For me, what Tribe One brings is amazing storytelling. The songs come across as pictures or movie scripts. I can see everything! Also, having many guest singers means I can write different types of vocals and find the perfect voice to sing it, so we can have more variation throughout. 
In terms of influence, did the imprint of specific records or bands seep in to any songs on the album?

'Plans for the Weekend' is influenced lyrically by a Dashboard Confessional EP. Asides from that I think we were into the artists that we had guest on it, and that really shaped it. I think for me, I was really into Tribe One's solo work, so that was probably the biggest shaper of an influence.
Of the thirteen tracks that make up the album – each as impressive as the other – which do you think sums up the Malibu Shark Attack! "sound" best?

I think 'Better Off As Friends' is a great introduction to exactly what Malibu Shark Attack! is at this beginning stage. Also, the self-titled song 'Malibu Shark Attack' is a bit of self shout-out party rap.There's a few slower, sadder moments which I think are an important part of the album. It's different moods for different times, but tied together as one experience.
Finally, you're set play Belfast and Derry this weekend. What can we expect from the shows and what are the plans for the next few months in terms of promoting and touring the record?
This weekend we finish up in Northern Ireland after our first UK tour. We've been really excited by the positive feedback and a bunch of new people getting the album, so we want to get out again at the end of the summer in the UK. I reckon we will do east coast USA in October, as Tribe One has been performing a lot out there, and it'll be fun to play these songs over there. Asides from that, we are making videos, looking for nice bands to tour with and next week we will start recording songs for the next album.  It'll be strange to be in the same room this time round!
Supported by Oh Volcano, Malibu Shark Attack! launch their debut album at Belfast's McHughs on Friday, May 23. Go here to win tickets.
The following night, the pair will play Sandino's, Derry with Oh Volcano, Best Boy Grip and Jessica Doherty.
Stream/purchase Malibu Shark Attack! via Bandcamp here.