Features
Published on May 29th, 2014 | by Joe Laverty
0
The First Time: Robyn G Shiels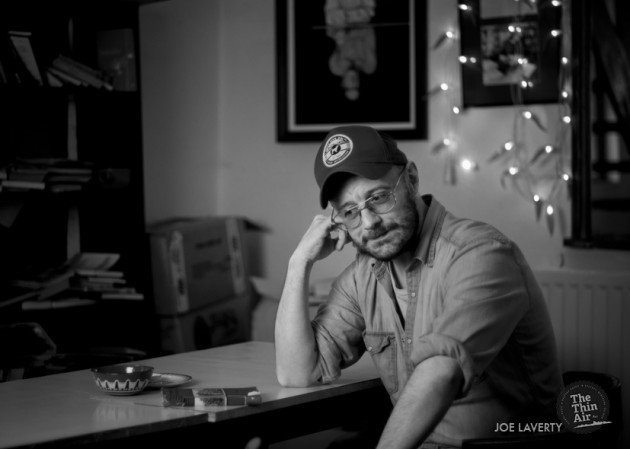 Whether you're completely new to or just need a little reminding, The First Time is a regular feature by Belfast-based photographer Joe Laverty, in which he meets up with an individual – usually a musician – involved in Irish music, takes a spectacular portrait photo and proceeds to enquire about their musical "firsts" – first album, first gig, first band shirt, etc.
Up this time is Kilrea-derived songwriter extraordinaire Robyn G Shiels, a tale-telling master who will launch his long-awaited second studio album, The Blood of the Innocents, at Belfast's Black Box on Saturday night (May 31). The shoot took place in the wonderfully cloistered Bookfinders on Belfast's University Road.

First album you bought?
No idea. I used to just steal/borrow my big bro David's albums so AC/DC, Led Zeppelin, a bit of Elvis and Johnny Cash, of course. Actually, the only recollection I have of buying an album back then (on tape) was Ratt's mighty opus Out of the Cellar – think that was 1984 (big scoop there alright – "sensitive singer/songwriter listens to balls early '80's glam metal". Too fucking right he does!)
First single you bought?
Either AC/DC's 'Rock and Roll Ain't Noise Pollution' or, more bizarrely, Saxon's 'And The Bands Played On'. One of them I still listen to!

First live concert/gig?
The first one that made an impression was DIO on The Last in Line Tour at Antrim Forum, supported by Queensryche.
I was touched by the hand of Ronnie James that night – actually, I better rephrase that…
First album you properly loved?
I was talking about this the other day actually. It would have to be AC/DC's Powerage as it's a fucking classic amongst the other classics but has a bit of "dirt" n' grit" to it, which i like … of course! Their Let There Be Rock album is also a close contender but it doesn't have 'Gone Shootin', which is my favourite DC track if push came to shove (also Keith Richards favourite as well but what would he know, eh?)
First artist/band to change your music-listening/making life?
I wouldn't say "change" as much as say, open to suggestion, which I am of course – musically and otherlywise! I'm fairly open minded when listening to music I haven't heard before or been introduced to via my mates. As long as it has heart an' soul in it, a bit of conviction and that sort of thing – the things that matter (well, to me anyway) – and not some generic fucking bullshit reworking of something you've heard a million motherfucking times on the radio with the same tired old formula etc. Unfortunately (or fortunately if you're a sadist like me) that's the majority of what's going about these days but sure, that's what makes us tick in the first place! I should also mention Slint now that I think of it, as it did literally blow/puzzle my fucking mind when I first heard them. Tweez too… not Spiderland.

First local band you got really into?
Therapy? AKA "the lads". Not because their mates but the fact they've always stuck to their guns musically and not for the benefits of the musically fashionable and not for the profit of gaining a few new hip admirers, either, as the same said few new admirers will fuck off to their few new fave hip band in a matter of months, like butterfly collectors but minus the shitehawkery!
I am referring here, by the way, to the whole Britpop scene and the silly amount of folk who suddenly went "all London" etc. over what seemed like a very brief summer… in Belfast? Britpop? Bandwagon? Does not fucking compute!
So yes, I admire folk who don't sway to whatever's currently swaying and "the lads" have lived by that. They took the punches for it I may add (see the aforementioned Britpop scene for details) but have gained gravitas for runnin' the longer mile – the last couple of albums have seen to that and garnered them a whole new lease of life, I think… and it shows.

First favourite film soundtrack?
Oh, something pretentiously dopey… I don't know… I like the Betty Blue soundtrack and the one Mick Harvey and Nick Cave done (To Have and To Hold). Actually, I just bought the In The Wall score by Clint Mansell on Death Waltz Records a fortnight ago in Sick Records and it's fairly unpleasant in a nice way. Tom Waits and Crystal Gayle's One From the Heart soundtrack has to be the one though. Me and my mate Bradley – of 'the Aghadowey Shuffle' fame – used to take "things" and listen to this album on repeat. Good fucking times!
First band t-shirt/jumper?
AC/DC – a live shot from Paris gig where they recorded the video. It was a black sweatshirt with the crappy stick-on transfer thingys – I was ten odd but one cool motherbastard … still!
First song to make you cry?
Ha… you know that song 'Feelings' by Morris Albert? Well that and Johnny Cash's 'A Thing Called Love". Still do actually. See also Terry Jack's 'Seasons in the Sun' and Tony Bennett doing 'How Insensitive'. Oh and Bjork makes me gurn also.

First time you knew you wanted to make music?
When I was three, probably as I gained my first musical war wound by breaking my leg "dancing" to 'My Girl Lollipop' in me mother's kitchen. Must of got "the taste" for it then!
First instrument you learnt to play?
It was actually the drums as I was being "groomed" to play in a pipe band but didn't fancy wearing a kilt and knew it would look better on aul' Waxy Rose later on in life.
First riff/song/piece you leant from start to finish?
I never really done that sorta thing when I was at an age – never seen the point in learnin' someone else's song when me own would be better (!)
First original song you wrote?
'Day-Glo Suicide'! And yes, I still have the very tape. It sounds like a shite Jane's Addiction song with a fairly accurate whiney-voiced Perry Farrell. I even think it was meant to be the follow-up to their best song, 'Jane Says', but they must never have got the memo.

First gig or performance of your own?
Ha – sometime in 1991 when I first moved up for good. Duke of York – booked by Shep – possibly blindingly fucking drunk on the double of John Power's and possibly ragin' about whatever was about then. Santa probably as I heard he was a lie.
First musical hero/idol you ever met?
I did meet Ronnie James Dio at the Antrim Forum gig (see above) and fer some reason gave him the turfcutter (Kilrea handshake) and called him Ronald. No idea either! After meetin' the Ronnie who else matters? Maybe Ronald Belford Scott but that'll not happen … in this lifetime anyways.
Robyn G Shiels launches his second album, The Blood of the Innocents, at Belfast's Black Box on Saturday, May 31. Stream 'Drunk Myself a River' from it via Bandcamp below.