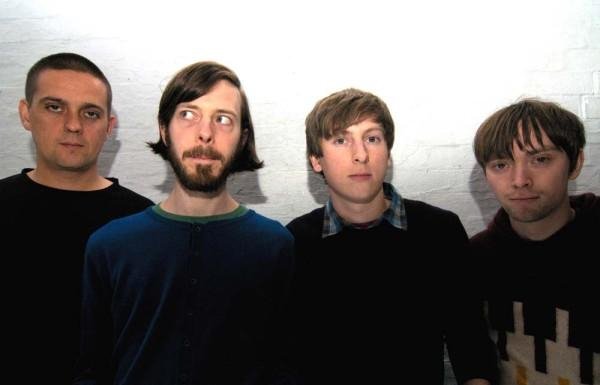 On Friday, May 30 I received a phonecall to tell me that, after suffering with leukaemia since the turn of the year, my closest friend was now considered beyond medical help and would be dead within a couple of hours. This big, mountainous human being was drawing his last breaths and I could only sit and wait for the next phonecall to confirm such a grim inevitable.
It turned out he had quite a few breaths left in him and he would keep us waiting until the following day. But in the end, that end came – much too soon for any of us.
I first met John Mills (above, far left) when he became the bass player in the band I drummed for, Panda Kopanda. I was still a teenager, while he had hit his thirties. He'd already had something of a career in music, touring around with The Mandelbrot Set, and having the occasional Turkish holiday paid for by reluctant cover-band work. But he fitted into Panda Kopanda almost instantly, and rapidly became an integral part.
John and I shared a similar approach to music. He had no time for posturing and the general wankery that most bands had at their fore. Although not an especially shy man, John preferred to scuttle as far away as possible from the stage lights, and go about his business. He wasn't a showman, and as any gigging musician will tell you, if you're not a showman then you better just concentrate on being good. And he was good. And he made me better; honestly I'm sure I hit a few thousand misplaced kick drums that managed to escape unnoticed just because he could read me and make sure his notes were just as precisely misplaced. We were rarely out of sync – that was down to him.
But it was outside of the gigging realm that John really showed his hand. The Pandas proudly referred to ourselves as a D.I.Y. band. It belied how much of the process rested in one man's hands. If you'll excuse it, we were more of a He.I.Y. band – three quarters of us went about our business the way any musician would, but it was John who recorded, produced and mixed all our output from his family home in rural Saintfield. As a band who tended to choke under the red light, it really was a massive benefit to have someone with the skills, the vision, and crucially, the patience to polish up some fairly heaving turds. He followed intuition rather than textbooks; using bags of cutlery instead of tambourines, recording drunken revellers at closing time for atmospherics, or just throwing things out of windows to see if they sounded good. John was never short of ideas. He directed some of our music videos as well. Our video for 'About My Temper' was all shot in still frame, and he had every phonetic utterance worked out precisely for the lip-syncing – that was his clarity of vision, and his meticulousness.


When John died Facebook was awash with tributes. Some who had known him only through the band, then others who knew him only from his spell as manager at Newtown Forest Football Club (local music's club of choice, comprising representatives from Axis Of, Mojo Fury, Radar, No Dancing, Sea Pinks (me!) & others). More came from his working background at Stage Crew. He built stages for Tennants Vital, did sound for Belfast Festival events, operated the confetti cannon for Bjork. He had many fingers in many pies, but all these tributes from friends, clients and workmates said roughly the same thing. John was easy company. Good humoured though never overbearing. He was a courteous man, who had time for people. He was thorough, and professional, and had exceptionally soft hair. And if you wanted someone to pack two amps, two guitars, a bass, a keyboard, some drums, merchandise, sleeping bags and ruck sacks into the back of a Volvo 240, then he was your man as well.
There's always a danger with these posthumous tributes that you whitewash the person of their faults and create some farcically exalted version of them. John was no more saintly than any of us. But, with roughly 350 people attending his funeral (so many that they had to pipe the service out through the speakers outside to a sizeable crowd who couldn't get in), it's reasonable to assume that he was much more loved than loathed. I'm sure he didn't envisage he had such popularity. Clearly he meant something to an awful lot of people, distant and close.
I've shed my fair share of tears over the past week or two, but there's someone whose grief easily trumps that of mine. Imagine two sixteen year-olds, living on the same street in the same town, secretly obsessing over eachother the way teenagers do. They sneaked looks through bedroom windows, filled their diaries with every sighting of eachother, but were always too shy to ever do anything about this infatuation. They would only get together more than twenty years later, after two very seperate adult lives finally converged again with an awkward conversation at an ASIWYFA gig. Thereafter I saw a John with such complete human fulfilment that only true love brings. He was happy, and they were happy. There was absolutely no doubt that this relationship was everlasting. As it happened, they would have four years of absolute joy together, before the last six months of hell arrived and John's candle was eventually snuffed. Heartbreaking.
There are no positives to come from such an untimely death, but any followers of Panda Kopanda will know we recorded a second album in 2010 which remained unfinished. John had committed to finally putting the finishing touches on it just before he became ill. A lot of hard work had been poured into it, mainly by John, and I'll make sure this work won't go to waste. It will be released soon, in its semi-finished state – imperfect, warts and all. Scant consolation to the people who are missing a son, brother, uncle, partner and a dear friend, but it's the only thing I can cling to.
I really wish life wasn't so cruel. David Agnew