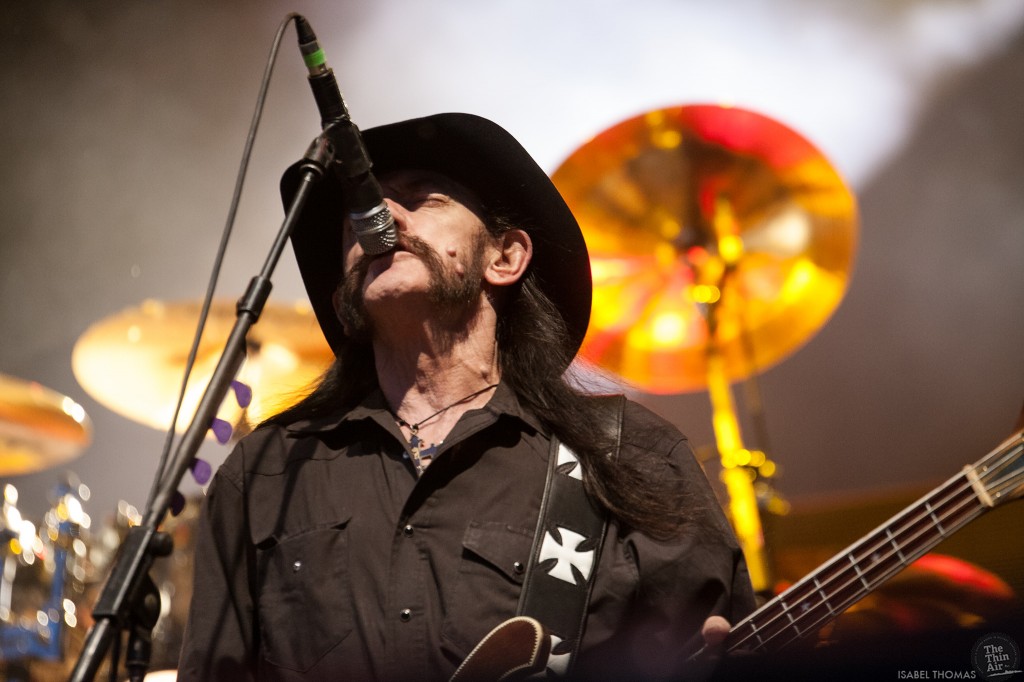 What better way to kick of the July than with German beer, super sunny skies, BBQs and some hardcore and metal? Takingplace on the first weekend of July in Roitzschjora Airfield, Löbnitz, Saxony-Anhalt, Germany, With Full Force sees its twenty-first outing this weekend, packing in some of the very best acts in their respective, varyingly heavy fields.
I fly in to Berlin the day before to avoid the bulk of people who normally arrive on the first day, catching a coach down to Liepzig and spending the journey joking and discussing bands with two other festival goers. Having met with our photographer, Isabel Thomas, we get a train closer to Löbnitz and, lastly, the Festival bus before finally making it to Roitzschjora Airfield. We eventually find the area, pitch our tent and have a well-deserved lie own. We had made it to With Full Force
Being the night before the day the festival actually starts, there isn't much to see just yet. We make friends with a group of hardy German festival-goers who refer to themselves as the "WFF Bastards". With our new brethren and metal in the air we head to the main area for a few cocktails and to soak in the atmosphere. There's a DJ blasting out Pantera and a few mosh-pits open up – everyone is in the mood to get started but we don't stay up too late for the real fun will start tomorrow.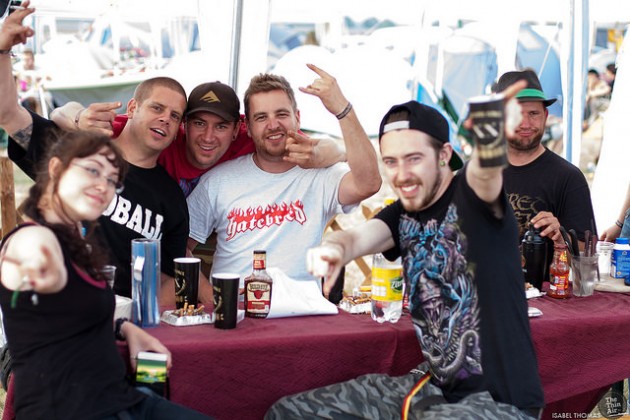 Saturday
In traditional German festival style we wake up from the heat in the tent and, having to crawl out way out to avoid suffocation, I decide to get my bearings of the festival area and check out the stages. When entering from general camping after getting your band and passing security, you'll find yourself right in the middle of the traders, where t-shirts, caps, CDs, patches, rings, bracelets and everything else associated with the lifestyle is being sold. Then the area opens up with food stalls along the sides, three bars and the main merch stand. This is where you can get any past or present With Full Force merchandise and anything the present line-up playing has to sell.
Just past that is the main stage where Darkest Dawn – an Australian goth-rock band formally known as The Deadly – are in the middle of their set. Despite well-written songs, their energy and the mood don't click for me so I continue to the left of the main stage where I stumble upon the Jägermeister tower, a building designed to look like a traditional German cottage, fitted with two bars, patio and an upstairs terrace overlooking the main stage. It's cosy with a rustic design and in the evenings to come a full brass band would be performing upstairs in-between band transitions.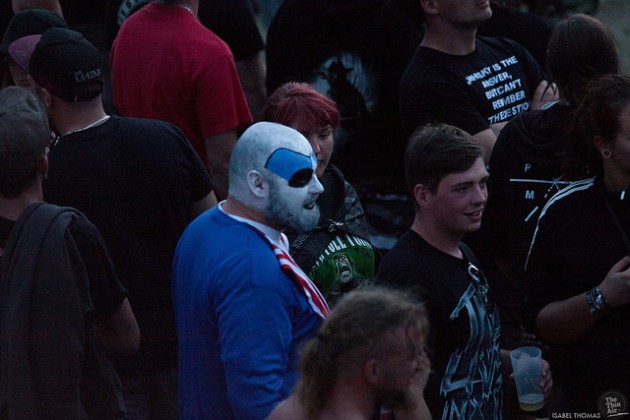 I continue on to the tent stage AKA the Hard-bowl. As I get closer I realise Of Mice and Men have already taken to the stage, where they deliver a tight and vibrant set. Their mighty brand of Californian metalcore ticks lots of boxes so I stick around for the whole performance. The band really deliver – having never seen them live before, it proves to be a particularly strong introductory gig.
The next act up on the main stage, Milking the Goatmachine, pique my curiousity before I hear a single note.Agrind metal band with a comedic flare, they wear goat masks whilst mainly performing covers of well-known songs reworked to suit their style. Song such as 'Milk Me Up Before You Go Go' and 'Only Goat Can Judge Me" make for a funny, fresh and surreal twist on what can be a stagnant genre. They deliver a solid performance, concluding with bassist Goatfreed kindly sharing his goat masks with a diehard fan.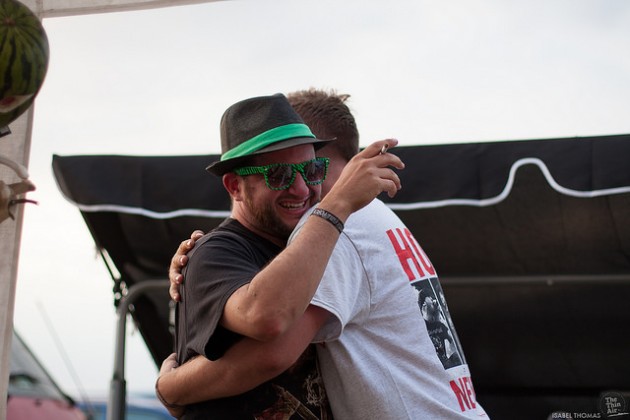 As the morning turns into the evening, and after two excellent performances from both The Black Dahlia Murder and Kataklysm, the main stage is alive with beer and brotherhood; both bands raise everyone's expectations and they weren't going to be let down. With everyone getting into the swing of things, something brilliantly strange happens: the main stage speakers fill the air with the Imperial March theme from Star Wars, naturally making cause for curious excitement. With the theme beginning to be inflected with dubstep, the Skindred banner is across the stage and the band appear, instantly encouraging crowd to jump and groove to their special blend of heavy metal, reggae, nu-metal, punk melodies and fantastic acapella vocals, courtesy of Benji Webbe. They have us circle-pitting, jumping, grooving, doing the Harlem shake and, at one point, Benji instructs everyone to take off their tops and swing them over their head. It's insane – they pulled out all the stops, give it their all throughout and the crowd love them for it.
Shortly afterwards, Connecticut metalcore band Hatebreed storm the stage with 'A Call For Blood', which gets mosh pits started that don't cease for the rest of their set. Hatebreed prove once more that they have the energy to impress both people thrashing about like crazy and those just standing still, both camps shouting each lyric along with them. Setting a high standard for the bands performing tomorrow, the sound is perfect and each member genuinely look like they are having as much fun as the crowd.
On Saturday, I wake slightly later than intended but with a nice cup of coffee, some bratwurst and toast provided by our lovely neighbours (German hospitality – what can I say?) I am ready and raring to get right back out there. I walk around the camp sites, talking to the different groups, slightly annoyed in realising that back home in Ireland we don't bring big sound systems to listen to music and chill back home while we're waiting for a band we want to see at festivals.
Having headed once more towards the stages, Devil You Know perform an extremely powerful set, something that can only be expected from a super-group comprised of Howard Jones, Francesco Artusato and John Sankey. They bring a fire with them that you don't always see. Making everyone feel intimately involved in a crowd of thousands, the band open up with 'Seven Years Alone', each member showcasing their amazing talents onstage. It's a killer set and I'm exhausted afterwards.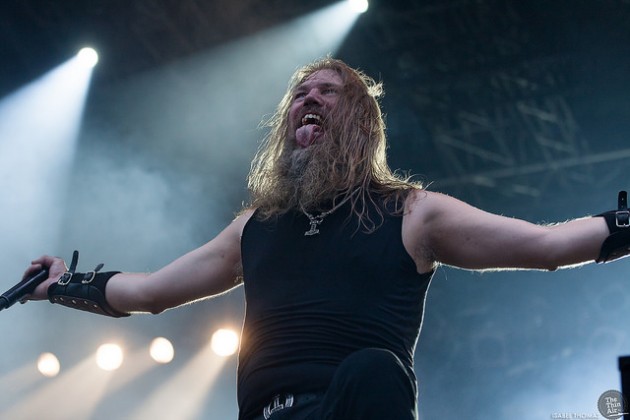 With the presence of Swiss Viking ravaging a helpless village, melodic death metal Amon Amarth are up next. After a long but suitably epic orchestral introduction, the pyrotechnic guys decide to let it rip with a big old explosion, at which the band jump straight into 'Valhalla Awaits Me'. Right in the thick of it, the crowd mosh, surf and go ballistic, a short pause serving as a break for Johan Hegg (above) to address the crowd and decree us "guardians" before 'Guardians of Asgaard' sees crowd rip the place apart. The band are faultless, as is sound, lighting and stage dressing during their set. Concluding on 'Embrace of the Endless Ocean', 'Under the Northern Star' and 'Warriors of the North' it's a brutal set from a consistently entertaining band.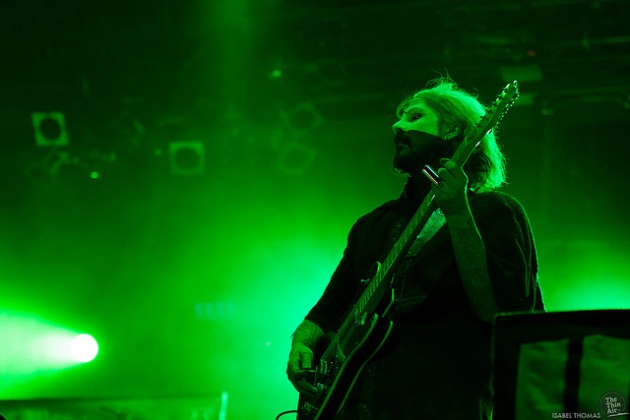 Soon afterwards, the main stage is flooded with bodies, a collective mass eager to catch a glimpse of the Hellbilly himself. Rob Zombie wastes no time and we need no introduction: wearing his signature cowboy hat and a long-tasseled jacket, John 5 (above) looks like a vampire with the bottom half of his face covered in black make-up. Seeming a little slower than normal, things get under way with 'Teenage Nosferatu Pussy' before Zombie (below) bursts into 'Superbeast', a track which really gets the crowd stomping. It's another fantastic set, with the band managing to squeeze in some cheeky covers near the end, including 'Am I Evil?' and 'School's Out' before the vengeful 'Dragula' makes for a spectacular encore finish. If there was a roof, it would have been ripped right off.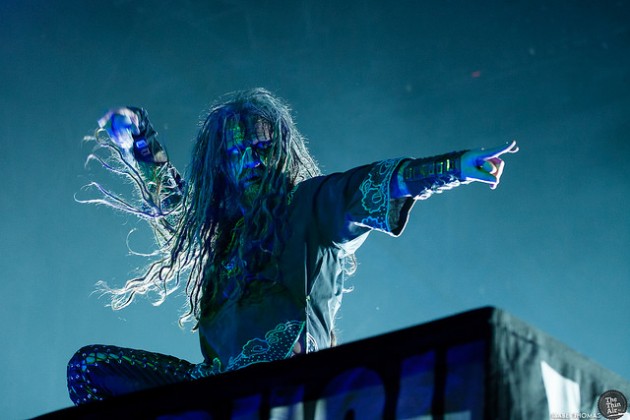 Five minutes after the encore there is another explosion and the sky is filled with light. I swing around thinking it's a second encore but the stage is empty. There is another flash and for the next twenty minutes or so there is a professional firework display, many of the crowd heading back towards the camping area, with a few people remaining to drink and enjoy the atmosphere. Truth be told: you don't really get to see all the crazy people until the crowd thins out. There is one man wearing amour made out of watermelons and for lack of a better word… a gimp. After wandering around for a bit, taking in all the sights, it's time to head home again.
Sunday
Knowing that I'm going to be having a busy evening I take the morning (check that: afternoon) slow. Checking out the traders, I get my obligatory With Full Force tee and chill out in a shisha bar that we find outside the main area on the way to the main camp site. It's a nice, relaxing place to stumble upon and it proves an ideal stop to unwind for a moment before traipsing along to catch Boston, Massachusetts hardcore band Death Before Dishonor (frontman, Bryan Harris, below). Whilst they aren't the best band at the festival, they do have good vibes, drawing a decent crowd and kickstarting the final day.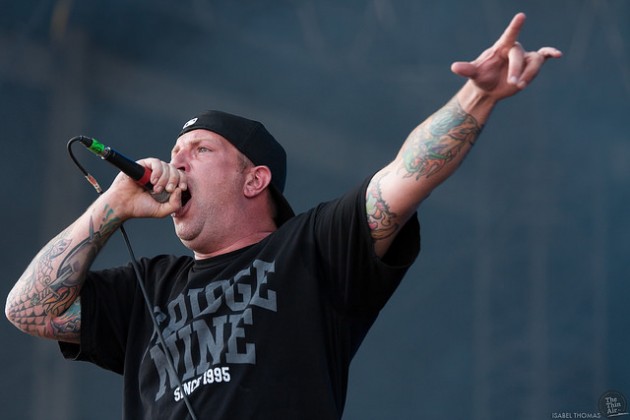 Arguably one of the most influential New York hardcore bands, Madball play a fast, metal-infused, in your-face brand hardcore. In traditional fashion, Hoya, Mitts and Mike take their places, ready with their instruments for FreddyCricien (below) to sprint out onto the stage to get things started with his gloriously gnarly vocals. The place erupts, a huge Kermit the Frog teddy is decapitated in the pit and Candace Puopolo from Walls of Jericho comes on stage and performs 'Born Strong'. The fans respond well and the whole set has a good, clear sound.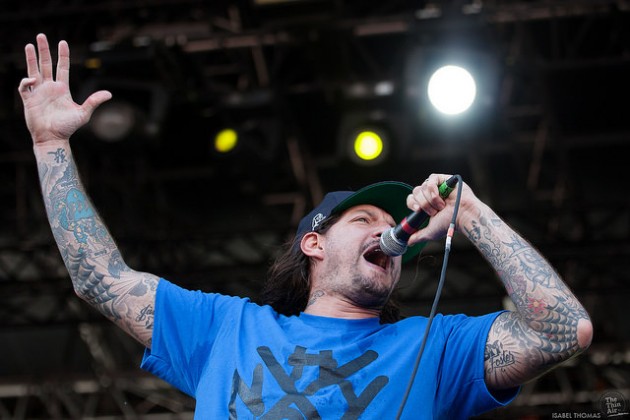 Behemoth glide on stage like the Polish demons they are, head-to-toe in black robes and corpse paint, combined with huge, detailed crafted mic stands accompanied with pyrotechnics that make the main stage look like a chapel to Satan. With lots of symbolism to express a certain very sinister and very captivating mood, they play a lot of material from their most recent album, The Satanist, proving quite possibly the best act of the festival. The pyros and lighting, along with the band's tightness and general on-stage performance, are all magnificent and quite the spectacle.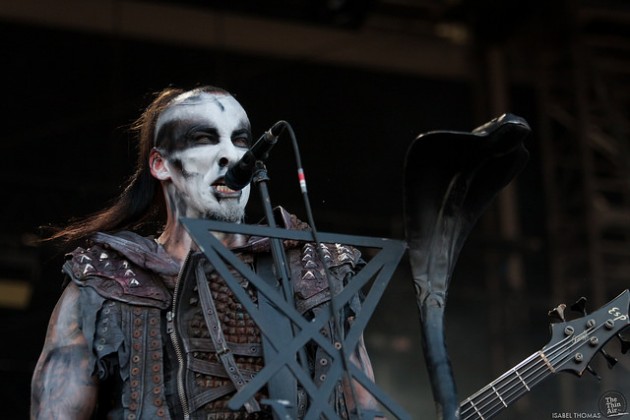 Bringing proceedings to a close in ways only they know how are Motörhead, the legendary three-piece from London and one the first pioneers of the New Wave of British Heavy Metal. Almost all of my favourite bands can call these guys an inspiration and to finally get to see them, considering Lemmy's medical complications in the last few years, is a rare honour I thought I might have missed out on. "We're Motorhead and we play rock and roll" Lemmy (pictured, main and below) announces right before lashing into 'Damage Case' from Overkill. It's a nice thing to be able to look around a crowd and see people who have been following a band for years – possibly decades – and young people alike getting the same kick out of a band.
Playing a couple more track from Overkill – 'Stay Clean' and 'Metropolis' – I notice Lemmy doesn't look too well and that he's straining himself too much… but then I realise that this is what he is all about. After all, there's almost no one out there more rock and roll than this man; a warrior who is going to be blasting out metal until his last day. I feel filled with respect for him, and with such a positive attitude in mind, I spend the rest of the set crowd-surfing in appreciation.
And with that With Full Force 2014 comes to a triumphant end, a festival were the people are great, the beer cheap and plentiful and the food delicious. There are places to hide from the sun, people to help you out if you're German is a bit rusty and nice large areas to lie down or just chat with fellow metal enthusiasts. This year the weather almost too hot but, then again, who wouldn't always opt for a bit of sunburn that being sick and miserable over the weekend? Skinderd, Amon Amarth and Behemoth stood out above the rest but almost every band gave it their all and really performed their hearts out. I will definitely return. Stefan Jennings
Check out Isabel Thomas' extensive photo sets from Saturday and Sunday from With Full Force 2014 below.