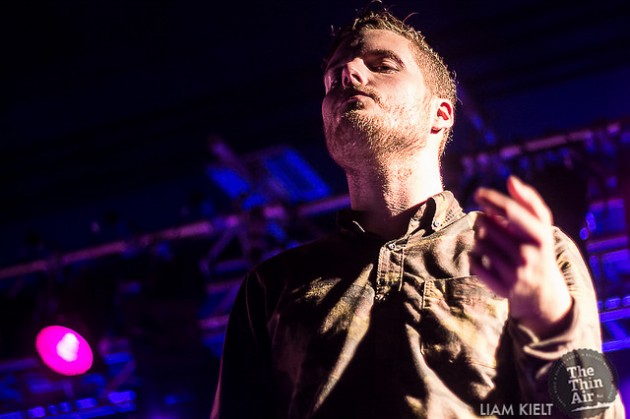 The stir of Deafheaven's first performance in Belfast is one that few could have anticipated, and even fewer will have forgotten. It was 2012, and the San Francisco black metal outfit were on their first European tour in support of post-rock heavyweights Russian Circles. The band played to an almost entirely uninitiated Speakeasy Bar that night; it wasn't long, though, until the sheer surprise of the aural viciousness emanating from the stage transformed to excitement and awe. The room, packed full of post-rock fans,  was audibly delighted with the performance. It's unlikely that any other black metal band in the world could have pulled this off, however, and following that evening, it's hard to imagine that anybody at that first show in 2012 isn't in the crowd tonight.
Before all that, though, we have No Spill Blood, a group keen to refute the idea that heavy music demands guitars front and center – or any at all. The Dublin-based trio's ensemble of bass, synths and drums makes for a thoroughly rhythmic performance, devoid of strong melodies but masterful in its abrasive riffage and menacing mood. The band uses repetition extensively, almost reminiscent of the stylings of stoner metal; these drawn out passages of bass dirge and sci-fi synth pads eventually lead into much more aggressive choruses and breakdowns, and it's here that the band really stands out.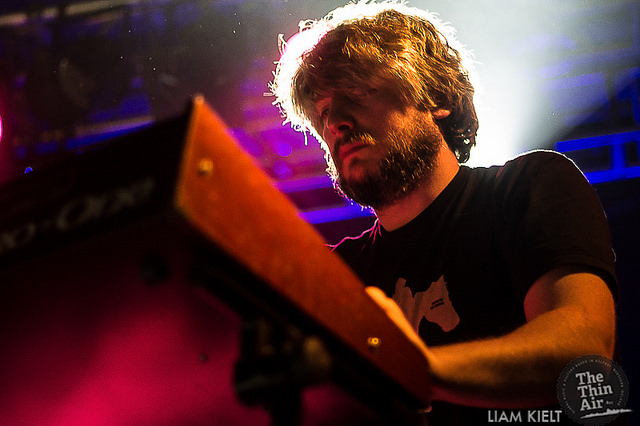 With bassist and vocalist Matt Hedigan's low growl punctuating the entire affair, furious pace and distortion meet Ruadhan O'Meara's (above) apocalypse-inspiring synth leads that consistently shine stronger than any other element in the band's set. They create an unnerving atmosphere that the bass and drums could never conceive on their own, a vision of a futuristic dystopia – the combination of typical rock instrumentation and harsh electronics has been done before, by the likes of Ghengis Tron, to similarly powerful effect.
Compositionally these songs are well written, but the band plays through them in an almost mechanical manner, tight and well practiced but perhaps lacking in presence. The band loosens up as the set moves on though, and they end on a barrage of obliterating heaviness, the cinematic quality brought by O'Meara's synths slowly fading to black, leaving a suitably impressed crowd with a raised bar in their minds.
Twenty minutes later and the most hyped metal band of the past year takes to the stage, opening with the monolithic 'Dream House'. Perhaps this song sums up Deafheaven better than any other – the formulaic blast beat drumming and tremolo-picked guitars of black metal remain, but almost everything else has been stripped away, injected with new flavors to form a unique hybrid. Those tremolo-picked guitars are now playing pretty, major key chords, and are drenched in the reverb of shoe-gazing greats such as My Bloody Valentine. The piercing scream as a form of addressing the audience remains intact, but the morbid lyricism typical of the genre is replaced by a conversation between lost lovers: "Im dying / Is it blissful?/ It's like a dream / I want to dream."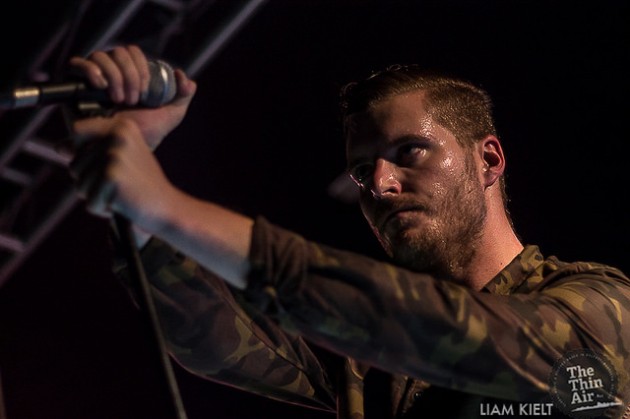 With the infusion of outside influences on their lauded 2013 record Sunbather, the group took a genre of music usually considered daunting and impenetrable and placed it firmly into the eyes and ears of music lovers all over. The band continues to borrow from other musical scenes as they play through their set tonight; while tuning up, the track Irresistible plays over the PA, a gorgeous interlude that could easily have been created in the Midwestern emo boom of the mid-90s. They continue to play Sunbather in a linear fashion with the song of the same name, and all throughout its ten vicious minutes vocalist George Clarke paces dementedly up and down the stage. He spits venomously, scowls and swings around the stage, clutching his mic stand, seemingly possessed by the music – despite his slicked back hair and pristine appearance, he may well be Deafheaven's purest metal component.
They embody the sound of the American black metal revival in some ways – they aren't the only Western band attempting to rejuvenate the genre right now but they are truly in a league of their own for one reason above any other. The emotional weight of their music is unequivocally crushing. From a compositional point of view, many of the musical motifs here aren't that far removed from the likes of Explosions In The Sky or Sigur Ros – huge waves of nostalgia, melancholy and longing are loosed from Kerry McCoy's guitar (as well as a supremely melodic solo) Clarke's wrenched screeches somehow both poetic and tragic all the while.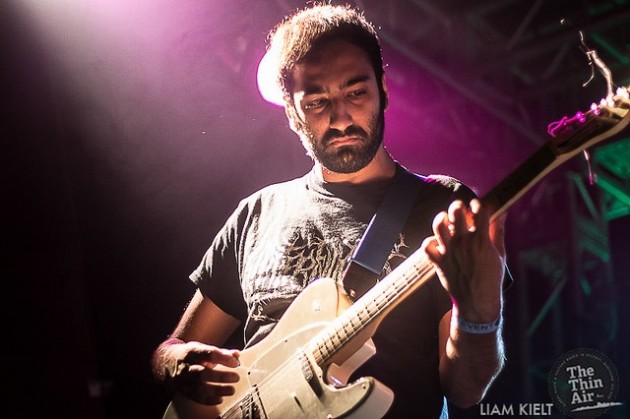 A new song, entitled 'From The Kettle Unto The Coil', deviates slightly from the expected formula and introduces more rhythmic guitar chugging, complete with head banging, though by this point the front rows of the crowd have been doing that for a while anyway. Mandela Hall isn't quite full, but there is still enough energy in the room that a few diehard fans lose it in the middle of the crowd. The song ends with solos and some more melodic moments, before transitioning on to 'The Pecan Tree'. The pain in Clarke's vocal delivery comes to an unprecedented high; dripping with sweat by this point and still swinging around like a deranged maestro, and while the whole band puts on a startling performance, it's hard to take your eyes off him.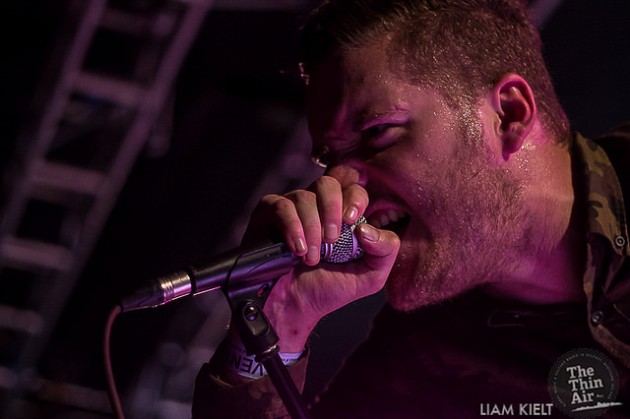 After a brief shout out to Sargent House label mates and homegrown heroes And So I Watch You From Afar, the band breaks into its closer, and the only track not from Sunbather this evening,'Unrequited' (taken from their 2011 debut album Roads To Judah). While a few fans in the crowd would have picked differently, it comes down on most of them like a death blow, a grisly, beautiful end to an hour's worth of punishing and stunning noise. The band walks off stage leaving the deafening hum of feedback behind them, and while the crowd awaits a seemingly-obvious encore, it never happens. Eventually the sound is cut and the lights go up. After witnessing one of rock music's most exciting bands play a blindingly good show, it feels anti-climactic, sure, but Deafheaven don't seem like the kind of band you would expect to revel in crowd chants and raised devil horns. There is a quiet purity to them, to the sounds they purvey, and as the crowd leaves the painted-black venue, the quietness seems fitting. Aaron Hamilton
Photos by Liam Kielt. Check out his full photo set from the show below.