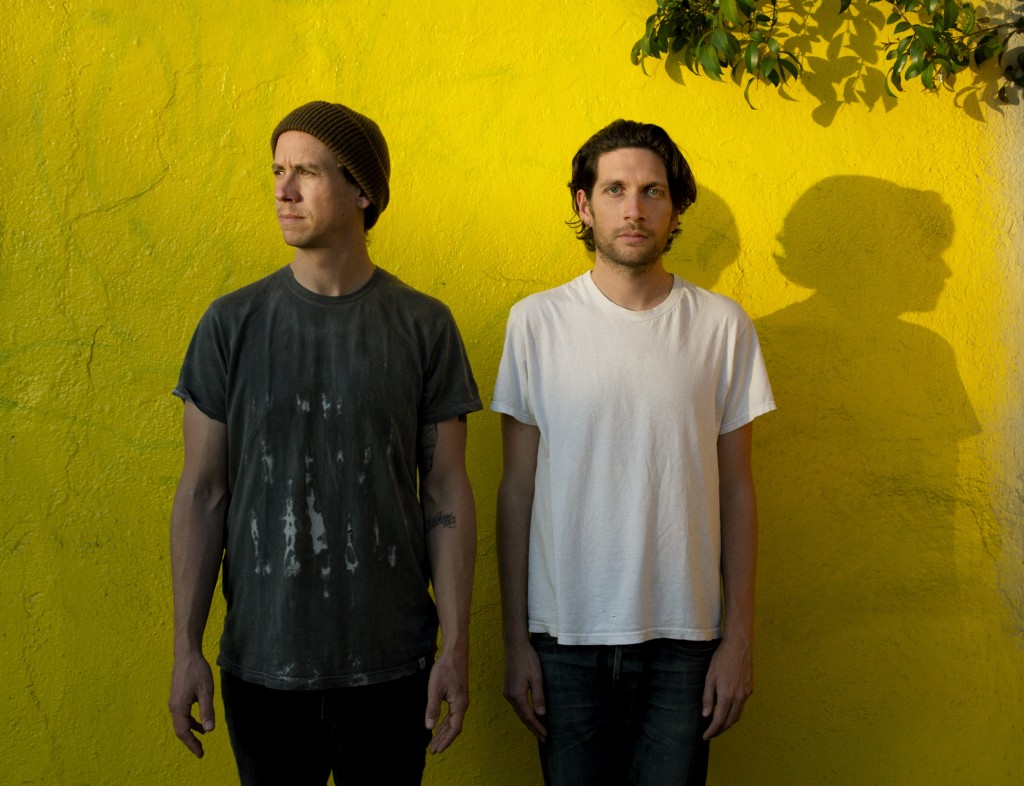 Three years on from unleashing the nuanced noise of their stellar third album, Everything In Between, Los Angeles duo No Age re-affirmed their reputation as one of the most accomplished experimental punk outfits around with the masterfully minimalist An Object, released in August last year. Propelled by its candour and bare-boned urgency, it galvanised guitarist Randy Randall and drummer/vocalist Dean Allen Spunt's effortlessly off-kilter craft, the fuzzed-out forays of old taking a back seat in favour of a markedly more inconspicuous approach. But for a twosome so apparently motivated by and inclined towards impulse, one wonders: was there much intention at the root of their latest, and arguably greatest, record to date?
"Most of these songs were written like scattered collages over time," reveals Randy, reflecting upon the songwriting process for the pair's fourth full-length studio release. "We would sit down and write a part and then record that part then we would sit with the recording and add and subtract layers 'til it became something that was kind of interesting to listen to. But then we would keep fucking with it until it became something else." A winning approach for the Californian duo and no mistake: over the course of eleven tracks An Object is all but driven and defined by a capriciousness that is rather tricky to second guess; "fucking with it", it would seem, residing firmly at the core of No Age's increasingly unconfined method.


From the ridiculously infectious starry-eyed noise pop of 'C'mon Stimmung' to loose lo-fi trudges including 'An Impression' and the hazily hypnotic 'A Ceiling Dreams of A Floor', the innate majesty of An Object is one that openly defies knee-jerk classification. The grand notion underpinning of the whole record, on the other hand – was there one? "It was a big question mark as to where we are in the space of time", parts Randy. "Questioning the feel of what matters and what doesn't." Despite becoming somewhat notorious for delivering commonplace truisms of this ilk, there is, one could vouch, a refreshing quality to Randall's otherwise pedestrian thoughts on his band's music. Purity, it seems, reigns supreme.
Concepts and schemes aside, there was noticeable shifts in No Age's approach since Everything in Between. Trimming things back to fundamental punk ambiguity, a distinct sparseness brings Randall and Spunt's celebrated DIY purism into sharp focus; the fact the pair handprinted and thumb-pressed the physical product themselves mirroring the wonderfully self-determinate ethos underlining the whole project. Whilst being the band's most stripped-back collection of songs, it is, equally, their most experimental work to date. Was that the aim? "It was my hope to keep things very similar in terms if equipment and just focus on advancing the craft of writing a better song," reveals Randall. "But Dean was more interested in creating a new type of drum/percussion sound so I had to abandon a lot of my goals for writing songs just to fit notes into his new experiment with percussion."


At first listen, An Object doesn't seem a great album. It sounds scrappy and half-baked, Spunt's aforementioned attempts at creating "a new type of drum/percussion sound" altogether distracted – fragmented even. Come the second or third listen, however, Spunt's monotonous drawl becomes something to long for, the disjointed rhythms shifting and sliding into your consciousness with ever more clarity, entangling themselves around Randall's coursing distorted tapestries. What influences and inspirations leant to the songwriting process itself? "None really," says Randall. "Dean was very excited about saying that there was no musical influences in the record. I just tried to keep up with him and add what I thought could be a melody. There was no conscious musical inspiration for this album."
No conscious musical inspiration and no clear underlying concept or scheme permeating the record: there's no question that No Age stuck to their guns when it came to letting the music "do the talking". From a more interpersonal perspective, they must have learnt much about each other as a two-piece over the years, and in particular, during the writing and recording of An Object? "I never think of what life would be like in a marching band," says Randall, obliquely as ever. "Myself, personally, I obsess over what my personal faults are on a daily basis. I don't think this had anything to do with the record but, as a personal question, I can tell that I am doing best everyday to be a better person." No conscious inspiration, no underlying concept or scheme and – yes – no real imprint of present-day personal development: one assumes critical recognition is equally immaterial? "I don't think we ever sought blog love or any other kind of love," confirms Randall. "Our bigger hope was that we could play music to people that wanted to hear music. 'That was where the story ends'."


With an unequivocal stance on what writing and performance means to them, No Age continue to mark their territory and continue to beguile with their inimitable brand of unassuming DIY punk without any marked desire to explain the processes. Outside the mere act of creation, zig-zagging the globe, impelled by the sheer desire to share their music live is very much where it's at. "I love travelling," concludes Randy. "I love playing music. My one dream is to drive around and play music – no joke! That is seriously my definition of heaven. So I feel very lucky and very blessed every day that I am able to be on the road playing music. Eating, sleeping and talking bums me out on the road but driving and playing is my dream." Write it, fuck with it, record it and play it live: there is no mystery to No Age. Brian Coney
Stream An Object in full via Spotify below.