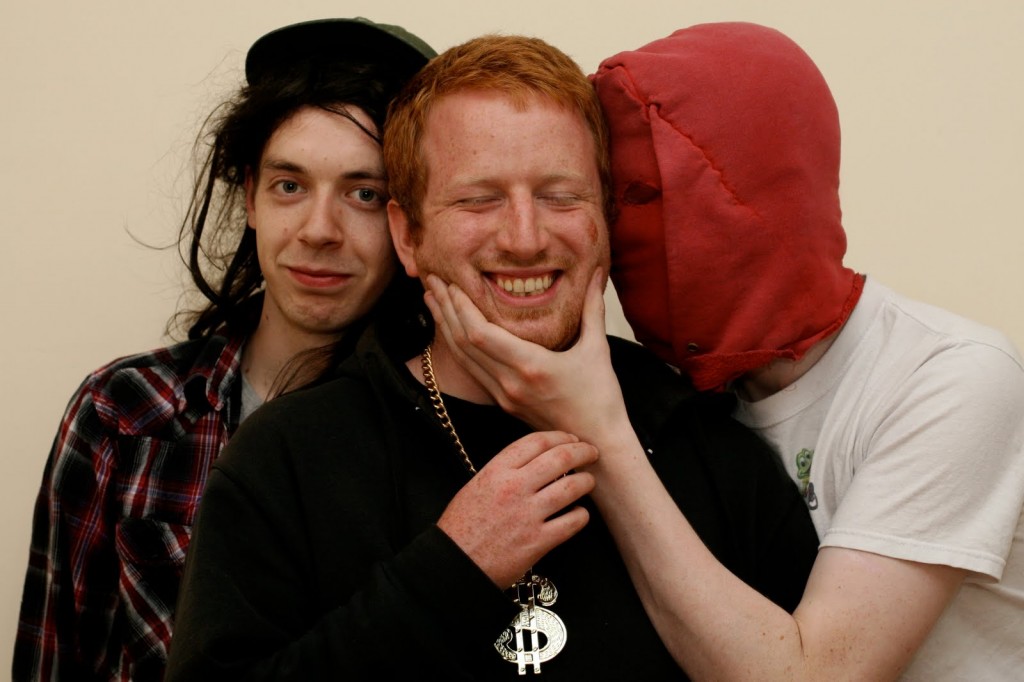 Adebisi Shank's clarification of their situation helped put a lot of thoughts to rest.
"Last gigs for a while", cool, they must be really taking a stab at America or such now they have Sargent House behind them.
"Last gigs in Ireland ever". Uh, okay, really counting on this to succeed as a statement against how the workings of music in Ireland are gamed against independent music in terms of radio, PR, etc.?
A statement on their Facebook put all the talk of expansion, abandoning Ireland, etc. to rest.
"Dear friends,
We hereby announce the end of a band called Adebisi Shank. From the three of us to all of you, thank you for coming with us on this crazy journey. To Cathy and the Sargent House crew past and present, thank you for believing in us.
Life and music moves on – Lar is making music in All Tvvins, Vin is producing/mixing, working on video games and other cool stuff as VMC Sound, and is also one half of Speed of Snakes. Mick will continue to train for his UFC career.
This Thursday and Friday in Whelans, we will play on an Irish stage for the very last time. Join us if you can. After that, we intend to honour our one existing overseas tour commitment.
To any kids starting bands we offer one piece of advice – play music you love, with people you love, for the people you love.
We saw a million faces
Vin, Lar + Mick () xxx"
What do you say to that?
Adebisi Shank's legacy (oh, man, I'm actually typing these words) is a gift to us all. Since their formation in 2007, their rapid evolution from blistering post-rock trio to a new breed of candy-coloured laser-math has been a joy to observe, and one of (if not the) major musical happenings of our time and place, a reminder that the world around us and the uncertain circumstance of post-collapse Ireland wasn't a restriction, but a levelling of the playing field, that the boldest and bravest of ideas, be they musical or otherwise, with hard work and the right people, could take root and grow.
For your scribe, personally, the highlight was their second album. The growing frenzy surrounding the band locally was a sight to behold, with the band garnering a loyal fanbase in a way that hasn't really been seen since the halcyon days of major-label interest and distribution in Irish music, the Kerbdogs and Whipping Boys of the world. They'd toured the world and come back rich in experience and good vibes, and it showed on the finished product. The weekend of release was the biggest rush of all – the unforgettable launch gig in Whelan's, among the best I've ever experienced, the mania surrounding them in the music press at home and abroad, the sight of Irish independent records being displayed front and centre in record shops all that summer. It was pride – people were slugging it out and making a difference, getting noticed, setting the new standard in an album that felt to this reviewer the same way Nevermind did when he was sixteen, an escape, something fresh, an explosion of colour and joy and hope, an anime parade, a reciprocation of sonic friendship that rewarded open ears with a warm heart and a sugar rush. It wasn't three years ago, but it felt like the marker of a new era. And indeed it was, with Sargent House taking to the band and ultimately stepping in when the Richter Collective came to an end. The heralds of the boom of quality music among their peers and contemporaries, it seemed as though the international perceptions of Irish artists could have been shaken forever.
Tonight, Adebisi Shank play their final Irish show. They will do so and break up after touring commitments, and while it's easy (and satisfying) to be bitter about yet another incredible band not getting their due after all the work they've put in, the fact remains that A Band Called Adebisi Shank has left a legacy worth celebrating, and helped fling the doors open for our current and future crops of forward-thinking musicians and sound artists. Mazel tov. Mike McGrath-Bryan
Photo: Loreana Rushe