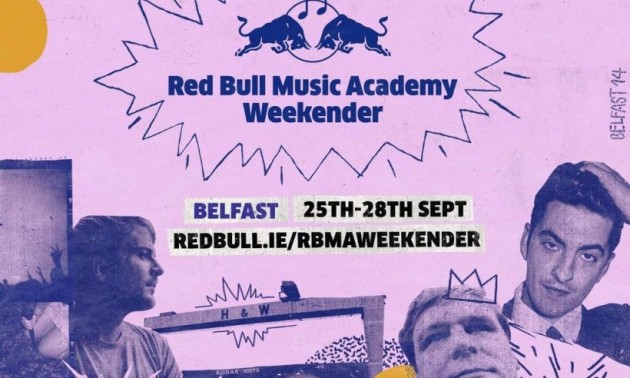 Nothing short of a downright unmissable four-day mini-festival, Belfast will host its first ever Red Bull Music Academy Weekender at the weekend. Ahead of the showcase – set to take in a whole host of workshops, screenings, lectures, live shows and DJ sets – we talk to three of the acts set to perform from Thursday, September 25 to Sunday, September 28: Derry producer Ryan Vail, shapeshifting electronic maestro Barry Lynn AKA Boxcutter and House pioneer Noel Watson.
Check out the full schedule for the Weekender, as well as our chat with the trio below. Go here to buy tickets.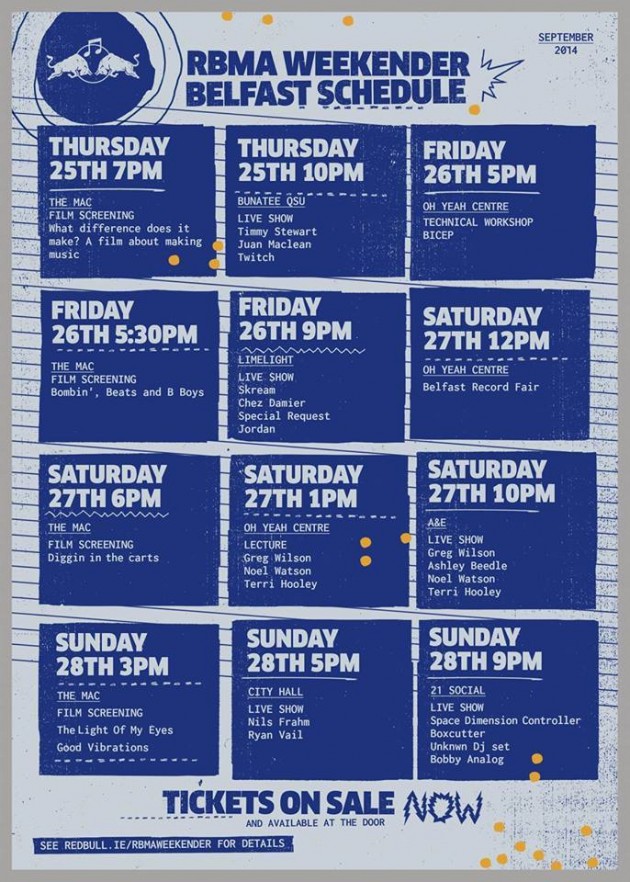 So, your set to play Belfast as part of the Red Bull Music Academy Weekender. How important to you is it playing these types of showcases?
Ryan Vail: For us opportunities like this is what we wait for all year! Gigs were you can express yourself the way you want on stage! After doing outdoor festivals were there's little stage time, it'll be really nice to be able to play longer and more experimental tracks.
Boxcutter (Barry Lynn): It's really nice to see a selection of stuff that's all come from the same place – just to get a feel for how an environment affects people, and what sort of sound is coming from a particular city. I've been doing this for a while now – pretty much ten years – so it's good to play with the younger artists too, hear what they're doing.
Noel Watson: It's very important. Red Bull is now such a huge brand and prestigious music and Arts affiliated organization that it's a honour to be asked to play at any Red Bull event. The biggest names in the industry are associated with the Red Bull brand, it's an endorsement and recognition on how highly you're regarded in your field to be included in events like this, these showcases also give an artist a massive chance to reach global audiences because of the huge marketing potential, and that's an invaluable asset to any career.


What avenues opportunities does the RMBA offer that appeals to you as an artist?
Vail: It's safe to say there music Academy is a very important. It's the back bone of many artists careers and success. All you have to do is check out the interest every year the applications open.
Lynn: It's a nice chance to play Belfast again, and visit all my friends here. The line-up looks really nice so it should be a good night!
Watson: The Red Bull Music Academy lectures, showcases and events worldwide are highly regarded within the music industry, and give any artist the chance to reach thousands, if not millions of new fans and listeners worldwide. It's an important aspect in today's social networking and technology-led world to use the promotion and marketing potential of such important and huge brands like RBMA to reach these potential fan bases. Red Bull also help young and up-and-coming artists to gain a much wider audience; their commitment to helping and promoting new artists is highly commendable and they're highly respected in many area's of today's music scenes for their forward-thinking and fresh approach to the music industry.
What can we expect from your performance at the Weekender?
Vail: Some new tracks and more improvisation.
Lynn: I'm gonna play a live set off laptop, and I've written a lot of new music recently so I'm gonna be dropping lots of that in. I'm doing a lot of music at 160bpm and drawing from all the styles that work at that tempo, so jungle, footwork, electro – stuff like that.
Watson: Well, as I've been DJing, producing and working within the music and club world for thirty years, I hope to convey that by playing an eclectic and broad range of sounds during my sets, obviously with an emphasis on house music, as I'm regarded as a pioneer in that field. Hopefully my experience and continued love and interest in the music I play and produce will find some form of appreciation over the weekend.
Looking beyond the Weekender, how's your year been so far in terms of output and activity?
Vail: This year by far has been the most productive for us! We started off scoring a soundtrack for BBC TV, released an EP in April and have been recording our debut album since. While doing that we were traveling gigging and doing festivals. So it's been real busy.
Lynn: I've been pretty busy since the spring, I've been playing gigs around Europe and wrapping up lots of new music. I had a track on the recent Cosmology compilation on Om Unit's label, and played a label showcase in Munich back in the spring. Also made it to Prague, Tel Aviv, and Moscow, while moving between London and Northern Ireland.
Watson: I have had a good year, playing on the Saturday night at Glastonbury with Todd Terry, 808 State and DJ Sneak was a highlight, taking the STARVECROW film and immersive theatre project to perform live at Latitude Festival was excellent, and DJing and hanging out at Camp Bestival, as well as producing an exciting new London band called Gorgeous George. Aside from that, producing the Far Out Records in-flight Brazilian Radio show mixes for British Airways, working with the highly prestigious and avant garde dance label Test Pressing, remixing artists such as SK Radicals for Far Out and working on an avant garde jazz project with the Alpert Herb Quintet.
Finally, what your plans for the remainder of the year in terms of both releases and shows?
Vail: We have a really special show coming up in October supporting SlowPlaceLikeHome. It's in Rossnowlagh, Donegal. After that we will be studio based for the remainder of the year.
Lynn: I've just relaunched my own label, Kinnego, and I've a few EPs lined up for release. The first one is due on October 13, it's called Retina Grains. Then I've got collaborations with Defcon, Kaidi Tatham, Ken & Ryu, and Brian Greene all coming before the end of the year. I'm also working on a follow-up to my ambient project The Host, and rehearsing with a jazz funk trio, we're recording an EP at the minute. Gigs-wise, I'm playing the Palm House, Liverpool on Halloween, and supporting Venetian Snares in London at The Laundry, on November 15.
Watson: The remainder of the year I'll be focusing on a couple of the projects I've mentioned above. There's also plans for me to curate a book, exhibition and film, plus I'll be compiling an album and working on merchandise with TP. Elsewhere, I'll hopefully have a new residency soon at Forge and Co – the members club in East London – and we're working on taking the STARVECROW film project to theatres and festivals next year. I've shit loads to do!
Watson Brothers – Electro 6 Mix (Street Sounds) by Gamma Proforma on Mixcloud