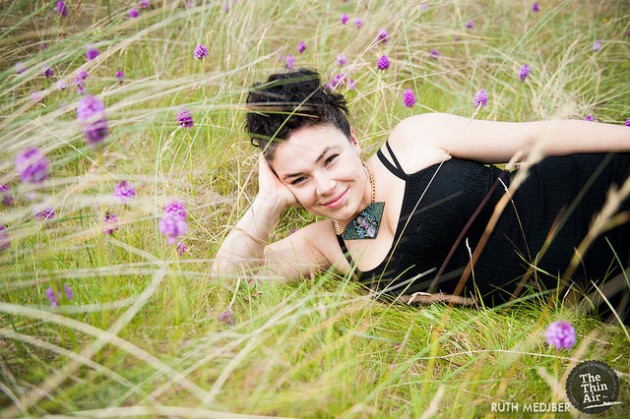 In the latest installment of Inbound, Brian Coney talks to multi-talented Dublin singer Jessica Kavanagh AKA Jess Kav about everything from her early influences, studying jazz in college, performing as part of Hozier's band and her hugely eclectic musical journey to date.

Hi Jess. Can you tell us a bit about yourself and your background in music?
I'm Jess Kav and I am a professional singer in Dublin. I started off in a stage school when I was younger, then got into the live scene from about eighteen. Since then I have been working with an array of different bands. They all revolve around my favourite genres of soul, blues, jazz, funk and hip hop.
Looking back to the early days, how did you get into singing and what inspired you pursue it?
My family was unusual for the time as my mother was mixed-race. She was an adopted half-Nigerian woman but who had grown up in North Dublin. She was raised as a complete Dub, but nonetheless identified with the soul and rock music coming from America. Luckily that was the music that was playing when I was young which opened my eyes to those styles from an early age.
I was the stereotypical kid who sang into the hairbrush in front of the mirror I don't remember a particular moment in which I felt the need to sing – it was always there. I was restless, mischievous kid, which is why I was put into extra curricular activities from a young age, to keep me out of trouble.
When I found F.A.C.T. drama school, it all made sense. I felt accepted and talented and competent, those feelings can be a hard to come by as a teenager, I think. So I stayed there for my teenage years which allowed me to (relatively) relinquish my fear of being on stage.
By the time I started in live bands, I had taken the fearlessness from stage school and applied it to the live bands I was playing with. This seemed to put me a bit ahead of some singers because I was comfortable in my body on stage. I was also introduced to improvisation, in which there was no exact 'big ending', like in musicals. Suddenly I was able to just keep singing and the band would have to follow. I really fell in love with that!
Your work traverses genre quite a bit. Where does that eclecticism stem from and are you constantly motivated to try new things, musically?
Well, being based mainly in Dublin, there is no big scene here for a specific genre. In New Orleans or New York you can spend you life playing exclusively with jazz or funk artists, in venues dedicated to that sound. The scene just isn't that big here.
The positive side to that is that you have rock guitarists playing with funk bands and jazz drummers playing hip hop in the Dublin scene. There becomes a melting pot of different interests and experience. I found myself as I gigged and went to jams that I was being asked to sing on a range of different tracks and working with different styles of music. That can be wonderful for any musician as it keeps you out of your comfort zone and widens your awareness of what's happening out there! I am always motivated to work with different people and gain knowledge and experience through doing.
Also, as a teenager I was a stereotypical rocker, hanging out by Central Bank on the weekends, but then I was playing in West Side Story at the same time. That had to have assisted in broadening my horizons in regards to my music tastes.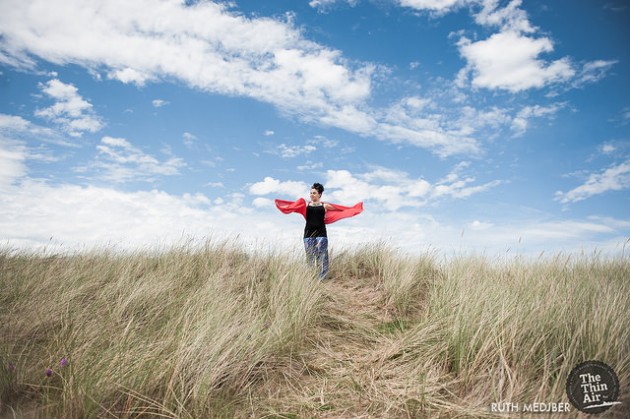 You recently collaborated with Lethal Dialect x JacknifeJ. How did that come about and how did you find it?

I had gotten some attention from my hip hop cover band, Gin N Juice, where I rap and sing. After we started gigging a fair bit, a couple of hip hop artists took interest in what I was doing. I remember when we met, I was expecting an interview-like affair in a recording studio, instead I got brought for pints with Lethal and Jack Knife J. It was brilliant – we really got to hear about where we've come from musically and how we see things creatively. I think if the setting was more formal, both our behaviours would have been different and we would have never gotten to know each other properly. Now, he's like a brother from another mother!
Needless to say, Lethal (or Paulie!) is a very emotionally articulate and wise person so I find him very inspiring to listen to. As a result he is easy to write with as you really know where he is coming from. The guys also set a lovely atmosphere in the recording studio, which is very important when you're writing with someone.
If you could collaborate with anyone, based in Ireland or otherwise, who would it be and why?

Oh! Can I have more than one? The holy trinity for me is Erykah Badu, Nai Palm (from Hiatus Kaiyote) and Georgia Anne Muldrow. There are incredibly individual artists who have their own style. Georgia Anne Muldrow writes and produces a lot of her own stuff, Erykah Badu is just a force of nature on stage and Hiatus Kaiyote write some of the best songs I have heard coming from new artists in years… or possibly ever.
They inspire me because of their individuality, their relentless creativity and how free they are. They are setting the bar for innovation in music. People like that are golden. It would be an honour to be in the studio with any one of them. If I met the three of them at the same time though I would actually explode!
In regards to an Irish artist, the amazing Wallis Bird has always been a massive inspiration to me and I would love to be on a track with her. That has always been a dream for me, I have to say.


How do you think things are in Irish music at present – do you think it's in a healthy state?
It's in a flipping amazing state. We have had an increase in music education over the last ten years with Newpark Jazz College and BIMM settling in Dublin. We have beasts coming out of these schools. These lads and ladies have really worked on their techniques and have a wide range of knowledge of different styles. Musicians are becoming more fearless and more creative and we have bands like Loah and Zaska and Umbra (oh my!) who are playing music that just wasn't there ten, even five years ago! It's amazing.
Gin N Juice wouldn't have happened if it wasn't from the training the lads had gotten from college. We use no backing tracks a replicate all the sounds from hip hop tunes using just the live instruments, as an example of the talent knocking around Dublin.
We, as a country, seem uninteresting to most major labels, which can be great. It has inspired many artists to find other modes of promotion and distribution in which artists can maintain the integrity of their music without the middle man. New management companies like Ensemble Music are looking after some great talent and places like Block T are holding events that are affordable and offer a wide range of new music in a beautiful atmosphere. I also have to give a shout out to Nialler9 who has his finger on the pulse like some digital-music-scene oracle!
Also we have people like James Vincent McMorrow and Hozier who are flying the flag internationally and showing the world what kind of talent resides in Ireland. There is a wealth of soul, blues, jazz and hip hop, afrobeat, pop and rock in Ireland. Just walk around on a weekend and keep your ears open. Walk by the fiddledy-dee of the plastic paddy pubs and keep going till you hear some spoken word or a saxaphone and you'll be on the right track.
You mentioned Hozier there, who you toured with in early 2014. How was that and what are your thoughts on his recent rise?
"Holy Moly!" is probably the closest exclamation I can get away with without using bold words (Holy Shitballs Christ is what I want to use but that's off the record!)  I kinda knew when he asked me all those months ago to be a BV for some of the promo gigs that this would be a bit of an adventure. I didn't expect it to go that far. I also can't believe it was a year ago we were singing at the EP launch and now he's touring America for the third time!
In regards to the experience, it's amazing to be on the stage while watching every gig get more packed, the fans to becoming more enthralled every time and watching the excited whispers and hype around Take Me To Church. It's a very unique experience to be a session vocalist during the time of a band's huge rise to the top.
Also it's very cool to know I was one of the first couple of hundred people to hear Take Me To Church and 'Sedated' (my personal favourite!). That first listen of that EP will most definitely stick with me.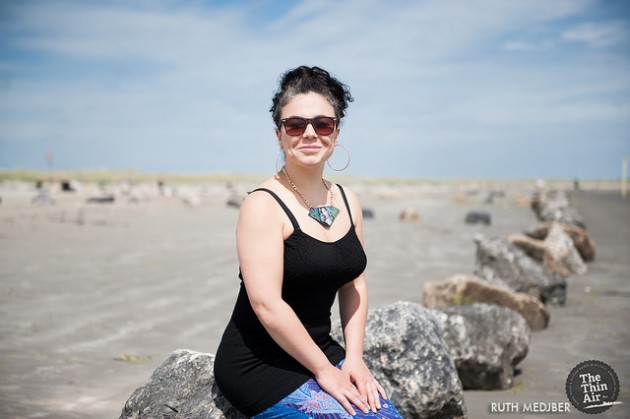 Looking back at the shows you've played to date, are there any that stand out?

Well, this may seem weird, but I think the most recent one that stuck with me was performing with The Stars Of The Commitments in The Swiss Alps. That was pretty amazing. Also I was massively obsessed with the film when I was a kid so my inner child was losing it when some people were asking me to sign CDs after the gig!
Also playing with Hozier at SXSW was amazing. Austin was a very cool city.
What are your plans for future releases and collaborations?
Well, sorry to be boring but I'm back in college studying jazz! I want to really perfect my improvisation skills and my arranging skills so I can take more control in regards to collaborations or even doing it completely solo. Aside from that, Lethal Dialect's has just been released. I am the feature singer on a couple of tracks and I will be on the road with him this winter, supporting Damien Dempsey on his tour, which I am very excited about.
I am also the backing vocalist for the new tracks from new group, Monster Monster. Their track 'Assassin' was released the same week as Lethal Dialect's new album.
And I have a collaboration on the go with a UK producer at the moment, where I'll be writing some tracks – so watch this space.
Finally, where can we find out more about you?
jesskavmusic.tumblr.com is where I put up all releases, recordings and gigs these days. Then there's my Facebook and Twitter too. Come be my friend!