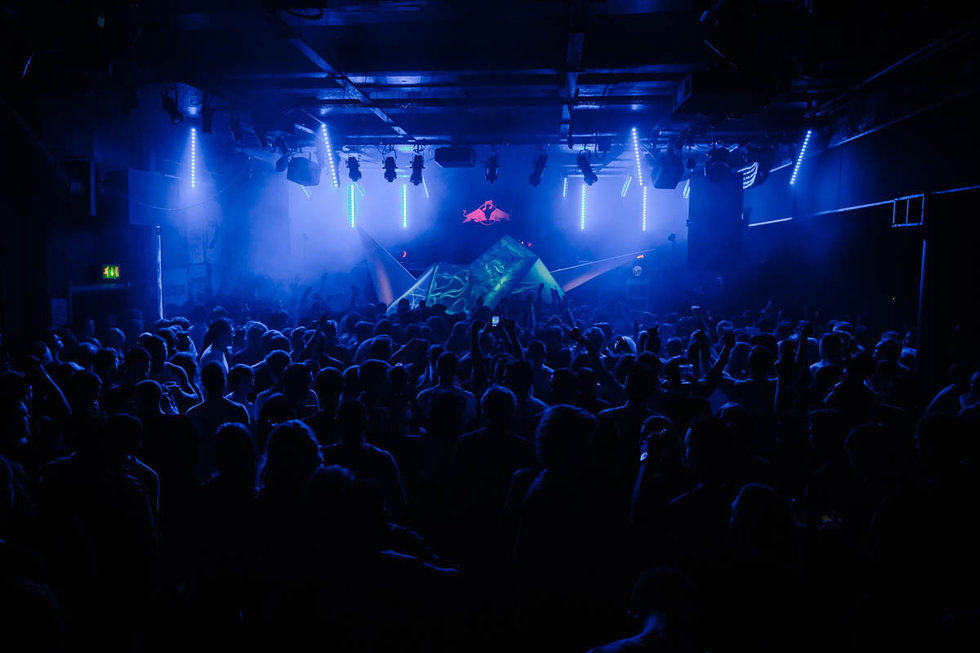 Cultural arbiters and part time energy drink company Red Bull have seen fit to spend some of their considerable savings throwing a weekend-long event in Belfast, with a huge array of talks, workshops and film screenings every day, and big name producers and DJs like The Juan MacLean, Greg Wilson and Space Dimension Controller playing every night. Friday night was set to be the biggest event on the bill, with Dubstep-pioneer-turned-Disco-peddler Skream headlining, alongside Paul Woolford under his Special Request alias, house legend Chez Damier and Belfast stalwart Jordan.
I was curious to hear for myself what a Skream DJ set would sound like now, considering his fairly recent switch in genres, and I was also secretly hoping he might get way too drunk on vodka and Red Bulls and chuck a CDJ off the stage. Sadly this was not the case, as only a few hours before the gig, it was revealed that Skream had cancelled, with his place being dutifully filled by Irish-born, Berlin resident Mano Le Tough. There was no official announcement before the gig, and most attendees only found out as they arrived at the Limelight. One particular friend had a few too many and only realised at 2am that Skream hadn't in fact been DJ'ing for the last hour and a half. Spirits weren't particularly dampened by the news of the cancellation, and many people I chatted to were actually pleased to hear that Le Tough was playing in his place.
Although filled to the rafters most nights with students, the Limelight 1 is a dauntingly large venue to fill, especially for an event with some names lesser known in wider circles. Happily enough, though, the bar and dancefloor gradually filled and the dancing crowd was huge by midnight. Having already played to a rapturous Belfast crowd earlier in the year, Chicago DJ Chez Damier is fast becoming a firm favourite with the city's club-goers. He spins array of classic Chicago house and disco, the kind of tunes that make it difficult to resist unleashing a guttural "YEO", even at half past ten in a quarter full club. Around halfway through his set he drops an edit of the seminal "Strings of Life" which visibly fills the dancefloor within thirty seconds. A brilliantly executed warm-up from a veteran. My only gripe at this early stage was a noticeable amount of distortion coming from the low-end of the club system, but this was ostensibly rectified later in the night.


Another act well known to Belfast clubbers, Special Request, has played under his own name, Paul Woolford, at long running club night Twitch on multiple occasions. Despite having enjoyed his sets at Twitch myself, this Special Request set felt like an hour of relatively homogenous bass-heavy garage tunes. There were a few moments of intensity, dropping a number of tracks with the slo-mo jungle breakbeat sound that his Special Request alias is known for. But, when I popped my head out for a quick cigarette, It was the busiest the smoking area would be all night.
After a relatively dark hour of music, newly recruited Mano Le Tough brought a splash of colour to proceedings. The dancefloor noticeably livened as glittering, hypnotic tracks from Alex Niggemann, Musumeci and Scuba filled the Limelight. The set developed into tougher cuts as the set reached its final half, but the crowd followed happily the entire way. Le Tough closed with Caribou's melodramatic 'Can't Do Without You' to a massive reaction – I even spotted a few scattered couples slow dancing!
Despite the early hiccup of headliner Skream's cancellation, many punters who admitted they hadn't heard of his replacement were hugely complimentary of Le Tough's set, despite, for the most part, a relatively obscure track selection. The size and reaction of the crowd all night show what many have long suspected; although a smaller pocket in the city have been following it for decades, Belfast's appetite for the more underground strains of club music is growing with wild abandon. Niall McKenna