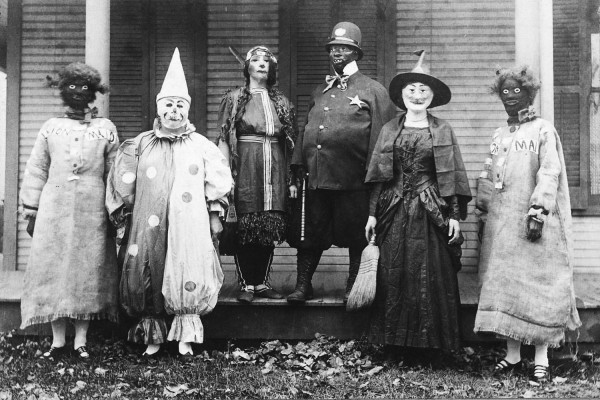 Without any hint of exaggeration, we love, honour and observe Hallowe'en more than pretty much anything else here at The Thin Air? Easter? Pah! Christmas? Pffft! We laugh in the face your cheap crackers, familial small talk and ceaseless indigestion. Yes, for us, Samhain eve is where it is well and truly at. And to commemorate that fact, our Autumnally-inclined editorial team have very happily selected three of their favourite Hallowe'en songs each. Read, listen and go forth into the night.
Brian Coney – Editor
Graham Coxon – Bonfires
Conjuring some truly wonderful images of late-on-Halloween-night solitude, 'Bonfires' by Graham Coxon is the absolute polar opposite of 'The Monster Mash'. Coy and retiring without veering into overly inward-looking territory, it reminds me of happily returning home alone from trick-or-treating as a youngster to sit flicking through the channels for forbidden horror classics, cracking open monkey nuts.
Suicide – Frankie Teardrop
Taken from their 1977 debut album of the same name, 'Frankie Teardrop' by New York protopunk trailblazers Suicide is a ten-minute masterstroke of decidedly maniacal proportions. An anti-overture to impending insanity, utter desperation and the onset of severe self-destruction, it is quite possibly the most skilfully disturbing piece of music I think I've ever heard. And that's before the epileptical screams.
Philip Glass – It Was Always You, Helen (Candyman Theme)
Without the slightest hint of a shadow of a doubt, Philip Glass is my main man. Suites, soundtracks, experimental works and everything in between, he has done it all, a million times over. Whilst it's a bit hit-and-miss in itself, his soundtrack to Bernard Rose's 1992 horror anti-classic Candyman is a total revelation. Elegiac and haunting in all the right places, its main theme is equal parts spooky and beautiful.
Loreana Rushe – Photo/Visual Editor
Gatekeeper – Chains
Gatekeeper make the kind of dark, sinister gurgling synth music that's sounds like John Carpenter's stomach after a severe bout of indigestion. Even the video is horrifically perfect with the phantom motorbike meandering aimlessly through a spherical Bryce software created wasteland. This particular song/video combo conjures up images of childhood Halloweens of yore spent playing 'Atmosfear' and stashing refresher bars under the couch cushions for the following day.
Tangerine Dream – Stealing Silver Crosses
Nobody does foreboding soundscapes quite like Tangerine Dream, and on 'Stealing Silver Crosses' from the OST for Michael Mann's adaptation of The Keep by F Paul Wilson, they couldn't come closer to nailing that fog drenched dread I associate with a cold Halloween night amongst the synesthesia of decaying leaves and distant bangers from neighbouring estates.
Oingo Boingo – Dead Man's Party
Two words: Danny Elfman. At this stage now it's probably beginning to dawn (of the dead) on you that I haven't quite gotten over the 80s, but come on! If this quintessential classic is not on a playlist at any Halloween Party you attend then you seriously need to re(fancy)dress this hallowed evening and – quite frank(enstein)ly – your life!
Andrew Lemon – Review Editor
Gorillaz – Clint Eastwood
It may have been 'Dracula' – the B-side to Gorillaz' 2001 'Clint Eastwood' single – which had the more sinister ska rhythms and stock film quotes ("This is good for the blood!"), but there's always been something inherently menacing about the cartoon band's first single. Whether or not Damon Albarn knew that combining an Omnichord with rapped verses from  Del the Funky Homosapien would result in a niche Halloween classic, we'll never know – but there's little doubting that 'Clint Eastwood' is both mildly frightening, and a tune that stands up impressively well.
Dead Center – White Lake
The musical vision of Norweigan duo Erik Skodvin and Otto Totland, 'White Lake' is a pleasantly grim and at times bleak journey through neoclassical music and electronica. Inspired by old 8mm silent film reels, the duo's debut LP is littered with field recordings taken by the pair themselves, adding to its cinematic and dystopian feel. 'White Lake' is perhaps the best example of this; the main dance of its piano motif eventually becoming encircled by sharp, jarring strings and hissing crackles. Beautifully sinister.
Brotherz In Law – The Exorcist
This is completely daft, but when a piece of music combines the theme from The Exorcist and garage snares (not to mention THAT bass), there's not much more to be said. Discovered, ironically, on a playlist of Halloween tracks on the internet, now you too can pretend that this is all you've ever listened to come Halloween time when everyone else is listening to The Specials.
Stevie Lennox – Guide Editor

Black Sabbath – Children of the Grave
It's a tough call between this and 'Black Sabbath' itself as to which summon the most occult of vibes; Sophie's choice, really. It pretty much soundtracks the hypothetical (until proven otherwise) highway duel between Ozzy and the Armies of Satan himself, and halfway through pioneers some doom.
The Birthday Party – Release The Bats
Nick Cave's tormented vocals on this evoke some Screaming Lord Sutch channelling some wild Hunter S. Thompson freakout. He's the madman who lives on the derelict mansion on the hill.
Sisters of Mercy – Alice
It's not really fair to celebrate all this death without wallowing in goth's misery. Andrew Eldritch humanises the morbidity with the titular Alice's drug-induced hazy existence through a lo-fi, minimal gothic, post-punk lens – personal favourite Sisters of Mercy song.
Mike McGrath Bryan – Cork Editor
Misfits – Hybrid Moments
Not the most Hallowe'enish of their output, but Glenn Danzig's rock 'n' roll croon was never better than on this slice of ghoulish fun. A mover of a tune that transcends their B-movie aesthetic and now-tiresome merchandise empire and genuinely puts a smile on this writer's face.
Alkaline Trio – Mercy Me
The juxtaposition of melody and morbidity is always compelling, but Trio have taken it and made it theirs. This particular tune is as melodic as a songbird, yet haunted by ghosts, and its simplicity is the blade it cuts with: "It's been a long day, living with this/it's been a long time since I felt so sick". Any other band would have made a hames of it and got caught up in schlock. Not these guys.
The Legendary Stardust Cowboy – Paralyzed
Not at all seasonal, but if this doesn't turn your Hallowe'en party in a heaving mess of bodies and hysterical laughter, I'll eat my lucha mask.
James Magill – Tune In Editor

Warren Zevon – Werewolves of London
I discovered Warren Zevon back in 2004 when a friend of mine, who assumed I was also a big fan of Warren, shoved a "best of" box set consisting of 4 CDs in my face, excitable boy they all said. This was the day I was introduced to one of the 70s most fearless lyricists and the classic Werewolves of London, stay away from the Kid Rock rip off though. No, seriously.
The Time Warp – Rocky Horror Picture Show
As a die hard Crystal Maze fan how could I leave out the high energy masterpiece known as the time warp? You'll no doubt find this in each and every Halloween party playlist and for good reason – it's class.
John Carpenter – Halloween Theme
Nothing sums up Halloween more for me than, you guessed it, the theme from Halloween. Those first few taps of the ivory never fail to send chills up my spine and if it doesn't do the same for you then I suggest you make a doctor's appointment as you may be an undead yourself.