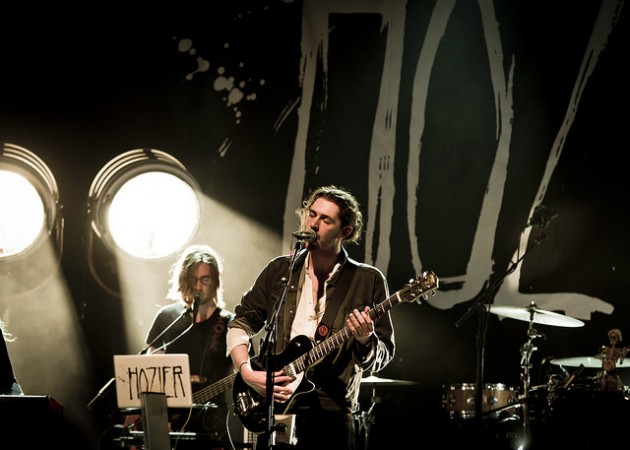 Hozier played the second night of his two date stint in Irving Plaza, in midtown Manhattan on Friday night, as the incredible and seemingly unstoppable rise of the Bray singer continues apace. Playing to new-found, but diehard fans and a thronged enclosure of New York's finest, chattering VIPs, is evidence that Hozier is the man of the moment, as he rounded off his 2014 US tour in a venue that will soon not be fit to hold his ever-growing followers.
Support act James Bay, accompanied by just a piano/percussionist player had a tough job getting his message out across a venue that was already 90% full, but managed to do just that. Equal parts tender and raucous, his performance set the bluesy tone for the night.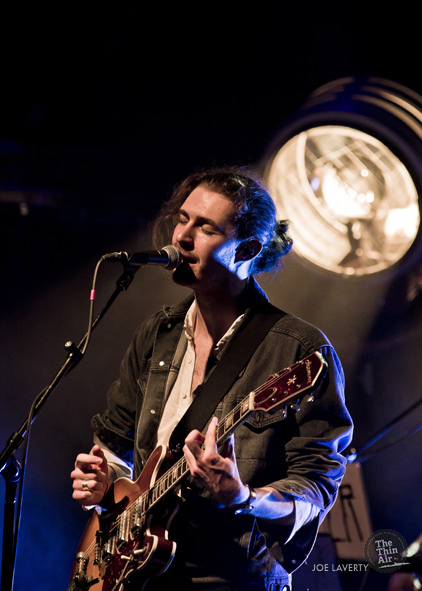 After after a long, long wait (the band only loaded in during James Bay's set, after appearing on yet another US talkshow, mid evening) Hozier and band take to the stage to wild applause. Opener 'Like Real People Do' quickly hushes the masses as Hozier's delicate guitar playing and honest voice takes hold of the room, his band providing the gentle colouring as required. As they ease through their highly polished set, it's easy to see where all the fuss has come from. Hozier is an excellent guitar player and his vocals fill the room, in a way that doesn't befit his seemingly shy nature. These virtues are most evident during the haunting 'To Be Alone', which could have been written 100 years ago on a quiet prairie in the deep south of the USA. The cover of Skip James' 'Illinois Blues' certainly creates a real moment during the set, which serves as the perfect entrée to 'cherry wine', a duet with Cellist Alana Henderson. This is Hozier at his best, where the dark tales in his lyrics come to the fore and the intertwined harmonies between the two even manage to hush the VIPs.
But this is the last night of the tour and there is some partying to be done, so after the big hit finale of 'Take Me To Church', the first encore – an inspired cover of Amerie's 'One Thing' – gets the room heaving, before the endlessly uplifting 'From Eden' brings the night to a rapturous conclusion. People drift out into the damp New York night, with their feet lighter from when they went in. What happens next in the Hozier story will be interesting and inevitably huge. Joe Laverty
Look out for the December issue of our magazine for more of Joe's photos from the show.