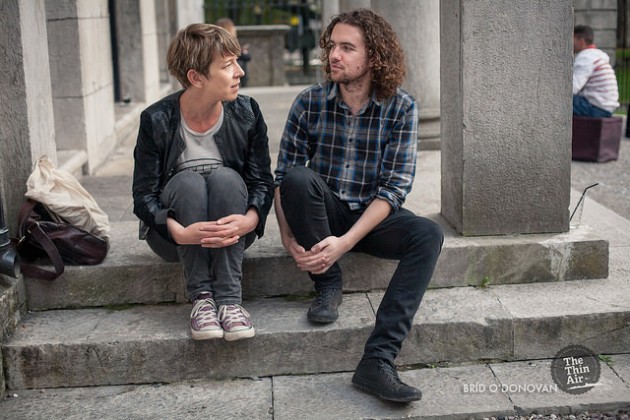 In the latest installment of Cork Heads – looking at some of the brightest creative sparks in the Rebel County – photographer Brid O'Donovan shoots and talks to Colm McAuliffe and Máire Dineen of Cork Film Festival, which opens on Friday, November 7 and runs until November 16. Colm is Head of Short Film for the festival. He also writers for the Quietus, Sight & Sound, Film4, Fade to Black and the Skinny. Maire is Head of Live Music and Special Events for the festival. She also works with Body and Soul Event Creations Ltd.

How did you both first become involved in Cork Film Festival?

Colm: I started working at Cork Campus Radio. I had a music show called Rebellious Jukebox about ten years ago but then I changed the name because we didn't have enough listeners. I changed it to Two Nice Swedish Girls and duly my listenership doubled so I had four listeners. It was fantastic. One of the other veterans of  Cork Campus Radio was Don O Mahony. At the time he was the Features Programmer and I drunkenly forced him into giving me a job with the film festival. I didn't think he was acquiesced to my drunken demands but he surprisingly was. Within a week I was writing the programme with him. I had this editorial job essentially, which was fantastic. I was finished UCC at the time and I think I was having an extended period on the dole.
I spent years trying to leave Cork and as you know Cork means marshy land in old Irish so I kept being sucked back in. I went to Dublin, I went to New York but every single year I worked in the festival. Either coming back to Cork or working remotely. I came back because I had such great fun working in the office. The festival has quite a high turnover of staff and I felt that the longer I stayed there the more responsibility I had. Whether this is actually true or not is another story. But in my mind I was having increased responsibility as the years passed. A year ago when James Mulligan took over, he gave me a more advanced role because myself and Don are now the longest serving members of staff.
Máire: I also started in Campus Radio in the first year it started in 1995. I did one year of it and I had a radio show called Hibernia Files which was based on Irish music. It was good but I was crap because I'm not an outwardly person to be talking on radio. I went in there because my background is in Engineering and I went in with that purpose in mind. Kieran Hurley was hired and he was all over it. He didn't need assistance so they gave me a radio show. It was great but a lot of pressure for my two listenerships which was one of the locals from home Donnacha O Hea who ran the Student Union and there were a few others. It was great craic.
When I came back to Cork from Galway I had free time so I went volunteering with the film festival one year. Then, I was like volunteering is great and all but it was something I really wanted to get into so I applied for a job. Éanna had left, he was the production manager and operations manager. That position came up so I took it and it started from there. It's my fifth year. I progressed from the operations manager. We started bringing in more of a visual and music element to the festival. When James (Mulligan) came in it was more of a step up. Being the operations manager you project manage the events – you make sure everything is running smoothly. It was quite technical so it was great to get into the music side of things.
How do you manage your time between separate jobs and projects?
Máire: I'm only freelance in the last year because I used to work full time up until last November. I was working on jobs, mostly with the film festival and Body and Soul for my holidays but after four years of doing that there was a decision to be made. Either do it full time or leave something go because it was an awful amount of work. It was nearly every night after work and during holidays and everything. I got the opportunity to leave my full time paying job (laughs) and I took it! For the past year I've just been concentrating on the Body and Soul work because that became a lot bigger than what I'm used to working with and I've been working on this project here with the film festival. It can become all consuming. I used to work from half past eight in the morning until six o'clock anyway in my day job so you get training from that. In the arts world things don't come as fast into you as it would in a corporate situation. There are a lot of deadlines. You could be waiting on people to send you emails. There's a lot of work. The more you work on projects the more you know straight away and there's less learning involved so you know who to go to straight away for say, equipment. You have your people, you have your sources.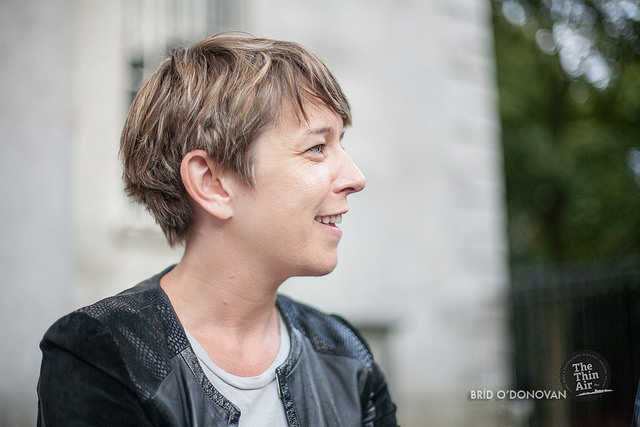 It depends on the project as well. Body and Soul and Cork Film Festival kicked off together in January so when you have projects overlapping it can be difficult but you can give two days to one and three days to the other. It definitely depends on what's coming towards you. Every week is different. If you're trying to make a business out of this, you are trying to do the business side of things which is the social media and it's all about contacts and it's all about trying to get other work. It's about networking and meeting people. I've been very lucky so far. I have gotten a few projects in between with TG4 in Galway and with a drama production company called Fíbín in Galway which started with puppeteering but then moved on to bigger projects. We did an outdoor 3D projection on the faces of a quarry cliff in Galway so it was great to do production on that. I've been very lucky so far. Now I'm just concentrating on next year.
Colm: The idea of working 9-5 is completely anathema to me. I've never done it and I've got to the age of thirty-two without ever being a part of that world and ever being a part of that rat race which is something I'm proud of and also slightly dubious of but mainly I'm proud of it. So the idea of having different projects on the go and juggling them and your time is normality for me. To have a rigid set of scriptures with which to work under would be baffling to me. I would be trying to break free from those restrictions constantly. This is all I know. I find the whole notion of having different projects incredibly exciting because I think we are kind of lucky to be working in the world of film and music. And all of the projects I'm involved with will feed off of each other. If you come to a curating job from a writing background rather than a direct curating background that very much works in your favour. If you go to a writing job with a curation background that too works in your favour. When you are working with other people you are going to have something they are not going to have.
That is the cornerstone of the work that I do. I try to bring something a little bit different to each project. I use the British Library in King's Cross in London as my workplace everyday. I tend to go there at ten o'clock in the morning and I leave whenever I'm done. Being in that sort of physical environment, that physical space has a very positive effect for me because I've made the effort to go there and I'm not going to just stay at home on my laptop, staring out the window, drinking endless cups of tea. I do need that level of influence on me. But it's a very good influence. It's almost peer pressure because everyone else looks like they are doing something really important and they look like they are writing some great thing on Shakespeare or some great philosophical treatises. You think, I must measure up to this! The more time I spend there the more time I write and think, I need to up my game here. It's a constant battle against complacency.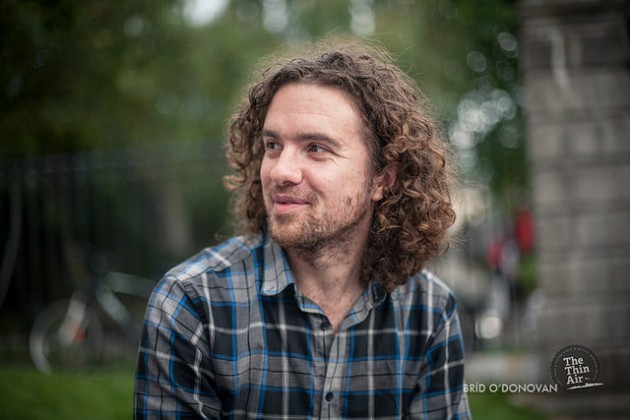 How do feel about working within the arts sector in Ireland? Do you feel supported?
Maire: The only nervousness I'd feel about it is that it is quite seasonal. A lot of my stuff means that I'm really busy over the summer and after the film festival in November there's a block that's not happening for a lot of people for September to January. Unless you get into Christmas fairs and stuff like that. I do feel supported because you get a lot of referrals from people so a lot of it works that way. Again it's all about your contacts and networking and being referred. People do say "Oh, Maire could do that?" and I'd give them my email address or my number. Or somebody might come to me and say "I need someone to do X, Y and Z." I wouldn't know anything about it but I might know a person in Dublin say that could do it. So I feel very much supported that way. Mostly from people that are working in the organisation. I'm not really familiar with the whole Arts Council thing. Funding is not something that I personally want to be wholly dependant on in order to run my own events because I don't think it's stable enough. Maybe something more local like Cork City Council or something like that would be more advisable for me at the minute. There definitely is support there. If you know people like yourself, and Eoghan (The Point of Everything) and Gary (G-Man Blog) and even though I don't really know these people you do feel the support there. People are a lot more inclined to ask someone they trust to recommend somebody as opposed to advertising and going through an interviewing process or something like that. It's easier for people to say do you know anyone that would do X, Y and Z. I used to work with TG4 for years aswell so I know a lot of film people, theatre people, and TV people in Galway so a bit of my work comes from that as well. It's great.
Film and music: were they a big part of your childhood? Was it something that you were involved in?
Máire: I grew up in the Gaeltacht so I didn't really have a television. It was the film festival that brought me into film. When I first came here to college, I was seventeen and I went to my first film festival. I was just like "Oh my God". There was so much learning going on. That was my first film realisation. We had stuff at home but it was The Muppets and all that. Music was always big part of my life. I had four older brothers so bands like The Cure and The Sex Pistols will just be in my heart for ever. MT-USA with Fab Vinnie introduced videos to me. I remember seeing the A-ha Take On Me video and I just wanted to work in TV straight away. It was just amazing.
Colm: When MTV launched in USA in 1984, RTE responded with MT-USA and it was presented by this guy Fab Vinnie. They would cut to him and he would be outside the Empire State Building and he'd say "This video is from Talking Heads".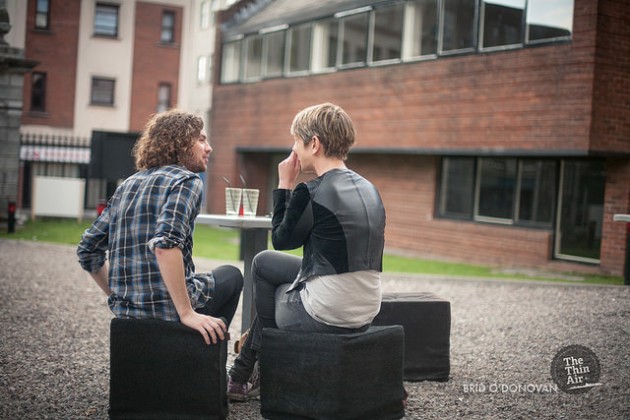 Máire: It was on RTE2 every Sunday for four hours and you'd just sit and watch music video after music video. It was mostly music for me anyways but I came from a family where a professional job was the thing to get in to. I could have pursued music but the aim was to go to college and get a degree. I did Engineering in college and that branched into sound engineering and so on. I know a lot of the technical stuff now which is great when you are organising stuff. You understand what people are talking about. When I watched music videos as a child there was a bit of the engineer in me. I was wondering how they got it out and how did they make it. With the Take On Me video I was wondering "How did they make that all animated?!" I never imagined I'd be working in the arts industry at all.
Colm: When I was young I was obsessed with NME and Melody Maker and I had a subscription to both of them. I was the only person, I'd imagine, in Macroom, County Cork who had a subscription to these two magazines. At the time, growing up in Ireland "two channel land" so I had no means to listen to 90% of the music I was reading about and I had no means of watching 95% of the films that were being spoken about in their pages so I had this curiously minimalist approach to what I was ingesting because I had to become a fan of bands without ever hearing them. I had to become a fan of films without ever watching them and also visa versa. I hated bands, not because of their music but because they gave bad interviews. I loved awful bands because they gave great interviews. I loved awful films because they sounded great written on paper and I hated fantastic films because they read like shit. So that was my whole approach and it was very much refracted through the prism of reading these magazines but not being able to appreciate sonically or visually what I was reading about.
I never thought I'd be doing what I do now as a child. Once I did English at University and fell into working with the film festival, the idea of the music world and the music industry and the film world and film industry was always Other. It was always far away to paraphrase Father Ted's sketch. When I moved to London I realised that it was no longer far away, that actually these people, and I would say more so the journalists and writers than the musicians and filmmakers, once I was in close proximity to them, it was like I was looking after my 15 year old self all over again. I thought, Wait a minute, this world isn't remote, this world is actually quite close to me and I think in recent years it has become altogether more real and it has reignited the grá I had at that age for music and film which was somewhat dormant through my twenties because I wasn't living in London. I wasn't working with these people. I just had this incorrect notion, this falsified notion that it was somehow unattainable. It wasn't.
Can you tell us about the process of curating and programming for the Cork Film Festival?
Colm: This year we have had a record number of shorts entries. I would say it's close on 2,000 shorts that have been entered which is a savage amount. It's great and it shows the gravitas that the festival is held in by short filmmakers. It's a great platform to showcase your work both Irish and both internationally. To get around the task of watching all of these films I curated a team of people in Cork, in Dublin, in London and sometimes further afield to watch the shorts with me. We had sporadic meetings, usually virtual meetings where we discuss our favourites, our least favourites, what works well, what could have worked better, what made us laugh, what made us cry, what made us think that this was the greatest film we had ever seen in our entire lives until we had seen another a couple of minutes later which was even better. It's great fun. Once you create that team around you whom you can trust and you know their stuff, what their interests are, that they are not the same as yours – you go to one person for comedy, this person for realism, this person for depressing films. You extract things from certain people and you come up with the programme. I've put them into themes so in previous years the festival wasn't thematic for the shorts. It was Irish Shorts 1, Irish Shorts 2 so I changed that to make it more overtly thematic. The themes are usually quite tenuous. They are purloined from my favourite albums or a book I'm reading but they are there to give people a guide. It's not a specific direction. You might disagree with the theme, you might say why is a film called Sub Rosa in a theme called The Past is a Foreign Country. This is ridiculous. This is what I want – discourse around what's happening, conversation, I want people to agree, I want people to disagree, people to engage in every level with it. I think that also brings in a certain amount of Intertextuality because if you are reading a theme that has come from the name of a book or a film you might say to yourself "Wait a minute, I liked that selection of  shorts where does that theme come from?" You might google it and you might find a new book or a new film. That's the foundation of my thematic approach to shorts. It's based on if I was a punter how I would like to see short films. Because I live in London and because I work as a writer for various magazines and as I mentioned earlier, that world is more immediate to me than other people so I can easily access bands and artists with ideas. Máire took the massive risk of asking me to assist her in trying to cajole artists into coming to Cork. It's a very easy thing to do. Cork is a very easy sell.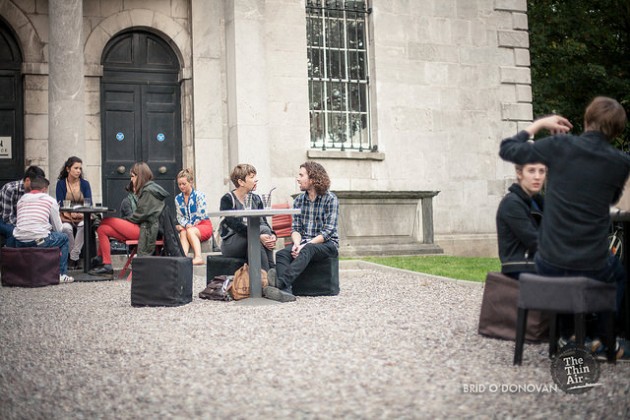 Máire: Yeah, we have a good reputation in London.
Colm: Máire came over to London and we met various people and we told them about the festival. Some people thought Cork was in the west of Ireland which we had to put right. Another person thought that there was a time difference between Cork and London which wasn't true. Other than that people are very keen on coming to Cork and not in a sort of Celtic mist sort of a way. I think Cork has a reputation where people know their shit. People know their stuff in Cork and you're going to be found out if you don't know your stuff.
Máire: Which is petrifying by the way but it's exciting as well. You start off with just seeing what's out there and who's out there. A lot of people get in contact but we go and get in contact with people. Even with the Body and Soul stuff you ask people who you really want to work with. You have a wish list and unfortunately because of budget requirements or whatever the wish list doesn't always work out. I think you should always aim as high as you can because it's always going to come down.
Colm: Absolutely.
Maire: It's never gonna go higher, it's always gonna come down. Also, you find people that are into it. We're not talking about money here, they are just genuinely in to it and that's half the battle for me. I think everybody in this year's line-up is very much into it.
Colm: It goes back to Cork being an easy sell because it's got a reputation for being quite open minded and also the great thing about working for the film festival is that you're not caught under the restrictions of working on a simple gig or a simple film event. There is so much scope to make it something much more advanced than that or much more elaborate than that because you can work with a band and get them to create a soundtrack to a film that doesn't actually exist. You can work with a visual artist to create visuals on a film that doesn't exist. There is so much scope for imagination and that goes back to the whole logline of the festival – Films. Music. Ideas.  That's where Máire's expertise comes in because you utilise that to the absolute maximum advantage.
Maire: We do have free reign on it as well. I do have free reign on it.
Colm: Which is a testament to James as well. He's very good at letting you do what you want. He won't interfere.
Máire: The only time he'll interfere is if you're gone over budget. (laughs) Dawn is great as well, she's the acting festival manager. We do try and support local as much as we can but then a lot of local stuff gets shown here quite a lot so you have to be careful about that as well. I don't ever want to be known as not supporting local but it's to be understood that we are bringing something new to Cork as well. This year we have Seti The First coming down to do their own event. They came down with Fractured Air two years ago. They are an instrumental, classical, Dublin based band. We have, as support, Robert Curgenven, he's coming over from Manchester. He featured heavily in The Wire. It was Albert (Twomey, Plugd Records) that put me on to him. We also have Gnod coming over and they have never played in Ireland and that will be quite interesting. They're mad, they're brilliant.
Colm: Gnod are masters of rural menace. The sonic cultus of the highest order and they are based in Salford, near Manchester and they are an ever revolving collective of lunatics/musicians who create the most intense, psychedelic, insane experiences that I've ever had the pleasure/displeasure to physically witness. One has to recalibrate ones biorhythms to their music. It's almost tangible music. It's so intense.
Máire: Vicky Langan is doing a Sacred Harp Singing Workshop/Performance on Thursdays which will tie into an Alan Lomax screening afterwards. That's all in the Unitarian Church. Eat My Noise are also doing there own choral visual installation.
What does the festival give to you personally and professionally?
Máire: There's a bit of grá for the film festival, there is a lot of love in it.
Colm: I think for me, personally, I get to come back to Cork every year and spend time in a city I grew up in and to have an influence in what's actually happening is great. That's probably the reason why I've done it for ten years.
Máire: For me, it introduced me to film and especially Irish made film and shorts in particular. I love short films. You don't become millionaires with the Cork Film Festival. You work hard. There's a really good crew –  Colm and Don O Mahony are there the longest, then there's myself and  Dawn Mac Allister, we are next in line. We all know each other for years and we work well together so there's a bit of craic in it. It's a good week, it's very intense and there's a good buzz about it.
What are your tips for festivalgoers this year?
Colm: Bjork's Biophilia Live Concert is going to be absolutely fantastic. The Irish Shorts are of an incredibly high quality this year. More so the Cork Shorts are. So much so that I've amalgamated all the Cork Shorts screenings into the Irish Shorts. This means that every  Cork Short is eligible for two awards – Best Irish Short and Best Cork Short. The shorts are always great as well because you see such a wide expanse of ideas and of innovation and of themes and of backgrounds. It's very rare to see such a calibration of filmmaking expertise and such a concentrated 90 minutes. That's why I think the shorts are something fantastic to behold because you don't know what's going to come next. There's two beautiful films from the west Cork Gaeltacht by a filmmaker called Dónal Ó Céilleachair. One is a portrait of a painter called Tadhg MacSweeney and his paintings are magnificent. It's a very beautifully nuanced account of his life as a painter in the wilds of the Gaeltacht. That's going to be screened with another film by Dónal Ó Céilleachair which is called From Coolea to Iona. It's based around Seán Ó Riada's choir in Coolea. It follows his family in Coolea and their dealing with the choir. It's a community effort  and it's about how Seán Ó Riada's legacy lives on in that community. Together we are calling them Two Views from the West Cork Gaeltacht and they are both in Irish. Brid O' Donovan
Cork Film Festival runs from November 7 to November 16. Go here to check out the full programme.