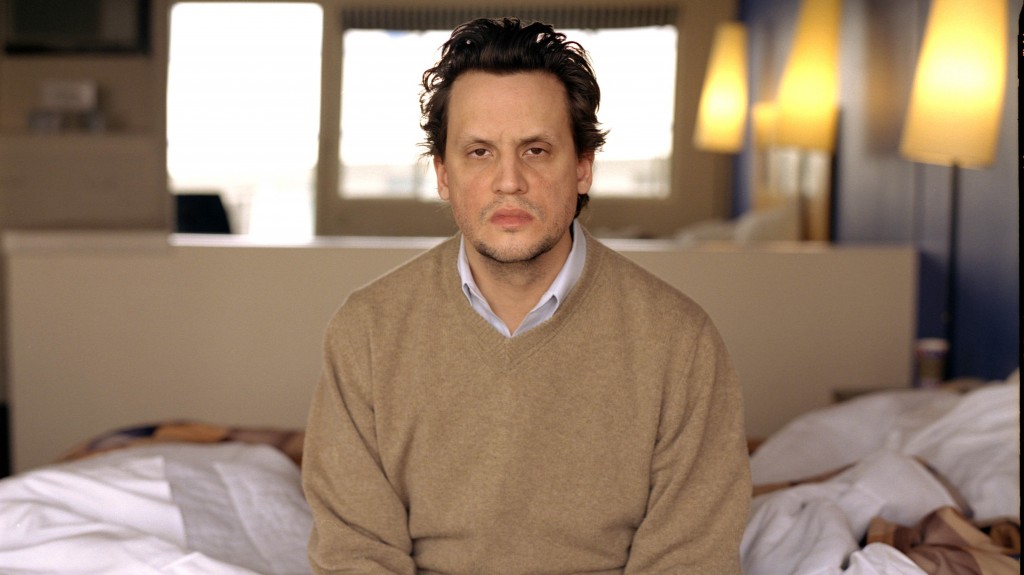 There's a relaxed, seasonal warmth upon entering the Button Factory for tonight's mostly seated, limited capacity show, which sees Mark Kozelek at possibly the most critically acclaimed stage of his career – almost every song performed tonight comes from the last two years of his career – due in no small part to this year's Sun Kil Moon LP, the mortality-fixated Benji. With no support act, Kozelek ambles onstage accompanied simply by a keyboardist and electric guitarist, standing with a sole tea-towelled drumstick for his lone tom, holding a straight beat with the intent of a serial killer for the entirety of 'Hey You Bastard I'm Still Here', from his 2013 collaborative album with Desertshore, which instantly sends hairs on end with his occasional eschewing of melody in peak lines – as he does throughout the performance – in favour of emotionally naked bellowing, consciously or subconsciously highlighting the lessons of his reference-filled, stream-of-consciousness parables.
Seeing where Kozelek now lies artistically in the bigger picture, there's a noticeable middle-aged honesty in his delivery that was previously veiled by the youthfully self-conscious vocal and lyrical restraint in his (still excellent) Red House Painters output. This honesty, for better and worse, takes its toll on the mercurial singer's public relations early in the night, alienating a number of fans – "Stop staring at me" he only half-sarcastically demands at one point – and the commenting on the negatives of the Irish people, whom he considers "all alcoholics anyway", a generalisation made during an extended rant about the venue's noisy, inconveniently-placed stageside door, which Kozelek analogises to an attempt at lovemaking with a dog barking in the background. Following a heartfelt 'Micheline' and his expansive new part-spoken single 'The Possum', he retracts his casual xenophobia, having successfully troubleshot the problem with his audience.
As the night progresses, the mood arcs from passive-aggression to one of warm rapport; spotting a fan in a Misfits shirt, Kozelek leads the band into a rendition of their 'Green Hell', one of a number of covers throughout the set, most of which are Sun Kil Moonified Yuletide standards, taken from his recently-released …Sings Christmas Carols album, with one particular highlight being Sonny & Cher's 'I Got You Babe'. Failing to find a willing female co-singer in the audience, Kozelek opts for the enthusiastic young 'Andrew', to whom he states, typically deadpan: 'You're Cher', leading to a Muppets-meets-Shatner interpretation. But, this is a Sun Kil Moon show, so it's invariably sandwiched between a sparse, organ-led 'Dogs' – his starkly blunt sexual autobiography – and Benji opener 'Carissa' – his ode to his dead second cousin – further heightening the predictably unpredictable nature of his set structure, something of a motif present throughout the entirety of Kozelek's body of work.
Joined by an eighteen-year old drummer from the crowd, the meandering-with-focus continues with the epic 'I Watched The Film The Song Remains The Same', aided by appropriately mysterious Zeppelinesque vocal breaks, and every instrumental break – doubtlessly intentionally – serving to give each narrative development some contemplation time before dragging the listener further along his trip. Following the ten-plus minute performance, he asks the young rhythmic collaborator if he's ever earned money for his musicianship before handing over €500, politely requesting his presence onstage for the duration of the show. 'War On Drugs: Suck My Cock', Sun Kil Moon's official commentary for his public dispute with the 'beer commercial rock' act, keeps the audience in hysterics before 'Richard Ramirez Died Today of Natural Causes', his most mortally contemplative song to-date.
Summing up his artistic self succinctly with 'Ceiling Gazing', he approaches the end of his two-plus hour set with a pair of reworked cuts from his – yet another – 2013 album with Jimmy LaValle. In a night of emotional peaks and troughs, the ceiling gazer confesses the consistent thread best himself on Benji: coming to terms with coming of age. Without any rose-tinting, he sheds cold light on his life: "I've discovered I cannot shake melancholy. For 46 years now I cannot break the spell. I've carried it through my life and I'll probably carry it to hell." Tonight, Sun Kil Moon is a triumph of great magnitude, nakedly channelling his drifting, microcosmic brand of Real World Americana that teases incoherence, but always holds together like the craft of any master storyteller, by one final reflective, condemning denouement. In this instance, appropriately enough, it's 'I Know It's Pathetic But That Was The Greatest Night Of My Life'. Stevie Lennox