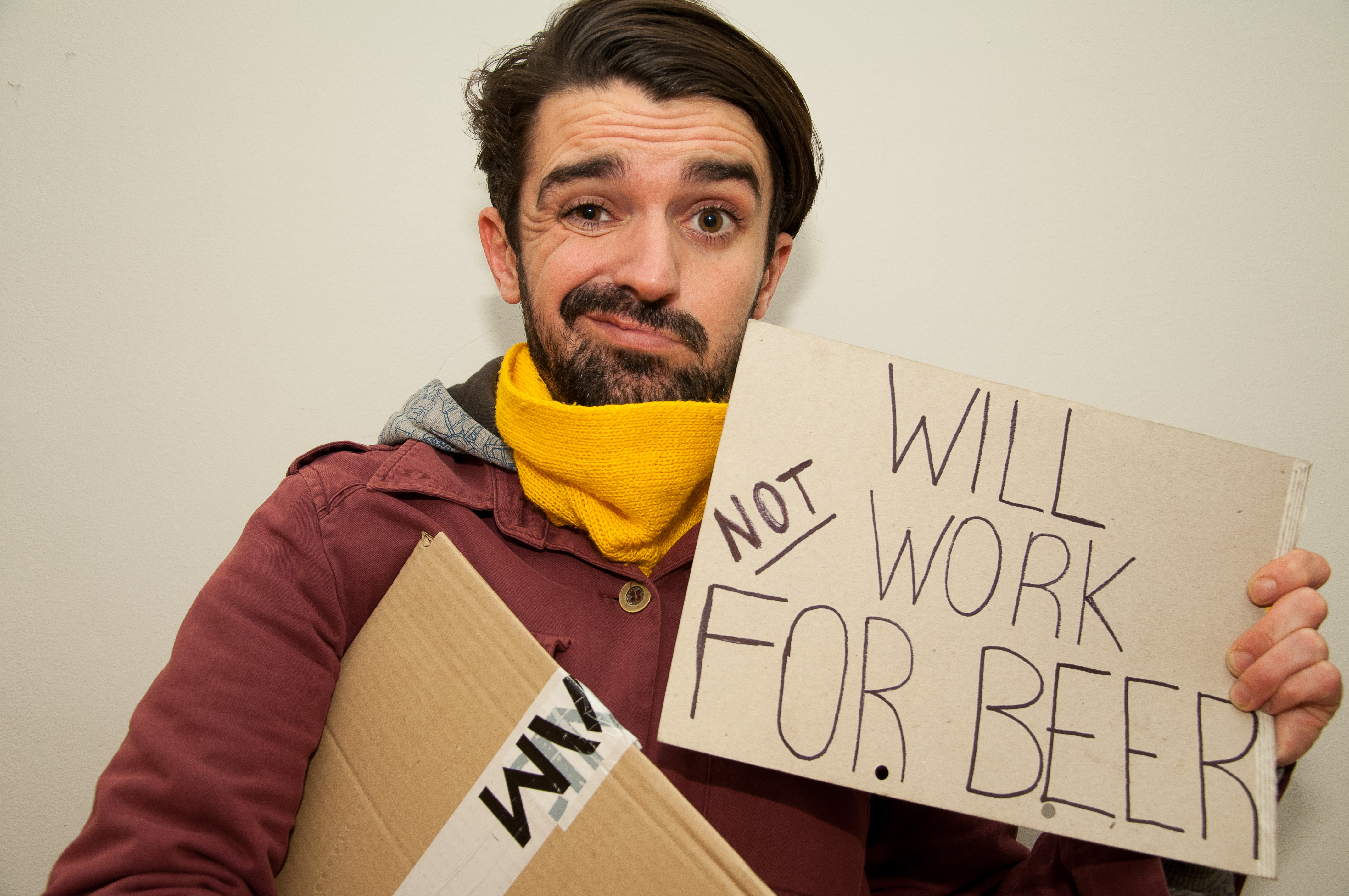 It was a Sunday, almost a year after I'd last released any recorded music with any of the projects that I'm involved with. So, I suppose I was technically out of 'work' another full year. "Mum, Dad, I've something to tell you," I nervously stated to my parents over banoffee pie at the dinner table. "I suppose I'm thirty-two now and I should have come to this realisation a long time ago. I suppose I wasn't being honest with myself – I was too busy enjoying the weekends and the hedonism of 'the scene' and well, the community has always been supportive of who I am. What I'm trying to say is : I've realised who I am. What I'm trying to say folks is… I'm a musician and I'm not going to play for free anymore."
'Oh Niall, we're delighted for you', Mum replied almost instantly, jumping up to give me a hug. I was surprised. I thought she would go mad that I would no longer leave them alone in the house for the weekends, shooting off every Thursday in her little Nissan Micra, not returning it until the Sunday; her petrol tank at zero after yet another weekend of shows not paying us enough to even get over and back to Dublin. Dad was being his usual quiet self in the corner. He was always a man of few words but I was waiting for his judgement before the shock of finally admitting to them and myself that it was OK to be a thirty-two year old Irishman expecting to get paid for my work.
Finally Dad spoke: 'Does this mean you might finally be able to afford to move out?' he said, with a hint of sarcasm. Dad had dealt with the highs and lows of having me living at home into my thirties. Mostly lows actually – me on his laptop Monday through Thursday trying to solicit gigs and reviews for our independently-records over countless emails and blog submissions. They were hugely supportive in reality, much like the rest of the independent music community, on both sides of the border. That said, they never bought any of my records, much like the rest of the independent community, on both sides of the border.
All joking aside, unfortunately the above scenario wouldn't make me unique. Hundreds of independent bands are in the same shitty situation as my shitty bands. Sure, there is good grass- roots support, but what musician amongst us hasn't played a show in Limerick or Belfast or wherever to a handful of people on a rainy November night, skulling back the crate (singular) of free beers between the bands in an effort to make it all seem worthwhile? In fairness, things are getting better and some phenomenal promoters have stepped up to the mark, making sure bands are paid regardless of overheads, but all that means little for those nights where you do pull in to your own (or your parents') driveway at 2am on a school night, waking up with memories of a cool show, sure, but also hungover from cheap beer and €50 lighter for trying to do something creative that you're passionate about. "There isn't even a proper band van rental company in Ireland for christ's sake!" you scream into the bathroom mirror at your increasingly red face.
You get up and go again anyway. During breakfast you turn on the radio. They all claim to play more Irish music, more of the time – they tell you as much, jingle after jingle. The thing is I only hear the same few stations playing the same few bands and the same few songs: Two Door Cinema Club, The Riptide Movement, Snow Patrol, U2, The Coronas and Hozier. There is no "etc…" to that sentence – that's about it!) R.E.M and Michael Jackson even count as Irish here due to our daft quota loopholes in the broadcasting laws. In fact, I think Ronan Collins on RTE is the only daytime radio DJ not heavily playlisted and I can't see him playing Hands Up Who Wants To Die anytime soon. "It's just not fair!" you blubber into your cornflakes.
The only chance I have of hearing any of the bands whose records I've bought in the last year is at the exact same time those bands, or I myself, am out playing a show. That is, after 9pm. And for every Paul McLoone or Nialler9 there is a Donal Dineen or Dan Hegarty being dumped later and later into the schedule – by our public service broadcaster, no less. In Dineen's case, being dumped full stop. Much like his No Disco TV programme on RTE a decade ago now (granted that was long after he had moved on) our best presenters are being buried deeper and deeper into the schedule, deeper and deeper into insignificance. I've pitched music TV shows only to be told not only do they not rate, they don't get enough viewers to even record a rating percentage (under 1,000 viewers counts as zero.) "Where am I to go?!" you yell at your impossibly slow computer.
Imagine for a moment the controversial Irish Water corporation were concerned with Irish Music, installing meters outside your house to see how much music you were consuming for free. Until we are forced to think about an issue or until it concerns us we tend to ignore it. I get that a lot of people don't care about this issue because it doesn't concern them. Regardless, I'm not ignoring it any more. We all listen to music and I'm done filtering through pure unadulterated rock into your homes at no cost to anyone except us stupid musicians with our hands loosely clasped on the creative taps (I've milked that analogy about as far as I can now).
'Right, well at least I can look forward to summer', I tell myself, so many festivals in Ireland. Sure, there seems to be one a week, all of them full of Irish music and even better, loads of independent bands seem to get a run out. Vantastival, Le Cheile, Knockanstockan, Castlepalooza, Indiependence, Sligo Live … Electric Fuckin' Picnic! Yeah, man, the dream is alive. So easy to submit now too – an MP3 of your song, link to your one thousand fucking social media pages you just have to have. Click, click, done. You wait… and wait… and wait. Then the replies come. Usually with one of three answers.
A) Dear X, thank you for your submission. Unfortunately, at this time our bill is full. Our budget does not allow for any further additions at this stage. (Subtext: There is no budget for Irish bands).
B) Dear X, thank you for your submission. We would be delighted to have you play. Unfortunately or budget won't allow us to pay you for your set but we will see that hospitality sort you with beers and of course you are welcome to stay on-site for the duration of the festival. (Subtext: There is no budget for Irish bands without PR).
C) No reply. (Subtext: we're too embarrassed to reply).
Answer C is actually the least insulting of the three. It hurts less. It's not that my bands or any other band is entitled to play any or all of the festivals but independent music is changing quickly in this country. It used to be you released a record, whether on your own label or some small imprint, you toured your ass off for it around Ireland once or twice -maybe abroad for a week if you get lucky – and in turn you got a fair run out at the festivals. No? To my eyes it seems that's all being scuppered by one too many party promoters putting on 'boutique' festivals without a clue about how to treat the acts propping up their bills and too many PR companies doing a band's work for them. One only needs to look at Westport Festival earlier this year or reports on the recent Samhain festival to realise just how bloody hard it is to put on a festival properly. It's as hard as being in a band. So, yes, I appreciate that promoters at lower levels struggle to make ends meet but two wrongs don't make a right. How can you expect your festival to make money if you don't have the good faith in the acts you're booking to even pay them?
I've been asked by many music friends if I'm responsible for the many Facebook and Twitter profiles popping up which are doing their best to help out Irish acts on the circuit. The truth is I haven't time to put my energy into yet another online medium that in all likelihood won't result in bands getting paid in this country. But it shows that I am not the only one who's had enough. I'm sure it's the same across most genres of music in Ireland. The only way things will change is if bands go back to basics and say no to anyone expecting them to play for free. Sure, if you're a young band starting out, you play your first few shows for free, maybe even a full year of shows. But then you get good, you even start being told you're worth something, so start placing that worth on your work, otherwise no-one else ever will, and the shit-stained cycle goes on…
For those who say catch up, get used to it, it's all online now. Fine, I'll play along – I have been for many years – but there's no infrastructure there on the old information superhighway. We're all getting high for free. Your Spotify account is not a replacement for going to shows or buying a band's output. If you like a band you should support them. Whatever happened to that ethos? As for the government? Don't even start me on the government. Niall Jackson
Niall Jackson has played in Bouts, Swimmers, Autumn Owls, The Star Department, Modern Skins and many even shitter bands. If you would like any of his records they are currently propping up his bed in Rathgar, Co. Dublin. He is happy to sleep on the floor in exchange for your ears. Mail niallcjackson@gmail.com for a portion of the legs of his bed. Main photo by Carlos Daly. 
This article currently appears in our December issue of The Thin Air magazine, available from various locations this Friday.