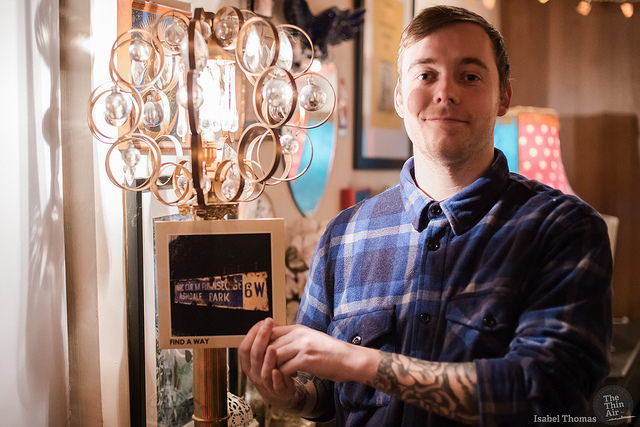 In this special edition of Track Record, we head over to the apartment of Neal Keating, who is the frontman with hardcore band Frustration, and Kayleigh Forsythe, a very talented jewellery designer to have a look through some of their favourite records. Special guest appearances from their two Persian cats Wilbur and Frankie, who do everything in their power to steal the limelight from the couple! Photos by Isabel Thomas.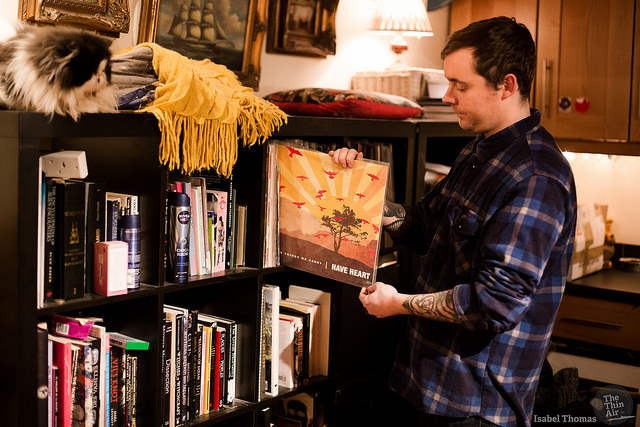 Have Heart – The Things We Carry
There's very few records that you can legitimately say changed your life. This record did that for me. When I first heard it, I was working a really bad 9 – 5.30 job in an insurance company in Blanchardstown. This job made me feel seriously hopeless and I got a huge feeling of "is this it for me?" Reading the lyrics on this album made me want to change things for the better. I emailed them to my work email and would find myself reading them religiously everyday. Eventually I got the message. I handed in my notice and moved to Vancouver, Canada, spending the best year of my life there and from then on my whole attitude to the world changed. An inspirational hardcore record that's both musically great and lyrically thoughtful.
"Flying free, like a flock of birds, with no direction or intention of finding home".


Ceremony – Violence Violence
Ceremony are a punk band that I discovered when I was living for a summer in Berkeley, California in 2006. I remember walking from my house down to Gilman St. to a show every week. The gigs were violent, the lyrics were angry and the music was fast. It was a good summer.Violence Violence is their first full length. 13 songs in 13 minutes & I remember the CD version had the songs from their demo which is probably the best thing they ever did.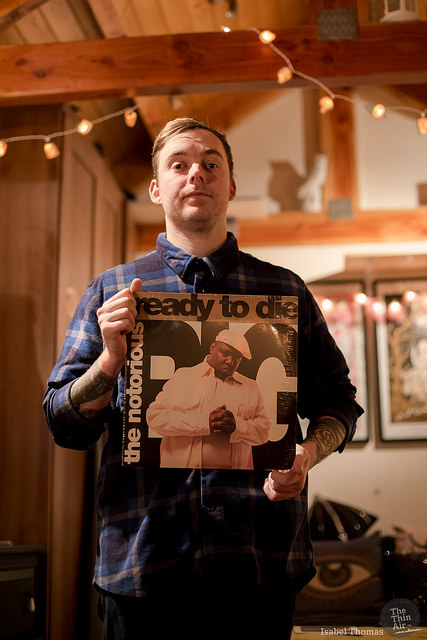 Notorious B.I.G – Ready to Die
If this isn't the best hip hop record of all time, then its Wu Tang Clan's 36 Chambers. And if it isn't that, then its definitely this. Some upbeat songs & some straight up dark songs, this record is absolutely amazing from start to finish. The title says it all really. A quadruple platinum selling recording artist taunting a death which would eventually catch up with him, less than 3 years later.


Find A Way – Six West
This is an amazing record that reminds me of great times at local gigs. Pop punk with a Dublin accent and a heart of gold. Community.


Ruiner – What Could Possibly Go Right?
When me and my friends were young we brought over a touring hardcore band to Ireland for three gigs. It was the first time we ever ventured into putting on gigs for touring bands and I'm sure we lost a lot of money but had a great time doing it. At the time I thought these guys were the best band of all time. They flew out of Baltimore, Maryland and toured the world off this EP in 2005. Little did I know that because of three small dates in Ireland they would in turn take me on a 40 day tour around Canada and America with them, to weird states and back arse towns that I never thought I would ever be and will never be again. As melodic punk or hardcore goes, this EP is up there with the best. It's rough around the edges, it's fast and the lyrics are extremely thoughtful.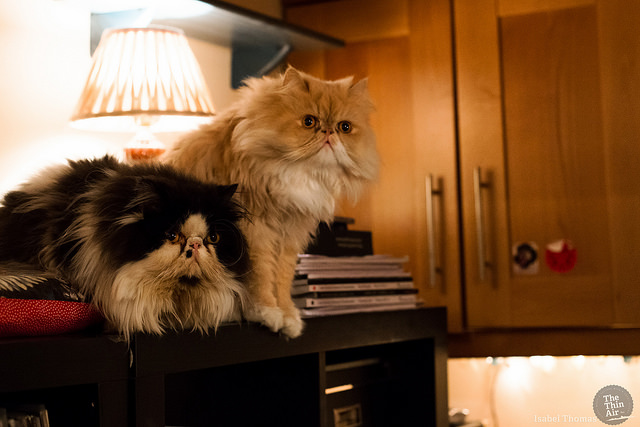 Frankie: "I've had enough of this, I'm going to try get in a photo…"
Wilbur: "I just wish they'd let me scratch all those records!"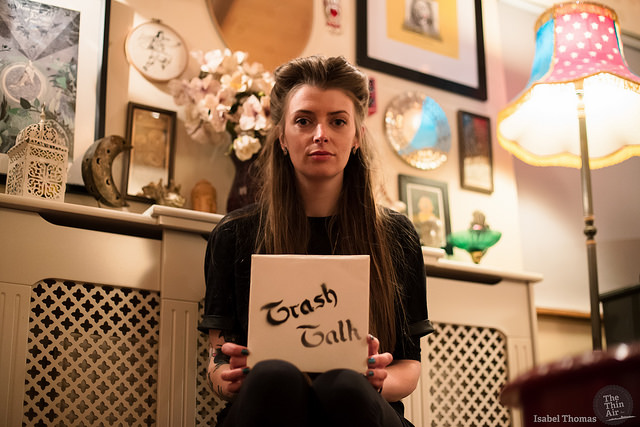 Kayleigh Forsythe
Trash Talk– Walking Disease 7″
I think I first heard this record in early 2007 when they were first starting to get a bit of a following and loved it. I was going to Sound and Fury in Ventura in California that Summer and they were on the line up. "Destroy" is probably my favourite song off this record I was really looking forward to seeing them play it live and it was predictably insane. I bought the 7" at Sound and Fury and I still have it in its little spray painted envelope thing they put it in especially for the fest. They're one of my favourite bands to see live because it's generally carnage every time. Me and my friends saw them play out the back of a truck in a parking lot in some weird little town in California a couple of years later. This absolute maniac girl jumped off the roof of the building from above our heads during the set and into the crowd. Then the police came and broke it up. It was deadly.


Prince – Purple Rain
I was chatting to somebody the other day and Prince was on the radio and I asked them what their favourite Prince song is (because I have SO MANY), and they were like "Oh, well I don't really know any of his songs" and I felt genuinely bad for them. My parents listened to Prince when I was a baby so I grew up listening to Purple Rain. It's hard to find the words to express how I feel about this record. It's so important to me, not because of anything specific but because I have literally been listening to it for my entire life. I know it inside out. 'Take Me With You', 'When Doves Cry', 'I Would Die 4 U' and 'Purple Rain' would all be in my Top 20 songs of all time.
Wolves in the Throne Room – Black Cascade / Celestite (I can't decide! Is that cheating?!)
It's really hard to choose between the two of these because they're so different. I guess Black Cascade is the album that got me into them in the first place and "Ahrimanic Trance" is SUCH a banger. I love that the whole record is so heavy but quite ambient at the same time. Getting to see them play it live was incredible too. They don't fuck around. The stage was covered in candles and they had incense lit everywhere. Probably one of my favourite gigs I've ever been to. I'm way more chilled out now and my music taste has changed reflecting that so that's probably why I'm leaning slightly more towards Celestite, if I absolutely had to choose between the two. It's like if you crossed Godspeed You! Black Emperor with the Blade Runner Soundtrack by Vangelis. To me that's a winner because Godspeed You! Black Emperor and Vangelis are fucking fabulous so some sort of astral infusion of the two is fine by me. I listen to this record a LOT when I'm in my studio too.


Most Precious Blood – Our Lady of Annihilation
I was really into Indecision when I was younger and Most Precious Blood had a couple of ex members so I decided to check out this album and pretty much listened to it every day for a year. I have a huge tattoo on my leg with lyrics from "When Hyenas Laugh" in it. Definitely one I got told I'd regret when I was older but I'm 29 now and it's still my favourite tattoo.
Arcade Fire – Neon Bible

This is a weird one because I'm not hugely into any of their other stuff but I love everything about this record. The artwork is gorgeous, the sound is huge and the songs just make me really happy. If I'm ever having a crap day I just pop on 'Keep the Car Running', it never fails to cheer me up. There are so many bangers on this though. I must have listened to 'No Cars Go', 'Black Wave' and 'Bad Vibrations' five million times over the years.
I don't know if they draw any influence from The Boss but I think it has some Brucey vibes, especially 'Antichrist Television Blues'. I think they recorded it in an old Masonic temple as well. Nice.