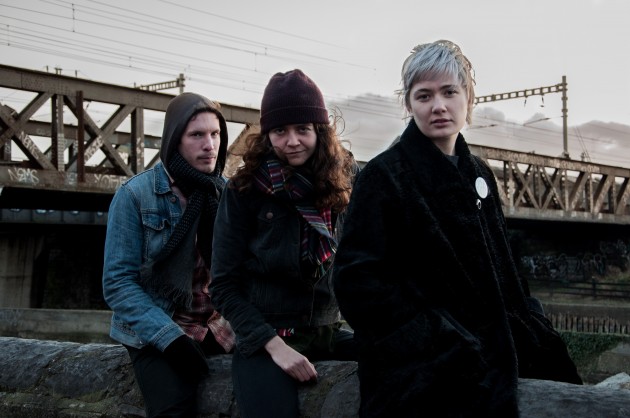 Set to feature in physical form in our forthcoming January magazine, we continue 15 for '15, a feature looking at fifteen Irish acts we're absolutely convinced are going places in 2015. Over the next couple of weeks, we'll going to be previewing each of those acts, accompanied by words from our writers and an original photograph by our wonderful team of photographers.
Next up is  Dublin lo-fi three-piece Sissy.
Photo by Carlos Daly.
Boy meets girls. Protest punk meets loud lo-fi garage. A three-piece band is born. Traversing the jagged topography of social commentary, sexual politics and gender inequality, streaked through with black humour and sonic references, Sissy describe their sound as "cool music".
The trio's sound comes across like Dead Kennedys or Devoto-era Buzzcocks, but the vitriol is more subtle than from where Jello sounds off. In its place is irreverent invective, with hints dropped to the debt that's owed to Kathleen Hannah's output over the last quarter century.
The band subverted Enya's 'Orinoco Flow' in the chorus of their collar-grab first single 'Sail and Rail', trashing and trampling it in the recounting of a trip to Britain for an abortion; an Hiberno-centric pop cultural reference deriding the same land's archaic politics. Sissy's songs are heavy in focus but swift in passing, artfully lacerating in execution; above all, though, cool fucking music. Justin McDaid