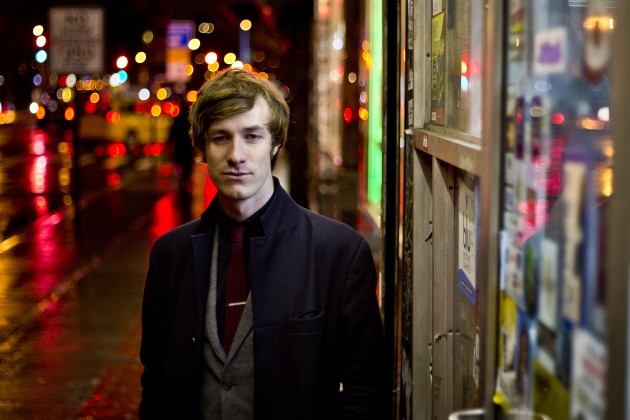 Featuring photos by Joe Laverty taken in New York, Mike McGrath Bryan talks to English electronic musician William Doyle AKA East India Youth about his Mercury Prize-nominated debut album, Total Strife Forever, plans for the future and more.
The crossover between indie and electronica has always been strong, but with the disparity of genres and tastes these days, was it more difficult to make the transition from Doyle and the Fourfathers than you'd imagined?
No, it was quite easy, if a bit gradual. I'd already started recording things by myself at home when I was 14, long before that band – and the stuff I was making was at least vaguely electronic. I'd taught myself how to program beats and use software synths around that time, so really the whole transition was everything coming full circle.
How does life as a solo act differ from being in a band for you?
It's just me who's responsible for how things are directed and how live shows are conducted. It's not really that lonely anymore, now that I always have someone on the road with me. There is a big sense of camaraderie within our small crew and that keeps me going. I'm happier being able to make my own creative decisions and having the final say on things. I hope that eventually I get to play with more musicians in a live context, but I'm in no rush to make this a reality just yet.


Your moniker is influenced by your location at the time you began this project, but what's the rationale behind Total Strife Forever?
It was a working title that slowly became far too attached the project to the point where I couldn't let it go. Despite the silly pun aspect of it, I feel it does represent the mood of the album perfectly.
The Quietus set a label up to get your music to the world, and the likes of Brian Eno are at your shows – what's it like to make that quantum leap from having been at the end of a band and frustrated with how it went down?
It's been an amazing process, but it has been a very organic and gradual rise to where it is now, and for that I couldn't be happier. I feel that, despite the the great press and reaction to the EP and the album, I've managed to swerve being too much of a buzz artist or a flash in the pan and I'm hoping that this slow rise has bought me some longevity. I'm in this for the long haul after all.
Rather than the anonymity of a lot of electronic music, you veer back into the deeply personal, even down to the vid for 'Looking for Someone'. In a genre where pseudonyms are somewhat part of the game and used as identity and distance from the person behind them, how central is East India Youth to you as a person?
I feel East India Youth represents a bit of a rebirth for me personally and creatively. The start of the project was the start of a new life for me that I've carried on to this day.


Though your work carries great influence from Brian Eno, David Bowie, etc., there are still very strong vocal lines and leads that pierce through the ambience and noise – as you go on, do you think you'll find this limiting? Where's your line between signal and noise and that regard and do you see yourself completely crossing it?
The new album I've just made is a lot more focused on vocals. I just felt that was the natural progression for me at this time. East India Youth has started to become a more mainstream project than I initially had in mind when I started it a couple of years ago, and I'm very comfortable and happy to push that aspect of it for now. My goal the entire time has been trying to mix the avant garde with the the mainstream, and hopefully I'll continue to pursue that for some time to come.
What's next for East India Youth?
More touring, more recording. I don't really see what I'm doing changing much in the next couple of years. After my second album I'd like to get started on the third as quickly as possible. It'd be good to take stock after that and see where I might go next. Next year will be interesting and very busy with my new album and new live set-up. I'd like to take the one man band approach as far as I can.
Total Strife Forever is out now via Stolen Recordings.