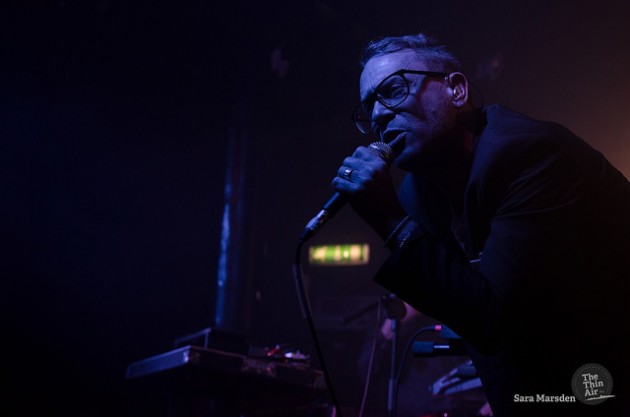 The experience of going to see a band live usually depends upon two elements – the strength of the artists and the audience.
As Stars clamber on to the Limelight stage, bursting enthusiastically into 'From The Night', it soon becomes clear that it's not the standard of performance that leaves the whole evening feeling a little… well…off.
Stars are in Belfast to tour their seventh album, No One Is Lost. They make likeable records which translate live with ease. Belfast receives a sharply executed set-list of classics mined from their extensive back catalogue offering a satisfying mix of haunting, eloquent indie-synth pop and up tempo tracks with tender narratives of romance, melancholy and loss. From the dimly lit, nearly dark stage we're drenched in warm melodies, heavy drum beats and dreamy, unapologetic tales of heartbreak. Torquil Campbell and the ever talented Amy Millan have crafted a sweet partnership with their vocals and play with energy and passion, making it obvious that they enjoy every moment of performing.
'Your Ex-Lover Is Dead' – introduced with the self awareness that they know it's probably the song most of us are waiting for – is a highlight as a song that is capable of hitting you right within your chest. 'Ageless Beauty' is an uplifting joy and we're treated to a beautiful alternative version of 'Elevator Love Letter' that leaves a lasting impression.
It might be unfair to point an accusatory finger towards an audience but it's evident from the beginning that the band will have to work extra hard to shake life into the somewhat sleepy, subdued Sunday night crowd that's filled roughly a third of the venue. The majority of the audience failed to accept the usual prompts to clap in unison or cues to sing along. At times, it faintly reminded us of being at a wedding when the DJ plays to an empty dance-floor, save for the odd child sliding contently on their knees.
The atmosphere also suffered awkward drops as a slightly cloying Campbell indulges himself bestowing saccharine sentiments about fan loyalty and our political history. Despite coming from a place of sincerity, Campbell dramatically pauses to display 'NO ONE IS LOST' written on his t-shirt and had he been in any other city but Belfast, he probably would have received the fawning reaction he seemed to be seeking. Unfortunately it did nothing but cause a sudden shift in energy.
It takes until the very last song, 'No One Is Lost', for most the crowd to shake off whatever shyness happened to be holding us back. This made for a slightly frustrating experience. Stars were wonderful but they didn't quite get the crowd reaction they expected or deserved. It was essentially two jigsaw pieces that did not match up. Laura Carland
Check out our photos from Stars' Dublin and Belfast shows here.