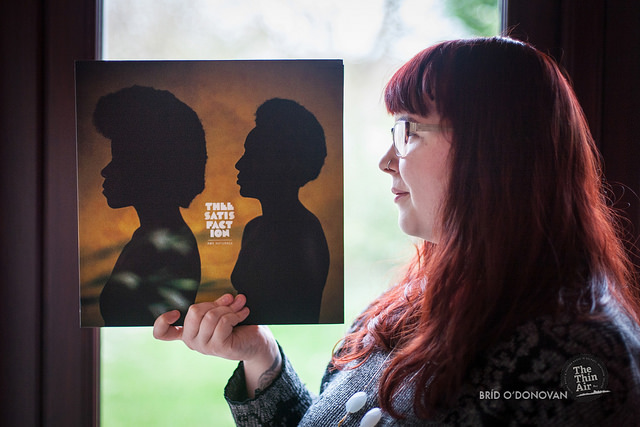 In the latest installment of Track Record, we delve into the record collection of Aisling O Riordan, Music Programmer for Quarter Block Party which runs from February 6-8. She plays with Morning Veils and she is also one of the co-founders of the Southern Hospitality Board which promotes music and craic in Cork city.
Photos by Brid O'Donovan.
THEESatisfaction – awE naturalE
I found out about THEESatisfaction when I was working in The Pavilion, Cork. Joe and Stevie sent me on a song called 'Enchantruss' as a Soundcloud link. Joe was like, "Oh I think we're gonna try and get these guys". I was like "Yeah. Yeah, these are girls doing amazing hip-hop/R&B stuff. Yeah!" It took nearly a year and they had just released an album on Sub Pop. They were the second ever hip-hop act on Sub Pop which was a very well known grunge label who had Nirvana and a lot of those kind of bands in the nineties. They signed a band called Shabazz Palaces who also played The Pavilion and are also lovely people. THEESatisfaction are featured a lot on the Shabazz Palaces album because they are all friends in Seattle. It's a really interesting album because there's a lot of different layers. There's what I'd call 'party songs' like 'Queens' which is just a really lovely "I'm-with-all-my-friends-and-everything-is-fun-and-happy" kind of song.
The record has got some really deep moments as well. They produced the whole thing themselves. They use loops and their own voices in really interesting ways. I've never heard people sing like that. They stretch their vocals to sound out of tune in places but they make it sound in tune. It's weird. The day they played The Pav was absolutely amazing. It's a lot of girls I know that love THEESatisfaction and why not. We all went to the show, well I was working at it but it was the best day. They were the nicest people and they did an amazing show. I'd normally try not to bother people but afterwards I couldn't help myself. We ended up drinking and getting on really well. I've stayed in touch with them since and they are just really good people making really good music. They are bringing out a new album in February which I'm so flipping excited for. They really make me think about how to use your voice in a different way and they also make me dance.
The Supremes – The Supremes sing Motown
I became obsessed with Motown when I was in college. I remember we had a history class about Motown and the more I listened the more I realised that I knew all of the songs and had heard of them all before. Then I started reading more and more into it. This is my favourite Supremes record that I've found. It's got an amazing cover. In Motown the writers used to write songs and they'd get the different artists to record different versions of them and they'd see who had the best version. Whoever sang it best would get to release the song. There's a version of 'Heatwave' which people know as a Martha and the Vandellas song but on this record it's called 'Love is like a Heatwave'. When I found it that I was obsessed with that song and I bought the record for that song but then I listened to the rest of it and it's amazing. I love The Supremes and I love Diana Ross. She's a badass and she looks like a badass. I think I picked this up in a record fair in town. It's always in my bag, it's always something I go back to. It's always something I listen to on Saturdays when I'm hungover. I love how Diana Ross captures emotions and doesn't sound too emotional. It's a record that always makes me smile.
Wings – Band on the Run
I've loved the Beatles since I was a kid because my Dad reared me on them. I was really lucky to go see Paul McCartney a couple of years ago at the RDS. One of my friends that I went with introduced me to them. We were sitting around in his garden and he put on this record. He was like, "Have you heard this song? This is what Paul McCartney did after the Beatles." At the time I had heard that it was really shit. There's a common misconception that Wings are crap but they are fucking amazing! When we saw him he opened with Jet which is a really cheesy song and the lyrics are really shit but it's incredible! After that gig I went and bought this album and I listened to it over and over again until I knew all the words. They went to Africa to record part of it and there's one tune on it called 'Mrs Vandebilt' which has a very twee-Paul-McCartney idea of what Africa is like. I love a lot of the songs on this album and it generally makes people very happy as well. There's a lot of fist-pumping-in-the-air songs in there too.


Johnny Cash – Live at San Quentin
This is a standard in everyone's record collection. This and Rumours always end up in people's record collections I find. An amazing live album. He's so funny and so charismatic. He's singing to prisoners, he's singing to a room full of convicts and he still manages to win them over and to hold his own. My granddad passed away when I was sixteen and I had just started to collect records. I went up to Roscommon for the Month's Mind and after the mass I went into his house and saw that he had so many records, like 200 or something like that. His partner turned around to me and asked me if I wanted to take some. I was like "YEAH!". I went through all of them and I easily took about fifty records and this was one of the records I got. My granddad loved Johnny Cash. He's such a badass and his songs are so solid. On the other side San Quentin is listed twice because he had started singing the song he had written for them but there was a riot halfway through. He comes back on and he's like "I'm gonna do San Quentin for you good people". He just sings it again. You really feel like you're there with them. I always keep this at home. I never bring it with me because it's too precious. It's mine, I listen to it for myself. I wouldn't DJ with it. He got arrested when he was younger for picking flowers after a show and he wrote a song about it. He really knew how to play the crowd. He was singing to convicts – "I was a convict too, for picking flowers" . They all boo him.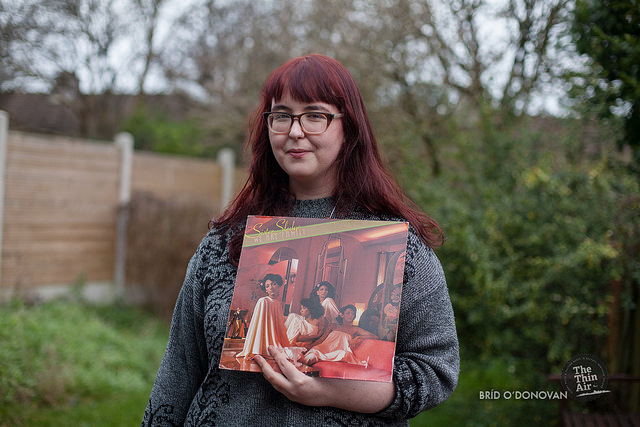 Sister Sledge – We Are Family
My Dad is really into music and he used to always have this on in the background. I bought it at a record fair and only when I listened to it myself I realised how amazing it was! The music is incredible, the singing is incredible. Especially over the past few years with the Nile Rodgers Revival I've learned a lot about him through different documentaries. He was asked to work with these girls who had a few albums but hadn't done very well. They hadn't found their niche. What he used to do when he was writing albums for people was, he'd go meet them and one of the first things that they said to him was "We are a family" so that's where 'We Are Family' came from. It was the same when he wrote 'Upside Down' for Diana Ross. She met him and told him that she wanted to turn this world upside down cos that's Diana Ross and she's a badass. I adore this record, I play it as much as I can. I've just noticed that Luther Vandross is one of the backing vocals on it. A lot of music is made to urk emotions from you but the thing about disco and about what Nile Rodgers did is to just make you happy. He made you to want to dance and celebrate life. That's why I love this. You put it on and everyone smiles and starts bopping.
A Tribe Called Quest – Midnight Marauders
I found out about A Tribe Called Quest a couple of years ago. I went to see this amazing documentary about them called Beats, Rhymes & Life: The Travels of A Tribe Called Quest. It was in the Cork Film Festival about three years ago with Stevie G, Caoilian Sherlock and Brendan Canty. I just fell in love with them. I didn't know anything about them beforehand. The documentary really captured the struggles of Phife and Q-Tip and the love they had for music. This is an incredible album. There's a bit in the documentary where they talk about all the faces on the cover and people were ringing each other up asking "Did you get a call? Are you gonna be on the cover?" De La Soul are in here somewhere and The Jungle Brothers. Anyone who helped them or inspired them are there. I fell in love with them and I instantly had to know everything about them. I got their first album People's Instinctive Travels and the Paths of Rhythm and I listened to that for ages. Then I remember going to The Hobo Convention in The Pavilion one day and there were three Tribe albums there. I bought them all straight away. They were like a fiver each. They are a bit battered and bit worn but I don't care because they are mine.
This album has amazing songs on it like 'Electric Relaxation', 'We Can Get Down' and 'Award Tour'. The whole album is really well put together and there's this thread running through the whole thing with this tour guide. When I started listening to them, so did a lot of my friends. It was this thing we all found together. We all were like, "Have you heard that Tribe song?" "Yeah, yeah I only found that the other day." It was this secret thing we all had together and we had these stories that we traded together, these songs that we'd pass back and forth. They always make me happy. They never upset me. They've only brought out about five albums and I've listened to two of them extensively because I'm saving the rest. They're not going to release any more music because they all hate each other. I'm saving the later albums for a time when I'm gonna need them. I'm getting all I can out of these two. It's a really important album to me. I listened to a bit of hip-hop when I was younger but Tribe really brought me back to listening to hip-hop again. It made me want to discover all the things that happened around that time.
Steely Dan – Aja
I think it's Steely Dan time. As I've said already my Dad is a big influence on my musical taste. When I was younger he had Steely Dan on in the background the whole time and I really didn't give a shit. I didn't at all! But then I grew up and got some sense. I went back to listen to Steely Dan again and thought that it was really interesting. I thought it wasn't cool to like Steely Dan so I kept it to myself. But I think this happened with a lot of my friends as well. We were like, "Steely Dan are really good but they are a Dad-band." We all realised at the same time that Steely Dan were amazing and that we were going to proclaim it to the heavens that we love Steely Dan. The record is so precise and they were obsessive fuckers about little details. There's a bit in 'Peg' where there's a backing vocal and it's Michael McDonald. It's layered a ridiculous amount of times. They brought him in for a whole day just to do that. The best thing about the record is this inlay. They got a critic to rip the album apart and they printed it on the inside of the record. That's how – well I don't know if you can call it it that – confident they were in themselves.
One of the lines is, "The composer describes this piece as a 'pantonal 13 bar blues with chorus'. That's the kind of double talk they were giving me towards the end." This guy, Michael Phalen was just ripping the shit out of them on the inside of their record. I love that idea. A friend of mine's middle name is Aja after this record, which I'm so jealous of. 'Peg' is one of my favourite songs, and 'Josie' as well. You can hear how much they've influenced musicians. You can a lot of their influence on BadBadNotGood. There's not many twenty something year olds who are anyway into music who don't like Steely Dan and if you are one, I don't want to know you. My Dad has always watched those 'Behind the Music' programmes were they dissect the albums. One of the things I remember is them playing Michael McDonald's backing vocal on 'Peg' over and over again and explaining it. It's just two guys and they build the bands. They get the right drummer for the right song. It's a bit of a jazz mentality I suppose – finding the best player for the song rather than the most convenient.


Shirley Bassey – The Wonderful Shirley Bassey with Geoff Love and his Orchestra
I'm a female vocalist so I'm a big fan of female vocalists. I came across Shirley Bassey when I was in a friend's car once. I was like, "Why are you listening to this shite?" She did a version of the 'Fool on the Hill' which is a Beatles tune. It's so joyful and so tongue in cheek which is something I love about all of her songs. I found this record a few years ago in Mother Jones' Flea Market. She sings 'Cry me a River' on it which is one of my favourite songs. She does this version of it where she's really angry which I love. Cry me a River is quite a sad song and she does a really good angry version which I think is a good interpretation of that song. In essence she's saying, "Cry me a river and get over it." She's another person I've had in the back of my head for years and I thought, "Maybe other people will like her too." My friend Dan and I do this thing every so often called Shirley Bassey Sundays where we listen to Shirley Bassey on a Sunday because it's the perfect music to chill out to on a Sunday. This year I found him a Shirley Bassey biography for Christmas this year. Though I told him that the minute he's done with it I want it because I want to know everything about her. She's so composed and so in control of everything that's going on around her.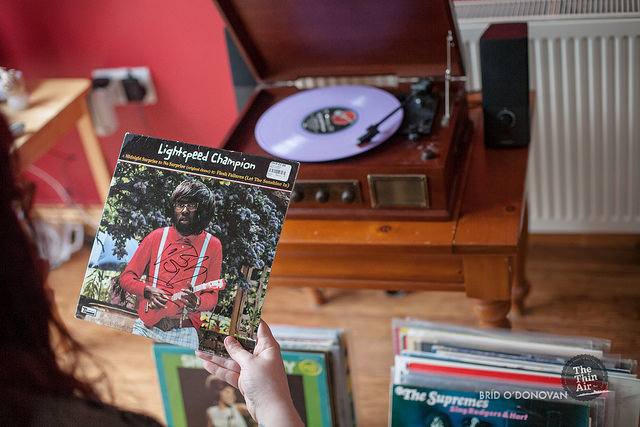 Lightspeed Champion – Midnight Surprise (12" Single)
'Midnight Surprise' is still one of my favourite songs that I've ever heard. Lightspeed Champion is Dev Hynes, now of Blood Orange and Solange and all of those other amazing projects he's been on. When he was in his early twenties he was obsessed with folk music and made this beautiful record called Falling off the Lavender Bridge inspired by Emmylou Harris and Gram Parsons' 'Grievous Angel'. He did the album with a girl called Emmy the Great who has an amazing solo career as well. When Virgin Megastores was still open in Cork it had a small record selection. I went in and I bought this because I thought he had cool glasses. I didn't really listen to it for a few years and then I got into Lightspeed Champion and I found this and I couldn't believe I had it. 'Midnight Surprise' is a nine minute song about insomnia and, I think, wet dreams and being obsessed with someone who isn't obsessed with you. When I was in sixth year Lightspeed Champion was supposed to play a gig at The Tripod. I saw that and I thought, "Ok, I'm gonna get a fake I.D. and I'm gonna go because I have to see him live!". It turned out that the gig got cancelled and he was playing the Trinity Ball instead. I knew I definitely wouldn't get into that because I had just turned seventeen. He announced that he was doing an instore in Tower Records so I got on the train and I went to Dublin on my own. The instore was incredible. It was just him with a guitar and a violin player too.
Afterwards I went up and I brought this up to him to sign. He was really surprised. He told me that 'Flesh Failures' – which is the B-Side – was one of his favourite recordings that he'd done. It's a cover of a song in a musical called Hair. I had heard that he liked Maroon 5 because he had this blog where he had poured his heart and soul out to everyone and I read that religiously. I brought him a live Maroon 5 album that I found at home. He was like, "Aw, that's amazing. Thank you so much". Then he let me wear his glasses and take a picture with him. He had this big furry hat and I asked could I wear that but he said no. This record is one of my prized possessions. The reason I'm friends with one of my really good friends, Ruairi Dale, is because we both figured out during one of the first times we chatted that we loved Lightspeed Champion. Anytime we're djing together we will play this and have a ten minute Dev Hynes appreciation. I love playing it because people don't know it and a lot of people didn't like this stuff when it came out. I remember when I was going to get my Leaving Cert results I listened to this song on the way there because I was really nervous and I listened to it all the way down to calm myself down.


Patti Smith – Horses
There's nothing better than a girl singing and knowing exactly what she's talking about. Patti Smith is that. I'm reading her book called Just Kids which is an amazing book. It starts when she goes to New York. She meets the love of her life who convinces her that the poems she is writing should be more than poems. She's a force of nature. She's a really incredible woman who didn't really know what she was doing but knew exactly what she was doing. She didn't come from a musical background and she taught herself guitar and surrounded herself with people that inspired her and people that kept her going. I love how androgynous she looks on the cover and that little subtle horse pin. The band I play in, Morning Veils, we all have a love for Patti Smith in our own little way. We don't talk about it extensively because we all like talking about music and keeping it for ourselves. I think she's a big influence on us. She's a powerful force and a good musical role model. Her lyrics are really inspiring because she's singing love songs at times but she's not singing about the boy that fucked her over, and she's left heartbroken and doesn't know what to do. She's singing about power and becoming who she was. That's an important thing for any twenty something year old to listen to. You are figuring out who you are and who you want to be. You listen to a thing like this and you're like, "Ah! This will help. This will give me a bit of guidance."