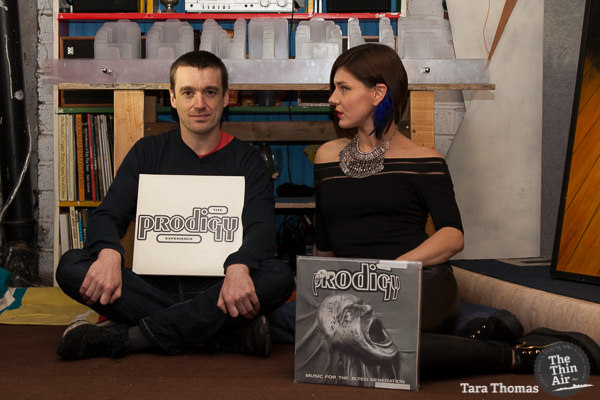 All throughout 2014 we dotingly pried into the prized record collections of some of our favourite Irish artists via Track Record. Taste abounded from every photo and giddy admission, and all was well in the world. Before delving into all of those (which we're certain you'll do so with fervent abandon in due course) dig the latest with Dublin electronic duo Conan Wynne and Anna Doran AKA Contour.
Photos by Tara Thomas.
Anna Doran
Prodigy – Music for the Jilted Generation
Nostalgia buzz. I bought this for Conan for his birthday!
Underground Resistance – The Final Frontier
I only have a few records, so this was way easier for me than had you asked me my favourite albums of all time or something like that. For years I used to buy my favourite records for close friends who DJ instead of buying myself any because I didn't have decks or anything. Like, I got my friend Graham Underground Resistance's Final Frontier. It was the first record I bought and was about €40 but it's such an absolute beast. Sweet 303 space vibes and 808 beats. Classic acid techno bliss.


The Jimi Hendrix Experience – Are You Experienced?
Anyway, then Graham reckoned I ought to start my own collection so he got my Are You Experienced? I adore Jimi. He was one innovative brother. His voice is like velvet – it really gets to me. The album is deadly, such an amazing debut, from the sweet psychedelic bangers like 'Purple Haze', 'Foxy Lady' and 'Manic Depression' to more subtle gems like his 'Hey Joe' cover and my favourite 'The Wind Cries Mary'. I think it is so beautiful. Such a sweet mellow guitar riff. It delights my heart.
Aphex Twin – Windowlicker
I was given Windowlicker as a present too. I do love Aphex. Mostly his Analord stuff though. But I'll never forget the first time I saw him play live in Barcelona and he played 'Windowlicker' at the start after a mega atmospheric build up and it was fucking awesome. It is a whopper track and I don't think anyone will ever forget the video. Hope we see more from him and Chris Cunningham again now that he is back on the scene. Two sick, sick men – love it! The cover of this record is priceless.
Floating Points – Nuits Sonores
This is the latest record I've bought. It's quite different than what I usually listen to. A long moochy number that I got with my boyfriend in mind as it's very much his style, but I really dig it myself. Floating Points is some producer. Apparently he made this track on the plane on the way over to Nuits Sonores festival and then played it out at his gig over there! It's a really interesting arrangement and I love the development of the track, the acid lines, and how he weaves the various parts in and out of each other. There's some nice jazzy elements to it and lovely Rhodes piano in there too which is probably my favourite sound. It's guaranteed to get you dancing.


Aphex Twin – Syro
Myself and Conan kind of bonded over Aphex when Conan was helping me put a mix together that had a load of Aphex and the Tuss on it. We actually got paid for a gig last year with copies of his new record before it was released! Not his best work in my opinion. (Conan: "I do love the Jungley tracks on it though!") Yeah, I like a few of the tracks and there's 'Aitsatsana', another gorgeous piano tune like 'Avril 14th' from Druqks. No, it is a nice album. I wouldn't be mad into it, though.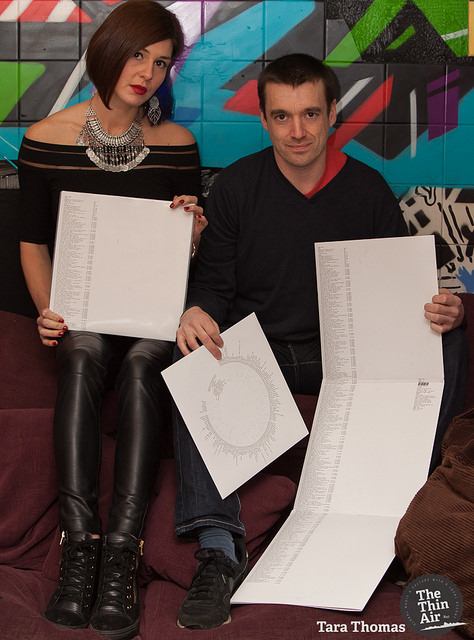 Conan Wynne
King Crimson – In the Court of thr Crimsom King
I was exposed to this album when I was on a French exchange at school. I was living with these two mad Italian hippy twins who were up to all sorts of mind-expanding things at an early age and they literally forced me to listen to this album. I couldn't believe how much I loved it. A grand concept with tunes ranging from savage rock-outs to jazzy noodling and sweeping emotional epics. It is such a brilliant sounding album. I often just lie about and listen to the whole thing through – such an amazing piece and my first taste of the concept of concept albums. The playing on this is so inspired, drum sounds are amazing and mellotrons all over the place. Unreal.
The Cinematic Orchestra – Everyday
A modern classic, from a production point. It's an album I always try and aspire too when I am making beats. It crosses the light/heavy threshold so easily. Getting the twang off a double bass to blend with a sub and the hip hop style sound on the drums but keeping a jazzy vibe it is great and the vocals from Fontella Bass and Roots Manuva are outstanding on it. One act I would kill to see live!


The Small Faces – Ogdens Celebrated Nutgone Tobacco Flake
Not just one of my favourite sounding records but my favourite looking one! I collect picture discs and I love the album art on this – had to search high and low for it! From 1968 it is a collection of very diverse tracks which all have a running theme of one man's search for the moon. Side Two is narrated in between tracks by this mad poet Stanley Unwin who had his own king of cockney jibber language. It's great fun but also a real clever piece of music and art – very unique.


Lorn – Ask The Dust
The most recent record I bought – such a great, grimey dark feel off it;  great bass and shakey drums and atmospheric sounds in there. My favourite on the album being 'Weigh Me Down', which is a killer dark track which has a great 8bit video to go with it. Some of the sounds he makes leave me scratching my head ("how the fuck did he make that crazy noise?!") but also a good inspiration to go discover new production techniques.


The Prodigy – Experience and Jilted Generation
The Prodigy were a total gateway drug into electronic music, I think this album (Experience) was the first one I really treasured as a young lad. It had everything: fast, aggressive breaks but still fun and danceable and hard enough so that it annoyed my parents! I had it on tape and about ten times on CDs that were eventually played to death and now on wax, so it will last forever. You will still hear 'Out of Space' played at least three times at every festival. Never gets old. Also the Jilted Generation when I started taking more of an interest in production – it fascinated me how he could get those tunes sounding so full-sounding with such interesting sound design. Anna got me that on vinyl for my birthday just gone as she knows I love the Prodigy. She does too. They epitomise the ol' rave era we came up in, a crossover that was so important and a starting point in two lives heavily addicted to electronic music now.
Pink Floyd – Dark Side of the Moon
Don't need to say much about this stone-cold classic. It was my Dad's record but he is more of a Stones man, really, so I got it and it really is an incomparable work, fusing everything under the sun, immaculately produced and so imaginative. I love concept albums – as you may have noticed I have included three here – but this one has to be the daddy of all concept albums. You can't really turn it off when you start it, I find. Epic.


Contour have their new six-track EP coming out in March, Blessed With Weird Things, which will be released on vinyl via Champion Sound Recordings in April.