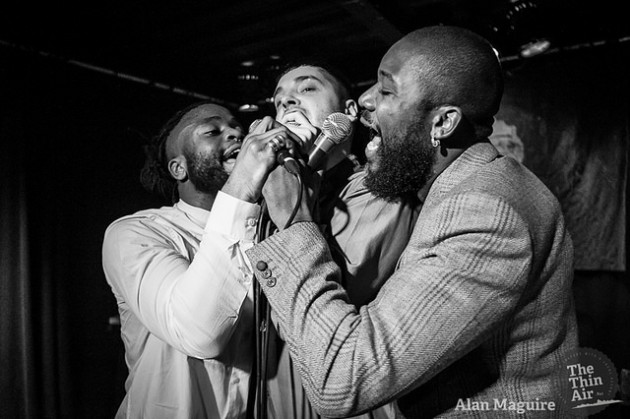 Edinburgh trio Young Fathers play to a sold out Black Box as part of the tenth annual Out To Lunch Festival, and as one of the more highly anticipated acts in the programme, we can assure you that they do not disappoint.
They open nearly in darkness with a single drum beat which slowly builds into a battle march and bleeds into the electrifying 'No Way'. It's menacing and theatrical and immediately sets up the extraordinary atmosphere spectacularly. Young Fathers have clearly approached their Belfast show with an attack mentality which by the end of their first track leaves many of us in a dazed state of shock. The band have clearly put great thought into showcasing their dark and murky brand of hip hop and it makes for an incredibly exciting show. They do not ask for your attention – they grab you by the neck and take it from you. From beginning to end, we're transfixed as they perform with such raw energy, emotion and aggression that the level of intensity is palpable.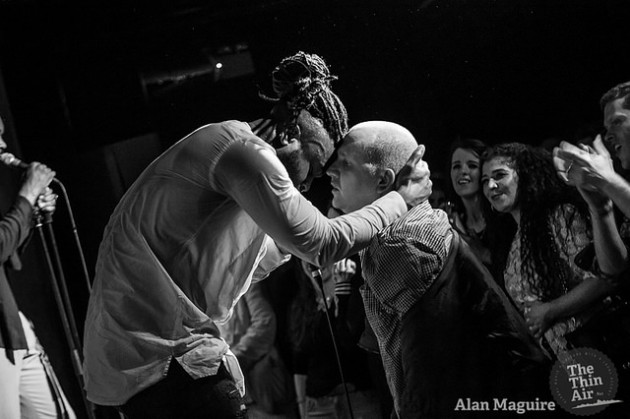 The bulk of the filler-free set list comes from Dead, the record which made them Mercury Prize winners in 2014. We're smothered in the sounds of booming bass, tribal percussion, white noise and brooding, beautifully synchronized vocals. 'Low' is an atmospheric triumph which punches you in your chest when the drums kick in. 'Queen Is Dead' summons politically-infused rally calls and 'War' is a moving battle cry. 'Get Up' is frenetic and anthemic and Young Fathers lead by example; dancing in unison with their audience, which almost sends us feral. The only break in the level of intensity is for a stripped back, eerie rendition of Tape Two's, 'I Heard'.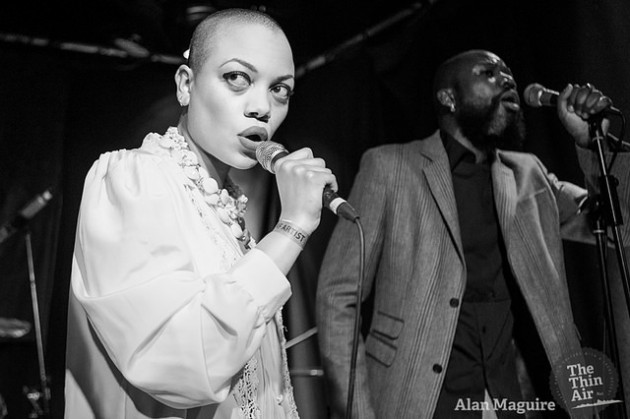 Throughout the show, there is a lot for the eyes to take in. The three vocalists take turns as the lead, moving between mic stands on the stage. Their individual tones jump from tender and sincere to rap to angry chanting but with every syllable, you are gripped by the passion pouring from every lyric. Support act LAW (AKA Lauren Holt, above), joins the band for a generous portion of the performance, lending vocals and serving as a contradiction to the organised anarchy around her. She frequently stands, eyes wide, staring intensely into the audience as though she's debating which one of us she wants to stab first.
With just over an hour spent onstage, there is very little time for small talk save for the odd audience interaction with the large pit of seemingly hypnotised crowd members dancing before them. As the set draws to a close, the band solemnly march off stage into the crowd but we're not left feeling deprived of an encore. It's essentially a condensed masterclass in performance. It may be premature to label this as one of the gigs of the year given that it's only January, but it's fair to say that everyone else is going to have to work extra hard to beat it. Laura Carland
Check out Alan Maguire's full photo gallery from the night below.