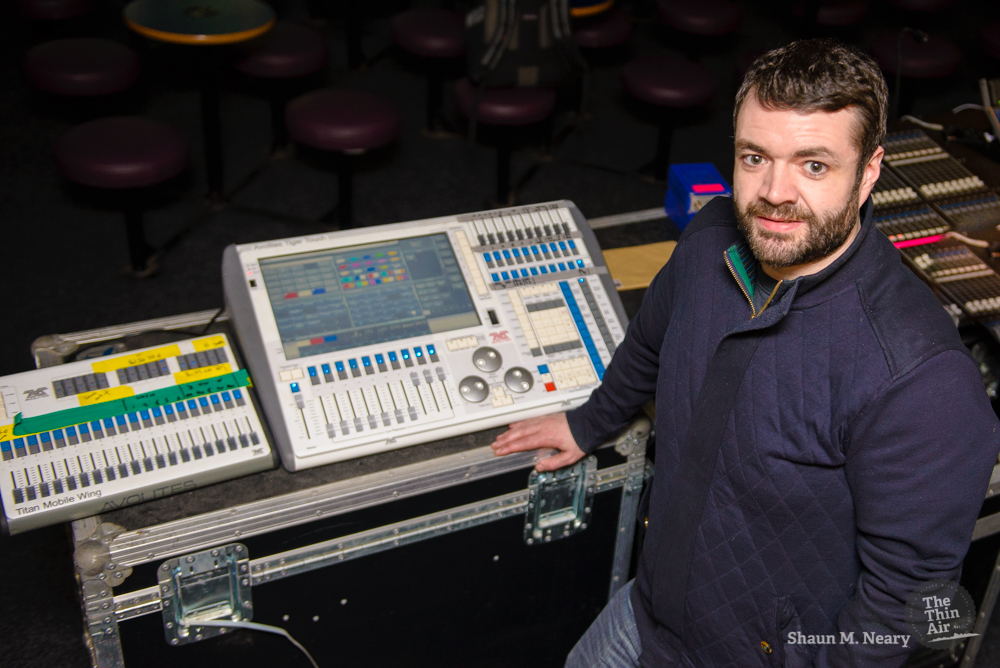 Donal O'Luanaigh (or Chief to those of you who know him well) is one of the 'chief' lighting technicians at Vicar Street in Dublin. We discuss his work and how he bring light to all your favourite bands on stage. Photos by Shaun Neary.
Hi Donal! Can you tell us about yourself?
Hi! I'm Donal, 32 years old from Dublin, I work as a freelance lighting designer/engineer/technician/crew, delete where applicable. 'Lampy' is probably the most commonly used term. You're most likely to find me in Vicar Street but there's no job too big or small.
How did you get your nickname 'Chief' and does everyone refer to you as that?
I've had it since I started secondary school, apparently in 1994 I looked exactly like Chief Wiggum from the Simpsons, and it's kinda stuck ever since. Most college and work friends know me as Chief but I can't bring myself to use it when introducing myself, it's probably slightly juvenile for an alleged grown man.
How did you get into lighting and how long have you been involved in it?
It was when I started going to gigs as a teenager really, when you're that age the bigger the production the better the gig. The first show I ever went to was U2's Popmart in 1997, I remember getting slightly obsessed with it and what it took to stage the whole thing. I started working on gigs properly after college, around 2004, but didn't do anything lighting-related until 2007 when I finally gave up any remaining delusional notions that being a sound engineer was for me. Thankfully there were always lights to be rigged and re-rigged so I started to gravitate more in that direction. My degree was in digital media so I had some minor background in visual art, but the deciding factor was just being thrown behind a desk, given a few pointers and told to make it work. Luckily it did!
What exactly goes into the job? 
More or less your entire life goes in. The hours are long and the perks are few, you work mostly evenings and weekends and your family start forgetting what you look like, but I wouldn't/couldn't do anything else, it's too rewarding to give up. If you're talking about what it takes to get this type of job, like I said I have a degree but it was the people I actually met in I college who got me the connections to get my foot in the door. So I didn't really train for this, I started off unloading trucks and pushing seats and doing general crewing, then moved on to setting up the stage, which is where you start to gradually put all the pieces together in your head. Google also helps!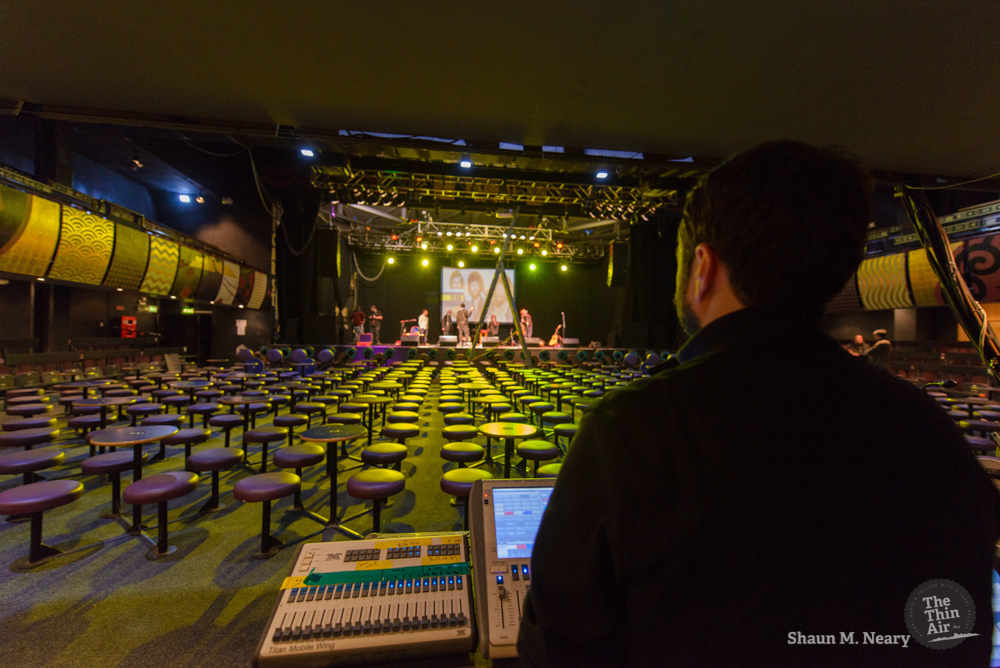 How does lighting differ from venue to venue?
Every venue is a completely different experience, and each has its own set of pros and cons, but most dedicated live music venues will have the fundamentals in place, which would usually mean some front key light for the performer(s), some colour-changing washes and/or spots from the back, a lighting console and hopefully a smoke machine so people can see all your hard work! Generally speaking the bigger the venue the more lights there'll be, and the better the chances they'll have moving lights or other fancy effect lights. Then you get to the large venues and arenas where there'll probably be no lights at all, just an empty room with a stage and a roof, so you have to bring in everything and build the whole lot from scratch, and they're the gigs where you really learn your trade.
Describe your typical work day.
That would depend on where I was and what my role was, but in Vicar Street I'd normally arrive in the afternoon, before any of the artist's gear or crew landed, make sure everything was working, re-position any lights as necessary, hang any extra touring or hired lighting, as well as any set/drapes/backdrops/screens/projectors etc. Once it's all up in the air you focus the lights on what you want them to hit, then either hand it over to the band's own LD, or program and operate the show yourself. Then you pack it all up again.
What are the biggest problems you encounter in your line of work?
Probably getting enough work in the first place! Being freelance can be unpredictable at best, even with 'regular' venue work. Otherwise most day-to-day problems are either technical or logistical, and identifying and fixing them in time is basically our entire reason for being. If something happens during the show then obviously that's a big problem, so the name of the game is making sure nothing does.
Do bands get a say in how they want the stage lighting to look? Or do some of them leave it up to you to decide?
Bands have all the say, in every aspect of the show. The buck stops with them and it's my job to make it look exactly as they'd like, or as close as possible. There's always at least a short conversation with the artist beforehand, often in quite vague and broad terms. Sometimes you're given definite limits (no haze/no strobe/no movement, etc.) and sometimes you get carte blanche. Knowing how to convey your ideas back to the artist is important too, it reassures them and gives them a chance to point you closer to the right direction.
How important is it to get the mood across through lighting?
Obviously I'm biased but I do think it's vitally important. Lighting basically upgrades a gig to a show, and when people pay good money to see a show they rightly expect something visually compelling. Thankfully humans are drawn to light instinctively, and colour and contrast and shadows and movement affect people's mood and mindset dramatically, even if they don't always realise it, so it's a natural tool to use for live productions.
Some of our staff photographers often comment on 'bad lighting' for the first 3 songs at a gig. Is this something light technicians are aware of? Or bands for that matter?
This is something I've heard many photographers mention, usually in reference to a large-scale productions with strict access controls in place, and often the worst place to be is right in front of the lights. I do think it's unfortunate when photographers are only given the first three songs to shoot, since chances are it's a full ninety minute show that builds to a huge finish, and it's a bit of a shame when all the cameras are packed up and gone by then, but as I said before the buck stops with the band, it's always their call and they understandably feel more comfortable without a battery of cameras pointing at them all night long. Also, unless it's being shot for TV or DVD, the show will always be lit for the audience first, artist second, then maybe the cameras. Modern stage lights can be incredibly bright and punchy too, and if it's a high-energy show with lots of strobing and white light you can be sure half the shots will end up being that classic smokey white blob. So yeah, sorry about that downer double-whammy, but at the end of the day the crowd is king.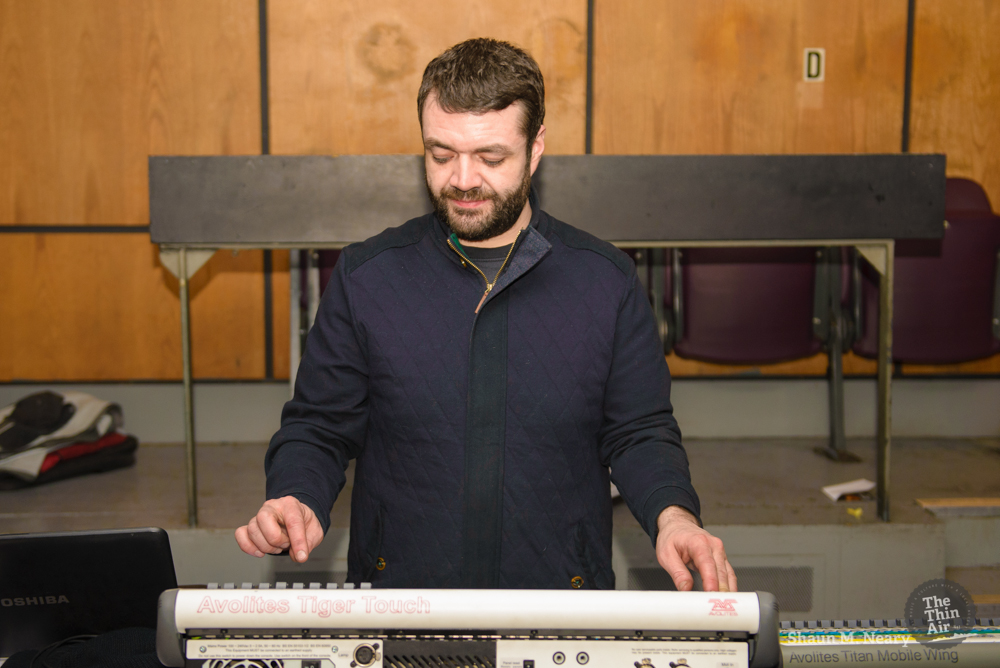 Can you tell us about the set up/equipment used?
Chains get hooked to the roof, then motors climb these chains. Strap some trussing under these motors and you've got yourself somewhere to hang lights! Once they're hung, plug them in, test them, send them up all the way, program, operate, repeat. Simple as that. The art is in putting the right fixtures in the right places and making them do the right thing at the right time.
Any lighting disasters you'd like to share?
Yes, yes and no. Get me drunk first! But actually getting a mini-UK tour off the back of a drunken night in a Cork hotel room with Tim Minchin was pretty funny. I can probably mention that one. I hope.
Where's your favourite venue to work in Ireland?
Even if I lied and said somewhere other than Vicar Street I wouldn't sound convincing, and I do realise how spoiled and lucky I am. Having said that I definitely have a soft spot for Whelan's and the Button Factory, you do feel like you're in friendly territory when you're in those places.
Who is the most interesting band you've worked with, in terms of the lighting set up they wanted?
That's a really tough one, because Vicar Street brings in lots of mid range touring productions you get the privilege of seeing lots of very creative concepts executed within a very tight budget by very talented people. I can't claim any credit for any of these, but recently Little Dragon, the National, Birdy, Moderat and the Prodigy were very impressive and fun to work on. Last year I managed to get involved in the design of touring productions for James Vincent McMorrow and Alabama Shakes, in other words drawing a 3D model of the stage and set elements, then plotting a virtual lighting rig which can be pre-programmed and turned into handy renders you can show a band months in advance of a tour. There usually follows a lot of backing and forthing but it's a great feeling when you eventually see a show in real life that once only existed on your computer monitor.
What gigs will you be lighting up for 2015?
Already in the planning phase for this summers Live at the Marquee in Cork, with the Iveagh Gardens shortly afterwards, which includes the comedy festival, so gearing up for all of that. Few other things in the pipeline yet to be confirmed so I won't tempt fate by mentioning them.
Where can we find more information about you?
Chiefy O' Lamps on Facebook. I don't keep a very high profile online!