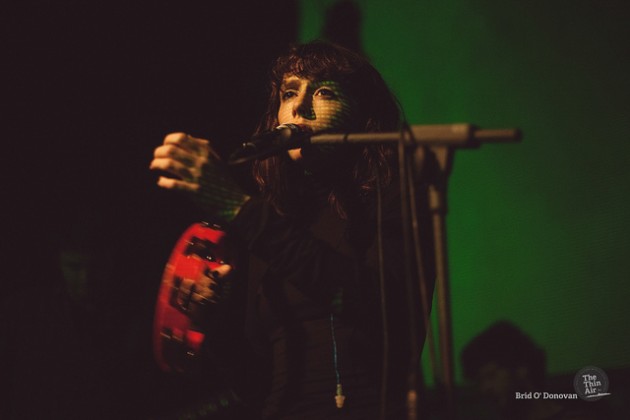 FRIDAY
The excitement is palpable throughout the city's creative communities in the run-up to the Block Party, and even before your writer gets to his relatively late start on proceedings, word filters through that the Structures and Strategies meeting will lead to more events in its vein, a forum for local creatives to air ideas and exchange thoughts. People's gears are grinding already, it seems.
We're waiting outside the Gate Cinema for a few minutes and the small group outside is already conjecturing about what they'll see out of charismatic American performer Kate McGrew (below), as well as plotting and scheming the rest of their evenings out. Before long, we're led out to the parking lot across the way, and down an alley where her alter-ego, Lady Grew, and her accomplices await our arrival. Tonight, she performs her concept piece 'SKIRT: A Singing Installation Piece', clad in a jacket and partially housed in structured, transparent, dome-like dress, designed by Choi Chung, and symbolic of the concern sex workers are forced to have for their clients over themselves as a result of impending legislation. Raising awareness of the rights of sex workers in Ireland as criminalisation approaches, tonight's show is pay-per-play, with members of the crowd donating to Sex Workers Alliance Ireland for each song and a few minutes inside the safety of Grew's skirt-structure. She's a sight to behold – overflowing with natural charisma and ability aplenty, her presence alone is worth the price of admission, even with her movement restricted by her costume. She puts that right for her finale, ditching its confines, dropping her mic and letting loose with a preternatural flair and confidence perfectly befitting her strong, empowered clash of musical styles. An absolute force of nature.
A run across the bridge to The Friary is next, as Twin Lights' set is underway, and a queue winds halfway down the stairs of people taking the whole thing in. The brainchild of Tim Fitzgerald, tonight's set is far more beatsy and washed-out sounding than we've been accustomed to from the post-rock-influenced composer, almost musique concrete in places in its grittier feel. In the intimacy of the upstairs of the street-corner wine bar, it makes perfect sense.  A game of Tetris with tables, chairs and gear later, and (almost) the whole crowd is sat comfortably for Rory Francis O'Brien and collaborators, with the former Ten Past Seven man gently unleashing a raw, tense set of doomy folk, lightly drenched in feedback and buzz. 'Burning White Dove' holds the attendees rapt in its nuances, the highlight of a varied set that takes in traditional songs, originals and the odd nod to TP7.
Over to the Triskel for Elastic Sleep (top), only to be met by a monster of a queue that ends up stretching across from the TDC to the backyard. This'll be some evening, alright. They're performing by the time the queue unravels into the room, and while your writer often has insisted they get better every time, the fact remains true. Tonight, perhaps sensing the importance of the occasion and seizing on it, they turn in a masterful performance, led by Muireann Levis, her celestial voice commanding the attention of the crowd and her cosmos-eyed stare into the back of the room leading the band into this other plane entirely. New material is aired tonight, and while shoegaze and noise have been central to the band's sonic broadsides so far, the line is blurred much, much further in these compositions, with Levis venturing further into vocal distortion to almost-terrifying effect.  'Slip' and 'Leave You' get an airing, but the highlight is a completely unexpected cover of Jon Hopkins' 'Open Eye Signal', recalling equally its source material via a mix of early Therapy?'s trancey sensibilities and My Bloody Valentine's walls of noise. Thrilling to behold, but as always.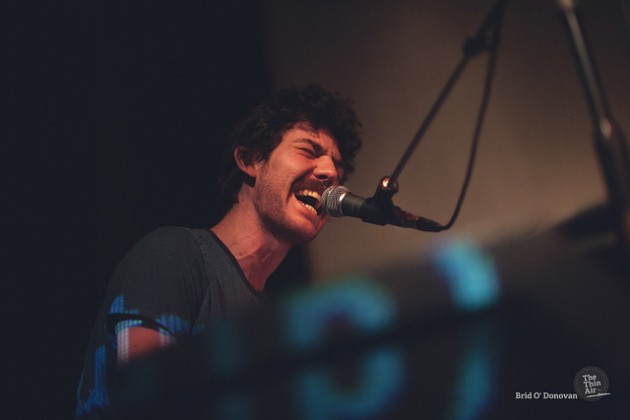 A hard act to top, but O Emperor (above), just before their new album releases, stride on confidently and waste no time raising a ruckus, their sunny, high-definition psychedelia resonating in a slightly smaller room than they're used to nowadays, and reverberating with an appreciative crowd. For such a "big" band, it's new stuff that gets the big reactions tonight from the five-piece, and set-closer 'Switchblade' is as gorgeous live as it is on record, intricate yet accessible, laden with harmonics and brandishing a giant grin on its face. Delays mean your writer misses the other show up the street, and rues missing Chris Power's trip-hop-inflected beatsy ambience, as well as Ben Bix & Feather, but Twinkranes (below), headlining the night's big ticketed show aren't long taking people's minds off anything else: boldly experimental synth-rock is hammered home with a laser-honed live set, featuring possibly the most visually perplexing drumming known to mankind, and a seizure-inducing video in the backdrop setting the atmosphere off. Heavy, dense, and harsh, the duo's mayhem peaks with 'Dive', a veritable study in noise-rock that leaves the place reeling. The perfect end to an opening night.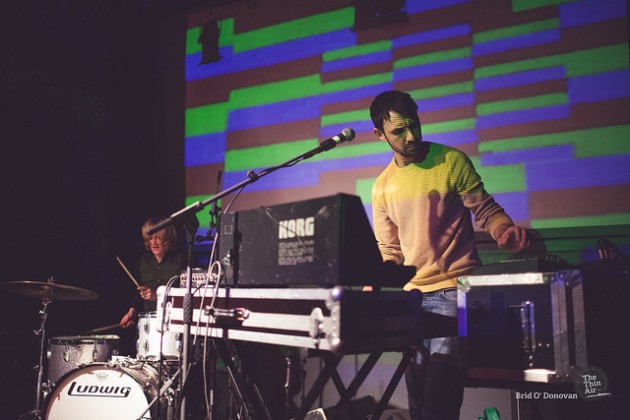 SATURDAY
On a day where you'd need to be twins to see everything properly for review, your writer simply resolves to traipse around North Main St. and get as much of everything as possible. Harper's is an odd place, in an old-fashioned way. Part pound-shop, part clearing house, bongs and statues of skulls and fairies set on the same shelves as pictures of the Holy Family and unloved, unopened cassette Walkmans, in one of Cork's iconic, idiosyncratic retail establishments. Perfect, then, for Roslyn Steer, formerly of Saint Yorda and currently of Mourning Veils. Down the back, wedged inbetween shelves of old books and lenticular pics of unicorns, she lets out a solo set that captivates and gently shakes the suffering heads of those out the night before. No microphone (a common theme at the pop-up shows), and bearing nothing but songs from a unique and personal perspective, Steer gets lost in her performance, and brings everyone with her. Possessed of a sweet, sonorous voice, yet at her most powerful when dropping to softness, her work's beauty is its eclectic nature, taking in her own folky compositions, traditional pieces, and even a pastoral take on Nirvana's 'Drain You'. A hidden gem of our town's music scene. Straight after are HAGS (below) over at 'indie supermarket' Bradley's, and their likeable take on fuzzy Byrds/Teenage Fanclub pop translates well to an acoustic setting. The lads are in good form, scutting away and giving a grand performance, amid the hubbub of shoppers and browsers. Outs to the little kids handing out fudge and lemonade, providing an excellent accompaniment to the lads' polished pop.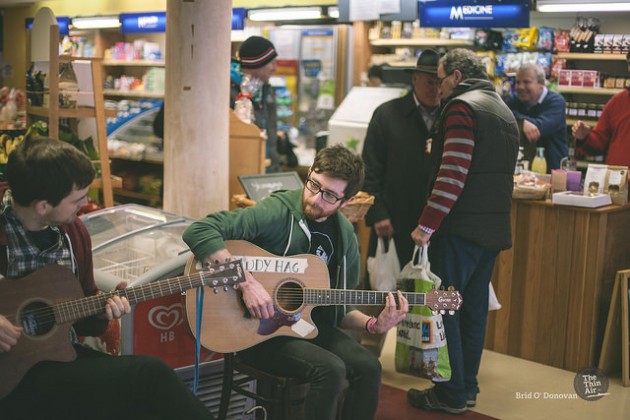 At the Vision Centre, the Irish Times' resident music scribe Jim Carroll is chairing two talks today as part of his BANTER series. The first one sees Carroll sit down with former Lotus Lullaby man Gavin Dunne, to talk about his more recent jams with his solo pop-culture fanboy shrine Miracle of Sound. The two have an easy chemistry and the conversation flows, with Carroll leading Dunne through the litany of questions surrounding his old band, transitioning to Miracle of Sound, making a living with a studio project, piracy, associations with different gaming companies, and the differences between fan compositions and composition/scoring for projects themselves. A grand wee natter about an often-hidden connection between two of our most culturally pervasive genres. Talk number two involves a panel discussion of sustainability and alternative economies for artists and creative professionals in a recession. A panel including Siobhán Kane, Aoife Potter-Cogan and James Byrne discuss grants, side-jobs, day-jobs, art as an economic asset and more in a brisk discussion that answers questions as it raises them in the way flowing conversation does. Excellent. Then it's off to see Christiana Underwood at The Raven, singing a set of originals that resonate with feeling and soul, coming from a genuine, vulnerable place and carried on a classic voice that bears that weight with maturity and assurance beyond her years.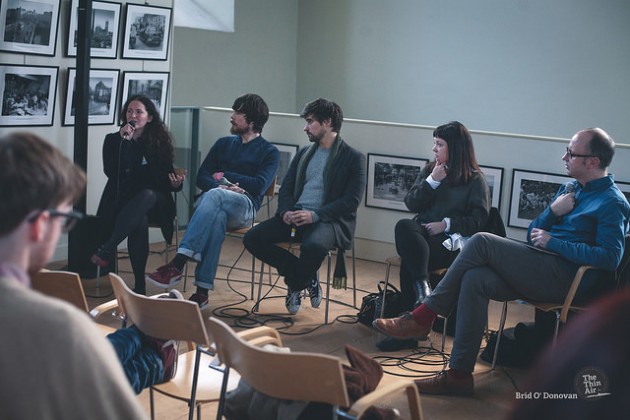 Cian Nugent (below) walks into the little pocket on the ground floor of the Vision Centre, cracks open a can, and begins his set without any fanfare, and save for the odd interaction, little banter at all. It's an irrelevance, really: he's up there to showcase some new tunes and try them out for the first time, and they venture into far more melodic territory, while maintaining a sense of adventure.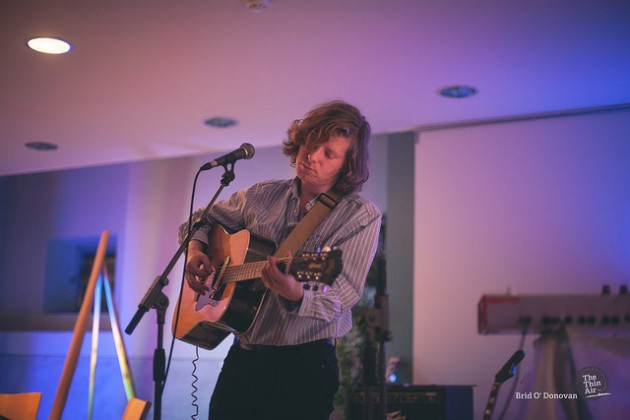 The Altered Hours (below) are also feeling adventurous – tonight's set is comprised almost exclusively of stuff they wouldn't normally do, including cuts from 'Outskirts', released a few weeks back, and their first EP. It's part of the celebratory atmosphere surrounding the festival, exploration and experimentation, and the Altered Hours deliver a spirited set to match, and do so in joyous fashion, on top form, rifling from 'Outskirts" title track and its ambience to a savage 'Dig Early'. A treasure of a band, who can't deliver that album quick enough.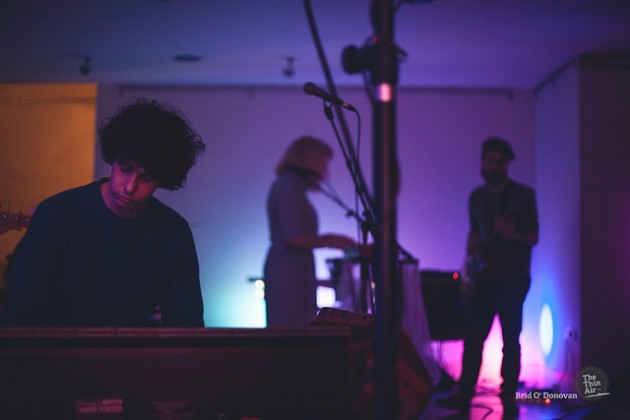 Tonight's final stop for your writer is at the Triskel for a Saturday triple-bill of beats and grooves. ApocalypsE, a crew of lads from Tralee, kick off proceedings and immediately make themselves the sleeper hit of the festival with immense and infectious energy, fluid & clever wordplay and scarily assured stage presence, turning the first few rows of almost complete strangers into a mass of movement by the end of it. Eyes out for these boys. Shookrah's (below) whipcrack "progressive soul" has made them a favourite in town quite quickly, and tonight's set doesn't disappoint, busting out tunes from their new Implicit Content EP with all the intracacies and depth intact, especially on a crowd-pleasing 'Woman'. Never afraid to try different things, an acapella version of early single 'Velvet Love' is reprised from an earlier airing at Rebel Barbers, and loses nothing thanks to Imelda and Senita's powerful vocals. Unreasonably groovy, with the musical chops and forward-thought to elevate themselves above others in their field. Big things lie ahead of this band.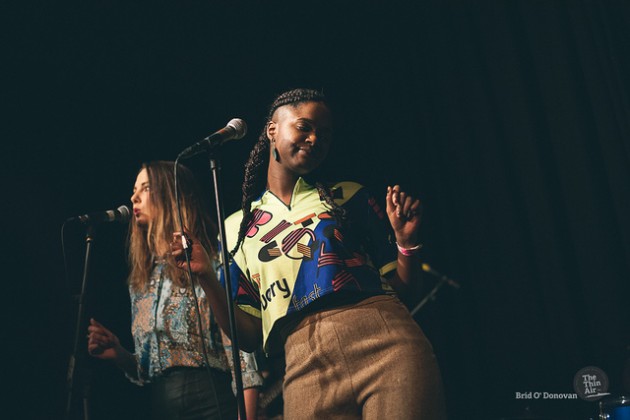 The night ends with Naive Ted below) ambling out in his wrestling gear and throwing down a gravestone-heavy set of boom-bap beats and live scratching, with a mix of beats from across the Deviant & Naive Ted catalogue that backs up his status as one of Ireland's hip-hop heavyweights. No presumptions or fucking around here, just some great samples from all over pop-culture, dextrous turntablism, and a command of crowd control from behind the decks comparable to the luchadors he patterns himself after. He even drops some of his soundtrack work for New Japan Pro Wrestling in the mix, and to see a roomful of people bang heads, throw down and generally bust their arses to the Bullet Club theme is a genuine thing of beauty. But it brings people together, and a disparate crowd from all over the cultural spectrum have turned out for this, and every other event, now that your writer thinks of it. It's this support and curiosity that the festival has proven to excel at, and it's exactly the tonic for Cork city at the moment.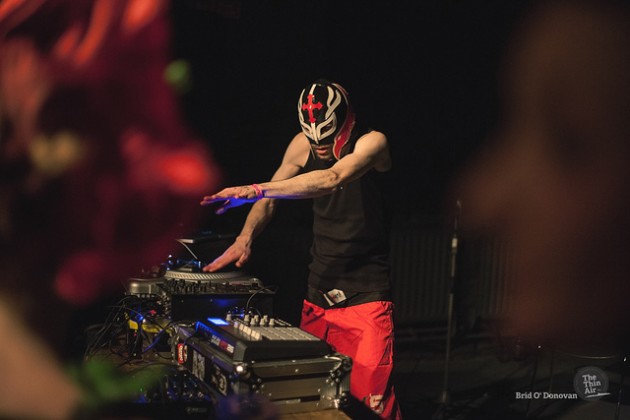 SUNDAY
And a tonic it has been. Winding down from the weekend's rush and banter, over thirty Cork DJs, artists, promoters and other creative personalities take turns spinning their seven favourite 7″s over seven hours in Vinyl Love 777, helmed by Cork legend Stevie G. People file in and out all day and the vibe is one of just music fans coming together, sharing their favourite singles, chatting and exchanging positive thoughts and ideas, the way it should be, while in the TDC, Young Hearts Run Free run a special lecture/discussion, Life Has Surface Noise, on the obsession with music and record collecting, that, sadly, your writer was unable to get to on time. A way to wind down from the prior two days, the day's events happening in one place allows the realisation to sink in of the extent of the festival's impact and take it in around you, as people excitedly catch up and talk about their experiences, the shows they went to, as well as what's next. On Monday, your writer touched on the hope, energy and excitement the weekend has generated. Seeing all this in action, all the buzz, it frames the whole picture our city has of new artists, new albums, new music, new ideas, and after this weekend, a new energy and vitality.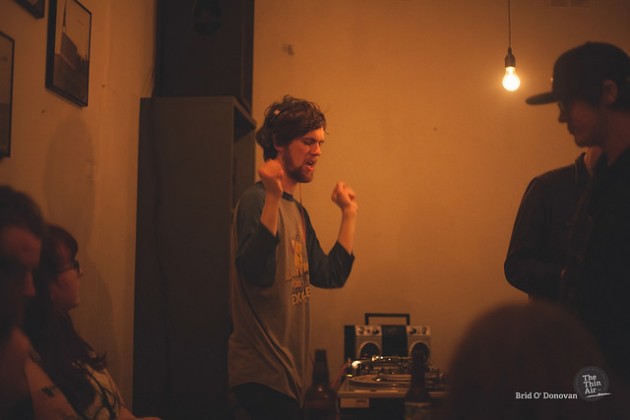 There are times when you can't help but fall entirely in love with this city and all of her sights, sounds and eccentricities. And Quarter Block Party has been one of those times. Mike McGrath Bryan
Photos by Brid O'Donovan