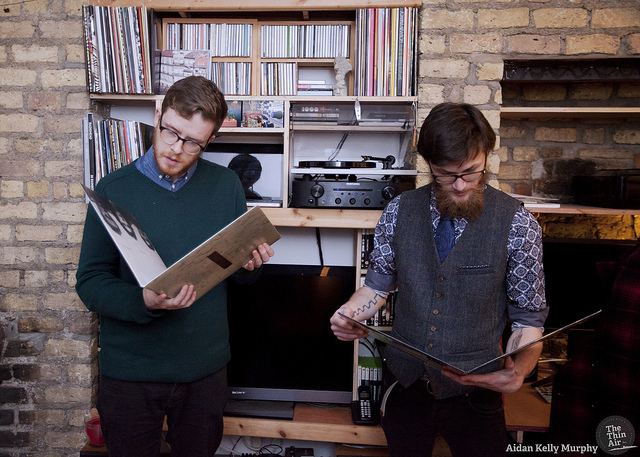 In this installment of Track Record we chat to Phil and Daryl from Subplots about their most treasured records while they brew us some fresh coffee, proving they have both excellent taste in music and hot beverages!  Photos by Aidan Kelly-Murphy.
Aphex Twin – Druqks
Phil: We were 17 when Druqks came out and it sounded like music from another planet. I originally had the CD, and it was one of those albums that was in terrible condition as I used to lend it to anyone that expressed even a vague interest in Aphex Twin. There's such a wealth of ideas on this album. It's dense and, to begin with, overwhelming. It ranges from visceral and aggressive to beautiful and sparse. I adore the piano songs – the best pieces Erik Satie never wrote. Both of us randomly found the limited edition vinyl box set of Druqks in different record stores in Dublin the same week last year. We reckon that it was secretly part of Richard's promotional campaign for Syro.
Low – Things we Lost in the Fire
Daryl:  This record was just released when we started playing together. Such amazing songs with, at times, barely enough sonic glue to hold them together. 'Sunflower' was one of the first songs we started playing together, as you do as teenagers, and made a few appearances in the early days at gigs. Low really come into their own on stage, with even less instrumentation than on record they really pull you into the songs. We had the pleasure of playing with one of Alan Sparhawk's band Retribution Gospel Choir a few years back in Dublin. He's a truly amazing and commanding performer on stage.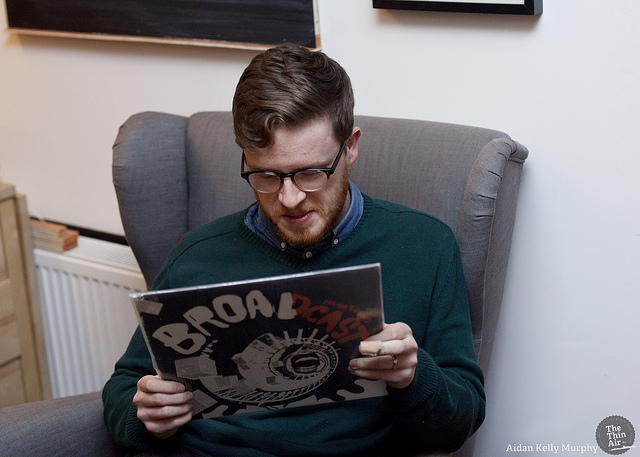 Broadcast – HaHa Sound 
Phil: We played CMJ in New York in 2009. Outside of our showcase and gigs, we didn't get to see many other bands play the festival. The one gig we all made it to was Atlas Sound and Broadcast, who were playing a co-headliner in the Music Hall of Williamsburg pretty close to where we were staying. Broadcast's set that night was really unique – they played as a two-piece and had these really long hypnotic songs with synth arpeggios. We had never seen them before and hadn't heard much of their music. To be honest, at the time we weren't sure what to make of it – but it really stuck with me. I discovered all of their albums after the gig and this one in particular is a favourite. Trish tragically died in 2011 and I feel so lucky to have seen them live. I got the record as a gift from my wife last year. The first pressings have become really rare now. It's definitely an album I treasure. All the Broadcast vinyl is finally being reissued in March so looking forward to picking up the other albums (and urge you all to do same!)


Burial – Untrue 
Daryl: A random "I like the artwork" purchase back in 2007. Usually those albums always end up being disappointing but this was mind-blowing at the time. Such otherworldly and understated sounds. Burial's approach to production and sound design had a big impact on us – especially his drum & bass sounds. The section in the middle of our track 'Colourbars' definitely owes a lot to Burial.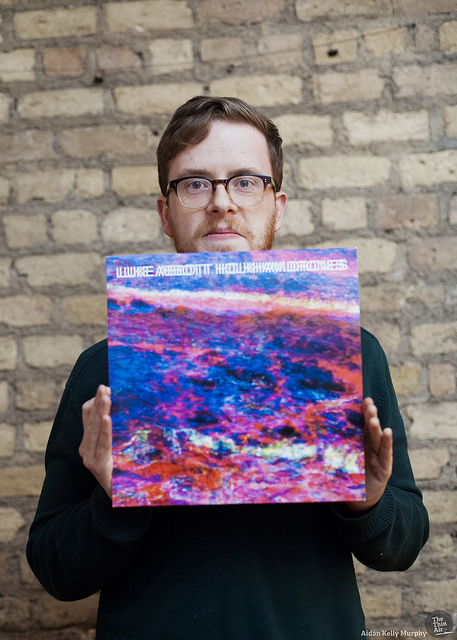 Luke Abbott – Holkham Drones
Phil: I randomly stumbled across this album on a blog the year it was released and was instantly mesmerised. The sounds, textures and melodies are just incredible. The album is made with mostly modular synths. We first heard this album when we were beginning work on Autumning and Luke's approach to synths on this record was really inspiring. We had the pleasure of playing with Luke at The Pepper Canister Church back in November and it was such an amazing experience. Probably one of our favourite shows that we've played.


TV on the Radio – Return to Cookie Mountain 
Daryl: Both Phil and I saw them live touring this album in what was the Temple Bar Music Centre. Their live setup really caught our attention. This album reminds me of New York. I remember having it on repeat whilst there on a college trip and didn't even realise the band we're from Brooklyn…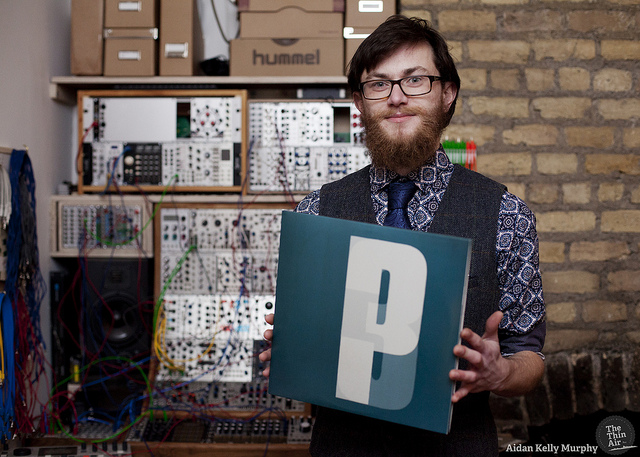 Portishead – Third
Daryl: I remember Phil playing me 'Machine Gun' for the first time and I thought it was utter tripe. It stuck in my mind though and I eventually bought the album and was instantly sucked in. This was the record that very quickly plummeted me into my addiction for synths. A lot of the sounds reminded me of the Blade Runner OST by Vangelis, which I couldn't create using any amount of guitar effect pedals at the time. I read a lot about the recording of both projects and discovered what I really needed! This record is also a great example of how there is no right or wrong techniques when it comes to recording. 'The Rip' has a fantastic acoustic guitar, which is actually a kid's acoustic guitar Adrian Utley found in a skip.


Tony Allen – Progress
Phil: This is a hat tip to our drummer Ross who has been introducing me to a whole host of amazing African music over the last year. Tony Allen was Fela Kuti's drummer and by all accounts pretty much invented what people refer to as 'Afrobeat'. Myself and Ross saw Tony play in London in November and he was, without doubt, one of the best drummers I've ever seen. His sense of rhythm is incredible. There are so many albums of his (and Fela Kuti) that I could have chosen, but I went with this as the second track 'Afro Disco Beat' is just phenomenal.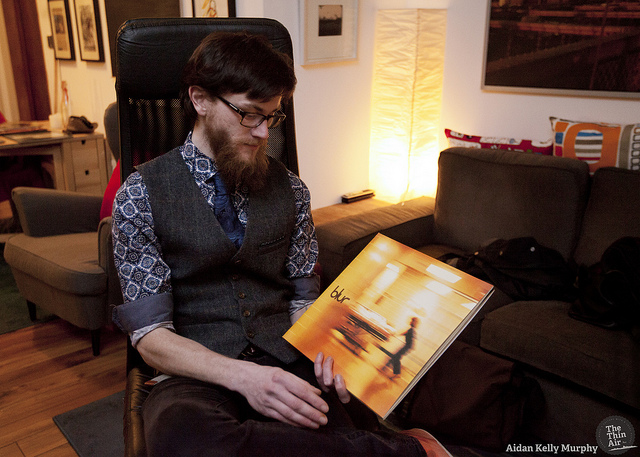 Blur – Blur 
Daryl: The second album I ever purchased and still one of my favourites. I originally got the cassette,  which was quickly worn out back in the 90s. Heavily influenced my bass playing… Just recently realised there are 808 drums at the end of 'On Your Own'. I finally got to see them live in Hyde Park on the first gig they announced – an absolutely amazing and energetic evening (8 minutes of 'Song 2'!). I think i got 3 hours sleep that night I was so fired up. It's also the only album I own on all mediums (except mini-disc, never got into that).


The Notwist – Neon Golden 
Phil: One of our favourite albums and one of our biggest influences. What a masterpiece. The programming still sounds incredible and the attention to detail is amazing. The Notwist were probably the biggest influence on the production style of Autumning. Their music is dense, layered and intricate – it keeps you going back time and time again, discovering new details or hidden textures. Above all though – it's the songs that stand out on Neon Golden. For any recording nerds out there, the documentary on the recording of this album is one of the best, nerdiest music documentaries out there. Would love to see The Notwist play Dublin again – I got to see them in Berlin in December and they really are at the top of their game at the moment.