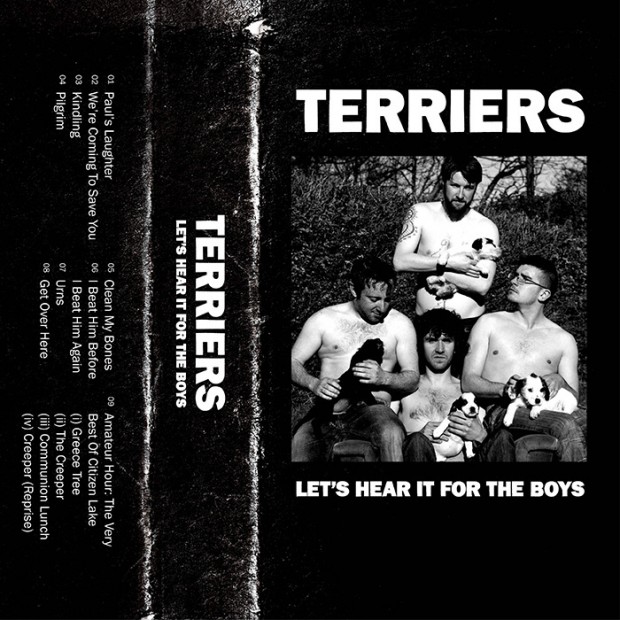 In a special two-part edition of Deep Down South this week, we kick off by exclusively premiering the brand-new record from Cork post-hardcore hunks Terriers, ahead of its release on April 4th at the Cork Community Print Shop, with Hope is Noise and Chameleon Fields in support.
Since coming together in 2011, the four-piece have slowly become one of the fixtures of Cork's gigging picture, marrying post-hardcore heaviosity and classic-rock accessibility with bro-dude humour and a sunny, indie-friendly disposition. Debut EP Girl, I'm Gon' Do Right By You, released in 2012, showcases this blend at its infancy, boasting mathy instrumental prowess aplenty and big hooks ahoy.
The new album, we're glad to say, refines and focuses the lads' ideas into a far more coherent whole, while allowing them to further explore different aspects, from the frazzled, hungover homily of 'Clean My Bones', to the proggy, alt-rock leanings of 'Paul's Laughter' and 'Pilgrim'. Some older tunes are taken from mothballs and given the once-over: 'I Beat Him Before, I'll Beat Him Again' cuts to the chase this time around, while 'Get Over Here' has had a huge overhaul.
Production by Eamonn "The Sledge" Coleman is full-bodied, focused and sharp, cutting incredibly close to the boys' live experience. Overall, the job's a good'un. And it's all yours, two weeks ahead of the game, in the streaming widgety yoke below.
Terriers release Let's Hear it for the Boys on Good Friday, April 4, at the Cork Community Print Shop, with Hope is Noise and Chameleon Fields supporting. Tenner in, tix at PLUGD Records, but starting to disappear, so get in!
This Wednesday, part two of this week's will run through the weekend's gigs and more! Want in? Mail mike (at) thethinair (dot) net with all the info.