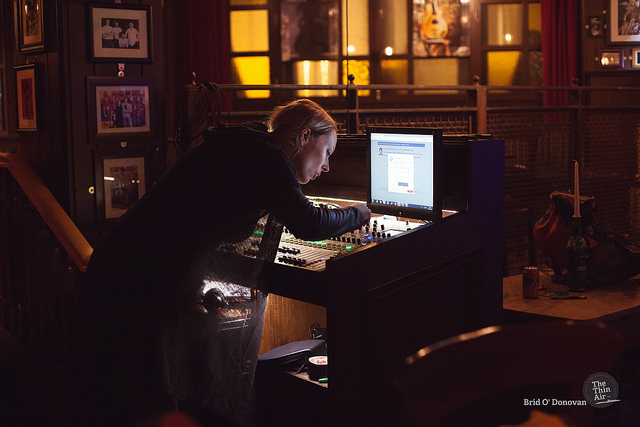 In this installment of Front of House we chat to Chloé Nagle, a freelance sound engineer and part-time teacher based in Cork. Photos by Brid O'Donovan.
Hi Chloé! Can you tell us a little bit about yourself?
Sure! My name is Chloé Nagle and I'm a Front of House Sound Engineer. I'm based in Cork and work on a freelance basis for various bands, venues, production and PA companies. I also teach sound part-time on the Music, Management and Sound course in Coláiste Stiofáin Naofa in Cork.
How did you become a sound engineer and how long have you been involved in it?
I've always been obsessed with music. I first did a degree in French and German in UCC where a lot of my energy went into playing in a band and being heavily involved in the Live Music Society. After this I went on to Coláiste Stiofáin Naofa in Cork to study their course in Music, Management and Sound. It was here I had an unexpected lightbulb moment when I realised I could work with many bands by being a sound engineer and so decided to throw myself into the world of audio. It's been my job for the last 14 years or so.
How does your job differ from venue to venue?
Everything changes from venue to venue – the acoustics, the size, the equipment, the crew, the vibe. The variation can be huge and certainly keeps me on my toes –  I've had weeks where I've gone from mixing a gig with 2 channels in a tiny 100 person room to working with 120 channels in a space filled with thousands of people.
Tell us about your work with Other Voices. It must be quite an interesting gig to get!
I adore the work I do with Other Voices. I've mixed the venue sound for the last 8 series (as well as for their Electric Picnic venture last year) and it's been a huge privilege to work with such a brilliant crew and excellent acts in those tiny, intimate settings. Highlights over the years for me have been The National, The Gloaming, John Grant, Laura Mvula, Jarvis Cocker, Laura Marling and Mogwai.
You teach at Colaiste Stiofain Naofa. Can you tell me a little bit about your experiences from teaching the students there?
The course has been a huge part of my life – it helped me find my career path (and my husband who I met there!) and teaching both live and studio sound there now gives me the opportunity to show musicians the importance of understanding audio terms and technology. Some of them really fall in love with sound and decide to make it their career in the same way I did when I was a student there. I've had really amazing opportunities and experiences travelling all over the world with great acts thanks to the course and always enjoy showing the students that this is also an achievable goal for them.
Can you tell us about the set up/equipment you use?
The equipment I use will generally depend on the venue. My favourite desks are by Midas, favourite mics by Neumann and DPA, favourite PAs D&B, L'Acoustics and Outline. I enjoy the whole process from set-up to soundcheck to gig to load-out and always get involved in setting up gear, mic'ing up on stage and taking down gear no matter how large the crew is.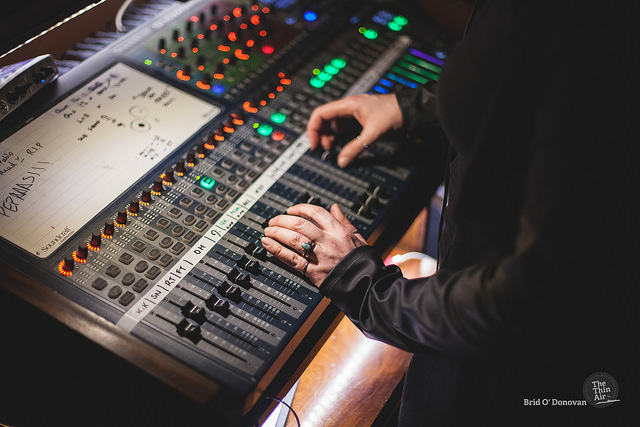 What are the biggest problems you encounter in your line of work?
Gear breaking down, time constraints, travel delays, bands being too loud on stage, challenging acoustics..
Any gig disasters or funny stories you'd like to share?
Plenty down through the years – I've seen amps go up in smoke, stages collapsing, power outages, audience members fainting on stage, musicians having meltdowns/arguments/throwing up during a gig….!
Have you ever gone on tour with a band to do their sound?
Yes, regularly. I love touring and have toured with a number of bands – all over America and Europe. When it comes to touring around Ireland I think I've worked in almost every single venue, arts centre, theatre, pub, and at almost all our festivals, little and large, at this point!
Where's your favourite venue to work in Ireland?
It's a three-way tie – I love the Opera House in Cork and the Olympia and Vicar Street in Dublin. Crew, gear and acoustics are always a pleasure to work with.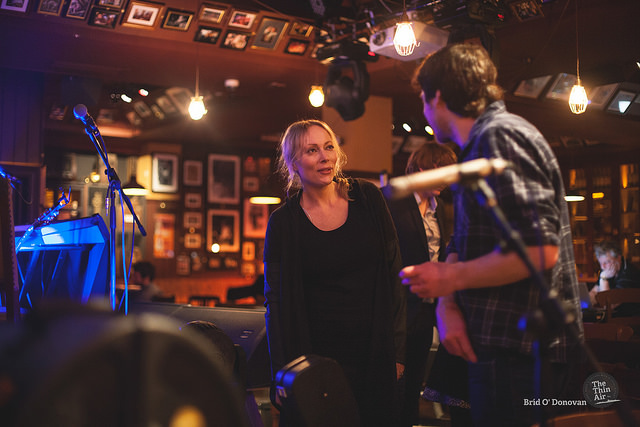 Who is the most interesting band you've worked with?
Every band I've worked with has been interesting in its own way – both in terms of personalities and music. I guess the ones I keep going back to and have worked with the longest are the ones I find the most interesting!
What would be your dream gig to work on?
I've been lucky enough to have had a myriad of dream gigs over the years. I mixed the sound at the Royal Albert Hall last year for Céiliuradh, the celebration concert for President Higgins' state visit to London. It was an incredible experience and I'd love to return there but this time with Mick Flannery and band who I've worked with for the last 7 years.
What upcoming gigs will you be working at for 2015?
I have a number of dates coming up with Mick Flannery, with Scullion and with Pulses of Tradition in venues such as the Olympia, Opera House and Triskel. The Pavilion in Cork is reopening soon and I'll be doing some lovely gigs with Coughlan's Live there. Festival season this summer will also be very busy although I'm expecting my second child in July so will be taking a bit of a non-musical interlude around then!
Where can we find more information about you?
Come have a chat with me at the desk after the show if you spot me at a gig! Otherwise I can be contacted via Coláiste Stiofáin Naofa in Cork.