Articles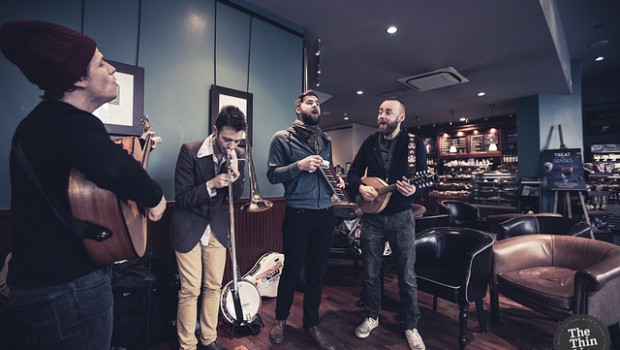 Published on March 24th, 2015 | by Loreana
0
Roving Eye: The Young Folk in Birmingham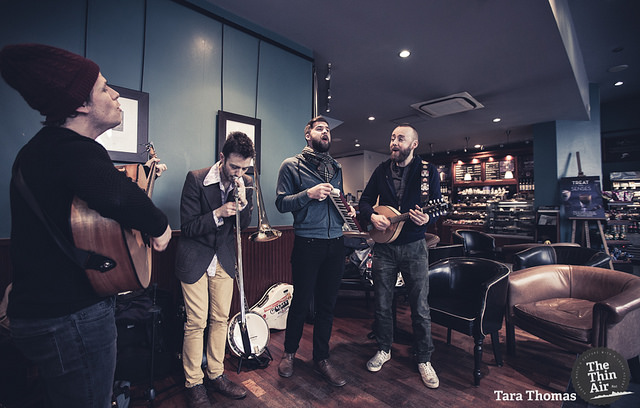 In second installment of Roving Eye, Tara Thomas sets out for Birmingham with Dublin alt-folk quartet The Young Folk as they do a tour of coffee shops.
Last Monday morning found me catching the red eye to Birmingham to meet with The Young Folk. I had the pleasure of sharing the flight with a still merry stag party who used the forty airborne minutes to relive every moment of their weekend, much to the bemusement of the other passengers.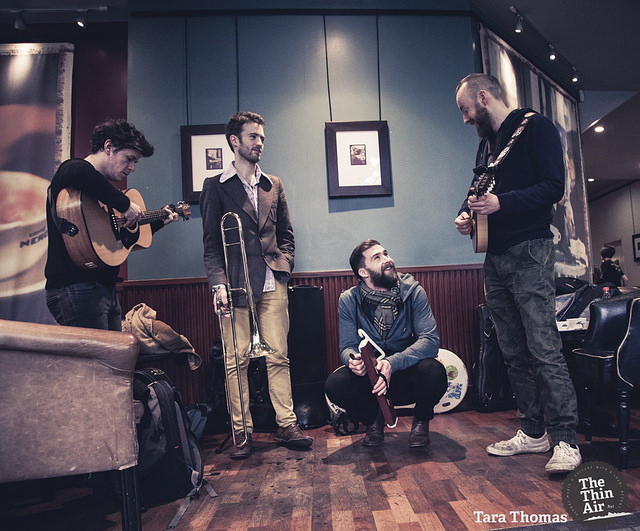 Birmingham is the most densely inhabited city in the UK outside London. A city steeped in innovation and revolution has produced a modern creative community with a very welcoming persona. Who doesn't appreciate a warm Brummie "adu bab"? or "How are you?" The city and its environs has bestowed upon us a wealth of music over the decades. Music as diverse as Black Sabbath, Led Zeppelin and Napalm Death to UB40, Fine Young Cannibals, Duran Duran, The Streets and Ocean Colour Scene. But more importantly it has given the world what I would consider a life necessity: Cadburys chocolate. It is also the proud birthplace of the Balti curry and even has a designated area the "Balti Triangle" where you can find over fifty restaurants specializing in the cuisine. My destination however was Caffé Nero on Lower Temple Street. A European style coffee house with an ethos of fair trade at it's roots. With branches all over the UK, Caffè Nero has nurtured a relationship with the music community. Its "Artist of the Month" programme helps talented young musicians reach new audiences through free gigs in its cafes. That brings me to why I'm meeting The Young Folk, on a Monday morning, in a café in Birmingham. I was very keen to see how their acoustic set would fit with the the company's concept. After my truly positive experience I'm hoping the company will follow suit in its Irish branches.
Nursing a coffee while waiting on the band to arrive and set up, I take time to observe the café's clientele. It's a mix of business people grabbing take out Americanos, "ladies who lunch", some tourists and a handful of students. As the designated gig time approaches, with no sign of the band, I worry I'm in the wrong venue. Shortly after 11am I notice some disheveled looking lads make their way through the crowd to a clearing by a vast window which overlooks the metallic clad New Street train station. I don't get much time to chat with them as this is not a standard "load in", sound check, set up. It's a quick matter of whipping out guitars, a trombone, a melodica and a mandolin then kicking off the session.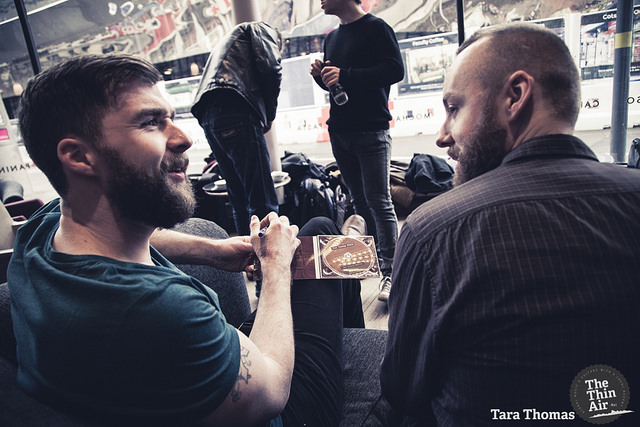 I can physically feel the atmosphere change. The vibe is akin to a great big bear hug. Giant comfy armchairs and sofas envelope the audience who sip their macchiatos and cappuccinos while being serenaded. It sounds silly but I found it refreshing. This is not being hip for hipster's sake – it's offering an alternative. Like most people I ordinarily only get to see up and coming bands perform in dark bars when a drinking session is as much the entertainment as the music session. I'm not saying there is anything wrong with that, it's nearly a rite of passage for every musician, but it's not accessible for everyone and live music should be.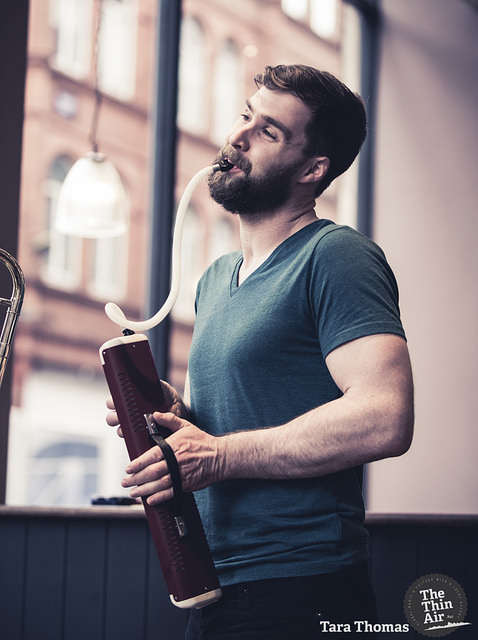 The Young Folk, scaled back acoustic session is charming. As I wander around the café taking snaps I become aware of people lingering with their take out coffees, stopping to listen to soothing renditions of 'Way Home' & 'Letters'. The Caffé Nero customers gather captivated, hooked on harmonies resonating from the corner of the room. It's a short set of seven or eight songs before the band finish, informing the audience that their debut album The Little Battle is available to purchase. Expressos are swiftly ordered by the band manager and I understand the urgency when Tony explains their tardy arrival. The kind gift of a bottle Bushmills whiskey led from what had been intended as a quiet night in to an early St. Patricks Day celebration in their hotel the night before. Paul jokes it's all part of the creative process, inspiration seeking tipsy YouTube trawls. Last night they "enjoyed" South African rap rave trio Die Antwoord, I'm very curious to hear that influence on their next album offering. Despite suffering the consequences of hard liquor they still manage to be courteous and amiable to the fans seeking autographs and signed CDs.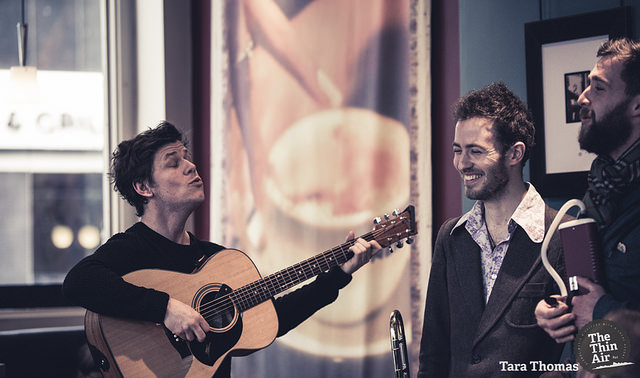 After some restorative caffeine and a few Nurophen it's a scene reminiscent of the Pied Piper as the patrons are lured by the musicians on a short walk to the next venue at Waterloo Street. Three of the lads are quite jaunty on the stroll but it seems Alex hasn't learnt to pack light as he hauls his trombone, banjo and a large rucksack along the busy high street. It's endearing. Another quick set up and the band are in full swing again. This time we are treated to 'Remember When' and a clever arrangement of Prince's 'When Doves Cry'. During one song Tony takes a fit of the giggles and exits stage left to shake it off. It's evident that these guys know how not to take themselves too seriously, I think that will stand to them. 'Way Down South' closes a stirring set. Satisfied the band seem restless and eager to hit the road. Anthony tells me that they have a hectic schedule over the next few months,including playing their largest European venue to date, the 'Paradiso' in Amsterdam, television appearances, working with a new percussionist, and writing the next album. He's apprehensive, wishing it to be the end of the summer already. It's not that he's eager to push through, or not appreciating the journey, but more anticipating what they'll have achieved by the end.
As I leave them at the train station, bound for London and their next gig, Caffé Nero goody bags in hand, I cannot help but believe they deserve to achieve big things. If you'd like to hear The Young Folk live, nearer to home, catch them at one of their upcoming gigs: Whelan's, Dublin on April 23, Cyprus Avenue, Cork on the April 24 or Kelly's, Galway on the April 25. Tara Thomas