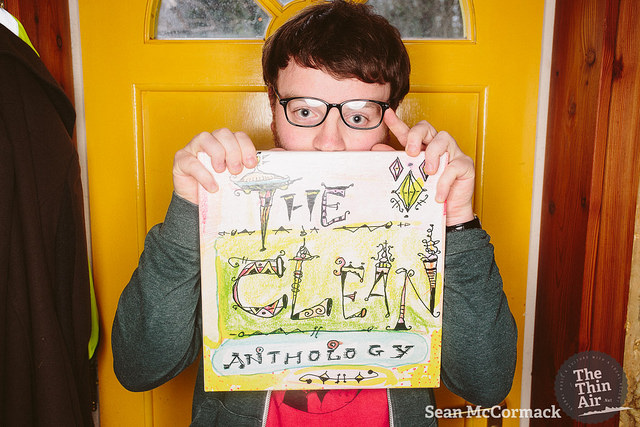 In this installment of Track Record we head to the little blue house in Galway to hang out with Brian Kelly  from So Cow to chat about the records that influence his daily life. Photos by Sean McCormack
Disclaimer: These are not my ten favourite albums of all time, though I'd say four of them would be on that list. These are the ten records I play most when cooking, sweeping or pottering about. They are the go-tos. I have about 180 LPs on my shelves, or Two Ikeas worth, as is the official measurement. About 100 or these are honest-to-goodness purchases made because I wanted them. About 50 of them are €1 or $1 'curiosity purchases' that don't hold up under the merest scrutiny – Greek Bouzouki music, Welsh Valley Men's Choral Groups, and so on. Another 30 are trades. This is when we've played on a bill with another group who are also selling vinyl. These simply remind me of the €300/$300 we could have made by selling the things to punters instead, and are rarely played as a bitter consequence.
The Clean – Anthology
Tally Ho. Billy Two. Anything Could Happen. Point That Thing Somewhere Else. Beatnik. Getting Older. Odditty. Whatever I Do Is Right. Drawing To A Hole. Outside The Cage. Too Much Violence…That's 11 reasons. There's at least 16 amazing and several other very good songs on this thing. Hugely influential on my life of arsing around with music, but also just a superb listen, every time. A good soundtrack to: reminding yourself why you bother with music in the first place.


The Nerves – One Way Ticket
Side A of this is the entire recorded history of The Nerves and some extra associated tracks, while Side B is a bunch of live recordings. I can't say Side B gets much play. But Side A alone is the greatest. In fact, not even all of Side A. Tracks 1-7. An incredible listen. Power Pop, slightly punk but not really, played awesomely by three truly great songwriters. A good soundtrack to: getting ready to leave the house for a night out, and then not wanting to go out anymore because you'd rather stay home and listen to this instead.
Home Blitz – Out Of Phase
First off, I should say that this was a gift from my friend Timothy Brown. That's important. I'm man enough to admit when a record was a gift. Home Blitz are from New Jersey. It's a guy called Daniel home-recording some really, really incredible punk rock music. This record turns from absolute clatter to Sweet Guitar Riff and back with an insane level of ease. May I recommend Route 18, Don't Talk To Me or Sliding Decks as the perfect examples of what this guy does? I guess I just did. Also, for anyone who cares about this kind of this, the cover art for the last So Cow record was entirely inspired by this. A good soundtrack to: hanging up the wash on a clothes-horse past its best.


Big Star – Radio City
I moved house recently and, for whatever reason, decided on this album being the soundtrack to the entire wretched week. It was the same week I was reading 'A Man Called Destruction', Holly George-Warren's biography of Alex Chilton. As the week went on, I both became increasingly obsessed with this record and regretful that I started reading about the singer's life, most of which was dedicated to dickheadery. When it comes down to it though, this record has O My Soul, Back Of A Car, Daisy Glaze, September Gurls and I'm In Love With A Girl on it, which means I have to presume it's better than 99% of the albums I've never heard, so I'll continue to return to it. A good soundtrack to: reading a biography of the guy who wrote the songs and being regularly annoyed by it/him.
Parting Gifts – Strychnine Dandelion
I picked this up somewhere in the US a few years back. I'm a big fan of anything Greg Cartwright-related, especially The Reigning Sound. This is a duet album with Coco from The Ettes, who I wasn't all that familiar with apart from her great regular calls to The Best Show on WFMU. There's only one song that's a true duet, otherwise it's either taking the main vocal. It's simply a very, very, very good collection of songs. It's at times country, garage-y, punky and 60s girl group-y, but more importantly than all that, it's just ace. One of my favourite songs of recent years is on this thing, the Coco-sang Born To Be Blue. A good soundtrack to: sitting on the armchair, doing very little.


The Chills – Submarine Bells
Flying Nun entry #2. Another candidate for favourite album ever. I saw them play The Button Factory last July, which I still can't believe happened. Any time anyone has ever asked me, for any reason, what So Cow's influences were/are, The Chills is the first answer I have given and it's mostly because of this album. Mainly because of the song Heavenly Pop Hit, which I'm telling you all now is what should be played at my funeral, should any of you find yourself responsible for the arrangements. Martin Phillipps is a truly great songwriter. The best it gets. Although every time I hear the first eight seconds of Part Past Part Fiction, I always think it's 'When You're Gone' by Bryan Adams and Melanie C. I should point out that Part Past Part Fiction came first and I'll happily take the stand when the inevitable Sam Smith/Tom Petty situation plays out. A good soundtrack to: a windy night in Spiddal such as this.
Dott – Swoon
Harmonies, people! Dott are from Galway, Ireland. I'm hoping you know that already and don't need me to tell you how sweet this album is. Two of the song titles feature the word 'Summer', two feature the word 'Love' and four feature the word 'You', which should give you some indication what you're in for, specifically a set of super-sweet bar-chord chuggalongs and superbly measured ballads. And yes, the harmonies. The highlights are Day That I Found You and Love You Forever, which halfway through turns into a late-60s Who single, to my continued delight. Should me and my lady be farting around the house, often quite literally, this is the album that's most likely to be on. Actually, as I type, I can hear her in the next room singing Cherry Blossom to herself. A good soundtrack to: hanging out while a mate cooks for you, and I know this as it has happened twice in the last three months.


The Amps – Pacer
One of the first records I bought, though I have no idea when or from whom. There's a good chance I bought it at The Bell, Book & Candle in Galway, a great place for random interesting finds. Thought I appreciate this sounds like contrarian guff, this is my favourite Pixies-related music. My best memory of listening to this was a few Christmases back. I'd launched into the whiskey too early, by which I mean midday, and spent a great chunk of the day listening to this on repeat. If you look closely, you'll see that it is autographed. Not by the Deal sisters, mind. It's signed by drummer Jim McPherson – To Jesus, See Ya Next Time, Jim McPherson, Amp #7. This autograph takes up a good 30% of the cover space. I'm not sure if this was the reason Jesus decided to ditch this copy, but I'm glad to have it. A good soundtrack to: getting hammered at home on Christmas Day in 2010.
Pavement – Wowee Zowee
My favourite album of all time. I bought this on cassette from Music City, Tuam's number one (and also only) music shop in the mid-90s. This album is all over the place, going from the pedal-steel country rock of Father to a Sister of Thought to the Stereolabby (totally a word) Half A Canyon. This was the first cassette I ruined and warped by listening too much. It's an extremely addictive album, a most pleasing fuckabout that I'd imagine would be hugely influential on folks who like to record on their own in sheds. It took me forever to actually buy the thing on vinyl, which makes little sense considering I've bleated on about it to anyone who would listen for years. A good soundtrack to: early Sunday afternoons at the kitchen table, doing up an Aldi list.


Kim Jung Mi – Now
Gorgeous orchestral psyche pop, a Korean Forever Changes. Probably recorded while representatives of the military dictatorship waited outside in the hall, listening out for lyrics that might vaguely mean anything to anyone. As it happens, it's lyrically mostly about nature (wind, swaying branches etc.), presumably with the hope that anyone listening would fill in the revolutionary gaps. I bought this on CD in 2005 in a shop in Seoul, judging the thing entirely on its cover. I was immediately smitten with what I heard. Kim Jung Mi sings in a hushed and raspy voice to the music of Shin Jung Hyun, a one-man History of Korean Rock Music. An orchestra of probably about 80 people ends up sounding like about six people, but in a wonderful way. The LP version I own was ordered online, in an episode that was entirely free of anecdote, but I'm glad I have it and it's the most commonly played record in the house. A good soundtrack to: chopping veg.