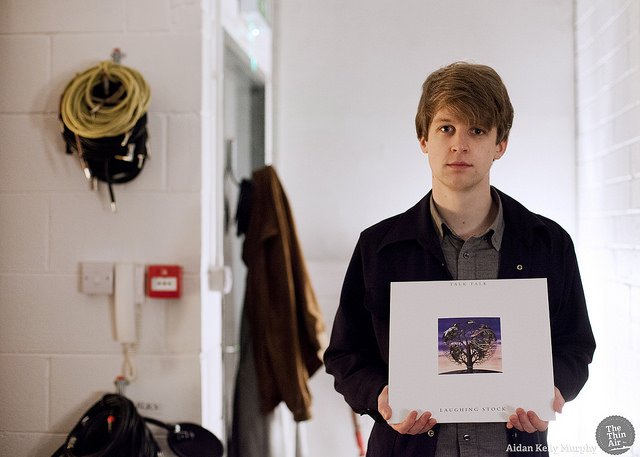 In this installment of Track Record we hang out with David A. Tapley from Tandem Felix who after a slight line-up shuffle are on the cusp of releasing their new EP Comma and currently listed as The Guardian's new band of the week . From the sprawling sounds of Yo La Tengo to his own idol Beck, David's choices are a huge reflection and  influence on the music he puts out. Photos by Aidan Kelly Murphy.
Talk Talk – Laughing Stock
My friend Felipe introduced me to Talk Talk at a party many moons ago. I immediately picked up their two final albums, Spirit of Eden and Laughing Stock, put them amongst the 6 or 7 other albums on my Apple Music Device and haven't taken them off since. I have needed the space, but something deep in my being will not allow me to erase data containing digital interoperations of these pieces of music. It wouldn't be right. Laughing Stock, the quieter and more dynamic of the pair, uses silence as its prime instrument. Unless you are listening on good headphones, it is difficult to tell if the album has started for 20 seconds or so. It doesn't ask to be followed. It doesn't demand your attention. However if you submit and let it lead you to wherever it wants to go, it'll take you on a real trip.


Marvin Gaye – You're The Man (Pts 1 & 2)
This is my most prized record I think. He recorded this song just a little bit after the release of the politically charged 'What's Going On'. A 6-minute single in 1972! My favourite thing about that is that he was asked to edit it down so that it could fit on one side of a 7″ record and ostensibly edit part of his message. Instead he just found a nice checkpoint near the halfway mark — the song fades out, the listener flips the record and the song fades back in. He also tracked every single vocal overdub, of which there are many.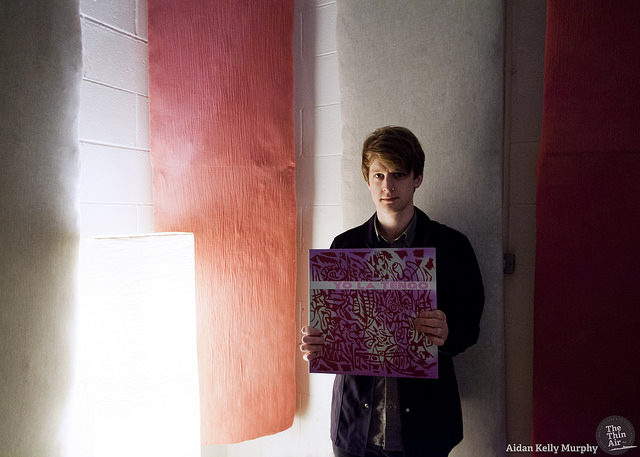 Yo La Tengo – I Am Not Afraid Of You and I Will Beat Your Ass
If there has been an album on Track Record with a better title than this, I want to hear it. This gorgeous record has one of the most amazing 4-song runs ever to grace a single side of a record: 'Mr. Tough', 'Black Flowers', 'The Race Is on Again' and 'The Room Got Heavy'. Each song completely different to the last and each song absolutely nothing like the next. If you haven't heard the mercurial Yo La Tengo, there is a gap in your musical education that must be filled – I think this album is a great starting point.


Bob Dylan – Self Portrait
I've heard many different reports of Dylan's opinion of this album. Some say he was proud. Some say he felt it was ruined. Some say he wanted to make an album so bad, all the 60's flower-power kids would get off his tiny back. Greil Marcus of Rolling Stone famously started his review of the 1970 album with the line, "What is this shit?" On being a double album, one book I read claimed that Dylan said something like "If you're going to put crap on it, you might as well load it up!" I don't know what he thinks. All I know is that if you want to hear the country music equivalent of an encyclopedia, this album is for you.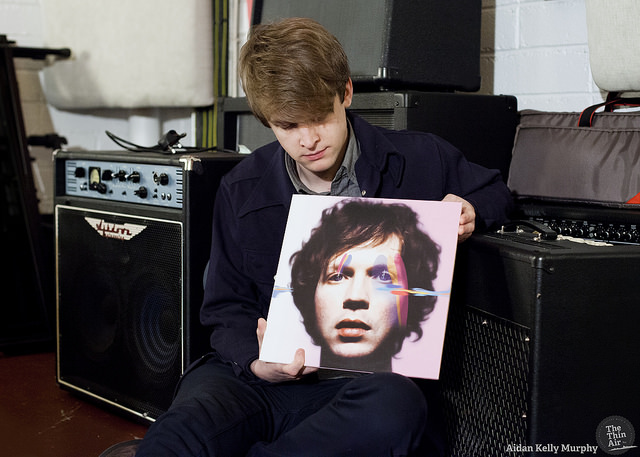 Beck – Sea Change
Beck is the master. To even attempt to comprehend how large that man's brain is gives me a headache. The strings on this album sound like they've come from a dream. Everything moves so slowly, but when listening on headphones, it travels so far and wide; it can really get away from you if you don't watch it closely. 'Paper Tiger', for example, begins as a slow bass and drum groove. Beck croaks over it, almost in spoken word. Somehow, in less than 60 seconds it pushes you into this huge space, with those Serge Gainsbourg strings bouncing off the walls of your cathedral-like skull. A 'Sea Change' indeed.


Gene Clark – No Other
Save for Sweetheart of the Rodeo, I have never been a huge fan  of The Byrds – probably the reason why it took me 23 years to discover that after a Byrds schism, Gene Clark went on to make one of the most incredible albums ever to be considered a flop. I was introduced to this album by a concert series that was put on by members of Grizzly Bear, Beach House and Fairport Convention (to name a but few) where No Other was performed in full, incredibly faithful in sound to the beautiful 1974 album.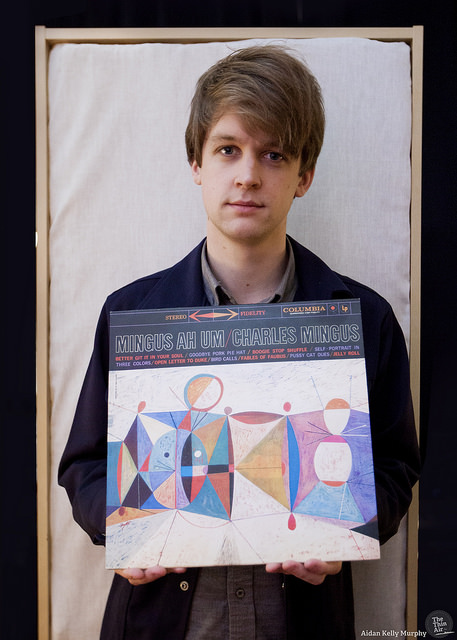 Charles Mingus – Mingus Ah Um
I am no jazz buff. I won't be able to describe what I love most about this album. Maybe it's the sounds of the raucous Mingus calling from behind his upright bass. Maybe it's the chaotic melee of the best jazz band to stand before a recording engineer. Maybe I'm lost for words. All I can say is that there is a 6-minute song called Goodbye Porkpie Hat. That must have been some hat.


Mickey Newbury – Looks Like Rain
I discovered this musician when he was name-checked in a Bill Callahan song and subsequently found out this album is Callahan's favourite of all time. The sound of rain and wind-chimes fill the silences between each song and it's hard to imagine an album sounding any other way. Sad country songs sung by one of the sweetest voices I've ever heard. This is a Monday-morning-on-the-bus-to-work album, probably the Monday-morning-on-the-bus-to-work album.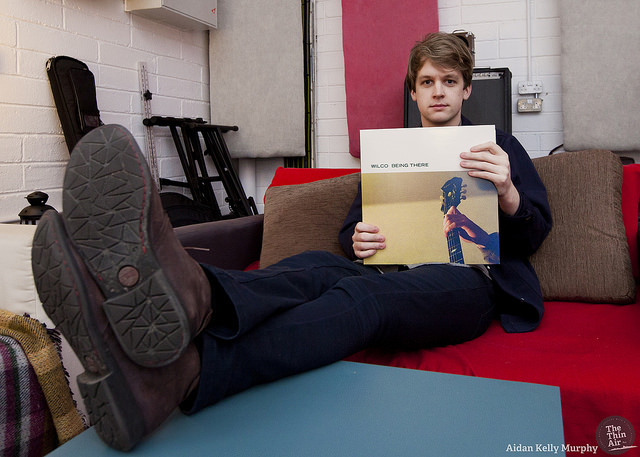 Wilco – Being There
This band has meant a lot to me over the past few years. Being There was an album I had put off listening to for a long time as I once heard that all Wilco before Summerteeth was "crap". I can't remember who that was. This record is so effortless. It does so many things and it never seems to break a sweat. Whether it's the swaying country lament of 'Far Far Away', the apocalyptic 'Misunderstood', the aqueous moaning in 'Hotel Arizona' or the dusty western hoedown of 'Dreamer of my Dreams', this record is many ticked boxes.


Neil Young – On the Beach
Of Neil Young's vast catalogue, this is definitely my favourite. The sound of his voice on this album was of great inspiration for one of the tracks on our new record called 'Moon Tingles' – he sounds so beaten-up, so broken. I set out to imitate this by tracking my vocal takes early in the morning after a late night, still partly wrapped in my duvet. This record is a relatively new one in my collection but it's definitely seen more needle-time than most of its brothers and sisters.