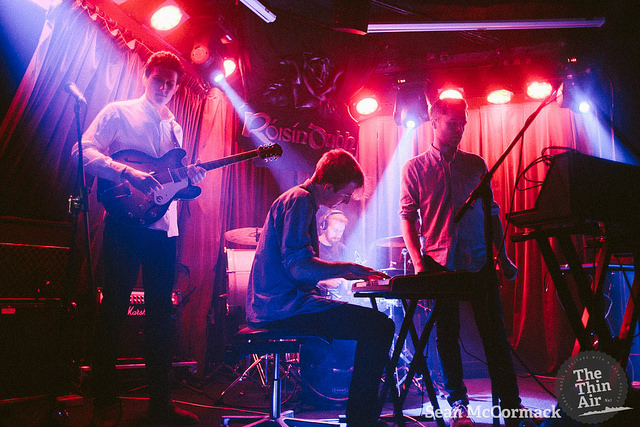 Sound problems from the get-go don't stop local multi-instrumentalist Willow Sea from dishing out his usual generous helping of genre crossing fun in his support slot for Cloud Castle Lake on Thursday in the Roisín Dubh. Combining clunky electronica, cheeky sampling and shredding guitar work, it's always a pleasure to watch Mr. Sea having fun on stage as he piles the blocks of his soundtrack – ready tunes on top of one another and engaging the bar in some charming, self-deprecating banter; "That's the depressing shit out of the way, time to get obnoxious".  Unfortunately though, the dynamic in the Roisin tonight is a tad itchy, the members of the as yet sparse crowd seeming far more concerned with banter of their own than with giving the gig their attention. That being said, Will does win the audience over on a number of occasions with some gratuitous guitar soloing that sounds like it came straight out of a Queens of the Stone Age album, and some infectious whistling samples and guttural vocals of his last track.
Cloud Castle Lake take to the stage quietly after a ten minute lull, the population of the venue still not quite at the ideal number, the walls populated by leaning arms and pints, the seated audience, half with their back turned, mostly engaged in their own chats. The clean-cut looking quartet open their set with new track 'Glacier' from their recently re-issued Dandelion EP, sounding like an amalgamation of Sigur Rós style ambience  and In Rainbow-era Radiohead. Vocalist Daniel McAuley's distinct, reverbed falsetto immediately raises and turns some heads, the sprawling, soundscape heavy track 's snappy drum groove managing to drown out some of the persistent chatter clattering throughout the room. The band perseveres throughout, bathed in the solid red light, pierced by warm blue searchlights. However, as the set progresses through the group's more ambient, less percussive work the crowd becomes pre-occupied with itself once again, making it hard for those who actually came for the music to let the sound wrap around them. It's a shame, and it's hard not to think that Cloud Castle Lake are the sort of band that really need to play to an audience that already wanted to see them perform. The textured, echoing atmosphere crafted by the band, while passionate and really quite beautiful in parts, does not seem to be what much of the audience came for tonight and for that, one can only feel like there is an awkward division between much of the crowd and the band.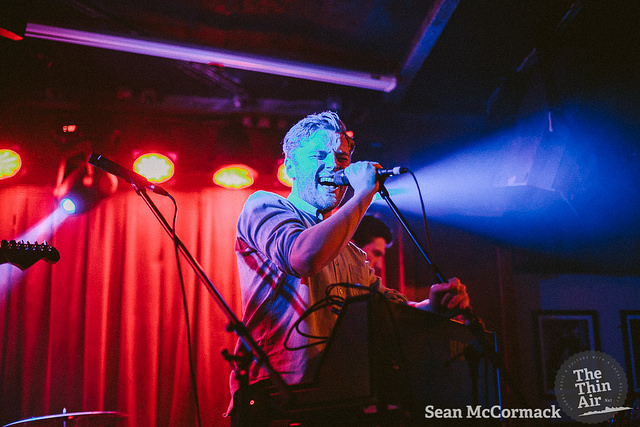 Songs like the fantastically structured and catchy 'Sync' and the pulsing lullaby that is the EP's title track 'Dandelion' do allow the band to regain control for stretches of time and it is then that we are reminded of Cloud Castle Lake's enormous talent. The epic end-section of their closing track is sheer cathartic post-rock bliss that leaves the room, having filled considerably, completely agog. In hindsight, it really just seems that Cloud Castle Lake need to invest some time in the structure and pacing of their set. The extended sections of layered, emotive ambience are without a doubt sincere and beautiful but when playing to a crowd that doesn't necessarily know who you are or what you're about it's hard to come out on top, especially when interaction is next to non-existent. In the end, the big tracks were successful, the ambient hymns, not so much. That being said, if you get a chance to see Cloud Castle Lake, you should go. They are a group of undeniable talent and passion whose craft with melody and soundscape will only progress. You'll just have to really hope that the people in the room will be willing to listen so that the tender waves of emotion can be embraced, rather than become background noise to a crowd that don't seem to care. Eoin Murray
Check out Sean McCormark's full photo set from the show below.