In this installment of DIY Dublin, Loreana Rushe chats to John Hendrick, the owner and proprietor of The Big Bang in Dundrum shopping centre about what it's like to run a successful comic book store.
Hi John! First off, can you tell us about how you got into comic books? What appeals to you so much about them?
That was actually my Mom's fault. She used to get them for all of us growing up as kids to encourage us to read, from there it sort of, kind of escalated to being my favourite thing ever. I still read books, watched movies, had friends and all the usual stuff, but Comics were really my number one thing. I don't think she knew what she'd started off. Maybe if she could see into the future she would've done something different or handed me an economics book or something but, that's who started it all off for me.
Comics are amazing, seriously, they're a form of entertainment that you can do anything with and they're an art form in themselves. The more you get into them you can see the similarities to other forms of art like books or film, but you also see what's so different about them too. There are Comics that would only work as a Comic Book and wouldn't work as either a film or book. The pace of story and the tone set by different styles of writing and artwork by different creators is a unique aspect to them too. The same story by drawn by two different artists can be totally different experiences and I love that and a lot more about them.
To me they're unique that way.
What prompted you to open up a comic book shop? Was it something you've always wanted to do?
This is one of those questions that really doesn't have just one answer. Initially, 10 plus years ago I'd say it was because I was good at retail and really needed to pick a direction in my life I'd enjoy. I went to art school thinking I'd love it, I hated it. And I knew I needed to be someone that had to do something they loved.  I set up a store previously in Temple Bar called 3rd Place Comics, so I knew the market really well, but I knew to make an impact we had to do something different, to be the type of store we wanted to be we were never going to do that in Temple Bar. It was fast becoming something different to what it was set up to be. I set my sights on Dundrum, I knew there we could develop into what we wanted to do but I totally wanted to rebrand, it was hard, but worth it. I loved Comics still and in the meantime I'd really done my research with all the great international stores and had good relationships with a lot of creators. I knew I could do my own thing and turn it into the central hub of the scene here.
How did you make the transition from owning a shop in the city centre to opening one out on the southside of Dublin?
Really, really easily, I love it out here. We still do every third or fourth event in town but we're in a great retail hub here in Dundrum, plus we can do things here that you just can't do in town. You can't put on a show like D.I.C.E. with four thousand plus people outside your store in town. We've got retail partners here that want to work together, do stuff, get in on the ground floor with our events. We wouldn't change it for the world now, we knew when we set out that we'd have to become a destination store and that's exactly what we've become. We're pretty pro-active and being in Dundrum's been really positive for us that way.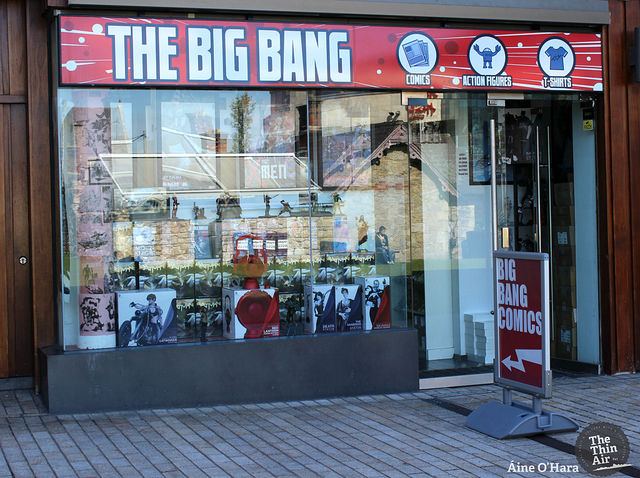 What inspired the name 'The Big Bang' and how has business progressed for you since opening?
I'm a capitalist haha.
No, seriously though, I knew I was heading into a completely new and unproven idea in the history of Irish Comics, we were opening a Comic Store outside of the city centre and no one had done that before, So when we were sitting around discussing names I knew to make this work we needed something that could be marketable and give people an idea of what we were about, you can't just open a store with a random name and hope it all works out, you need something catchy, but I was reading a series called 1963 by Alan Moore, and then I found copies of a Comic called Big Bang Comics that's sort of connected to 1963 and hey presto that's what jumped out and it worked.
Since we opened we really have only gone from strength to strength in every area. Our focus is on customer service and that works. If you do your best for your customers and treat your business like a business the rest falls into place and we've just seen huge growth every year.
Sub City, Forbidden Planet and Dublin City Comics are all centrally located. How do you feel Big Bang stands out amongst the other shops apart from your location?
This has a two part answer I'm afraid because you can't just say what I'm about to say and not back it up.
We're not a "Comic shop". We're a store that sells Comic Books. What we mean by that is that our aim is that customers feel like when they walk in here they could be walking into a store that sells anything and is welcoming to everyone, no matter who you are it's up to us to be professional retailers and not what people perceive a Comic shop to be like based on that (completely deserved) stereotype of "Comic Shops" like the Androids Dungeon from the Simpsons.
But as a Comic store in general, I think we're more forward thinking than our competitors. I really, really like the guys in Dublin City Comics, they're great guys and we've a working relationship with FPI Dublin, but to be frank, we work really, really hard to be the best store, not just in Ireland, but in Europe. We go the extra mile to bring the best Comics to our customers, to make them part of the community.
Nobody does what we do, nobody runs events for fans like us, helps new and upcoming creators get into the business of Comics or helps established creators with their new books like we do. I feel we invest in the scene and the talent that grows from it like no other store in the country. Nobody promotes Comics like us or tries as hard to get new readers and customers through the doors the way we do and we're not greedy. The main reason we love being in Dundrum is that we're away from other stores. We have the space to do our own thing and not get bogged down with local competition. They do their thing, we do ours. I'd argue our thing is better of course.
'The Big Bang' happens to be the first Irish comic book shop to be nominated for a prestigious Eisner Award. How did that make you feel?
Yeah, that was a moment. A bitter sweet one at that haha. When I found out I was on a LUAS and I needed to sit down a second. I just kept on staring at the photo Bruno (the store's manager) had sent me saying oh my God, over and over in my head. When I got to the store I saw that since we were the first store in Ireland to have been nominated it had taken literally a month to arrive through the post. They'd never had to send a nomination out to here before and they still send them through the post so we never knew until it was pretty much too late.
There's a lot of work that goes into accepting your nomination that I won't get into but I think we had 2 days to produce a 5 minute documentary about the store and fill out the questionnaire and provide corroborative evidence of what we'd been doing. It wasn't possible to do all that and not look amateurish on a world stage so I had to bow out gracefully.
To put this in perspective for anyone reading this, these are the Academy Awards of our industry. Winning an Eisner Award has been a dream of mine since forever, so I'm pretty damn proud we got the nod.
* They were nominated for the second time today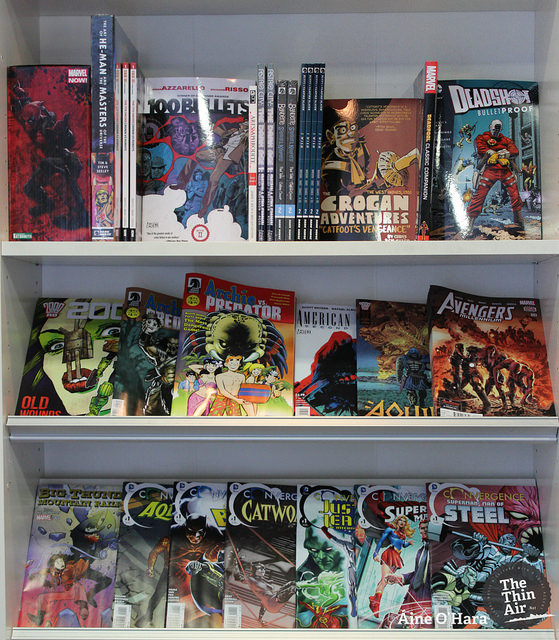 You've had the likes of Mark Millar (Kick Ass), Cameron Stuart (Bat Girl) and Chip Zdarksy (Howard the Duck) over to the shop for signings with queues going around the block. Did this prompt your decision to hold the talk/signing with the infamous Warren Ellis at the Science Gallery due to demand, possible disruption of business and also the pressure of late openings to accommodate fans?
Nope, none of those things, we're open 80 something hours a week I think, we don't mind working late. Mark Millar had 340 people turn up so we can handle a crowd. Dundrum are always cool to us when all of a sudden we have a couple of hundred people queuing up too so it was none of those reasons.
Warren, or as you put it the "Infamous" Warren Ellis is coming over to launch Injection. He's doing it with Declan Shalvey and Jordie Bellaire. I don't want to spoil too much but some of Injection's set in Trinity. Dec's a really good friend and over the course of a few beers one night we got talking about the launch and he said something along the lines of "Wouldn't it be cool if".
Injection's a big deal to us, I think it's probably the most important Comic release to Ireland from an American publisher since Stephen Mooney's Half Past Danger at IDW. So we wanted to do something that was really, really cool, world class and make it a big event. We came up with the plan. Looked at costings and just how we'd run it. The Science Gallery has a max capacity so we knew we'd have to ticket it, we're doing 2 unique Big Bang Comics variants for it one of which you get free with entry and we're mostly looking to run a great night for a great book.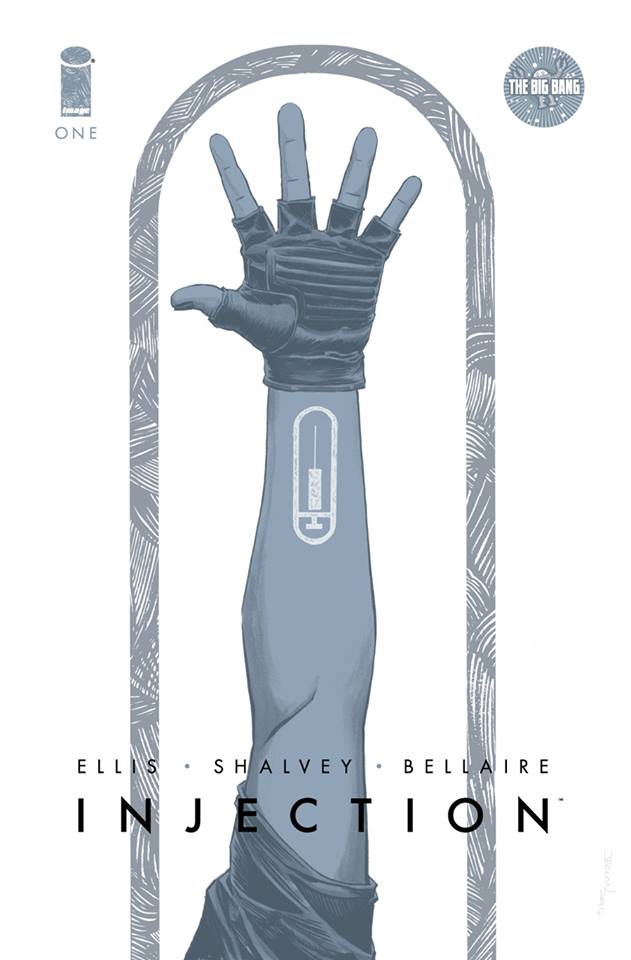 You hold after-parties for your signings, which is a great idea! Do the artists/writers head along? Is this a good opportunity for fellow fans to get to know each other?
Yep, pretty much everyone does, we're a bit more chilled out than the American events and most Comic creators are just pretty happy to have a good time and kick back with their readers. Last week we held the Chip Zdarsky after-party, Chip draws a book called Sex Criminals so we asked Shawna from Sex Siopa to do a talk at it, seems to have gone down really well and a lot of people had a great time. We're kind of always looking for innovative ways to make store signings more unique and the after parties really help with the community we've built and are building all the time here.
You run the Dublin International Comic Expo (DICE for short) Can you discuss what's involved in putting on a convention?
A lot of stress! Seriously though, a lot of planning, a lot of meetings and a lot of thinking about what you did wrong last time. You always have to look at the stuff you could have done better first to work out solutions. You've to try and guess what the industry will be like a year from now, who'll be doing what, who'll draw the crowds. Who is here and coming up that would benefit from you doing a show and getting talent scouts from companies in. You've also got be thoughtful of your market and be fair with your representation. You can't just have a show where the only guests are straight white males who only do super hero Comics. That's not a true representation of our customer base or our industry as a whole. You've got to be respective, appreciative and inclusive of your audience and your guests.
After all of that you've got to cram a years work into the 2 months before the show because you're still running the store the whole time. You have to stay faithful to what you want your show to be. We're not a Comic Con, those words are actually kind of negative in our industry now. D.I.C.E. is and will always be 100% Comic Book orientated.
'Free Comic Book Day' happens annually on the first Saturday in May. How much stock would you receive in and how quickly is everything gone? Are there ever any comics left behind?  
For this year on May 2nd we're getting literally thousands. I think this year we're looking at well over 10K in numbers. Last year was phenomenal, we served over 2000 people, and there were queues outside the store for 11 hours. People turned up in costume, entire families came out to partake in it.
For different titles we'll buy in different amounts, so some of the smaller titles we'll only get a few hundred copies in, for a bigger book like Marvel's Avengers offering this year we'll get a few thousand copies in. We always ask that people take just the titles they're interested in and mostly they do, especially kids. But you do get some people who'll take one of everything just because they can. Over all though it really is one of the best days of the year in Comics if not the hardest. You always have to be mindful too that it's a lot of peoples first time in a Comic store as well, and we love smashing that stereotype of what a Comic store is.
If anything's left over they go to schools and kids hospitals, this year after FCBD we had a super hero day in Crumlin. We had some friends come dressed up as Comic characters and our mates in the Emerald Garrisson came in full on Star Wars regale. It was something really special.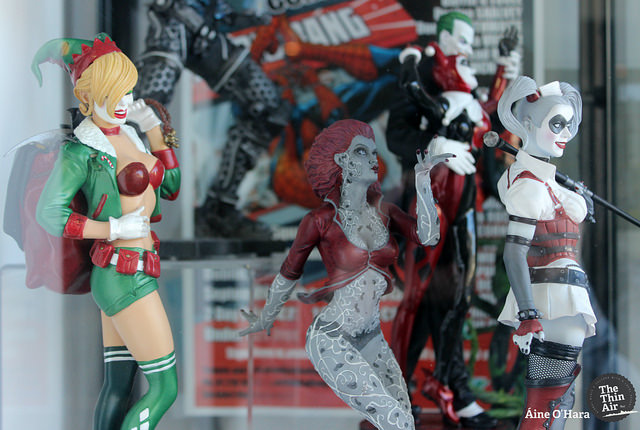 Do you stock limited editions of books, prints, toys or merchandise? 
Sure, we've actually started doing our own store exclusive covers to Comics. Meaning the only place you can get them is in our store, the last one we did was Southern Cross Issue one by Becky Cloonan and Andy Bellanger, our cover was drawn by an artist called Matt Taylor. Our next one will be Injection by Warren Ellis, Declan Shalvey and Jordie Bellaire. We also produce our own book plates for certain releases and generally do our own exclusive prints for signings and events. We don't do back issues, so you're not going to walk into us and find a book from the fifties worth thousands but we've plenty of high end items for sale.
What's the current market like for purchasing physical books? Do you ever worry apps such as Comixology, Marvel Unlimited, Comic Zeal etc could replace the current model, especially for younger fans?
Nah, I mean sure there are people who are digital only, and if that's what they're into that's cool. But generally those services just make us busier. The more people who get into Comics the better, there's some great apps. But often people don't know where they should start, if they like one series they might not know that they'll love a different one we could suggest. It's a weird thing but it's strangely symbiotic. There's loads of kids out there reading Comics on their phones, but a lot of the time they'll come into us to get more.
Comics are a bit of an anomaly media wise as well, they're not like music or film. There still a very tactile physical experience and a lot of people enjoy seeing them rack up on their shelves. That's an advantage we have over other forms of entertainment and to be honest, we're just getting busier. So I don't see a decline in sales because of digital, I just see an uptake.
Some people who are unfamiliar with comics assume they are purely about superheroes, but graphic novels such Maus, Persepolis etc have transcended that perception. Have you noticed a shift in clientele over the years or your regulars requesting 'different' styles of books?
We have gotten people in astonished that there are other types of Comic Books yeah. But most people who are of that opinion just haven't been exposed to them, so straight away those are my favourite walk ins to deal with. Honestly I've sold so many copies of books like Fables, 100 Bullets, Sex Criminals etc to Moms who are in with kids buying Spider-Man or people who wander into us accidentally you'd be amazed.
I don't think we've ever noticed a shift because we just stock all types of Comics that sell anyway, if you're a good Comic store you should just be like any good Book store because there's no real difference between how either a successful Comic store or Book store operates.
Irish artists such as Declan Shalvey, Will Sliney, PJ Holden etc are all making serious names for themselves and playing pivotal roles in the world of comic books. How do you feel this helps shape the scene in Ireland?
It's certainly helping the scene, and scene's definitely the right word, we don't have an industry yet but give it a few years and we will. And that scene is growing more and more to demographics that a lot of people who aren't into Comics might be surprised by. A good 40 plus percent of our customer base when we last looked into the numbers were women, I'd be willing to bet it's closer to 50% now. A lot of that new interest is because of those guys getting their names out there yeah, but it's also because of social media, stores like us and other creators like Maura McHugh or Ruth Redmond or Phil Barrett or Paul Bolger who are very active in the scene and opening more and more people up to it. And we need that because…
Fun fact: Ireland is one of the few European countries that doesn't recognise Comic Books as an art form, they're not supported by the Arts Council here and that is incredibly short sighted. Comics are growing all of the time but our home grown creators need to take work with American and British publishers because they're the only people that can pay them. That's something that needs to be rectified in my opinion.
Are there any upcoming Irish comic book writers and artists we should be watching out for in 2015?
I hate this question because if I say one name and don't say another I might cause offense. So I generally never answer it as a rule. But in terms of the younger folks coming up I can tell you that there are a few potential artists who might be a couple of years away yet.
I think writing wise (and I swear to God it's not because he's my brother) but my brother Dave Hendrick's actually really good. Paul Bolger's amazing, he just published his book Hound through kickstarter and it kills me that he hasn't been doing this full time. Phil Murphy is a great cartoonist and designer. Sarah Bowie too is someone whose really impressing me as well. But none of these people are ever going to get anywhere unless they put themselves out there and do stuff, and they are.
OK, look at that, I broke my own rule…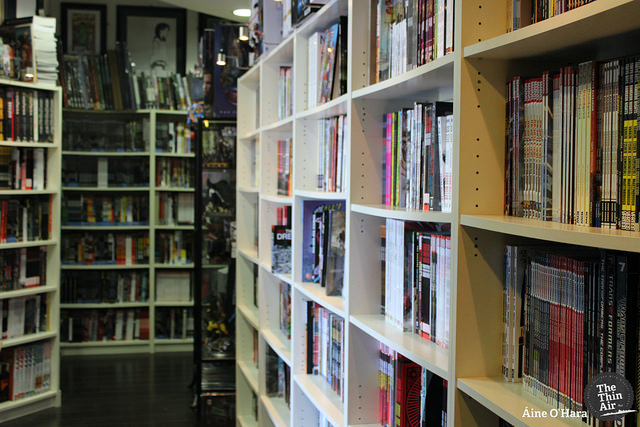 What 5 books would you recommend to someone who is looking to start reading comics/graphic novels?
That's a terribly hard question to answer because everyone's different and has their own genres that they like. And I don't think I could pick just 5 but I'll try! I guess in no particular order.
Superman Secret Identity: It's not what you think, it's one of my favourite Comics for that simple reason and it's painted beautifully. It's one of the best Superman stories not starring Superman.
Gotham Academy: OK, truth time, I love this book. Think of it as what if Harry Potter happened in Gotham City. Y'know, the place where batman lives. Brilliant all ages book, and I do mean all ages. One for anyone.
100 Bullets: This should be a TV series on HBO. It's one of the best crime Comics for a long, long time..
Wolverine Old Man Logan: We always, always recommend this for people who are crazy into the action genre. It's the Unforgiven crossed with Mad Max but with Wolverine as the main character in a post-apocalyptic America Comic you never knew you wanted.
Saga: Saga Volume 1 is our best-selling Graphic Novel of 2013 and 2014 for a reason.
Sex Criminals: A guy and a girl find out that when they climax they can freeze time so they rob a bank for a good cause.
Batman – The Dark Knight Returns: This is 30 years old roughly, it's Frank Miller at his best telling one of the best Batman stories ever.
OK that's seven, I could keep going but I'll stop now. And I didn't even get to mention Sandman or a dozen other titles.
What books/series are you currently reading and enjoying? Do you have a prized comic in your own collection?
Everyone kind of assumes because you work in a store that you're up to date and read lots of Comics all day long but we don't. Truth is. is that because you work in a store you fall really far behind really quickly because of, y'know, work.
I think lately I'm loving Chrononauts by Mark Millar, Sean Gordon Murphy and Matt Hollingsworth. I'm reading Wytches by Scott Snyder and Jock, Descender by Jeff Lemire and Dustin Nguen. Just finished the first Lumberjanes book by Noelle Stephenson, Grace Ellis and Brooke Allen which was amazing and I still read Batman every month by Scott Snyder, Greg Capullo, Danny Miki and FCO. I probably buy more than I read these days.
As for a prized Book, I don't know. I have so many beautiful editions of Books it's hard to pick one, I've a lovely copy of By Chance or Providence by Becky Cloonan that she sent me with a great sketch and a really nice inscription on the inside. That's pretty special.
Finally, the cheesy question I must ask you! If you could be any comic book character, who would it be and why?
REALLY?! God, most Comic characters are really damaged individuals, have you ever noticed that? I can't say Batman because he's just a really unstable guy obsessed with his parent's murder. Superman's entire planet died. Iron Man's a narcissistic alcoholic with shrapnel in his chest…
I'll pick Reed Richards from the Fantastic Four, he might feel unending guilt about poisoning his friends and family with cosmic rays causing them to mutate horribly but at least he can grow any part of his body as big as he wants…
The Big Bang is located in Dundrum shopping centre and is open every day.