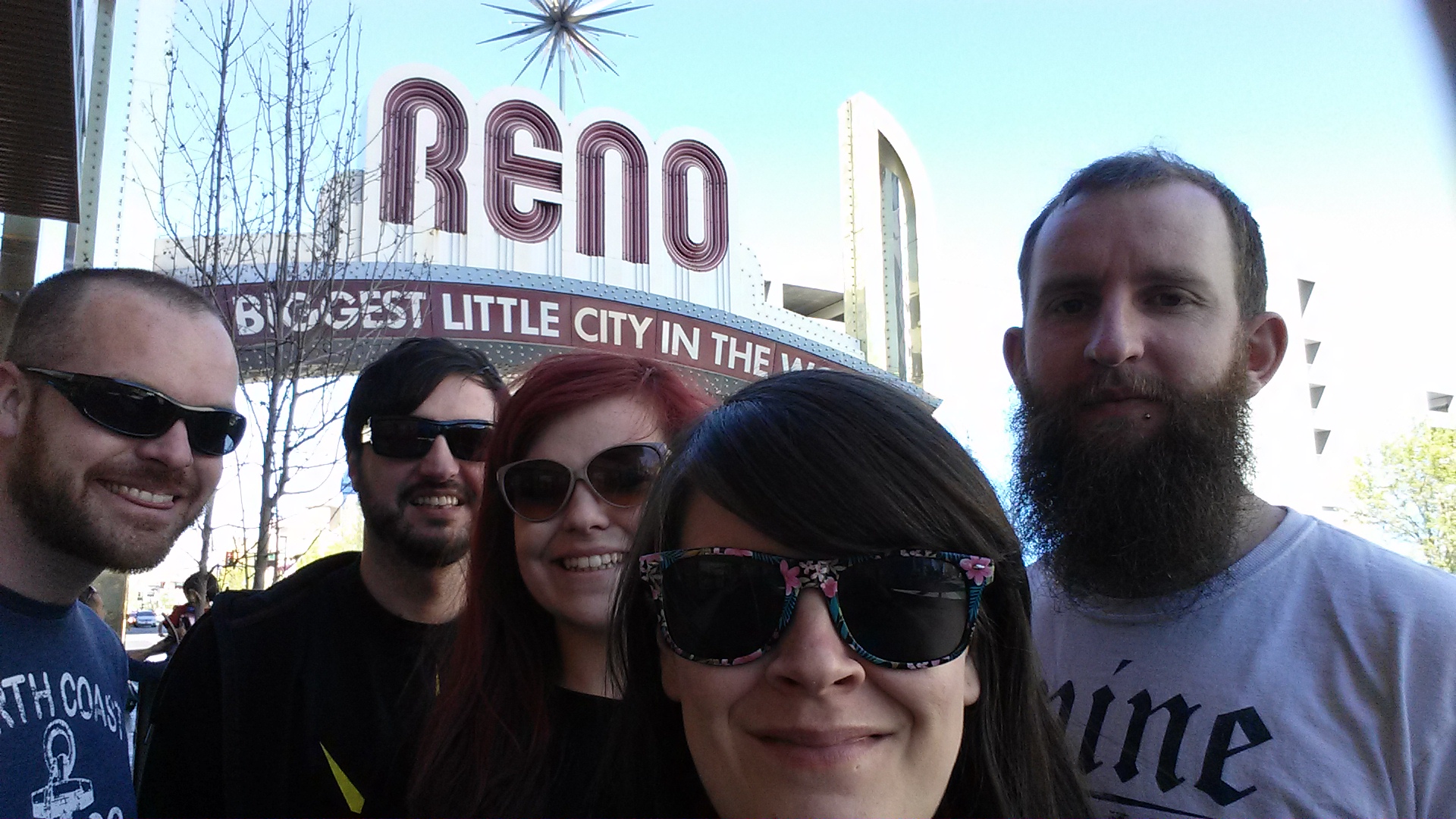 In the second of a three part diary entry, our favourite Galway garage pop quartet Dott have high tailed it out of Texas and kick off this leg of the tour with Night School, bringing them from Oklahoma City all the way West to Reno, Nevada. Dott and Night School (from California) are releasing a split record called Carousel on Graveface Records especially for Record Store Day, April 18.
Read Part 1 of the band's USA Tour Diary here.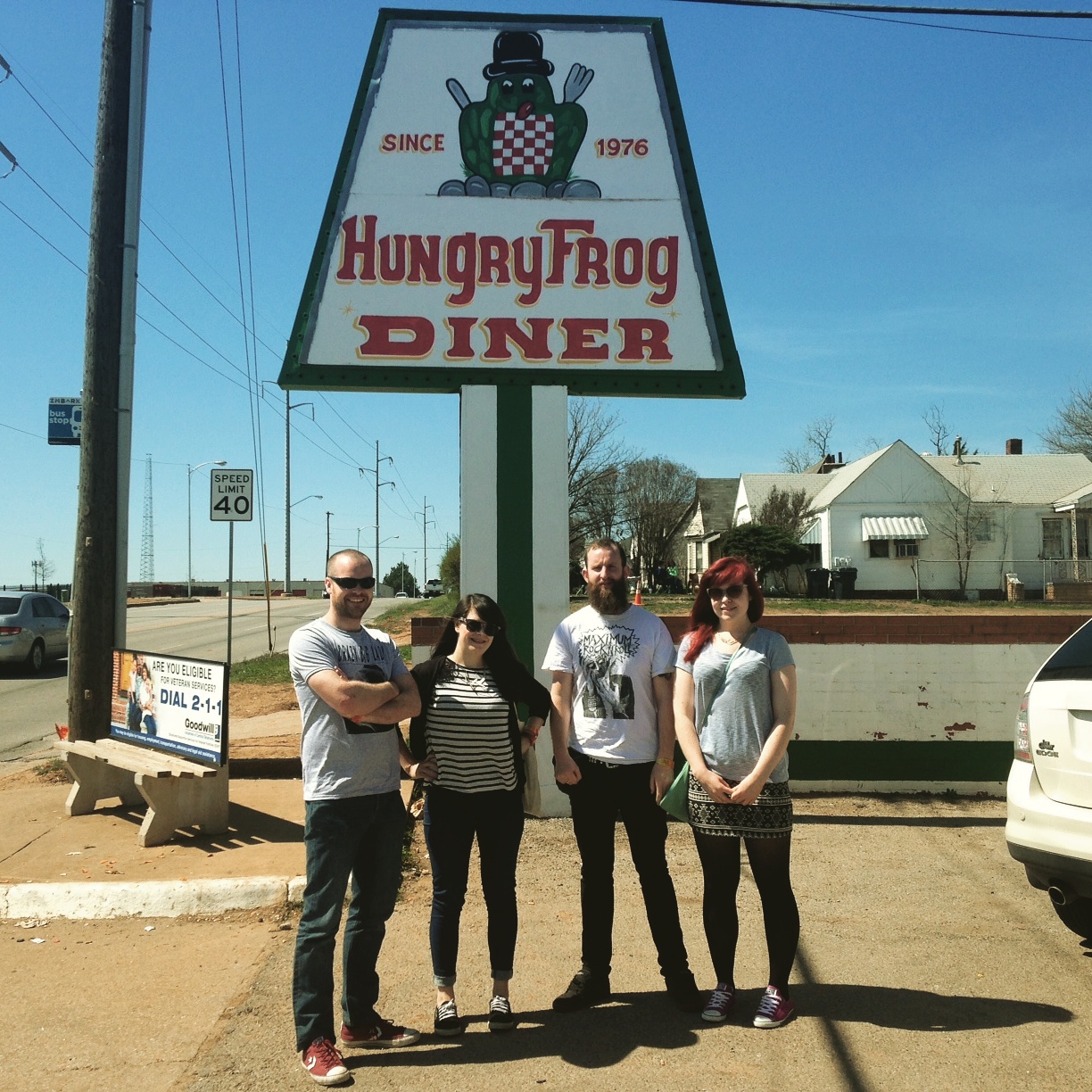 March 23rd. Capital City Bicycle Company, Oklahoma City.
We started our short stay in OKC in the best little old school diner called the Hungry Frog. This place had purple glittery booths and frog themed decor as well as a children's menu called the tadpole section. And if you parked in the wrong space you got toad etc. etc. Donal had a bacon cheeseburger omelette for breakfast. Enough said. I live for these kind of places.
The show tonight was in a bicycle shop which was pretty cool and our old Graveface friends The Stargazer Lillies were on the bill too! It was so cool to get to all hang out again. Unfortunately there was a mix up in communication or something and there was no P.A. or sound man for the night so the local support had to run off to their practice space for theirs, and we ended up doing sound for each other for the night. We still had fun at this show and the people there were super nice.
The best part of our trip to OKC was after this show when we got the bright idea to find a dive bar and do some karaoke. Flash forward to Cookies, a decidedly unkempt bar in the middle of nowhere tended by the surliest of bar wenches. Here, you could smoke inside and the Karaoke DJ hogged the mic singing depressing country songs . This place was amazing. Collectively Dott and Night School slaughtered hits such as This Charming Man by the Smiths, Message in a Bottle by The Police, 9 to 5 by Dolly Parton and Africa by Toto to name a few. But the icing on this cigarette-ash splattered cake was the massacre that was the girls of Dott and Night School's rendition of Bohemian Rhapsody. There's video proof of this which I hope never makes it online. As soon as last orders were called our surly wench hovered over us shouting "there ain't enough elbow bendin' happenin' heeeere". Haha.
Oh and we stayed in a really nice Air BnB where the lovely owner did our laundry and baked us cookies for our journey.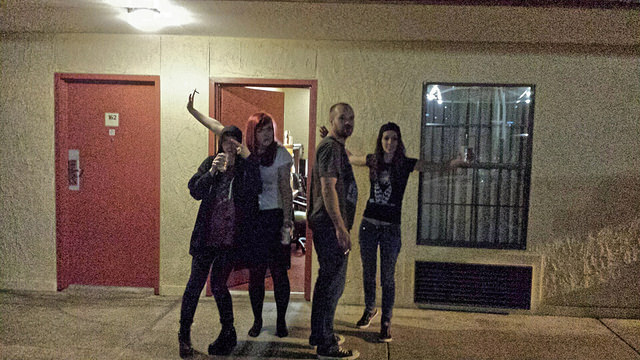 March 24th, The Lightbulb Club, Fayetteville, Arkansas.
Arkansas is so pretty but eerily empty. We had a walk around the city centre before load-in and came across only a handful of people. Eventually we realised that everyone was either inside bars or restaurants such as Penguin Ed's BBQ where we consumed an unholy amount of meat. This place was amazing. You placed your order using a red telephone on the wall by your table. Next we found a bar and much to the delight of everyone they were serving $1 beers! Yesssss. The combination of this and the late show time made for a slightly sloppy gig on our part. But we got to watch Jurassic Park on a TV over the bar as we played. This was Laura's first time seeing this too. The venue was the Lightbulb Club which was nicely divey with a sweet stage and it's connected to a cool record store stocking loads of vinyl. The staff were so nice and looked after us really well. Local band Llinda were great too. A guy came to see Night School play and got them to sign their names on his leg and the next day he sent them a picture of his freshly inked tattoo of their signatures. Insane! The cheap booze made it a bit of a wild night which continued with Night School  in our stinky motel after the bar. This seemed like a really good idea at the time…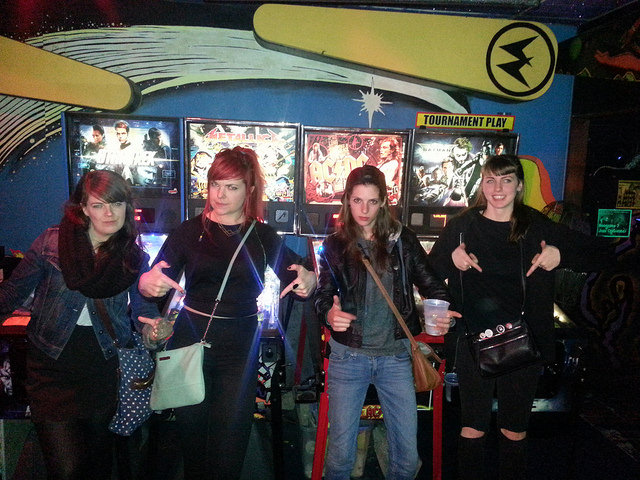 March 25th, Replay Lounge, Lawrence, Kansas.
Sweet baby Jesus, we were quite a sight to see this morning. The morning started well in a very hipster cafe that served "animal welfare bacon" and "ethically sourced vegetables" which I totally support, but their menu descriptions read like essays. It all went downhill from here and the drive to Kansas was something I think we'd all like to forget. It included barf breaks in the suggestively named Kum and Go gas station and some fear-tears being shed in the car. But by the time we rolled into Lawrence, Kansas we were something more resembling ourselves again. We had a really cool Air BnB lined up for this one just a couple blocks from the venue. It was a proper retro house with a wooden porch out front, antique furniture and a working type writer. Lawrence is such a pretty town and we got to eat some delicious Indian food with some not so delicious service and a really giggly old bar lady made us pumpkin pie shots in another bar.
Tonight our show was in a deadly venue called Replay that had amazing pinball machines and some nice wall art. Night School's bass head went kaput so thank you to the local band called Paper Buffalo for hooking us up with theirs. (Their drummer was a kid who was really into the Red Neck Manifesto!) This was a really good show and everyone played really well. There was a great crowd with bags of energy for hopping around. We finished the night with a Dott vs Night School pinball off and I have no idea how or why, but Night School kicked our asses a little bit. They did have Denis on their team though which I'm not sure was a help or a hindrance. Anyway, we had a relatively early night for our reputation with the thought of the 8 hour drive to Denver in the morning.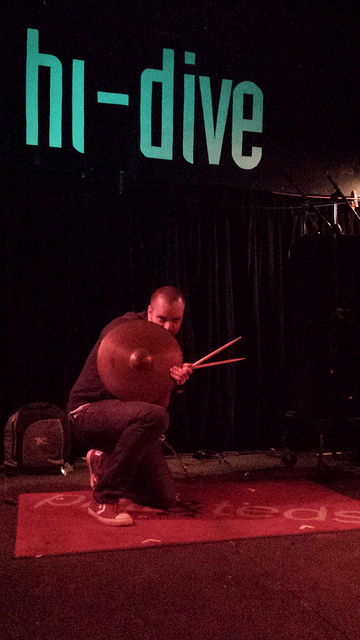 March 26th, The Hi-Dive, Denver, Colorado.
After some dodgy sandwiches and a frustratingly complicated exchange of euros for dollars we hit the road for our eight hour drive to Denver. It wasn't the most exciting drive but we passed the Wizard of Oz museum in Kansas and Donal drank a blue Big Gulp that did very strange things to his body (inside and out). We rolled into Denver and immediately had a good feeling about the place. Tonight's show was in a really cool venue called Hi-Dive. It had a deadly green room covered in band name/food pun graffiti such as Metallicazone, Best Toast, Fleetwood Mac & Cheese, The Yeastie Boys, The Offspring Rolls and Dillinger Escape Flan. This show was such a pleasure to play with the nicest on-stage sound and super positive crowd. Although we almost couldn't forgive the sound engineer for his horribly cheesy Irish joke which I won't repeat. The other bands Slow Caves and The Jekylls were awesome too. There was also a really cool independent book shop across the road with pinball machines. I was in heaven in there. We sold a ton of merch tonight and the people there were awesome. Thank you Denver!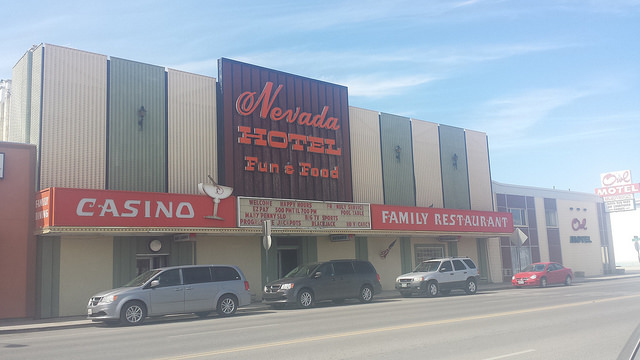 27th March, Drive day.
Our show in Salt Lake City fell through so we decided to turn two days in a row of eight hour drives into one day of fourteen hours and the other just two. It was such an amazing drive that brought us through the beautiful Rockies and the canyons and Salt Flats of Utah. We also listened to the entire audio book of I, Partridge by Alan Partridge so what could have been a hellish day was actually really cool. I chose a town to stop off in called Battle Mountain because it sounded bad ass and reminded me of the Breeders album. Night School met us there where we holed up in a Super 8 for the night. Battle Mountain felt like the town that time forgot. There were actual tumble weeds drifting past as we ate breakfast in the Owl Club Restaurant/motel/casino.  Everyone was really old and really nice though.


March 28th, The Holland Project, Reno, Nevada.
Today was our last day with Night School so we tried to squeeze in as much fun as possible before saying our dreaded goodbyes. We spent the day making home movies in our motel room, drinking in dodgy Irish bars and eating delicious Mexican food. Reno is such a strange strange city. It kind of feels like some things haven't been updated since the 60s such as the casinos and the people who just keep on getting older. One of our fellow drinkers in Filthy Mac Nasty's Irish bar arrived in on a mobility scooter, hobbled to the bar dragging his oxygen tank and proceeded to chain smoke and pound whiskey. All of our noses were destroyed from the dry air and we kept getting electric shocks from everything. There's a really cool side to Reno too, like the great venue we played called The Holland Project. It's a community run, not for profit all ages art and music space and we actually played the sister venue in Seattle last year, The Vera Project. We really loved this gig. There was a great crowd and the people there were all so so nice. It's really special to play at these kind of venues because the people making it happen are doing it for no other reason but their love of music. The other bands were really great too. After the show we sadly said our goodbyes to Night School and agreed that it'll be so hard to tour with any other band again because we just all got on so damn well. It was a full on laugh-athon with these girls. We miss you Night School!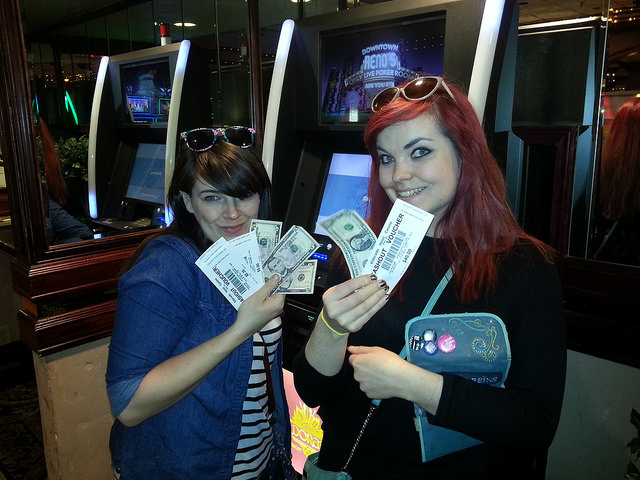 We spent the following day wandering around Reno waiting to go to the airport for our flight to Georgia. We ate in the most amazing diner called the Black Bear Diner which of course had bear themed decor and bear related stuff everywhere. I've never seen so many Ed Hardy/wolf/eagle/USA Tshirts in one place. Then we went to a few casinos where the ladies of Dott won a nice little amount of money and the men of Dott lost their arses.  I'm writing this from Reno Tahoe airport which of course has slot machines in all of the terminals. Our next stop is the low country where we'll be playing shows in Savannah at the Graveface Record Store, Charleston, South Carolina and then we spend a few days in Atlanta with our friend Andrew from Torche. I've got a good feeling about the days ahead of us…
Thanks again to Culture Ireland for kindly supporting this tour.