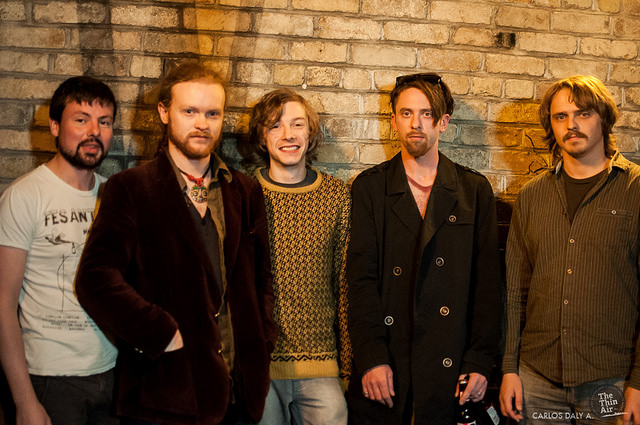 It's a gorgeous, sunny afternoon in Cork City and I'm about to interview a band that describe themselves as death pop and bleak drag. In person, they are far from bleak but some of the most uplifting people you could ever meet. Cork's The Vincent(s) had me in stitches laughing.
Tell me a bit about your musical background. How did you all start getting into making music?
Marc: My mother bought me a four track, when I was really young – it was like one of those Fisher-Price four tracks with drums and stuff, I started messing around with that. It was all absolute drivel until, I don't know if that makes sense.
No, it makes perfect sense.
Marc: I suppose that's how I started making music, trial and error, I just kept recording music.
Arran: Well my sister asked for a guitar for Christmas and she never played it so I started playing it. Then I got hooked. I think she was a little disenfranchised that I had taken her Christmas present so the next year she asked for a keyboard and she had no interest in playing that either. So I started playing that too. Indirectly through my sister, I started picking up music.
What about you, Kev?
Kev: The first instrument that I got was one of those Casio keyboards as a child, you know the ones where Wham is like the demo. I started playing guitar when I was around 11 or 12 when I got to secondary school. I was playing away and branched out and got a piano when I got a good job in EMC years ago before I went to college. I initially got into making electronic music but then I started listening to classical music and started learning that instead. A couple years ago I bought a synthesiser, a month later I forced to head down to Pine Lodge and play my first gig with the Vincent(s).
Marc: Baptism of fire, I've never seen one may shake so much in my life.
So that brings me to my next question: how did you all get together?
Marc: I used to play in a band with Aaron before the Vincent(s) and Arran was the drummer. Then you hated us or something, it was a lot of trouble for Arran, I left you in Galway or something. Then our last guitarist left, Arran was on second guitar and was pretty much in the band already. Our old synth player moved to China, Kev was living with Shane (our drummer) and he'd just bought a synth so we were like you don't have a choice you're in the band.
Arran: We dragged him down to Pine Lodge.
Kev: I had the morning to learn the songs.
Marc: He did really well.
Kev: Yeah, it was only four songs but it went alright I think but then again it was probably turned down so you couldn't hear me.
What kind of stuff do you all listen to? Do you find a common ground in terms of influences and does that translate to the Vincent(s)?
All: No
Marc: I suppose we all have really different tastes, I suppose that's why it works we have a big pool of influences to draw from.
Sometimes when I listen to your stuff I hear Captain Beefheart…
Marc: Yeah, I'd be a big Captain Beefheart fan, you're really into Tom Waits.
Arran: Yeah
And classical music?
Kev: Yeah and synth-pop and sort of weird obscure minimal, Bauhaus well I like all sorts of music but mainly the latter. Post punk too.
Marc: It's really handy having that eclectic taste in the band, like I'd never heard Bauhaus before. As long as there is some sort of underlying signature to what we do.
How did you get involved with the guys at FIFA records?
Marc: They were at one of our early shows. Eddie Kiely approached us and asked us to get on board. The poor man, he really looks after us. He takes care of things for us behind the scenes.
A sign of a good manager. I know you were recently due to play a show in Dublin, tell me your thoughts on the Cork and Dublin music scene connections. There are so many great bands in Dublin and equally great great Cork and around Ireland for that matter. What are your thoughts, are the communities a bit dispersed?
Marc: I think bands are starting to get better at working together
Kev: There's a lot more crossover now.
Arran: The scenes are relatively small and the grand scheme of things that it makes it so insular, it only makes sense to work together.
Marc: It only makes sense to help each other out from a touring point of view but recently the connection is definitely getting better.
Kevin: I suppose a good example is when we broke down on our way to Dublin that time, and we were looking for back up backline for the Telescopes and Marc was able to call a few people in Dublin to help us out. It was great that we were able to do that.
What was it like touring with the Telescopes?
Marc: It was great fun, they've been doing it for 20 years and their passion for music is unwavering. It's nice to see that they have they same passion they had for it 20 years ago.
Finally, can I ask you about you live show because it's really interesting, a lot of bands got out of their way to win over audiences. You have a different approach, which just focuses on the music and it's admirable.
Marc: I don't know, I kind of tell people off to break the barrier. I don't like idea of people judging so I just tell people off to break the barrier. If they like the music, they won't really care about anything else so I always try to tell them off more to break the barrier more than anything.
The Vincent(s) are currently working on their debut album, which they are recording themselves. Find out more about them via their Facebook.