Features
Published on May 13th, 2015 | by Justin McDaid
0
DIY Dublin: The Co-Present on Radiomade.ie
In this installment of DIY Dublin, Justin McDaid chats to Dwayne Woods, the founder of The Co-Present on Radiomade.ie about the origins of the show, Whelan's Says Yes on Friday, May 15 and what the future holds. Photos by Abigail Denniston.

For those who haven't heard; what, where, and who is the Co-Present?
The Co-Present is what I like to call an interactive alternative Irish music radio show based in Dublin city centre, we go live on Radiomade.ie every Friday between 1 and 3 pm. Each week we have two Irish acts come in to the studio one act will perform live and be interviewed by myself and Niamh Farrell (when not on Ham Sandwich duty) and then in the second hour we will feature another act but this time we ask that act to choose and discuss some of their favourite Irish songs of all time followed by some of their own tracks. We also play a selection of new and not so new Irish music.
How did you come to be involved with Radiomade.ie?
I was working in the Irish Daily Star as a music journalist and I was discussing my love for radio (which I had previously studied) with a colleague and she introduced me to Jack Olohan who runs the station along side Dan Murphy. I met the lads for a chat and spun my idea to them and they were happy to take me on board on a trial basis and I guess a year and a half later that period has ended. It's been amazing watching the station expand in this period and it's quite inspiring the time and effort put in by everyone just for the love of doing it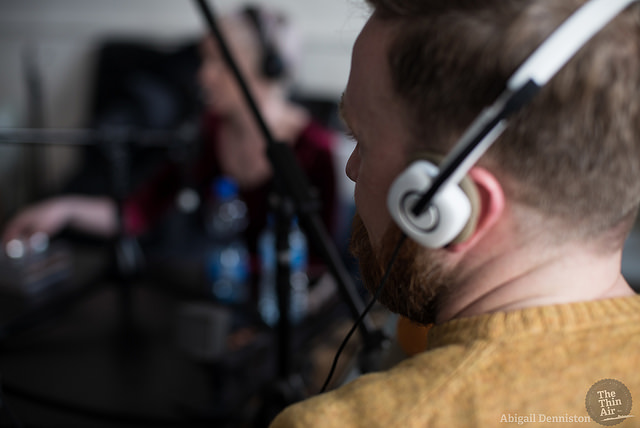 Where did the idea of The Co-Present originate?
In all honesty before my first meeting with Radiomade I think I had 24 hours to have a pitch for a show, I listened to some of the other shows and even though there was a strong presence of Irish music I thought about the idea of having a show that was exclusively Irish music based with an alternative edge. There are several Irish music shows on different stations nationwide but I wanted to try something different. The idea came to me to make the show more interactive and let musicians do a bit of presenting and get them to share their favourite Irish tracks of all time. This is where the name The Co-Present came from, subject to popular belief the name has actually nothing to do with my fabulous co-host. Then after getting the green light from Radiomade I set up a Facebook page and when I was at a gig in Whelans one night I got chatting to Gav Hennessy about the three track recordings I had proposed to be on the show and immediately Gav offered his services as a sound engineer. Without Gav there would be no Co-Present and I am eternally grateful for his talent and sarcasm. The rest is history.
What marks it apart from other shows?
Ah, you're killing me here! I guess the freedom (provided by the internet) from broadcasting laws is something that separates Radiomade as a station from all the others but as a show what marks The Co-Present apart from other shows I guess is how musically diverse we have managed to make it considering we only play Irish music. Then of course acts that appear on the show walk away with a three track, mutli-track recording done by Gav which some acts have even used as a live Ep. Our step into the realm of live events and live radio shows is something I don't see too many others getting into either. I really think having Niamh on board is great she is a calming soul, I come from a journalism and broadcasting background and Niamh from a performers so we have two very different perspectives that gel together really well and it makes for a more comfortable interview setting.
What has been the response from the listening public?
So far, so good. Times have been tough being a completely independent show and there has been moments where I have wondered if we would be able to continue but people have been so kind and pushed us to keep her lit. It's really nice to get positive feedback it's what pays our wages at the moment. We have not encountered much negative vibes regarding the show so I guess we are doing something right. Oh… Frances Black re-tweeted us recently. We all got a good a confidence boost and a giggle out of that. Actually a lot of musicians have complemented us so that's really nice to know they are listening.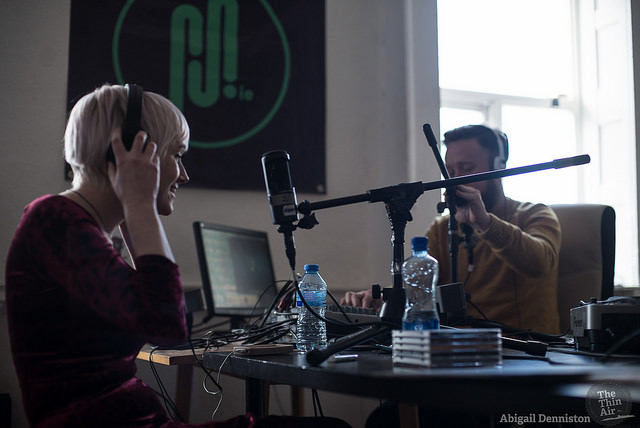 What has your favourite moment on the show been so far?

Wow! So great many moments, every week is a new experience. Personally having Richie Egan (Jape) come in last year was one of my favourite moments- he is a super talented musician and a stellar bloke. I think both Niamh and I really enjoyed Hilary Woods coming in. Niamh was telling me just before she came in that she used to have JJ72 posters on her school books and I think as a teenager Hilary along side PJ Harvey may have been among the very few ladies I had on posters on my wall, so we both got a little star struck.
Our one year show back in November was something really special we got May Kay from Fight Like Apes and Stephen White from The Last Mixed Tape to present the show and live music from I Have A Tribe. They all did a great job whilst we had some champagne and got to rant on about the show.
We're putting you on the spot here: who has delivered the most memorable live performance?
Everyone asks me this question. we have recorded 150 plus tracks it's so hard to isolate one of them but I was away one week when Niamh interviewed Sinead White and I really love her recording, her kazoo playing gets me every time. As I mentioned earlier there is a track called 'Lungs' by I Have A Tribe Featuring May Kay and I really think that's something special. Naoise Roo's recent performance was also mind-blowing. This is the hardest question so I'm going to take the opportunity to thank all of the acts in the 55 shows that we have done. Legends!

Do you have a wishlist for who you want to have on the show going forward?
Yes, I have always wanted to get Sinead O'Connor in to Co-Present a show with me I would be very interested to hear her music choices. I can tell you exclusively that next Thursday before The Villagers second show in the Olympia I will be interviewing Conor O'Brien who will also be performing live for us so this is another box ticked off on the wish list. This particular pre-record will be aired on Friday May 22nd the day of the referendum #voteyes. I guess having well known names in is great for the show but the real wish list is always to seek out new talent and to help give them a boost.
If you could have any Irish artist from the past on to perform who would you go for, and if you had one question for them what would it be?
This one is easy: Whipping Boy, of course, and the first and only question I would have for Fearghal and co would be, "When are going to see a twenty year celebration of Heartworm?" Which I believe is twenty years old this October. Did someone say The Olympia? Oh, yes… I did.
You take the show on location on occasion; does this present any logistical problems? Where would your dream 'on location' show be broadcast from?
We have been very busy with on locations and we have plenty more in the bag too which I'm keeping to myself at the moment. I guess financing travel and accommodation etc. is always a pain but always worth it. Gav has had some encounters with lugging gear on public transport to places like Leitrim and Galway I think that's the hardest part for him especially. The venues we have used so far have all been amazing at lending us their spaces so thats a huge help. Ideally, main stage at Electric Picnic would be a lovely location but in reality and more suitable for the show we are happy enough to come to any venue anywhere in Ireland. I was recently at a Cruising gig in The Menagerie in Belfast and was thinking I'd love to do a show there, that's kind of the perfect venue for something like this. Getting to do an Irish music show in London would be pretty epic too, I think.
What will your set-up be at this year's Indiependence festival…who approached who? Also, crucially: backstage camping or out with the punters?
We can not wait for Indiependence. The hard part is trying to figure out how to make a one and a half hour radio show appealing to a festival audience. We have a few tricks up our sleeves and a few guests that we are currently in talks with but I can't really say more on that at this present time. I approached Indiependence in the hope of getting to interview a few bands and they replied with not one but two slots on the spoken word stage. It's a real honour to get to share the stage with legends like Tony Clayton Lea and Jinx Lennon amongst others. As for camping they have kindly given us backstage camping but we will of course be checking out as many gigs as possible when off duty.
Tell us a bit more about the Whelan's Says Yes show on the May 15. What can we expect on the night?
Whelans Says Yes is something I am very proud to be a part of. Just seven days out from this very important referendum on Marriage Equality we are urging people to actually get out and vote and most importantly to vote YES!!! Collaborating with an iconic venue like Whelans is another box ticked on the wishlist. Having The Last Mixed Tape (who have ardently supported the show) and Straight Up for Equality on board is a great experience. Everyone is so very passionate about this cause and the line up is set to blow the roof off. I'm most looking forward to working once more with my co-host for the evening Miss Sinead Ni Mhorda. A big shout out to R.S.A.G, Delorentos, Wyven Lingo, Twinkranes, Elaine Mai, Plutonic Dust and Attention Bebe for giving their time and support as well. There will also be some surprises and guest speakers on the night too. Tickets are selling fast mind you so get on it ASAP.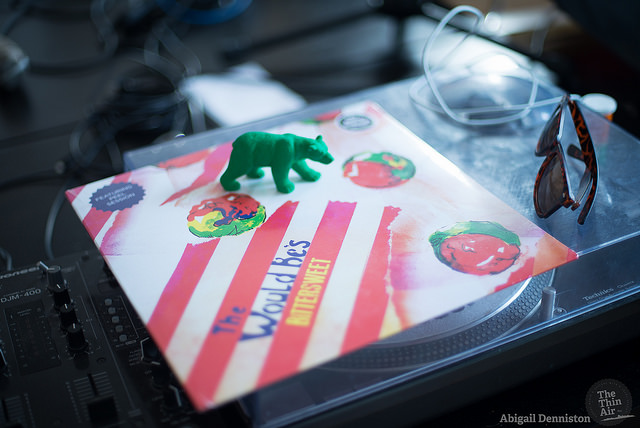 Exposure is tough to come by for independent artists, not least when you're broke! Dan Hegarty has always been a great champion of the indie scene on 2FM, but aside from the likes of Dan what do you see being the best outlets for musicians to get their music heard on a wider scale as things progress?
Ah, yes… Dan 'The Man' Hegarty. He truly is an inspiration and I admire him a lot for is continued support and exposure of Irish music. Aside from Dan and all the other broadcasters out there working to promote home grown talent I think the media in general needs to shape up in regards to supporting Irish music. I recently read a post by Parlour TV saying that their needs to be more Irish music television shows and I could not agree more with this. I'd love to re-invent No Disco. I spoke with Donal Dineen recently and asked him about this and he said "It's all yours" and laughed. Seriously, though, there is so much talent there if you take the time to research a little, it's baffling the level of ignorance by some media outlets who focus on the Beyonces and One Directions of the world. Obviously this is great for marketing but there still is a large percentage of people who to be honest are really sick of the same old regurgitated articles and TV appearances focusing on the tits and ass culture of today. Struggle only exists through ignorance and apathy so sort your shit out. You can't beat a new experience so don't be afraid to check out a local band on a Friday night instead of watching The Late Late show. You can actually help. Read more blogs, buy more records, listen to more radio and support smaller festivals. Music is one of our greatest assets as a nation, remember that.
What does the future hold for the The Co-Present – what would you like to achieve in 2015 and beyond?
The future of The Co-Present is looking very promising, artists are now coming to us in droves wanting to get on the show, which is awesome. We are currently looking for funding for new equipment and to make taking the show on the road a long term possibility. our focus right now is all about promotion and getting more listeners. We do this for the love of doing it but with out financial backing it is proving more and more difficult but we will still be there every Friday and hopefully at a venue near you soon. We also have a few other festival appearances in the bag for the coming months so watch this space.
And to put you back on the spot one last time: what band/ artist is going to be the one to watch over the next while?
Oh, there is just so many, people are always asking me to send them new music and I love doing that. I was at the Canalaphionic festival last weekend and caught an amazing set by Waterford electronic duo Cut Once, my mind was blown. It was their first gig ever and I have to hand it to them they nailed it. I really love that. It's fresh and exciting and that kind of sums up the heart of The Co-Present. We love new artists as well as old so yeah Tune in and see what we are about. We can definitely guarantee lots of 'Ones To Watch'.