In the latest installment of Independents in Paris, photographer Tom McGeehan visits independent record label NØ FØRMAT!, home to the likes of Chilly Gonzalez, Mélissa Laveaux, Ballaké Sissoko and more. Chatting to co-manager Thibaut Mullings, he's granted an insight into the workings of one of the country's most vibrant and promising indie imprints.
Read the first installment – looking at InFiné – here.
For those unfamiliar with the world of NØ FØRMAT, tell us a little about how the label came to life?
Laurent Bizot founded the label in 2004. At this time the music business was still driven by major companies who were investing a lot in marketing and would take minimum risk on the artistic side. Laurent wanted to open a breach for musical expression that did not necessarily fit the requirements of a marketing driven music business. He found a way to promote the first releases of the label only leaning on the quality and originality of of the projects. I guess a lot of people found it refreshing at the time. Artists too! And a label was born.
NØ FØRMAT, by name and by nature, tends to incorporate artists from many different musical backgrounds. Is it always a conscious effort to change styles between new artists?
Our main challenge is to get to surprise our audience. As we like to say : "you can never know what you want in advance". This slogan continues to deeply affect our label's editorial policy. I guess working with artists from different musical backgrounds, from different nationalities, having them collaborate, go music scouting in a new region of the world that we don't know enough. All this is part of the process of surprising people with new sounds, rare sounds, timeless music.
You recently celebrated your 10 year anniversary. For a label to be still in existence after a decade is no small feat, what are some of the things that have helped the label exist for such a long time?
Indeed, times have changed in 10 years. But it is crucial to stay true to our original artistic promise so that we keep growing slowly, building a strong and loyal core audience. Also, the strength of small indie labels like NO FORMAT is to adapt very fast to the market : It's been three years that we've been offering an annual suscription formula called "PASS NO FORMAT" through which members become active partners of the label instead of being stuck at the very end of the chain as mere consumers. It has been a success so far and keeps growing!
One of the best artists to come from Ireland in recent history 'Villagers' recently recorded a live session with NØ FØRMAT's Ala.Ni for la blogotheque. Can you tell us a bit about how that came about?
La blogothèque had managed to get an authorization for shooting inside a crazy and amazing place in the heart of Paris called Chapelle expiatoire. I guess Alani and Conor were around on the same day so la blogo's plan was to shoot Conor first and then ALA.NI. They met on site, and before switching from one shooting to another, the idea of a smoother transition arose : they picked a simple song they both liked and knew, and covered 'Cry me a River' together.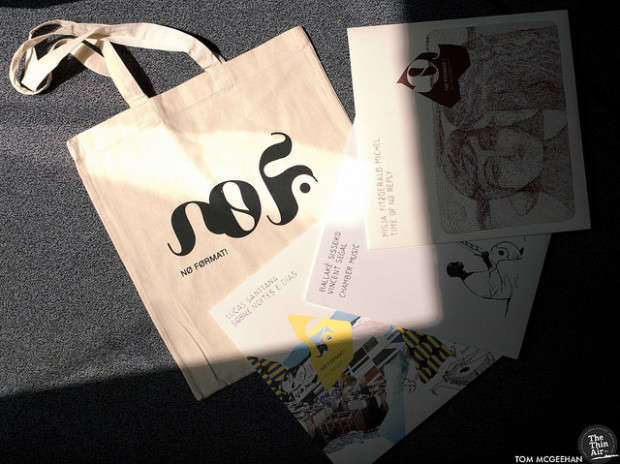 What is your take on being an independent label in Paris? Is it a city you find which is accommodating to the smaller labels trying to spread their music?
Paris is a great platform for an indie labels. A lot of French and international artist live in Paris. When they aren't, they come here regularly for live performances, promotion, collabs… or just for fun! There is a nice concentration of media and professionals too. It is definitely accommodating for both majors and indies. Our respective fields of action are more complementary than in competition anyway.
What can we expect from NØ FØRMAT in the future?
Don't expect anything, just let us take you by surprise!