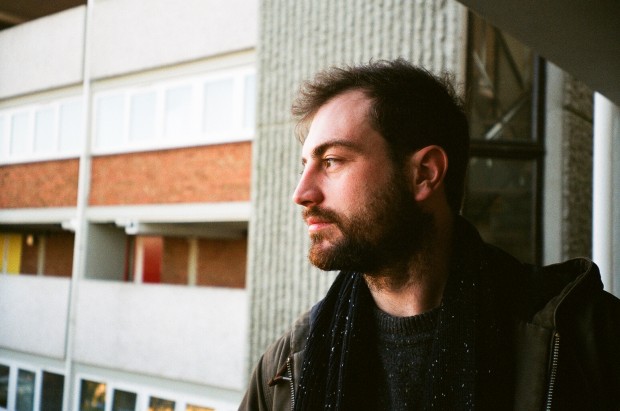 Dan Tombs is a visual artist from Norwich, England and is currently working with some of the most exciting musicians and producers of late. Recent and on-going collaborations with the likes of Factory Floor, Jon Hopkins, East India Youth, Luke Abbott and Nathan Fake means a new light is being shed on the eclectic work of the artist whose mediums traverse video installations, live concert visuals, album covers, music videos.
Benni Johnston caught up with Dan as he worked on live visuals for Jon Hopkins in the days running up to the producer's sell out show in Brixton Academy and just off the back of the artwork he created for East India Youth's latest full length – via exploding analogue machines. Literally.
You're well known to many people for your collaborative work but what's your background artistically? Where did it all begin?
Well, I grew up with a strong affinity for Lego! But on a more formal basis, at A Level I studied Geography, Physics and Art and then I started studying painting at the Norwich University of the Arts. I'd been painting for years from when I was a teenager and a lot of my inspiration came from light, which perhaps sounds clichéd, but I was looking to use interesting moments captured on film and in photography as reference points for my paintings. After 2 years of a 3-year course I kinda realised that maybe the photography and the film was my direct interest and I pretty much abandoned painting.
So for the final year of a painting course I didn't do any painting at all. It was all making 8mm films. My final degree show was five films projected simultaneously on Super 8 projectors in a gallery space. The films destroyed themselves during the exhibition – intentionally, I might add – I wanted to highlight the fragility of a medium. Sadly I don't have any copies of the project beyond what still exists in a carrier bag as shreds of film left over from the final show.


Your work takes shape via a variety of mediums and there is a strong aesthetic through much of it – distortion, glitch, fractured light and colour. How did you develop this style or find yourself going in this direction?
It's very pleasing to know there's a recognisable aesthetic.
I'm really interested in attempting to navigate the various layers of late 20th century technology. I got into visuals by accident. A friend who I studied art with started to create and perform electronic music and invited me to just project my films while he played. I got a bit bored just playing my films so I started to manipulate the projectors. As soon as I realised the possibility of using a modern computer like that, it became really interesting. But I quickly realised that I also didn't like the pure digital aesthetic that came through it – it didn't excite me. I liked the clunkiness and awkwardness of working with real objects and exposing their flaws. So I guess I fairly quickly developed a hybrid approach.
When I graduated Art School in 2003 there was quite a buoyant community of experimental sound artists in Norwich and they were hacking loads of hardware – circuit bending and chip-tune stuff which is quite well known now but in those days it was less so and I was really inspired by that practice. At that time you could pick up a Sega system for a pound in a junk shop, so it was easy to start experimenting.
I was trying to find a visual parallel to the music these people were making, and I decided to look for my equivalent of the Yamaha or Casio keyboards the musicians were using. This lead me to the aforementioned Sega and Nintendo consoles of the late 80's early 90's. They were intriguing because It was an interesting level of technology, in that it was sophisticated enough to do something interesting but still possible to interact with the circuits – Whereas if you open a modern computer now it's very hard to interact with the circuits – the components are too small too manipulate with hand tools.
Working with hacked hardware and video games led me to explore analogue video equipment, originally intend for broadcast as well as video devices made for home editing or for children. This is the area I operate in now, using these pieces of equipment and exploiting their characters or flaws to create my work.
I like to be a bit anarchic with things as well, I like to create some chaos. I acknowledge the machines as collaborators in some ways. I can set up a chain of events but actually what they do is not fully under my control. That element pleases a part of me, for sure.

Collaborations are a big part of your artistic output. What is it that you enjoy about collaborating with musicians and other people?
I went to art school with Luke Abbott and that's been a friendship that's remained throughout my life. Meeting people, being able to find some common ground and being able to do something visual for people is the main focus of what I do. I think the partnership requires a fair amount of trust from both sides. We'll usually discuss an idea and that's mutually agreed, and then I'll go away for a bit and work from there, before taking it back to the artist and we'll talk about it further.
And the difficulties?
It's sometimes tough if someone said 'that's not really how they thought of it' in terms of colour or dynamics – but once you've discussed it and reached a compromise, there have certainly been times when you realise it's better for it. It's trying not to fly in there with too much ego and being overly-protective and just really open to people's interpretations. Ultimately an audience most probably won't know who I am or what I do – it's the musician/producer standing on stage presenting the work so they have to be comfortable with what's going on and projected around them.
And what about working on your own pieces, exhibitions or installations. Is the process different?
Whenever I can I take to time to creatively play with interesting techniques or a process – I'll form an idea in advance that I can then explore during the course of that installation or project. I find the trickiest thing is trying to maintain a discreet relationship between sound and image. Especially as people will come to it with their own objective opinions and interpretations.


A lot of your work will be recognisable to people whether they are aware of you as an artist or not – your music videos with Girls Names, Factory Floor or your album cover work with Nathan Fake, East India Youth. What are some of your favourite pieces?
Some of the live stuff I've done with Jon Hopkins has been incredibly high profile. For Jon's shows we work with his music video directors and some excellent animators called Flat-E to create the content that is all manipulated live to fit the music. Jon is very astute to what he wants as a visual accompaniment to his tracks and I'm very honest with him and its created a great show.
I've hugely enjoyed the things I've done with East India Youth. I'm really pleased I got to do the artwork for his new record 'Culture of Volume' and continued the relationship we started on his first album. I feel that I have a strong connection to the guys in Factory Floor. I don't get to play live with them very often, but it's always a pleasure when it comes about. Their sets are always improvised and I really enjoy being in the middle of that improvisation with them. I always have fun as I never know where they're gonna go in a set – maybe they never know where they're gonna go in a set!
I've also started working with Blanck Mass (50% Fuck Buttons) and thats turning into a really exciting project, we seem to have hit upon an interesting concept and we have had some great discussions throwing ideas back and forth, it all feels very in tune and a great collaboration.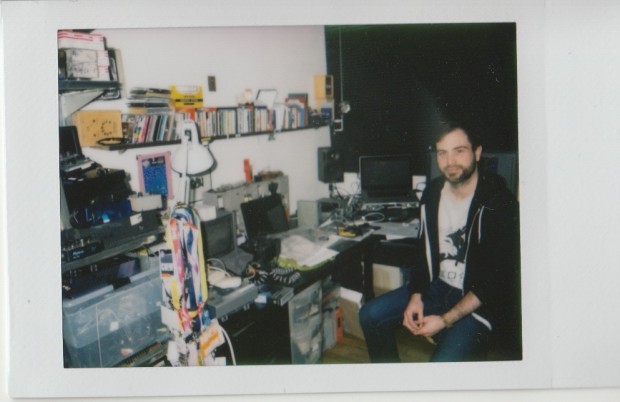 As many of the bands and acts you work with get bigger there's obviously a larger focus on some of your work and consequently you're running a/v sets in much bigger venues and in front of much larger audiences. Does that bring a new kind of pressure or nervousness at all?
I don't really get nervous but sometimes in the middle of a set I've had a moment where I thought 'there's an awful lot of people looking at what I'm doing' and I feel very self conscious but up until that point, there often isn't the time to think about it. I think there's only a small percentage of the audience who are really tuned in to the visual aspect in terms of it's technical delivery, although hopefully everyone appreciates it in general terms. As long as people are having a good time I'm satisfied with it.
One of my favourite pieces of your own non collaborative work I've seen recently was your installation at Liverpool Psych Fest. How did all that come about and talk us through the process?
I was extremely flattered to be approached directly by the festival and asked to do an installation piece for them which was great, It was a bit more getting back to my roots in a gallery space. But I wanted to make something more than a projection, something more physical and tangible.
I made a 360 degree installation which went floor to ceiling and it was organised so that all the power cables and everything went out of the top of the pyramid so there were no boundaries around the whole thing. The idea is thinking about Thomas Moore's Utopia and the Tower of Babel and how people communicate.
I've always been fascinated by an audiences perception of digital technology. So the idea was to get all these CRT TV's with individual DVD players connected to them and the discs were largely identical but started at different times so each facet of the 4-sided pyramid was offset with a colour of the rainbow. For the 2 days of the festival the whole thing was never switched off so the whole thing gradually wandered further and further out of sync leading to increased visual confusion. I also created a generative soundtrack for that piece, so it was good to work with audio too.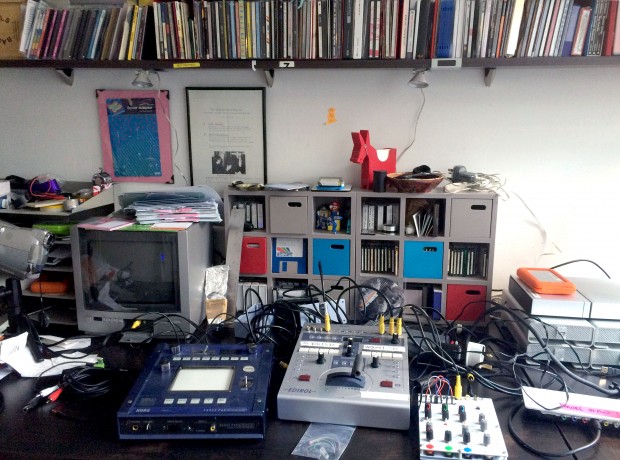 Who and what do you draw influence from?
I've always look to structuralist film makers such as Stan Brakhage, who really brought camera-less len-less film making to the fore. For things like the TV installation Nam June Paik is an obvious name for me.
It often appears there's a massive common consciousness, the more I reach out into the world of people working with experimental video and image techniques the more people you find that are involved in the same kind of thing so it's an ever expanding community of like minded souls – thats quite an inspiring thing in itself.
Team Doyobi were a big influence on me in university in terms of hearing music I'd never heard before but I'm really pleased that I'm in touch with Alex Peverett from the band. He's a really incredible visual artist and musician, he uses a lot of techniques to make things look like glitches that maybe are not actually glitches, he's really harnessed the aesthetic of glitch to generate some incredible and complex images. He's been really helpful to me and it's very flattering to be in contact with him now.
I produced East India Youth's album artwork on an Amiga – in an attempt to follow in Warhol's footsteps, but I managed to blow up the Amiga in the process which wasn't ideal! The acrid smell of burning capacitors is not something you really need to experience. Going on another journey of using a new kind of obsolete technology was very enjoyable though.
Since you enjoy working with people and collaborating so much, who's on the hit list of people you would most like to work with?
Well the really geeky one is Steve Rutt and Bill Etra, who developed the Rutt-etra video synthesiser. It's a physical piece of hardware in the 1970's that was pretty amazing. Those guys would be heroes to nerd out with. I could think of a few more people like that, those under-the-radar pioneers doing circuitry work, before software came along and killed all the fun. Prior to that, people had to sweat and make machines that did all this (a flippant over simplification of course).
There's actually a community of people who have created a software facsimile of that synthesiser, who I'm really grateful to. The video I did for Tim Burgess, 'White' – that's made using the software version of the Rutt-etra synthesiser.


It seems like much of your dream collaboration scenarios don't involve musicians or other artists but engineers of these machines. Would that be a correct assumption to make?
I guess that's fair! Generally how I work, it's often process-led, and that's what becomes the thing that takes me along. Like the visuals I'm working on for the new East India Youth music to take out on tour, I found a supply of defective optical glass, glass that should go in lenses, manufacturing rejects. When Will (East India Youth) played me the demos I got a sense of a crystalline glass-like gloss to his music, and I became excited in thinking of how to create that effect and was wondering how to do that effect in front of the camera, rather than in post production.