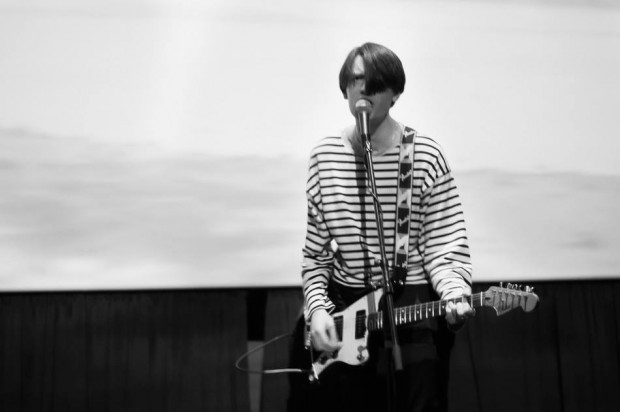 In the latest installment of Monday Mixtape, Derry musician Christian Donaghey – best known for his noise-pop project Autumns – selects and talks about some of his all-time favourite songs, featuring the likes of The Telescopes, Psychic Tv and Medicine.
Autumns support Blue Whale at our BYOB, filmed show at Belfast's The Loft this Saturday night (May 23). They will also support The KVB in Berlin on June 17.
James Chance and The Blacks – Contort Yourself
There's two versions of this song, the other is by James Chance and The Contortions. I love this version a lot more because they made guitars with phasers sound cool and not cheesy. The saxophone playing is flawless too (obviously). When James Chance does his high pitched singing, it really makes the song for me.


The Field Mice – I Can See Myself Alone Forever
Another great Sarah Records band. An absolute classic. It's got it all, jangly guitars, endearing lyrics and a great feel. It's definitely a song I would put in a film if I ever made one. I've listened to this pretty much everyday for the last year or so. 



Death In June – Fields
What can add to this track that doesn't say it all when you listen to it. A post-punk anthem. I can't stop listening to them and they have been definitely leaving an impression on the new Autumns stuff I think. 


Fehlfarben – Ein Jahr
I've been in to the NDW stuff for a long time and this song has always been a favourite of mines. It's the German version of Orange Juice.


Psychic Tv – I Like You
Anything Genesis P Orridge does is probably going to be great. This is one of Psychic Tv's easier tracks to get into. It was just before they started producing acid house numbers. This song always stood out for me. It's usually the way someone sings that really makes me like a song and this track is one of those.


The Telescopes – Silent Water
The Telescopes are one of my favourite bands. There's so much attitude in this song and they were absolutely wild when they played live. One of the most overlooked bands, especially in the Creation Records catalog. 


Spacemen 3 – Come Down Easy (Demo version)
Spacemen 3 said they were soul music – this track proves that. 


HTRK – Punch
One of the best modern bands. Any band that has the backing of Rowland S Howard is worth checking out. This is the last stuff HTRK released and its definitely their best. It's all about the bass and lyrics in this song. Jonnine Standish is one of my favourite lyricists. 


Medicine – Gum
Everything is so loud that it makes me feel that my eardrums are going to explode. Five stars from me.  


The Birthday Party – Capers
Probably my favourite band. I love Nick's voice in this and Rowland's subtle croons. It's got a great haunted vibe and it's very dark. Suits me perfectly.