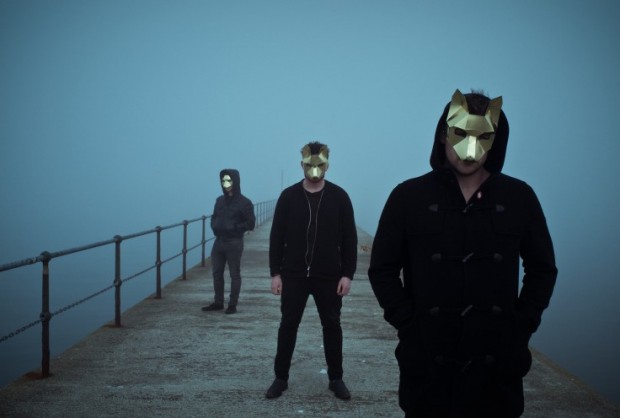 Wicklow soundscapers Tell No Foxx have been thrust into the public eyes and ears the past few weeks following the release of their well-received single 'Dust' last March. Living somewhere between kaleidoscopic and melancholic, their massive pop sound has earned them the applause of fans and critics alike. Liam Doyle caught up with the lads ahead of their supporting slot this Sunday with Indiana at the Workman's Club in Dublin to get the low down on 'Dust' as well as their plans for the future.
It looks like it's been a busy year for Tell No Foxx, any personal highlights so far? 
Probably seeing 'Dust' getting some attention has been the biggest highlight so far it has helped put us on the radar in Ireland, which we are chuffed about. In terms of live shows Vantastival was the best crowd and the most fun we had playing to date. We played a set of brand new songs and everybody was into it.
You're playing this Sunday with Indiana at Workman's and at our very own Secret Garden Festival in Wicklow in June, what kind of plans do you have gig-wise for the Summer?
At the moment we are not actively pursuing gigs, as we are trying to write as much as possible. Also we are getting our live set together; we have introduced a lot more electronics and another band member into our set up this year, so we are still trying to get comfortable with the new regime. But if anything decent comes our way we would probably take it.


I was supposed to catch up with you before the release of your last single, 'Dust', but I made a dog's dinner out of that one which is regrettable because the single has gotten a huge response since. Can you tell us a bit about the song? Where it was recorded etc?
'Dust' is one of the first songs we wrote together. It started out on an acoustic and then we tried a full band but it ended up sounding like a tribute to 'The Killing Moon' by Echo and the Bunnymen. We felt we never could find the right light to convey the track until about 6 months ago Luke had produced an electronic instrumental using soft synths and samples of pots, pans and plates for drums. Out of chance we tried rehashing the lyrics for dust just as a guide melody and it grew from there. The whole song was recorded and produced in Luke's makeshift studio using what ever gear we could get our hands on.
There was a lot of buzz around the release of 'Dust'. Were you expecting it to be as well received as it has been?
To be honest we weren't expecting much. We were hoping for a couple of blog posts and possibly a festival or two, but the track has received a good bit of industry interest for the band from outside of Ireland. It's a good incentive to keep doing what your doing and for us to keep our focus on writing at the moment.
Each song from the EP sounds intimately personal, so much so that you feel intrusive as a listener, does it feel strange playing songs like that in front of an audience? to see people dancing to them?
Our first EP was very personal but not to the point that the songs are exclusively for us. Seeing what individuals have taken from them is always nice – the last few shows we haven't been playing much of our first EP as we are working out new material but its always good watching what people make of your music live.
Is there any one song you would consider yourself most proud of so far? 
Probably 'Dust' because we like our sound to evolve, and that song has lived many lives in the studio before we were happy with it.
The EP is busy and intricately colourful in sound, do you try to replicate that in your live show or do you treat it as a different beast altogether?
Last year we threw our backing tracks out the window – we have added samplers and drum pads instead with Simon and Alec bringing drums and keys to our set up, we try to keep our live shows as fluid as possible. We want it to be a living breathing thing. We use the recordings as a guide but we never feel restricted to them.


How often do you have to remind city folk that you're not a Dublin band? That seems to be a problem for a few musicians south of the Big Smoke.
This week we have been called a "Cork band" and "Waterford Band" too, but yeah we don't mind at all just as long as they dig the sound.
Wicklow seems to be churning out the good stuff lately, are there any local musicians catching your ear?
Most definitely. We brought Annie Wølf to play with us in Cork – she and her band blew the roof off Crane Lane. Iur mates The Daily Howl have been doing really well lately and are working on recording new material at the moment they recently put out some live videos too. Also the elusive Spud Murphy (Hybrasil/ MOON) borrowed our rig a while back to work on a live set so we are really looking forward to seeing what he gets up too.
If you absolutely had to fight The Daily Howl, bare knuckle, which of you would come out on top?
It would be a close fight. "Whores to go" those lads. But if we had Alec and Simon on our side we would like think we would win. Red (Simon) is known to be a man about the town when it comes to bar fights.
Can you give us a hint as to what we might expect from Tell No Foxx in the future, LP-wise?
At the moment we are writing/producing as much as we can, we will most likely release a sophomore EP in late 2015 or January 2016 with the intention of an LP to follow .
Thanks for the time, in conclusion, is there anything you'd like to communicate to our good readers at home?
If you like to dance, Daithi has remixed 'Dust' – check it out! To catch a live show we will be playing The Workman's Dublin this Sunday night (May 17) and The Secret Garden Festival, Wicklow on June 27.