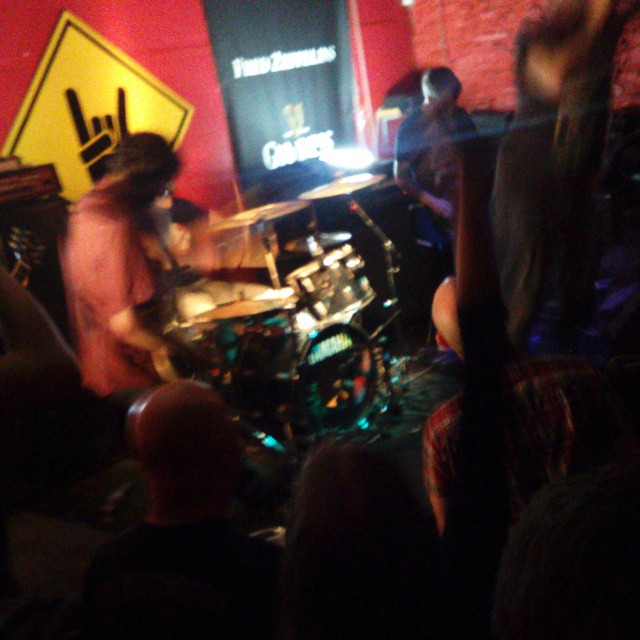 Cork metal and hardcore has been a scene that this column has attempted to shine a light on in recent times, owing to a complete lack of exposure elsewhere that completely overlooks a rich vein of talent and substance. It is this community your writer came from, and identifies strongly with. And last Sunday saw a changing of the guard, as two influential bands called it a day in a packed, heaving, sweating Fred Zeppelin's.
[r]evolution of a sun, active for most of their thirteen-year span in one form or another, brought a heft to their negative hardcore, aided by a line-out of noisemakers that ranged from six to eleven members at one point (with three rhythm sections). Kawtiks, on the other hand, brought their run to an end with a short set bereft of their usual harsh visuals, and even more visceral for that fact.
It is the end of an era – two of the strongest and most consistent outfits (at one time or another) have brought the curtain down on bodies of work that complement/follow on from each other thanks to their common founder member Noel Lynch's vision and ear for dissonance. In doing so, it brings to a close an era for a circle of friends, co-conspirators, and a community.
But it's far from the sign of the times some have mentioned.
In the past year, new names and faces have emerged. Horse, Ealadha and Soothsayer are three bands ready for better things, comprised of Cork metal & hardcore veterans and providing their own strain of noise to get into, with Horse just lashing up their first EP and the other two bands readying salvos of new material.
For the first time in years, Cork metal has a youth movement on the way, led by hardcore lads BAILER, already touring around the country a few months into their run and supporting for Murdock, Stronghold, and more, while actively working on a singles campaign prior to an EP later this year. Here We Stand's nascent brand of metalcore shows much promise, with 'Walker' veering far out of the metalcore cliché and recalling great Irish punk bands like We Come in Pieces in places, hinting at a massive crossover potential. The energy and positivity they bring, as noted by Niamh Hegarty last night on ATL, as well as their participation in the local scene by organising gigs, fundraisers and more, ensures they'll be important parts of the scene here and beyond in years to come. Young bands like Pethrophia (social commentary via bro-dude humour and serious chops), Audible Joes (poppy hardcore ala Operation Ivy), and developing acts like proggers Inciser.
Young promoters are getting in the game, and taking it seriously. Alongside the emergence of PYRE Pro, staffed by Bad Rep, Mr. Bradley's and FIVEWILLDIE alumni, and their disgustingly varied and intriguing line-ups, are Pethrophile Promotions (the promotions arm of Pethrophia, who are taking a strange route in co-branding their band and their dealings), Hear the Noise Promotions and the Print Shop. Hear the Noise are unique in they're a company that runs in two towns with a man in each doing the local work, and the Print Shop's own in-house bookers have led the way for BYOB gigs in the city. That's before we even get to Fred Zeppelin's and Bradley's, and the roles they've played as safehouses for noise in the city.
There's much to get into, more than I have space/time for. It's been a long few years of relative quiet for metal in Cork. But it's always been there, things have always been bubbling. Now it's time for it to come to the boiling point. Mike McGrath Bryan