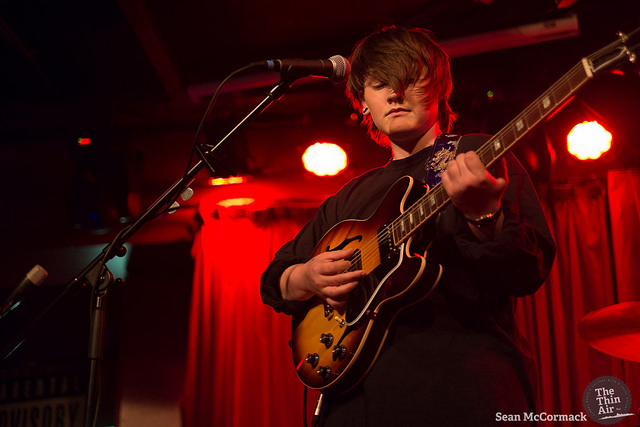 It's a bright Friday evening at the start of the summer and as the first act of the night, Derry two-piece Rosseau (below), quietly take to the stage there is an immediate sense that the crowd here tonight are feeling that atmosphere of warmth. The room is quietly fluttering with an eagerness to be enveloped by some of the best music the North Coast has to offer. Having formed roughly six months ago and only releasing their debut EP at the start of June, Rosseau's tender guitar and drum combo is still very much in its germination phase with only 5 songs available to fill a set with. The performance is flanked by two slow burning tracks comprised of resonating open chords, falsetto vocals and tasteful drumming while the mid-section harks back to the late 90s early 00's stylings of bands like American Football or more currently, TTNG. While there are kinks to be ironed out with regard to performance and honing of sound, Rosseau's emotional and jangling songs are effective and charming. One would hope that, given enough determination, Rosseau are a duo that we can justify having high expectations for in the future.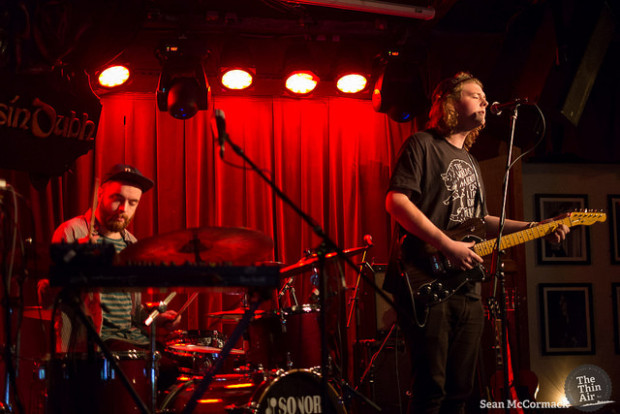 Next up is Donegal native, Derry based Rainy Boy Sleep (AKA Stevie Martin, below) accompanied by a pal who provides programmed drums and keys to Martin's acoustic guitar and delicate yet resolute voice. Rainy Boy Sleep makes the sort of music that people listen to in the summertime and when their crush has finally started texting them back or when all they have left to do for the day is to go to a barbeque with their oldest friends. Similarities to artists like Jimmy Eat World and Death Cab For Cutie seem apt and the songs would not feel out of place during the end credits of an American teen film. The lyrics resonate with memories of places and times, Martin telling the crowd about when and where the songs were written, one of which – 'Shopping Centre' – even having been written about a night in the very venue we're in. So relaxed and respectful is the atmosphere that he even climbs over the speaker to perform the title track of his forthcoming album Waiting Games unplugged at the edge of the stage to an utterly silent audience. The set ends with a cathartic rendition of 'Jeanie' that had been waiting to happen throughout which leaves everyone satisfied and full of the warm and fuzzies.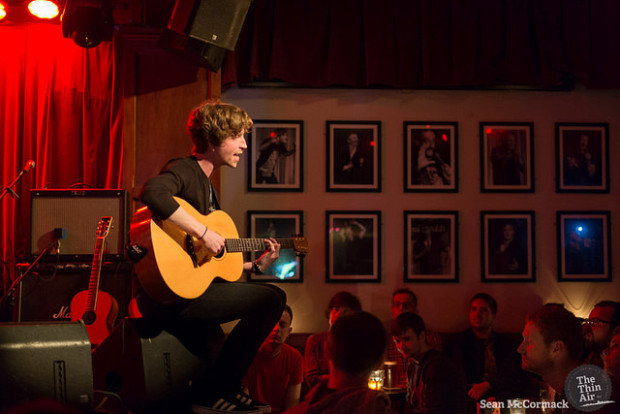 Bridie Monds-Watson AKA SOAK bounces onto the stage like a mouse, the audience only noticing her presence once she has been up there for a few seconds. Once they do notice however she is met with enthusiastic applause followed by a tidal wave of silence in which a whisper or the sound of a cigarette being rolled proves distracting. Immediately the room is hypnotised by Monds-Watson's smoky, reverbed voice. After two songs performed solo, SOAK is joined by drummer James Byrne (also plays with Villagers) and multi-instrumentalist Tommy McLaughlin (formerly of Berkeley). The song 'Garden' sounds like a sort of sequel to Radiohead's 'Jigsaw Falling Into Place'. There is a gradual dynamic progression throughout the show with the sound moving from folkier gentleness of 'Blud' or the tingle inducing '"blind"' to the massive, shoegaze atmospherics on tracks like 'B a noBody'. By the end the feedback laden soundscapes have left everyone agog, softly bringing us back down to earth with an encore of 'Sea Creatures'.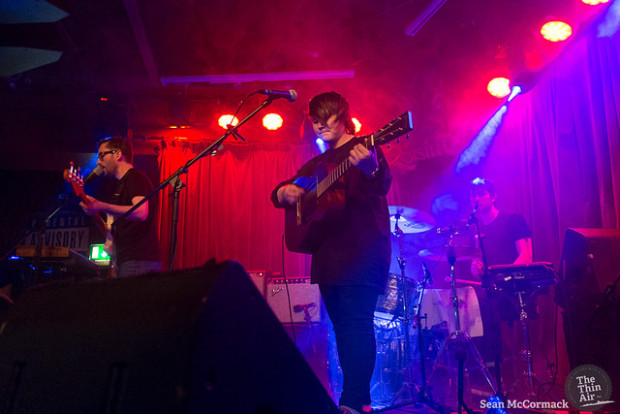 From a distance and without paying attention one couldn't be blamed for missing the fuss about SOAK and the song structures which are fundamentally quite simple. However, once you realise the sheer power of that voice that all the while maintains a gorgeous brittleness, coupled with subtly layered instrumentation and her evident straightforward demeanour and mature approach to her musical journey, you know that every scrap of fuss is well and truly deserved. Eoin Murray
Photos by Sean McCormack