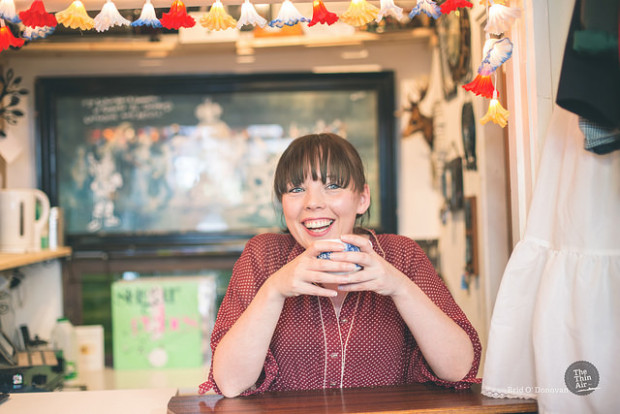 In the latest installment of Track Record, Eilis Dillon, co-owner of Records and Relics – an antiques, vintage and record shop on Lancaster Quay in Cork city – reveals about her all-time favourite records. Photos by Brid O'Donovan.
The Beatles – Sgt. Pepper's Lonely Hearts Club Band
This is the first album I ever became obsessed with. My parents had it at home when I was a kid. I really loved it because it had the lyrics on the back so I'd sit at home and pour over the lyrics and play it over and over again. That was my first experience of becoming infatuated with an album and listening to it to death. I didn't really understand what it was all about but I just loved it so much.


The Sugar Cubes – Life's Too Good
The Sugar Cubes are the band that Bjork was in before she went solo. It's from 1982 and it was their debut album and it's the year I was born. I love Bjork, she's my hero. This album is post punk pop. It's fun, it's danceable and it's just such a great album. I loved Bjork for years. The first album I ever bought myself was Debut and I was obsessed by her for years but I didn't realise that she had a musical career before that. Only about five years ago I came across The Sugar Cubes in Mother Jones' Flea Market. I couldn't believe that I didn't know about them. I thought I was the biggest Bjork fan ever. It's very 80s. You definitely hear Bjork's influence through the whole thing. She's singing of course so it's so distinctive.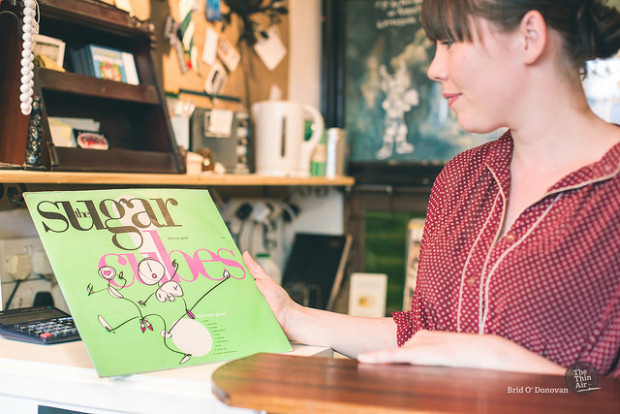 Kate Bush – The Dreaming
Kate Bush is another huge role model for me. I think she's amazing. This is her fourth album and she got to produce the record herself. The albums before this were more radio friendly. This one is crazy. She goes really weird on this album. At the end of it she's hee-hawing like a donkey. There's tribal drums in some of it too. It's really wacky and crazy and brilliant. She really comes into her own on this album. She really embraces her weirdness. My best friend Miriam loved Kate Bush when I was young. She used to always play Wuthering Heights and I hated it, I thought it was awful. It was screeching in my ear. I didn't get it at all actually. She kept persevering with it and eventually she grew on me and I grew to realise what an absolute genius she is. She's an acquired taste. Her and Bjork are my two female icons. They are both really authentic as well and genuinely themselves. It was really important for me as a young woman to find famous women that I could look up to and say "Yeah, I want to be like them." They are doing their own thing and not being like anyone else. They are doing something different. It gives you that freedom and that empowerment to be a bit different, a bit wacky and weird and to know that it is ok and admirable even.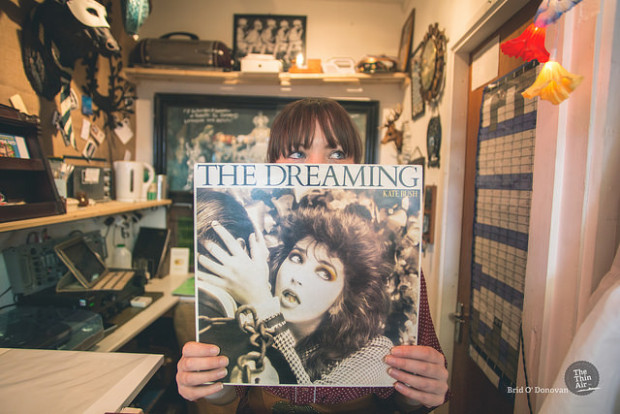 Tom Waits – Rain Dogs
For me, this is Tom Waits' best album. That's a big statement to make but I really think it is. It's dirty. It's sexy. It's gritty. It's grotesque. It's on the streets, on dark alleyways and freak shows. There's polka music in it too. It's absolutely amazing. The characters in it are brilliant. It's something that grows on you over time. 'Clap Hands' is the best song on the album for me. It's amazing. I've this record a long time, I don't even remember where i got it! He hadn't brought anything out for about ten years and then he brought this out. Everyone was waiting for it. Some said it was absolutely terrible and others loved it. There were very mixed reviews but for me it's just brilliant, so theatrical. He just creates this world of drunks, and alcoholics and street urchins. Amazing.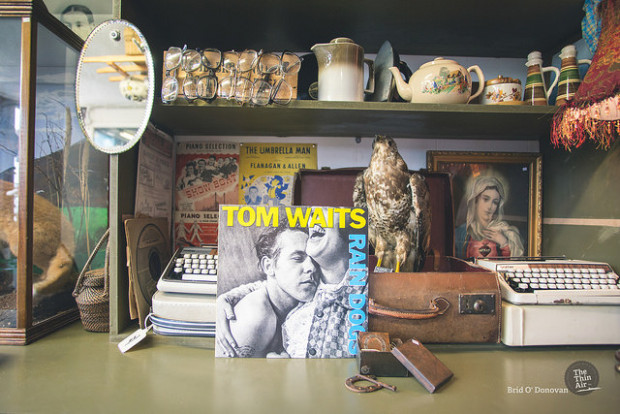 Edith Piaf – Portrait of Piaf
I got this one recently. I love her and I love the story behind her. Her mother was a prostitute, her father was a circus performer. She sang on the streets until she was discovered as an adult. She had a problem with drink and drugs. She was just this troubled soul. Whenever I listen to her music it just brings me on to the streets of France. I don't even know what she's saying but you know she's outraged at the way the world is. She transports you to another time and another world when you listen to her.
Bonnie Prince Billy – The Letting Go
I picked this record because it's really beautiful and really heartbreaking. It's so moving. It reminds me of my brother because he always takes me to gigs and has done for a long time. He brought me to Bonnie Prince Billy and I bought this record at the gig. He has a million records out and he is completely impossible to keep up with. He's such a genius. It's just such an amazing and beautiful album. It's one of those albums to break your heart to. If you're really sad and you need a cry, you put this on and enjoy feeling sad.


The Cure – Seventeen Seconds
This is an album to lie on your bed and stare out the window to and just dream. It's dark, it's kind of gloomy but it's also something you can dance to. The lyrics are gloomy but the beats can be quite poppy at the same time. 'Pray for Today' and 'Secrets' are my favourite songs on this album. I'm a big Cure fan. Dreamy. Amazing. Great.
Mark Mulcahy – Dear Mark J Mulcahy, I Love You
This is one that I came across at the Southern Gothic Festival last year. My favourite festival in Cork and it's not on this year. I don't know why but it's very sad. This guy is amazing. I saw him in The Bodega early one day at like 11 am. I was having my breakfast and watched him play. He blew my mind. He's so so so brilliant. Lyrically, the album is amazing. He's got such a great way with words. His wife died in 2008 so he writes about that, and suicide and what should be very depressing topics but he has a lot of humour. He keeps it very light. It's not at all depressing, you know? It's very human. I bought it for Colin (co-owner of R & R), but it's mine now.


The Reverend Peyton's Big Damn Band – Between the Ditches
I would describe this as bluegrass punk music. It's just the Reverend Peyton and his wife – the two of them play together. She plays the washboard and he plays the guitar. They also played at the Southern Gothic Festival a few years ago. She's mad, she's playing the washboard and at the end she pours petrol all over it and lights it on fire. He's singing away. They look kind of rockabilly. Their gigs are wild – you'd just be bouncing off the ceiling. 'Devils look like Angels' is the single and it's amazing. It's just fun, great music – great to dance to!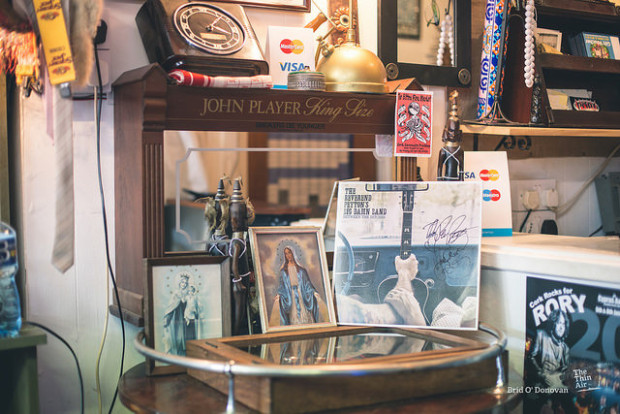 Soul Jazz Records present Nice up the Dance
This is my guilty pleasure. It's proper dancehall reggae. I grew up listening to Drum & Bass and Reggae. That was me as a teenager in Galway. We went to squat parties and things like that and it was always dirty reggae music. We used to go to Kinvara, to a place called Kiddie's Field. It was wild. There was a pub in Galway called Monroe's and that was a mad Drum & Bass place. That was what we used to party to. This record was bought for me by a good friend and it's just a compilation of filthy reggae. It's a good record to get ready to if you're going out. Stick it on and have a little dance around the house.