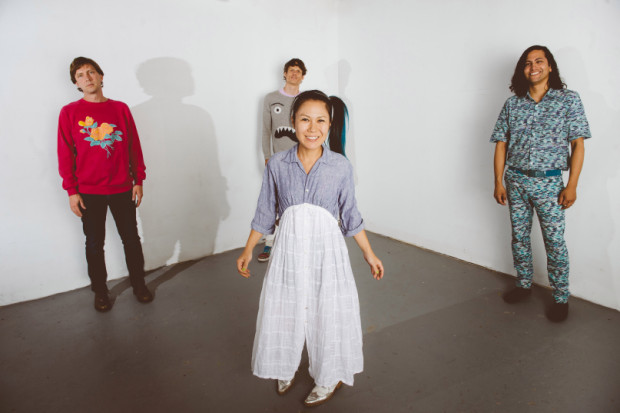 Last year, Californian experimental indie rock quartet Deerhoof released their twelfth studio, La Isla Bonita, having spent the last twenty years unfailingly re-inventing themselves as one of the most exciting and downright inimitable bands of their generation.
Ahead of Cork, Dublin and Belfast shows on Tuesday, August 18, Wednesday, August 19 and Thursday, August 20, the band's vocalist/bassist Satomi Matsuzaki and drummer Greg Saunier about their legacy, their expectations and memories of playing Ireland and their mantra of always looking forward.
Photo by Chad Kamenshine
Hi guys. What stage are you at right now as regards another album? as soon as one comes out, are you immediately set to thinking of what's next?
Satomi: We are working on music together now. We recorded everyone's ideas in Ed's house two months ago. We don't know what they are for yet. Probably next album! We always make music whether or not it's for a next album. We live in three different cities and our time together is precious. We work on music independently when we are home and when we get together, we try them out.

I don't think I immediately start to think about what's next after an album comes out because usually what's next would be tour! tour! tour! I make music when I feel like it or just pops up in my mind while I cook or take a walk or on tour in a van. This can happen anytime. It's fun for me to integrate my physical movements and sounds. People often do the same thing. They sing while they are taking a shower. That's kind of how I create music.


What is the story with the live album that's been mentioned a few times on social media?
Satomi: Deerhoof toured in Japan last Dec. We played thirteen shows in eleven cities there. It was a special stretched out tour to celebrate DEERHOOF twenty years anniversary. Our Japanese Label, Felicity who released La Isla Bonita came up with an idea to record our live shows to dedicate to our fans! We said cool! Then, our friends also recorded a video of our show in Tokyo which turned out to be energetic and super fun which is going to be included as a free download with this album.
Between living in other cities and producing other artists and collaborating and whatnot, how much planning needs to go into the four of you being in the same room at the same time?
Satomi: We tour almost every month so there is no difficulty to be in the same room but it's hard to plan recording time together. We talk online call every two weeks and emails everyday to decide on Deerhoof matters and schedules.
Touring Ireland is a usually a short jaunt for a band. we're out on the edge of the continent. as a band setting up a European run, is it actually quite a logistical pain getting here?
Satomi: I love Ireland. There are beautiful greens. People are very nice and helpful when I get lost which happens quite a lot. People enjoy music shows. It's definitely a must go place. But there is one thing about going to Ireland. Honestly, I think Aer Lingus is not a great airline for travelling musicians. Their checked bag policy is totally bummer! I call them Aer Fungus. I assume this show is not promoted by Aer Lingus. We are looking forward to visiting Ireland!
What one specific memory comes to mind when you think back on previous Irish tours? I'm presuming the show with Radiohead hangs in the memory.
Satomi: I remember that Thom Yorke showed up to our show in a little venue in Dublin the day before the Radiohead show and he danced to our music on the floor. That was fun.
But there is a funnier story than that. When we played in Dublin for the first time before opening for Radiohead, we parked a car in the back of a venue on a narrow street where our promoter told us to park. Then we finished a show and came out to load out. We found that our rental car got booted! We had never seen that funny little boot before. We were kind of thrilled. Afterwards, we waited for police to take off that boot for few hours and it wasn't funny anymore.
Which country this side of the Atlantic is your absolute favourite to tour in? You don't have to say Ireland just because I'm Irish. Also, let's be honest, the food here isn't great.
Satomi: For me, I like touring where my friends live. It's the best when we have free time at cities where my friends live. I think what makes cities interesting is mainly people. I get to meet many cool people on tour all the time and it's exciting. Additionally I am interested in stray animals in different cities! I get excited to meet strong animals who live on streets. Evil humans created concrete jungles and toughly some animals live hidden and strongly. I think that's so cool. They are real punks.


If someone was to write one of those 33 1/3 books about a deerhoof album, which one do you think would make for the most interesting reading?
Satomi: I didn't know about 33 1/3 books until you just asked. I think Greg would ask Mr. Terada who wrote liner notes for Main Offender Japanese edition by Keith Richards. We actually asked him to write liner notes for our album long time ago but he was so busy. He didn't do it. Greg was impressed by Mr. Terada's analysis of Main Offender. He broke apart music section by section and analyzed notes, rhythms etc. Something like that. He would be great for that.
10th/15th/20th anniversary reissues of albums are generally chock-full of outtakes/unreleased songs and what have you. How deep does the vault go with Deerhoof? Is there a 'Lost Album'?
Satomi: There should be some lost songs somewhere in the past. I don't look back. I am a cat that doesn't turn around even if a car comes by in front of me. Move forward!


It seems you a fan of sounds of any sort no matter how jarring, but is there any particular sound that drives you demented?
Satomi: This question won't fit me because I don't like jarring sounds. I like fun surprising and wake up sounds. If I pick a sound that terrifies me, it would be subwoofer sound which comes from a system on the back of some special cars. They go boom boom on the street at night, banging their heads to overly distorted earth shuttering bass sounds and I am like I need to run away from here.
Finally, Greg, is it fair to say you consider producing So Cow's The Long Con was a personal career highlight?
Greg: Of course, but what was the highlight of producing So Cow? Making Brian sing into a bass drum? Making Jonny play in the bathroom? Forcing Pete to play on my broken cymbals that I brought all the way from America? Or eating Irish cuisine (instant noodles) breakfast lunch and dinner for a week? Probably the noodles. What a great band, can't wait to see them again…