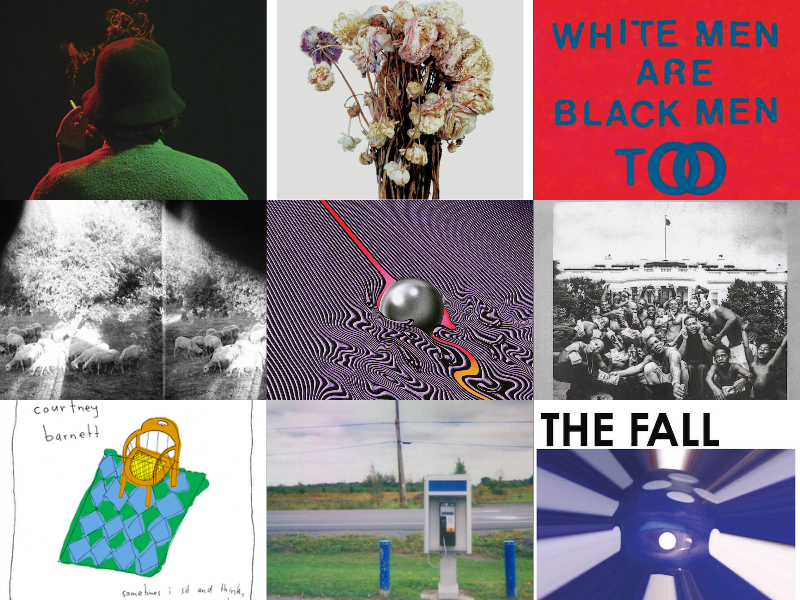 We're halfway through the year so we asked our contributors to select five of what they believe to be the very best releases so far, picking out personal sonic highlights from each of the great albums and EPs of 2015. Some reoccurring favourites include Courtney Barrett, Young Fathers, Kendrick Lamar and Sleater Kinney.
Niall Cregan
Kendrick Lamar – To Pimp A Butterfly
A true great rap album that will be remembered years down the line as a game changer, with such a varied instrumentation, the complexity of each song is proportional to how hard to dive into the record.
Turnover – Peripheral Vision
A light album on the ears with dreamy guitar melodies that swirl across each track. Effortless vocal lines that resonate throughout without the need to dive any deeper.
Donnie Trumpet and The Social Experiment – Surf
The eagerly anticipated debut from Donnie Trumpet along with a number of musicians – most notably Chance The Rapper – features some of the varied hip hop songs this year, taking influences across many genres further afield to create a sound that meanders between each genre during different tracks. A real journey of musical exploration.
Earl Sweatshirt – I Don't Like Shit, I Don't Go Outside
Being thrust into the limelight early as one of the bigger stars of Odd Future, he's slowly making his own development as one of the better rap acts of the past few years. IDLSIDGO is a darker embodiment of his work and lyrically Earl shines through despite a sober approach.
Tyler, The Creator – Cherry Bomb
2015 has been all about rap and hip hop, and one of the more controversial rappers is back again branching further out from previous record Wolf. With features from Lil Wanye and Kanye West along with Pharell, Tyler produces some of the smoothest beats and even dabbles in singing on a couple, pushing himself further from the days of Goblin, all in the name of progression.
Will Murphy
John Carpenter – Lost Themes
The thing about John Carpenter's work is that even when the film is rubbish, the music is still excellent. Working from that assumption, the man has presented us with a gift of fresh new music. Moody, atmospheric and, at times, genuinely scary, Lost Themes is without doubt the best thing the man has done since In The Mouth Of Madness and one of the year's finest cuts.
Kendrick Lamar – To Pimp A Butterfly
How do you follow up a record as cerebral and powerful as good kid, m.A.A.d city? Easy, you Pimp A Butterfly. Following up his opus in the same way Fucked Up followed up Chemistry of Common Life, Pimp covers some of the same ground as its predecessor but with the ambition and scope turned up to 11. A truly special and important album.
The Needables – Tales From The Fish Tank
A lovely little EP from two former fishermen, The Needables' Tales From The Fish Tank is a damn fine country record. Short and sweet with two truly show-stopping tracks ('You Won't Cry' and 'It's Better Forgetting The Things You've Done'), based on the strength of this release the duo have got a bright future ahead.
Sleater-Kinney – No Cities to Love
Coming back after a decade is hard. Coming back as well as Sleater-Kinney have done with No Cities To Love is nigh on impossible. While not the follow-up to The Woods that many hoped it would be, No Cities is a raw, spiky beast that achieves the unenviable task of looking back while going forward.
Young Fathers
For their second release, this Scottish trio upped the ante by an almost hilarious amount. Capturing the same magic that TV On The Radio held at one point but could never sustain, the album is a beautifully layered psychedelic hip hop extravaganza.
Aidan Hanratty
Call Super – Fluenka Mitsu 
The A-side is an absolutely HUGE undulating house monster that I've played more than anything else this year. The B-side is a mournful groover too; both are utterly essential.
Kara-Lis Coverdale – Aftertouches 
A beautiful album reminiscent of the best parts of Steve Reich and OPN, but not without its own identity. MIDI choirs, fluttering flute sections, as enlivening as it is haunting.
Vince Staples – Summertime 06
This album is filled with bangers and emotive reflections on modern day America. Striking and startling, without being po-faced or overly flippant.
Nadia Khan – Open Interior
Gorgeous, swooning material that hints at a deep yearning and true longing.
XIII – NO (The Relative Effects Of Explication)
Acid meets Twin Peaks. Everything sounds like Twin Peaks but this kills everything else.
Aaron Drain
Jamie xx – In Colour
Love him or hate him, you can't disagree that Jamie xx has thrived in his illustrious career to date. In Colour, wistfully harks back to earlier The xx sounds albeit with a forward thinking edge. The standout track on the album, 'Loud Places' ft Romy, exemplifies this with ease.
Squarepusher – Damogen Furies
Having pushed the envelope for production technique to the brink of madness for over two decades now, it's no surprise that Tom Jenkinson's latest record is as jarring as it is confident. 'Stor Eiglass' being the best of the pack by way of retro melodics and futuristic percussion arrangements. Tasty stuff.
Blur – The Magic Whip
Born out of a bizarre set of coincidental scenarios in the far-east, The Magic Whip became something of a boiling hot-topic before its release. Rightly so – 'Lonesome Street', like much of the record, is as chunky with its guitars as anything Blur have ever done. A modern classic, and it's only been out for a few months.
Clark – Flame Rave
Another gratuitously superb example of Warp Records' output this year so far, Clark's IDM meets ambient sound excursions are melodic and complex but never lack warmth. 'Silver Sun' sees Chris Clark continue with his mission to create danceable yet considered electronica with a healthy nod to early '90s breakbeat euphoria.
Young Fathers – White Men Are Black Men Too
Politically and socially charged records are in short supply considering our planet is continually falling to pieces around us. Young Fathers bucked the trend and instead delivered White Men Are Black Men Too, with 'Shame' leading the charge in a soulful, Mowtown-esque style to confront all who shy away from dealing with our stark reality.
Eoghain Meakin
Open Mike Eagle – A Special Episode Of
The recent proliferation of rap has also led to an extension of the boundaries of the genre and hanging out at the rim are artists like Open Mike Eagle. Mixing up beatnik sensibilities with some pretty interesting musicality, his latest EP is the culmination of his tongue and cheek musings on modern life.
Young Fathers – White Men Are Black Men Too
With their sophomore full length record the Scot natives have stirred up a strange kind of beauty. The gritty, lo fi electronic songs drenched in sweet soul vocals somehow come out sounding like pop but still maintain the bands weighty aesthetic. A song like 'I Heard' is a moving masterpiece.
Kamasi Washington – The Epic
Literally. This is big, ballsy, brassy jazz and matches its gargantuan running time with a tour de force example of the genre. Kamasi and his band go through an outrageous journey, creating peaks and troughs for the listener to simply loose themselves in. This is immense.
Leviathan – Scar Sighted
It's still hard to believe that Leviathan is a one man project. That so much heft and mayhem can be conjured by one collection of synapses is impressive. What's more impressive is that Jef Whitehead has been doing this for so long and still remains at the head of the genre. Here he works black metal and doom scores into all kinds of new and exciting shapes while keeping up the same apocalyptic mayhem we expect from one of his productions.
Kendrick Lamar – To Pimp A Butterfly
The album of the year unless God himself decides to step up. This is K Lamar, simultaneously bringing high minded rap back to the masses and reasserting the very idea of 'the album' at the same time. Intelligent, honest, socially conscious and, of course, full of amazing danceable beats. The best rap album since Nas' Illmatic and probably the best. Rap. Album. Ever. There I said it.
Liam Kielt
Therapy? – Disquiet
After two albums of stark, progressive minimalism, the boys have returned with a punchy, twisted poppy belter. And given us a new classic in Tides. Makes me feel like the almost 40yr old 16yr old that I am.
Lantern for a Gale – From Adversity
This full length effort finally sees the North Coast bruisers trimming the fat and kicking 1700 shades out of all comers. Muscular, heavy riffs, runaway drums, throat shredding vocals, and hooks you could catch Moby Dick with.
THVS – Everyday Hexes
Twisted punk catharsis that doesn't let up for a second. There is an almost sleazy vibe to the whole thing, like it's sliding up to offer you a good time before caving your skull in off the wall.
Trucker Diablo – Rise Above The Noise
The Big Truck is back on the road and sounding better than ever! The year off has worked a treat. This album is stocked full of feel good riffage with a new found menace thrown into the mix. It's impossible to stop your feet and head moving when the riffs kick in.
Lonely The Brave – The Day's War (Victory Edition)
Easily the album of last year, the Cambridge outfit have added a few new tunes and beautifully reworked some of the older numbers. David Jakes' voice makes you ache for those halcyon childhood days whilst the guitars fill you with hope for a future that can be everything you need it to be. The most beautiful album you'll possibly ever hear.
Garrett Hargan
Sun Kil Moon – Universal Themes
Kozelek may have his detractors after a few unsavoury recent outbursts, but there's no denying the brilliance of his last two releases. Universal Themes, is more scattered than Benji, and it may go off on tangents about dead marsupials (amongst other things), but it's always tempered by the quality song writing and musicianship on display. And I find his willingness to bare his soul (for good and, bad at times) ingratiating in the overly plastic world we inhabit today.
Courtney Barnett – Sometimes I Sit and Think, and Sometimes I just Sit
Like the above artist, I respect the honesty in her music, although it's altogether more joyful to behold. Her subject matters are banal at times (counting cracks on walls, watching the grass grow), but her self-deprecating vocals are animated and power chords invigorating. She's got that laid-back "I don't give a fuck" Aussie attitude down to a tee, with zero tolerance for bullshit, and I like it.
Sleater-Kinney – No Cities to Love
We know all about their riot grrrl past and undoubted influence on the shape of indie rock; the question was, after a 10 year hiatus since The Woods, could they reignite the old spark? That question was comprehensively answered: They've retained their energy and hallmark sound and laid down a marker at the start of the year. Two decades later they still have more to say than most bands. It's jagged and raw, yet clean and refined; and it turns anyone who listens to it into a feminist…
Thee Oh Sees – Mutilator Defeated at Last
We've all heard about the prolific nature of Dwyer's output by now, but it's the quality and variety that astound. As usual there are surprising permutations of songs throughout this album. The flowery-psych of Holy Smoke is quite different to anything they've done before. However, the twee-psych of earlier albums like The Master's Bedroom… is largely redundant. This album picks up where the beefy tunes from Floating Coffin left off, with added drummer for heft; If you stole all the protein shakes and steroids from the entire WWE roster and injected them into a slice of wax, it would come close to this album's muscularity – and in similar fashion to wrestlers, it isn't afraid of donning spandex and getting weird when it wants to.
The Fall – Sub-Lingual Tablet
The Fall are making my list because M.E.S. is still living, breathing and performing. This is not my favourite album by the band by any stretch, but I still think it's better than most albums this year. He seems to have gotten himself some technically brilliant session musicians, which is why they've lasted 8 years; but it's all about the singular vision of Mr Smith, and always has been. This album shows his distaste of modern technology and mindsets; and his vocals are sang with some welcome clarity. He's a cantankerous old fart and we'll never see his ilk again, so I'm going to enjoy it while it lasts.
Eoin Murray
George Fitzgerald – Fading Love
Moving from the busy, melodic techno of the remixes and EPs that have defined his career for the past number of years, George Fitzgerald's debut LP is a far more precise affair. Adopting a warmer, structured sound while maintaining a consistent danceable pulse makes Fading Love a hard album to fault. A crisp, euphoric and varied album that shows that George Fitzgerald is far more than just a throwaway house producer, but a force to be reckoned with next to the likes of Jon Hopkins and Bonobo. -Notable Tracks: 'Crystalize (feat. Lawrence Heart)', 'Your Two Faces'
Girl Band – The Early Years
The Early Years, a collection of the bands individual releases from the past couple of years, marks a point in Girl Band's progress as one of the most exciting bands around at the minute. From the relentless and sprawling cover of Blawan's 'Why They Hide Their Bodies Under My Garage' to the cheeky, no shites to give, half-minute long 'The Cha Cha Cha', The Early Years offers a perfect taster of a band whose debut album out later in the year will be sure to leave heads shaking amid the noise, ferocity and fun of it all.
Notable Tracks: 'Why They Hide Their Bodies Under My Garage', 'Lawman'
Four Tet – Morning/Evening 
Designed to be listened to in one sitting, the two 20 minute long tracks on Kieran Hebden AKA Four tet's most recent release take the listener on a meditative journey through hypnotic loops, patient and flowing transitions, and a tender and recurring vocal sample from 1983 Bollywood film Souten. Instead of a collection of tracks, each with their own feel, Morning/Evening is effectively one long, spiralling, beautiful piece of music that you'll come out the other side of feeling refreshed and happier.
Notable Tracks: 'Morning Side'
SPIES – Sea Creature
Dublin's SPIES' longest release to date showcases the band's progress with regard to sensible, emotive songwriting, and tasteful dynamics. Michael Broderick's imagery laden vocals soar with the aid of reverb and the atmospheric and melodious guitars of Conor Cusack and Neil Dexter, while Jeremy Courtney's subtly complex and often song-carrying drum work keeps things lively. This 5 track EP shows a group of musicians who are mature beyond their years with a gift for tasteful yet powerful song crafting.spi
Jenny Hval – Apocalypse, Girl
Norwegian artist Jenny Hval's third album under her own name is a powerful, terrifying and ruthless exploration of capitalism, religion, sex and what it means to be a "functioning member of society" today. Message and agenda aside however, the album is musically breathtaking, chock with eerie sounds and gritty drums contrasted with Hval's outstanding vocal control. A rewarding, imaginative and unique album.
Notable Tracks: 'Sabbath', 'Heaven' –
Cathal McBride
Courtney Barnett – Sometimes I Sit and Think and Sometimes I Just Sit
The most impressive debut album this year so far, and certainly the one that sounds the most effortless. Full of wonderful lyrical references ranging from the funny to the bleak, charmingly sung in her natural Australian accent, it's an album stuffed to the brim with slacker anthems that's quite rightly earning Barnett a whole heap of attention at the moment.
Sauna Youth – Distractions
The second album of scrappy indie rock from this London quartet, full of bratty group vocals and the occasional spoken word monologue. The guitars are sharp, the hooks are plenty, and the album refuses to outstay its welcome, clocking in at a mere 29 energetic minutes.
The Fall – Sub-Lingual Tablet
Yet another return to form for Mark E. Smith and co. after a couple of middling-to-poor offerings. The current lineup have rediscovered their ability to construct exhilarating krautrock jams, while Smith remains lucid and keeps the odd growling vocals of recent years to a minimum.
Not Squares – Bolts
A long awaited return from the Belfast trio that neatly captures the atmosphere of their brilliant live shows. The addictive synth hooks and the way the tracks bleed into each other to make one continuous whole make it hard not to dance along and even harder not to put the whole album on repeat immediately afterwards.
Jape – This Chemical Sea
Richie Egan's most confident sounding work to date, with rich production that eschews guitars in favour of glacial synths that seem to reflect his relocation to the colder climes of Sweden, and a more bass-heavy sound, that deserves to see the band break through to a greater international audience.
Mike McGrath Bryan
Murdock – Dead Lung 
A stunning third album from the Offaly/Dublin mathcore three-piece that sees them step their game up hugely, spanning their wide variety of influences while creating something wholly tumultuous, a storm of their own.
Naive Ted – The Inevitable Heel Turn
Limerick's hip-hop maverick continues his explorations into noise and exploratory electronica with a pensive masterwork of innovative sample-play and crushing beats. An achievement of a record.
Shardborne – Living Bridges
Marrying prog-rock influences with tech-metal virtuosity, Limerick lads Shardborne have created something jaw-dropping. Solidly self-produced, and stuffed with riffs and grooves from front to back, it's a game-changer for Irish metal.
Terriers – Let's Hear It For The Boys
The debut, and now final, album from imminently-departing Cork post-hardcore lads Terriers is a bittersweet look at what might have been, boasting mathy tapping, classic-rock riffage and an undeniable knack for a hook.
Fight Like Apes – Fight Like Apes
A more considered take on Flapes' synth-rock fury and fusion that sees them balance buckets of the aforementioned with the snark of life experience and sarcasm of old veterans.
Stevie Lennox
Jim O'Rourke – Simple Songs
One of the most consistent under-the-radar artists' artists, having played with or produced Sonic Youth, Wilco, Faust, John Fahey, amongst others – and the School of Rock music supervisor, don't you know? – has done it again. On Simple Songs, he finds himself making another vaguely loungey, eclectic release – due in no small part to his relocation to Tokyo in recent years – he'd want you to listen to this in a comfortable, analogue, high-fidelity listening environment. With arrangements typically ambitious, yet low key, there are elements of classic prog & rock, folk, his experimental indie rock background, and just about probably every record he's grown with.
John Carpenter – Lost Themes
This is a Ronseal album. You like John Carpenter films? You like retro-futuristic & neo-noir soundtracks to films that never existed? Get this. The synths brood and the night has no end in sight.
Kendrick Lamar – To Pimp A Butterfly
You know those albums that, once you've gotten through the first few songs, you realise you've a cultural landmark? Justice, truth, and hints at a dark history. This is that album. It's the sound of 2015, the beyond-worthy successor to Good Kid, MAAD City, and the second masterpiece from the voice of modern hip-hop. This album was never not going to feature.
Godspeed You! Black Emperor – Asunder, Sweet and Other Distress
This is possibly their best album since their sprawling Lift Yr Skinny Fists… at the turn of the century. With Asunder… Godspeed take influence from the East, and explore their darkest, more deep-seated power, which has, for me, always been their best asset. Seemingly informed by a renewed vigour with their last couple of albums after a decade's hiatus, the album channels a similar primal, ritualistic energy to that which made Swans' To Be Kind the sonic monolith it was, with just a touch more acknowledgement to any actual beauty in the world in its more delicate moments.
Enablers – The Rightful Pivot
Enablers are the perpetually underrated veterans of indie rock esoterica, and the current bearers of an introspective torch once held by Slint, if they were fronted by Nick Cave. Amongst their four members, their band lineage includes June of 44, Swans and Codeine, and on their fifth LP, frontman Simonelli's beat storytelling has reached its most evocative apex, while the music – moodily reminiscent of the aforementioned Slint to no end, with touches of prime noise rock & post-hardcore, a la Shellac. It's the best to date from a low-key supergroup equal, at least, to the sum of its parts.
Antoin Lindsay
Holly Herndon – Platform
Without any doubt, the most singular album of the year so far. An unsettling and captivating reflection on life in 21st century late capitalism which solidifies Herndon's position as one of experimental electronics' most essential artists.
DJ Metatron – This Is Not
A mix with a coherency and thoughtfulness behind it that dwarfs many LPs. This Is Not perfectly ties in the pained euphoria of the transition period between rave and trance in the early to mid 90s with Traumprinz's exceptional take on deep house.
Young Thug – Barter 6
The single most interesting rapper to emerge in God-knows-how-long shows that he doesn't just need to make massive bangers to blow minds.
Soichi Terada – Sounds From The Far East
A collection of Japanese house music, mainly from the late 80s and early 90s, compiled by much-loved DJ Hunee. A masterclass in melody on what is a limited sound palette which sounds as comfortable in a club as it does in a video game.
HELM – Olympic Mess
HELM has previously impressed me with his albums but I've always felt he'd not completely carved his niche yet. This foray into more ambient sounds is fully-realised and his best work to date.
Justin McDaid
Sun Kil Moon – Universal Themes
Just over a year after Benji, one of the most startling releases of 2014, Mark Kozelek returned with this. The confessional is as self-eviscerating as ever and deathly themes abound once more, but this time around the music is that bit harder edged.
Courtney Barnett – Sometimes I Sit and Think, and Sometimes I Just Sit
Courtney Barnett's first run of EPs showed she could wrangle a sentence into sardonic shape. Her debut album proved she could rock the fuck out in the process. Garage rock, sharply wrought lyrics and an Aussie accent…yes please.
Wolf Alice – My Love Is Cool
Wolf Alice like the '90s. They like the '90s a lot. Listening to My Love Is Cool is like listening to one big amalgamation of the decade's best bits – Anglocentric power pop, sweet hazy shoegaze, indie rock, grunge. The list is retrospective; the music is so much fucking fun.
Sleater-Kinney – No Cities To Love
It was a new album from Sleater-Kinney after a 10-year silence. It was good as anything they ever did.
Built To Spill – Untethered Moon
As far as guitar albums go, if anything tops this in 2015 it will be something very special indeed. Untethered Moon is a record that stands alongside Built To Spill's mid-nineties best, with Doug Martsh's cosmic themes reaching the same interstellar heights as his guitar lines. It's big, it's ambitious, and it's a thing of sonic beauty.