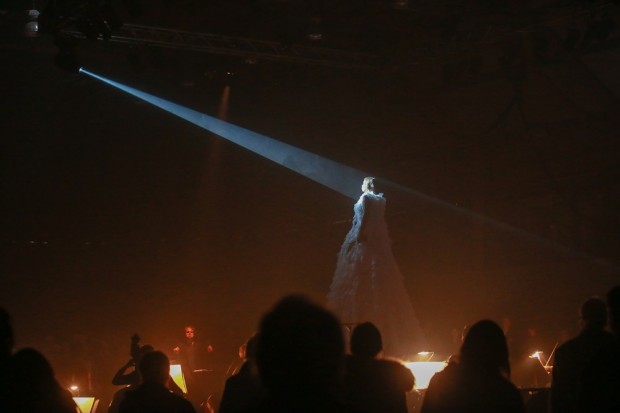 The Happy Days Enniskillen International Beckett Festival's tentacles are spreading ever further throughout Fermanagh. It's a reach matched by its artistic ambitions, with ever more imaginative site-specific venues and events to match. The Necarne Equestrian Centre in Irvinestown's abandoned Necarne Castle is a dramatic enough setting – an almost gladiatorial arena – but nothing quite prepares you for the sight that greets you as you enter the dark chasm of its interior.
The twenty one musicians of the Ulster Orchestra in wide circle formation is impressive in itself but right in the centre is the towering figure, some ten metres tall, of Phaedra, incarnated by mezzo soprano Ruby Philogene, MBE.
Philogene cuts a very striking Greek heroine, her voluminous white dress cascading thirty feet below her, widening at the base, on a slowly rotating platform.
Director Sophie Hunter's dramatic imagining of Benjamin Britten's fifteen-minute cantata is boldly inventive but perhaps in keeping with the soaring operatic quality of the score and the myth that inspired it.
Britten's final vocal work was written in 1975, the year before he died. It was inspired by Robert Lowell's translation of 17th century playwright Jean Racine's Phaedra –  the tale of the tragic wife of King Theseus. Racine's Phaedra and other works were influential on Samuel Beckett's 1970s monologues.
In a plot that would probably seem too outrageous even for today's soaps Phaedra lusts after her step-son Hippolyte, whose name – appropriately given the setting – means unleasher of horses. Her advances are rejected but Phaedra's nurse tells Theseus that his son tried to rape Phaedra. Enraged, Theseus casts a curse on Hippolyte that unleashes Neptune's wrath and terrifies Hippolyte's horses, who drag the unfortunate soul to his death. Phaedra confesses her guilt to her husband and then takes her own life.
An appropriately ominous, undulating bass-profundo drone instills silence in the crowd. Some stand rooted to the spot as though hypnotized; others move around. The chime of a bell signals the start of the cantata, with Philogene immediately thrust into the heart of the action. Britten's score evokes all the passion, angst and trauma of the tale and brings a powerful performance from Philogene.
Technically dazzling, Philogene is utterly convincing on a gut level, her emotional investment translating into quite dramatic visual expression.
Some among the audience, entranced by the mezzo-soprano's communicative powers, choose to follow her continual rotation, her figure bathed in angled beams of light.  This 'in- the-round' approach also reveals the nuances of the Ulster Orchestra as violins give way to violas, cellos, double bass, timpani and percussion and harpsichord.
The score gradually dissipates, and, to general amazement, Phaedra's dress very slowly dissolves, the fabric turning to water. Almost surreptitiously, the sombre drone reclaims the sonic space as Phaedra continues to rotate and decay in a symbolic representation of the self-administered poison draining her life force.
For a remarkable eight minutes, audience, orchestra and Philogene are locked in silent symbiosis before the first applause ventures tentatively forth, as though wary of breaking the spell.
Orchestra and audience gradually file out as Philogene continues to rotate for a further ten, electrically charged minutes, her head bowed.
In an almost empty arena the sight of dress-designer extraordinaire Kirstie Macleod and helpers climbing over the giant skeletal scaffolding to remove the last remnants of the dissolving dress, and the extrication of Philogene from her towering harness via a diesel-rumbling crane-truck is a show unto itself.
Hunter, MacLeod, Music Director Andrew Staples, Lighting Designer Jack Knowles and Producer Clementine Seely all deserve plaudits for a stunning show. So too the Ulster Orchestra and the remarkable Philogene. And a word too for Festival Director Sean Doran, who has once again conceived and delivered a truly memorable multi-media extravaganza of epic design.
If only the clothes of the Ulster Orchestra's musicians had dissolved into the bargain it would have been the opera to end all operas. Ian Patterson